Are Members of a Refugee Caravan Defiling American Flags on Their Way to the United States?
Claim
Members of a caravan of hopeful asylum-seekers walking to the United States from Honduras to turn themselves in at the border are burning, stomping, and urinating on American flags along the way.
Like this fact check?

Reporting
An annual caravan heading from Central America to the southern United States border to seek asylum has been beset by rumors, misinformation, and dramatic disinformation during the 2018 election cycle; stories about the event were resurrected in January 2019 to bolster the Trump administration's argument for an additional border wall.
Participants in the annual event are generally from Guatemala, El Salvador, and Honduras who have exhausted all their options to work or live free of violence all around them, but who do not have the money to drive or fly to the United States border to seek asylum. (The United States, like Canada, is known as a "safe third country," whereas Mexico is not.)
The Safe Third Country Agreement was implemented in 2004 in order to help manage the flow of asylum-seekers and refugees to both countries:
The complexity and disorderly nature of contemporary mixed migration flows increases the burden on states by making it more difficult for states to properly distinguish between refugees who need protection and other migrants, resulting in significant strains on asylum systems.

[…]

International cooperation based on the principle of responsibility sharing provides a basis for states to respond to these challenges, in part by providing for the more orderly handling of refugee applications. To this end, developed countries, including Canada and the U.S., have articulated a "Safe Third Country" policy. The premise of this policy is that where a refugee claimant could have previously sought protection in another safe country, it is reasonable and appropriate to require the refugee claimant to return and make use of that opportunity.
Despite this, the caravans of people coming to the United States to turn themselves in and request asylum (unlike applying for refugee status, which has a different set of qualifying criteria, you have to be within the borders of the United States in order to seek asylum) have been accused of coming to "invade" or "infiltrate" the country with increasingly hysterical and bizarre stories as "proof."
One version of this "proof" involves photographs purportedly showing members of the caravan purportedly burning American flags as it treks through Mexico: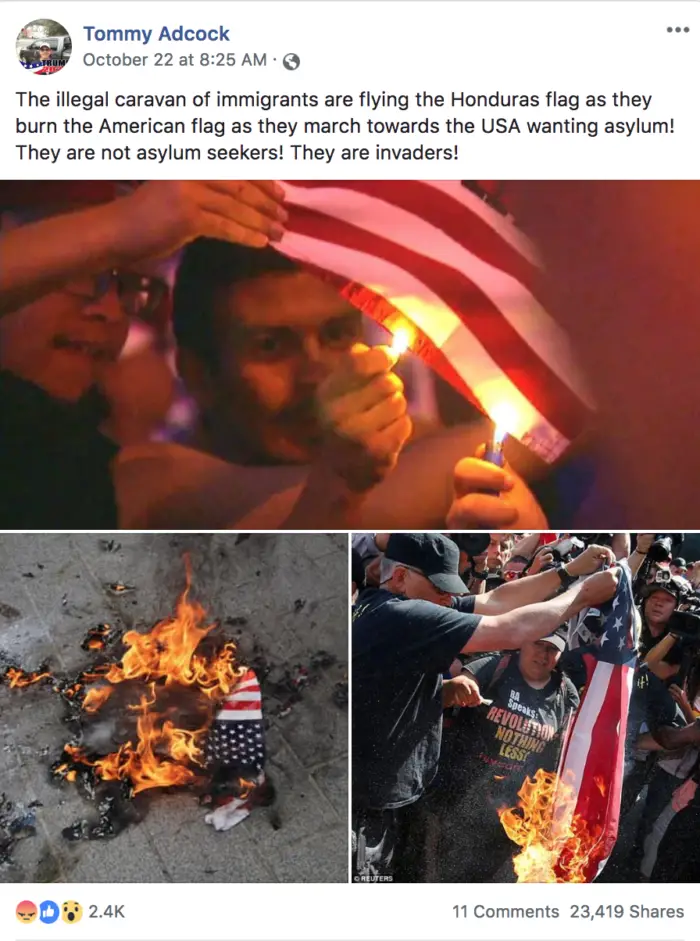 Not one of these images comes from any of the caravans of people who regularly make the increasingly dangerous trek to the American border, and none of them come from the same event — as a reverse image search readily shows.
The first photograph was taken in Albuquerque, New Mexico, in May 2016: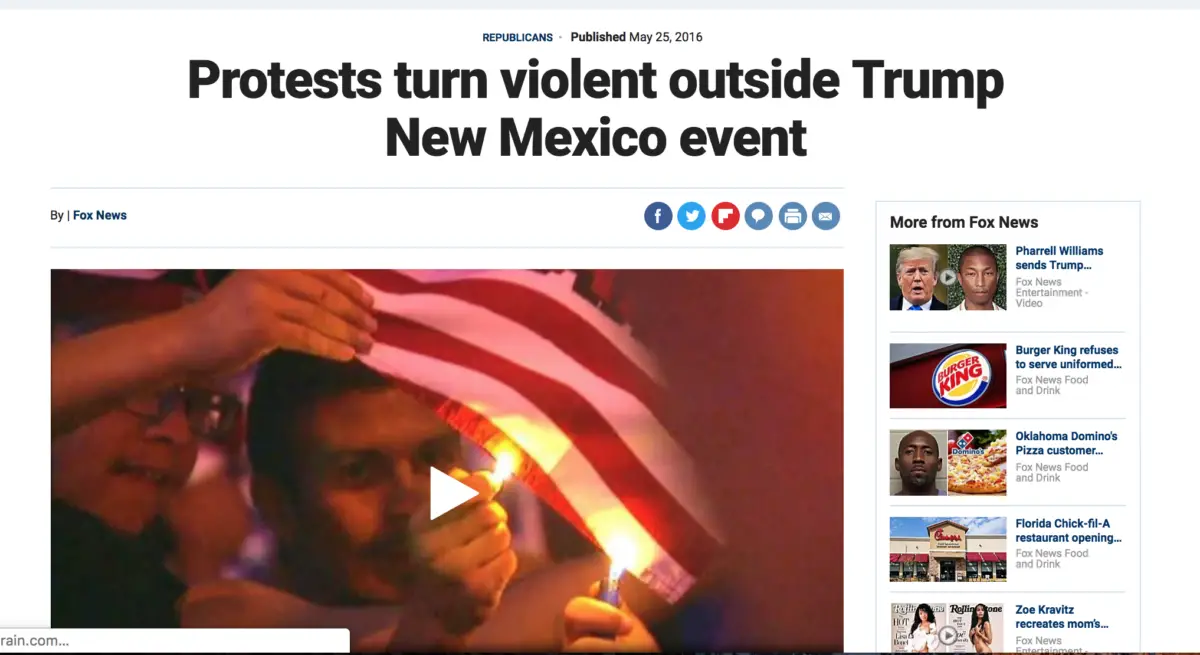 There's another layer to this repurposed photograph, as well, as this video clearly shows. It's not an American flag, but a Trump campaign flag. You can see below what was cropped out in the above photograph: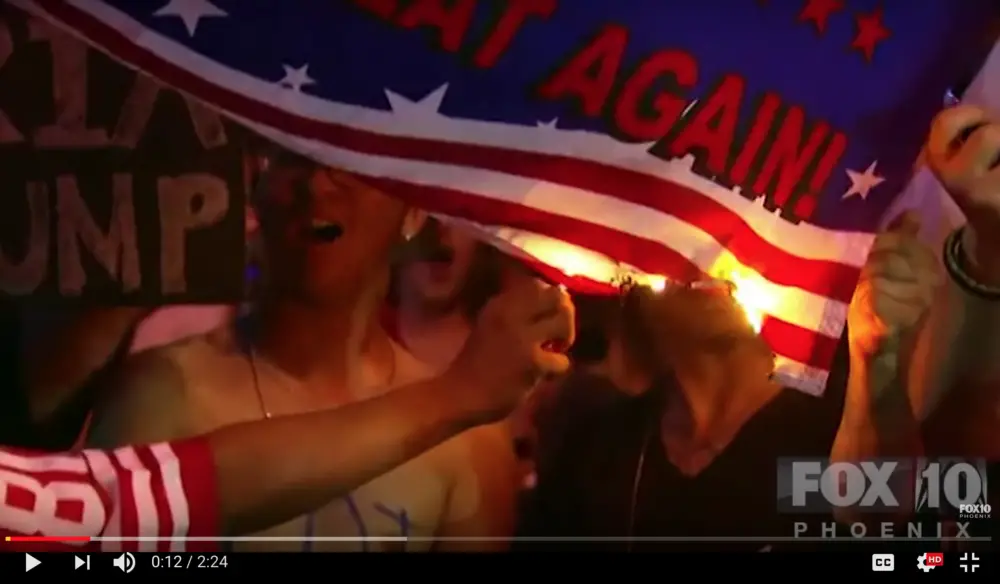 The second image, showing just a flag on fire, could have been taken anywhere, at any time, and simply inserted into this post, which actually is the case here: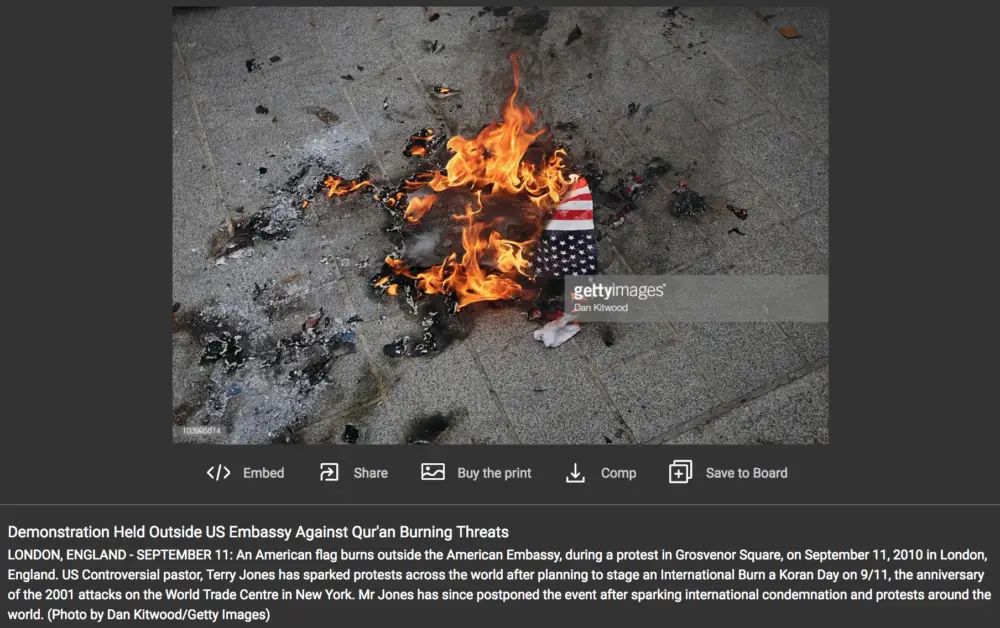 The caption reads:
Demonstration Held Outside US Embassy Against Qur'an Burning Threats
LONDON, ENGLAND – SEPTEMBER 11: An American flag burns outside the American Embassy, during a protest in Grosvenor Square, on September 11, 2010 in London, England. US Controversial pastor, Terry Jones has sparked protests across the world after planning to stage an International Burn a Koran Day on 9/11, the anniversary of the 2001 attacks on the World Trade Centre in New York. Mr Jones has since postponed the event after sparking international condemnation and protests around the world. (Photo by Dan Kitwood/Getty Images)
The final image in the post was stolen from Reuters, and it also shows a scene not from Central America or Mexico in 2018, but from Cleveland in 2016: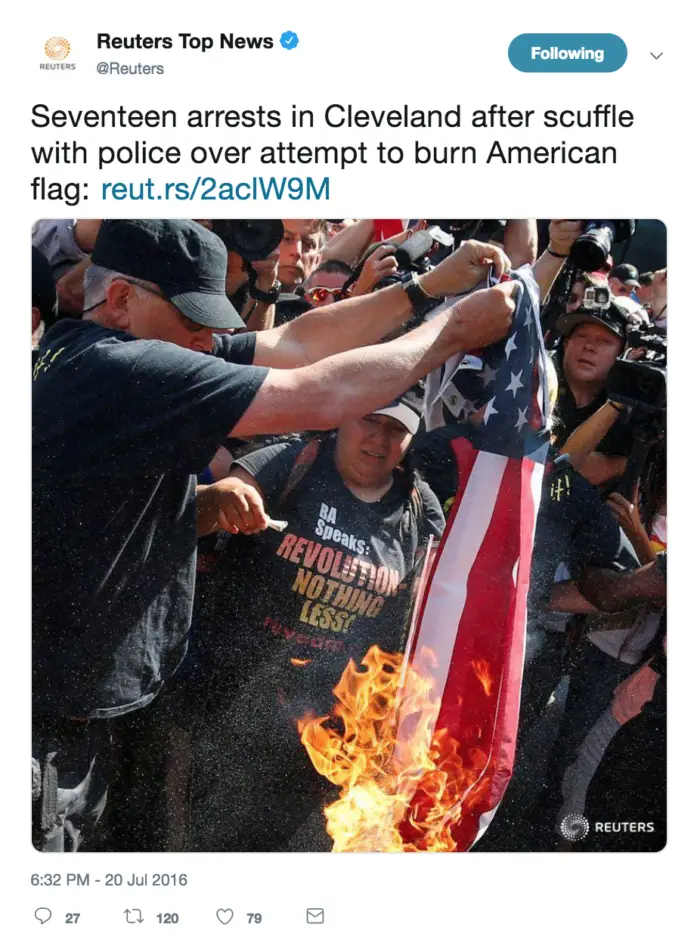 A second post, this from a Bill O'Reilly fan page, contains yet another image stolen from a 2016 protest, this one at the University of Wisconsin in Madison: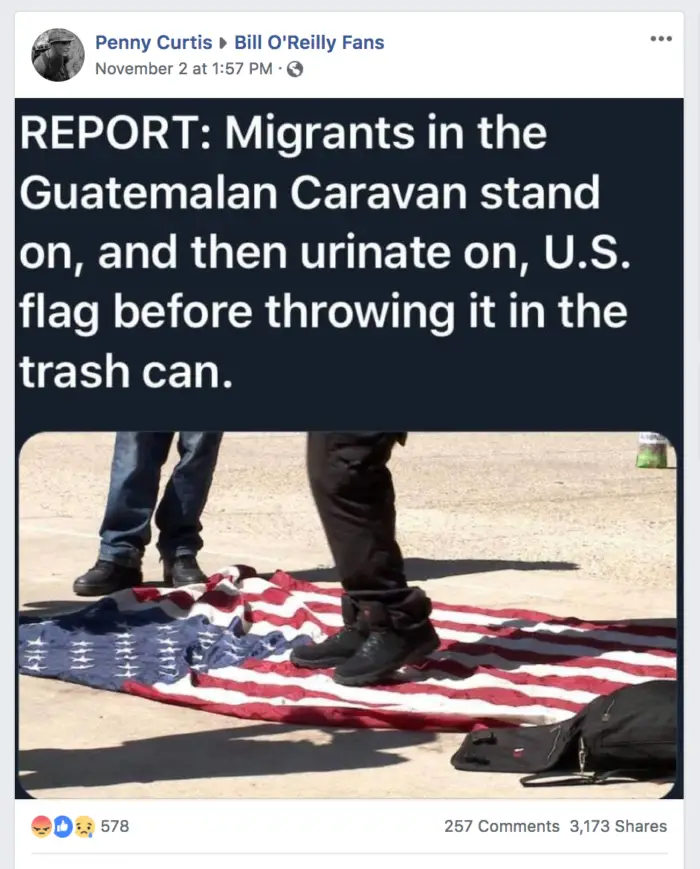 Students at UW-Madison were protesting a visit from Donald Trump, who at the time was running for president, but there is no mention of anyone urinating on any flag in the original story: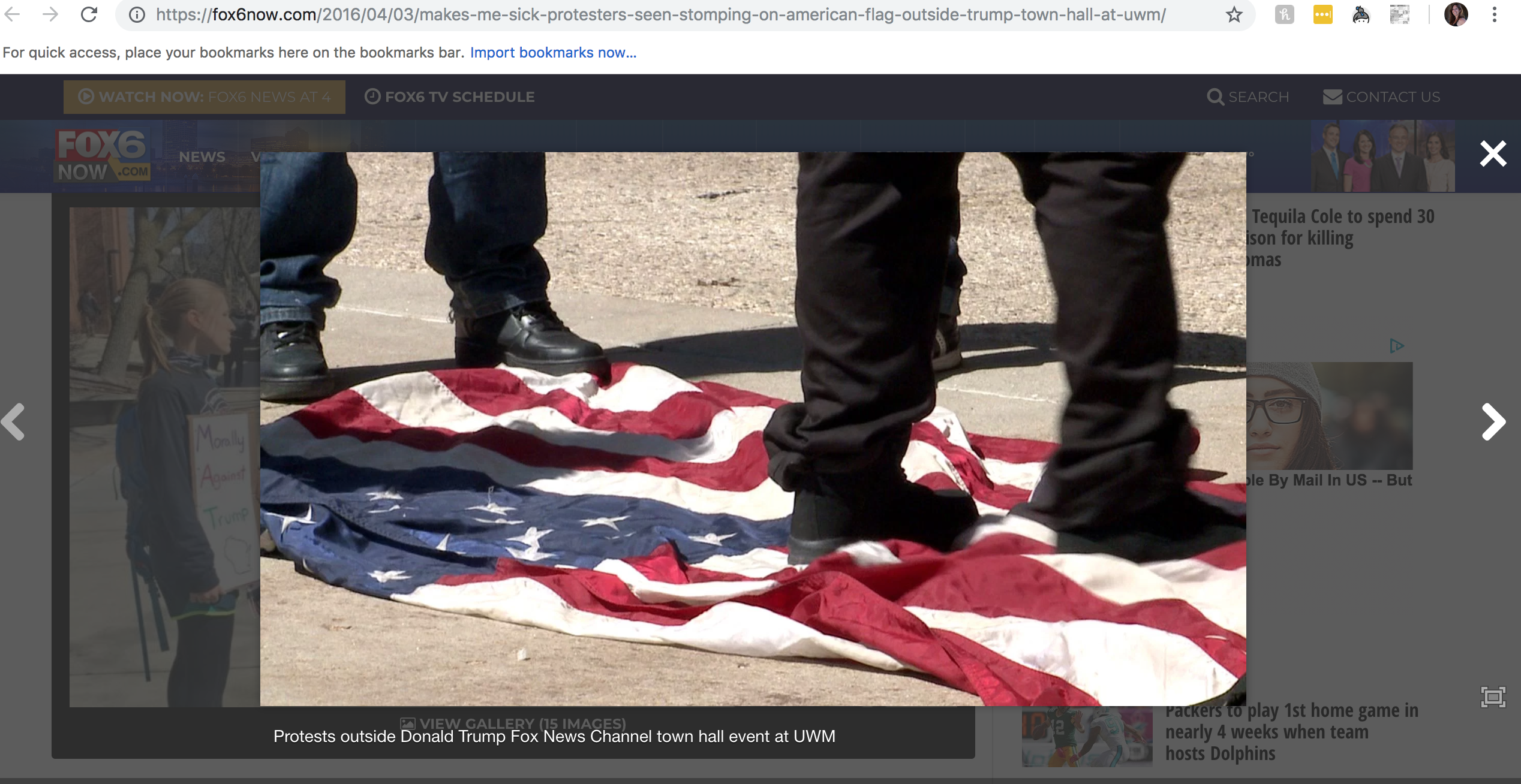 Not one photograph exists of any people traveling with the caravan burning the flag of the country that represents their hopes for a safer life and economic opportunity, because there is no record of anyone having done so.
An Associated Press photographer, Fernando Antonio, did capture two people burning a flag with a swastika painted on it at the American embassy in Tegucigalpa, Honduras, to protest the United States' rhetoric and treatment of asylum-seekers — but by then the caravan itself was at a bridge between Guatemala and Mexico, more than a country and at least 800 kilometers (500 miles) away.
In this case, however, these images appear to be more than simple misunderstandings. Instead, the way they were chosen make it appear as though they were cherry-picked to cynically fuel maximum outrage and take advantage of emotional responses during a particularly high-stakes election season in the United States, and again to try to push for funding for a border wall, despite the fact that a wall separating the U.S. from Mexico already exists and has for years.