'Canadian Peanut Butter' Packaging
Claim
Image shows Canadian peanut butter sold in a styrofoam tray.
Like this fact check?

Reporting
On July 12 2020, a Facebook account shared a cropped Twitter screenshot, purportedly showing what Canadian peanut butter packaging looks like: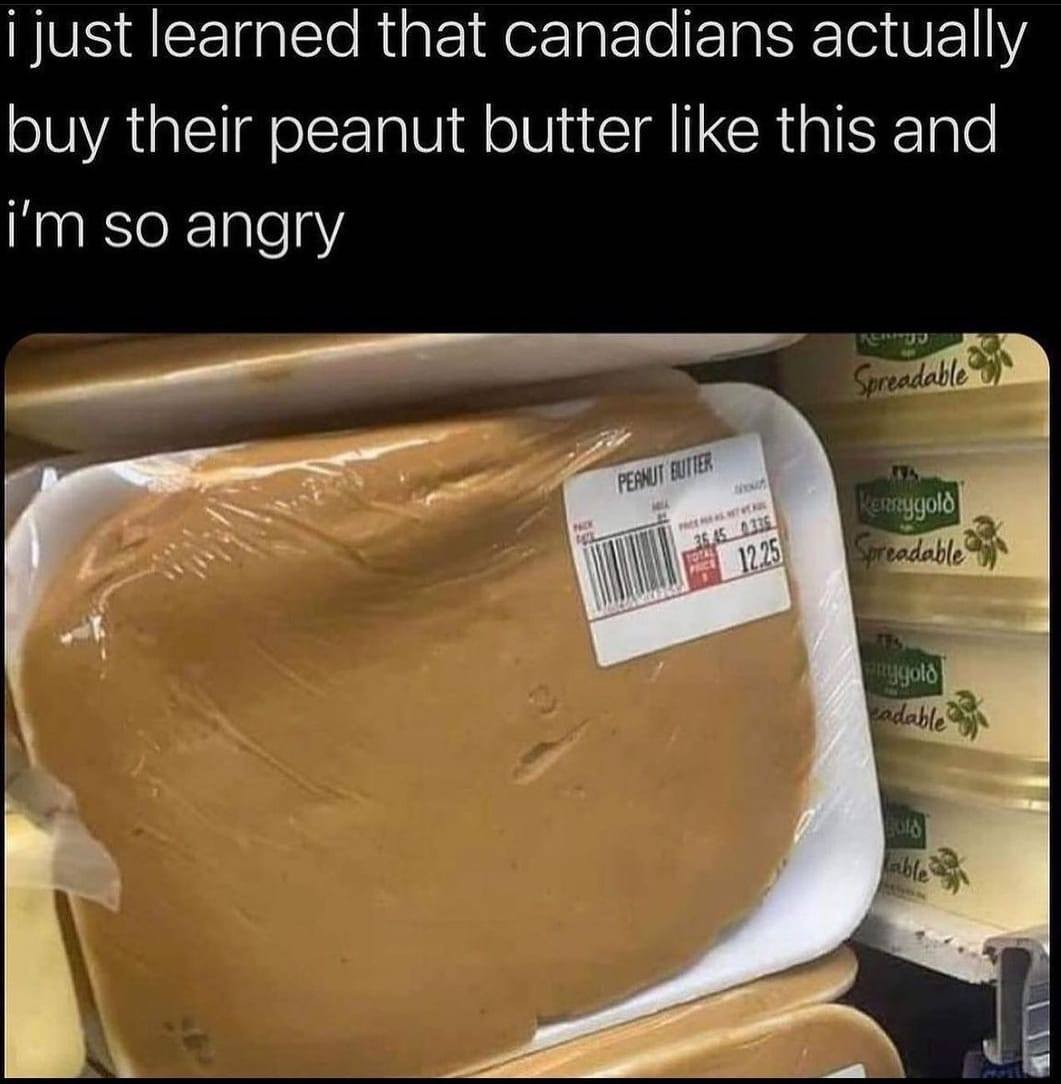 An image of a styrofoam tray (akin to meat packaging) containing peanut butter was appended, and the text read:
i just learned that canadians actually buy their peanut butter like this and i'm so angry
A quick search revealed the original tweet from the screenshot was published on July 10 2021, and subsequently deleted. That tweet appeared to infer that the peanut butter's packaging was Canadian due to the fact Canadians (but not Americans) often buy bagged milk (a practice not exclusive to Canada):
In the early half of the 20th century when refrigeration became mainstream, towns in the U.S., Canada, the United Kingdom, and elsewhere were supplied by milkmen who delivered glass bottles of fresh milk to customers' doorsteps. The bottles were functional and reusable, but also heavy, breakable, and costly to clean. Rudimentary versions of lightweight milk cartons began to emerge around 1915 and became more commonplace with the emergence of Swedish company Tetra Pak in the mid-1960s. Lightweight plastic milk jugs also entered the market in the mid-'60s, promising to increase milk's shelf life.

However, the plastic innovations didn't stop there. Around 1967, American chemical company DuPont introduced the thin, polyethylene milk bag known as a pillow pouch to the Canadian market as an alternative to glass bottles. The company, in collaboration with Guaranteed Pure Milk Co., tested pouches in Montreal and Vancouver. Canada's rush to transition from the Imperial measurement system to the metric system in the 1970s forced packaging companies to scramble to change their container sizes from pounds to liters. Plastic milk bladders adapted more easily to the new metric standards and thus gained an edge in some parts of the Canadian market.
A reverse image search for the "Canadian peanut butter" image led to a May 29 2021 post on Reddit's r/blursedimages — a subreddit focused on images which are "both blessed and cursed." Posts from that date were chronologically first in crawled images:
On the same day, a Twitter user alluded to common retail features of Amish markets in describing the image as "Ohio style peanut butter":
Ohio style peanut butter pic.twitter.com/FSNgbLNo1Q

— Sloth Havoc (@SeattleSloth_) May 30, 2021
Another Reddit post to r/mildlyinfuriating included comments describing the image as from an "Amish shop" (at the same time an r/oddlyterrifying post described it as "loose peanut butter"):
It's from an Amish shop apparently. But that still doesn't explain it satisfactorily
As for explaining it satisfactorily, a July 14 2021 LeadStories fact check located the first identifiable iteration of the image, providing its context (a May 28 2021 Facebook post from Trinidad and Tobago):
Does this photo of bulk peanut butter packaged on plastic foam trays and covered with plastic wrap show how peanut butter is packaged and sold in Canada? No, that's not true: This photo shows bulk peanut butter for sale in an unnamed shop in Trinidad and Tobago. This is not the standard way for peanut butter to be packaged in Trinidad and Tobago today, and it may be a food safety violation, but in the past it was not uncommon for peanut butter to be sold by weight and packaged in a grease-proof paper wrapper, especially in small neighborhood groceries.

The photo originated as a Facebook post by a man from the dual-island Caribbean nation of Trinidad and Tobago. Within a day, copies of the photo were circulating with different captions.
Since that May 28 2021 Facebook post, iterations on the "Canadian peanut butter" image have appeared all over social media platforms, with various incorrect identifications appended. After moving from Facebook to Twitter, within a day a user labeled it "Ohio style peanut butter," alluding to Amish markets. That explanation stuck until a since-deleted tweet accused Canadians of packaging peanut butter in that fashion, likely due to Canada's "milk bags." However, the "Canadian peanut butter" was neither Canadian nor Amish.