Actor Luke Perry died following a stroke on March 4 2019. That same day, a screenshot (archived here) suggesting Perry had received a pneumonia vaccine just before his stroke appeared and quickly began circulating: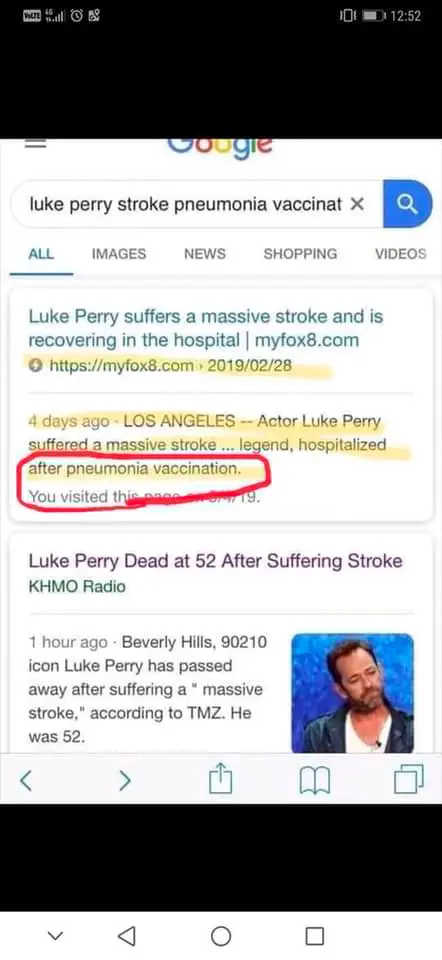 The post, captioned "In case someone was wondering!", displayed what appeared at first glance to be an article reporting Perry was hospitalized due to a vaccine-related illness. The highlighted portion read:
Luke Perry suffers a massive stroke and is recovering in the hospital | MyFox8 |

4 days ago [-] LOS ANGELES — Actor Luke Perry suffered a massive stroke … legend, hospitalized after pneumonia vaccination.
The original search string was visible in the post: "Luke Perry stroke pneumonia vaccination." (The last word, "vaccination," was cut off.) In an attempt to retrieve the same result, we searched: "Luke Perry MyFox8 pneumonia vaccination." Our returned result was slightly different: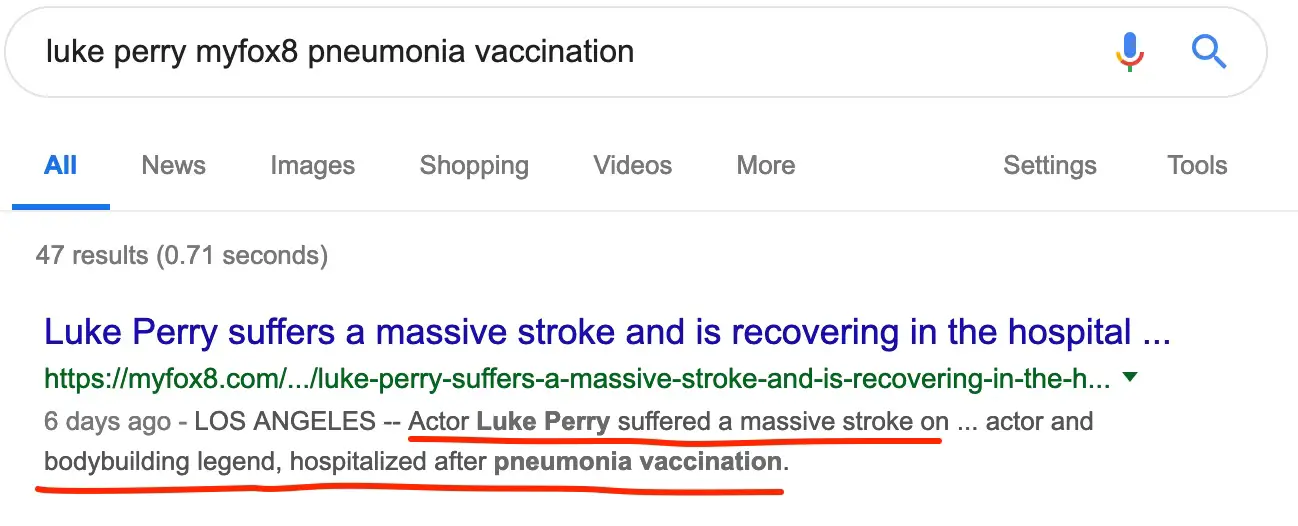 Perry was indisputably a "heartthrob" and had been since he was first introduced to teenagers in 1991 as the intriguingly troubled Dylan McKay on Beverly Hills 90210. Memes circulating on the day he died said things to the effect of "check on your female friends who were teenagers in the 1990s, because they are not okay today." But a bodybuilder?
We clicked on the same article seen in both the poster and our own search results, a MyFox8 (WGHP) article published on February 28 2019 and titled "Luke Perry suffers a massive stroke and is recovering in the hospital." Nowhere in the body of that article did it mention bodybuilding or a vaccine:
LOS ANGELES — Actor Luke Perry suffered a massive stroke on Wednesday and is recovering in the hospital, according to TMZ.

Emergency responders were called to his home Wednesday morning in the Los Angeles area and he was taken to a nearby hospital.

Authorities have not released a current condition of the 52-year-old actor who starred in Beverly Hills, 90210."
But by using a little-known fact-checking tool (which we like to call "Ctrl+F"), we did uncover the words "bodybuilder" and "pneumonia vaccine." They were attached to an unrelated article about Lou Ferrigno from December 2018:
Nothing can stop Hulk!

Lou Ferrigno is out of the hospital after a vaccine shot for pneumonia left fluid in his bicep.

[In December 2018], the star of the late 1970s TV series "The Incredible Hulk" posted a photo on Twitter of himself wearing a green hospital gown with an IV in his arm.

"Went in for a pneumonia shot and landed up here with fluid in my bicep," Ferrigno tweeted. However, he said he'd be OK.

In a follow-up post [that month], he told fans that he was out of the hospital in time to make it to an event where he posed for pictures with actor Dolph Lundgren.

Representatives did not immediately respond to a request for additional details.
According to the piece, Ferrigno was given a pneumonia vaccine and was subsequently (but briefly) hospitalized for "fluid in his bicep." Perry was not reported to have received a pneumonia vaccine, as the post inaccurately and misleadingly suggested. We were unable to locate any evidence anywhere that Perry had received a vaccine immediately before the stroke that led to his death.
It remains uncertain whether the original poster deliberately intended to be misleading when claiming that  Luke Perry suffered a stroke and died after he was vaccinated for pneumonia. It's not clear why they searched for those terms, but the search result they displayed occurred when a search engine generated a page featuring both terms. WGHP covered Ferrigno's illness in December 2018 and Perry's ultimately fatal stroke in February 2019, leading to a preview that inadvertently combined two unrelated articles about two different people.