Is Doc from 'Fraggle Rock' Also Doc from 'Boondock Saints'?
Claim
The character of "Doc" from "Fraggle Rock" was played by the same actor as "Doc" in "The Boondock Saints."
Like this fact check?

Reporting
In August 2019 Facebook page The Secret Nerd Base shared a "today years old" meme claiming that "Doc" from the childrens' show Fraggle Rock was played by the same actor portraying "Doc" in the bloody vengeance-fest The Boondock Saints: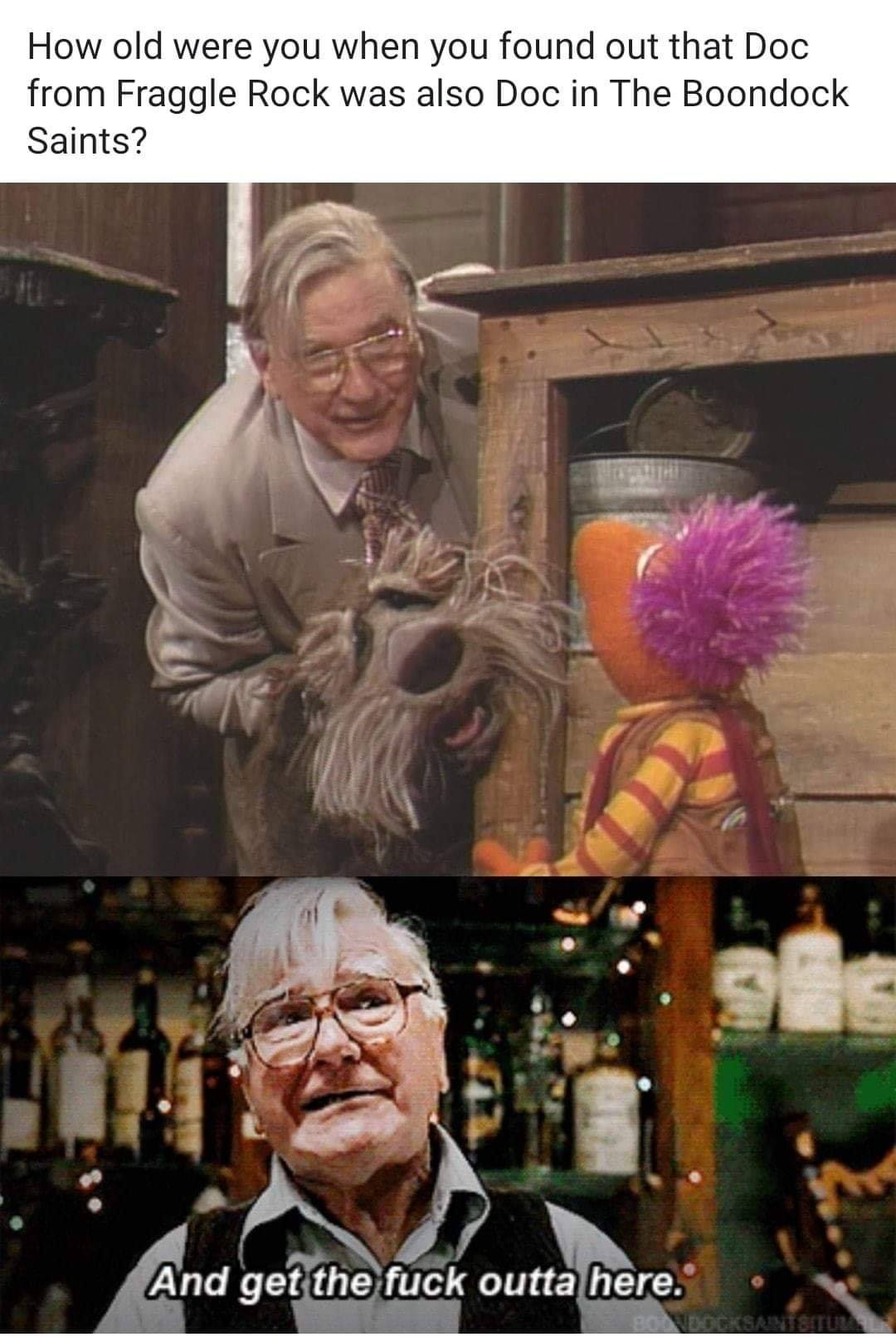 Text above two stills from the show and movie read:
How old were you when you found out that Doc from Fraggle Rock was also Doc from The Boondock Saints?
The strange juxtaposition of the 1980s television show for small children (Fraggle Rock) was contrasted with a still from adult-themed action thriller show The Boondock Saints, in which the Doc character says: "And get the fuck outta here."
In the comments, some users were surprised by the claim, while others said they had they recognized Fraggle Rock's Doc voice immediately when watching The Boondock Saints:
The very moment I saw the movie!

Today, so 49! 🤷🏿‍♂️

Today! I also learned recently, that he once played an alcoholic on the old kids show "Today's Special."

Even though I watched Fraggle Rock when I was little and have seen both of the Boondock Saints movies… I realized this today at the age of 38.
Determining the legitimacy of the claim was relatively straightforward. According to IMDb, Gerard Parkes played Fraggle Rock's "Doc" in the HBO show Fraggle Rock, from 1983 through 1987. A mere 12 years later, Parkes portrayed Doc in 1999's The Boondock Saints. Five years before his 2014 death, Parkes reprised the role of Doc for a second film in the franchise, The Boondock Saints II: All Saints Day. 
The Irish-born Parkes lived to the age of 90, and died in a retirement home in Toronto in October 2014:
Parkes had an unforgettable role as another character named Doc, playing a bar owner with Tourette syndrome in the 1999 film "The Boondock Saints." He also had roles in "A Muppet Family Christmas," "Shining Time Station" and "The Littlest Hobo," and Entertainment Weekly reported that he played a priest multiple times throughout his career.
The Boondock Saints II: All Saints Day was Parkes' final credited role, but he appeared in dozens of films and television shows between Fraggle Rock and the first Boondock Saints in 1999.