JFK Jr.'s Untimely Death Cleared Hillary Clinton's Path to Senate-Reported as Fiction!
JFK Jr.'s Untimely Death Cleared Hillary Clinton's Path to Senate-Reported as Fiction!
Summary of eRumor:
The death of John F. Kennedy Jr. in 1999 has become the latest in the ongoing "Clinton body count" thread of suspicious deaths supposedly tied to the Clintons.
The Truth:
Conspiracy theories that JFK Jr. was murdered by the Clintons to clear a path for Hillary's Senate run have been around for years, but there's nothing but speculation to back them up.
Michael Savage, the outspoken conservative host of "Savage Nation," insinuated that the Clintons were tied to JFK Jr.'s death as far back as 2008. In an exchange with a caller about the New York Senate seat Clinton once held, Savage said:
SAVAGE: Yeah, see, that seat was classically the liberal senator from New York, and it was Patrick Moynihan, who was, by the way, a very balanced liberal. He was not one of these extreme left-wing whack jobs. He was extremely reasonable, Moynihan. The young Kennedy was supposed to run; if you remember, he died in a tragic plane crash. Do you remember that one?
CALLER: JFK Jr., absolutely.
SAVAGE: Thank you. And to this day, people wonder why he died in a plane crash, and then suddenly, enter from the — from stage left, the carpetbagger Hillary Clinton, who moved to Chappaquiddick (sic: Chappaqua), and next you know, she's running for the presidency. That's a whole story that only a novelist could write. I can't write it. But now, you see, she's suddenly secretary of state and now they want to fill it with a shoo-in. Why shouldn't it go to a Puerto Rican or a black person rather than Caroline Kennedy? Huh?
Savage insinuates that JFK Jr. "was supposed to run" for the Senate, and that it's suspicious Clinton was elected to the seat a year later. But that doesn't prove that the Clintons killed him.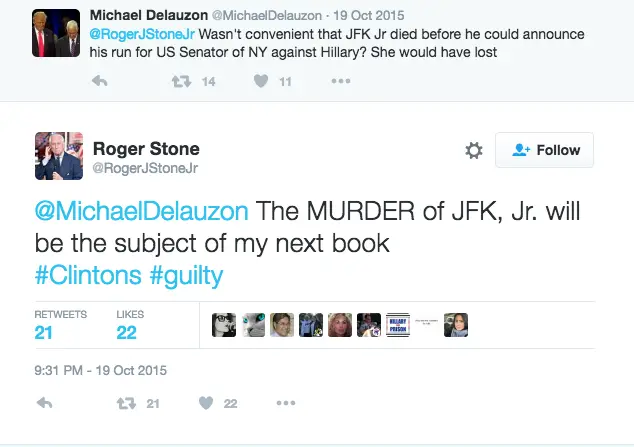 Then, in October 2015, Stone teased a new book that he was working on about JFK Jr.'s "murder" in a response to a tweet echoing Savage's insinuation that the timing of Kennedy's death and Hillary's Senate run was suspicious:
INSERT TWEEET
Stone, a conspiracy theorist who wrote books called "The Man Who Killed Kennedy: The Case Against LBJ" and "The Clintons' War on Women" provided more details about his forthcoming book in an interview in April 2016, stating:
"I have a book coming up in which I make the case that John F. Kennedy Jr. was murdered — and he was murdered by the Clintons, because he was in the way. Now, I have extraordinary new evidence that nobody else has seen."
It's not clear what "new evidence" Stone plans to unveil to prove that the Clintons murdered JFK Jr., so we can't speak to its credibility or verify it in any way.
But a closer look at the facts surrounding JFK Jr.'s political aspirations and tragic death seems to poke holes in Clinton murder conspiracy theories. Shortly after his death, Kennedy Jr.'s friends told the New York Daily News that he had "mulled" a run for Senate in 2000, but he decided against it when Hillary came forward:
A private poll in 1997 found that John F. Kennedy Jr. was by far the state's most popular Democrat, and two friends said yesterday they believed he would have run for office some day. Earlier this year, in one of the best-kept secrets in state politics, Kennedy considered seeking the seat of retiring Sen. Daniel Moynihan (D-N.Y.) in 2000, friends confirmed yesterday.
The idea became moot once First Lady Hillary Rodham Clinton signaled her interest in running, but the two friends said they expected the son of the slain President eventually would have jumped into politics as a candidate. "He was dedicated to public service, and he was going to run for public office in the foreseeable future," said one friend who recently broached the subject with Kennedy. The friend spoke on the condition of anonymity. "I would have been surprised had he not run for office in the next five years.
The obvious question is why the Clintons would have killed a well-respected Democrat who didn't appear to have any intention of challenging Hillary in a Senate race.
Aside from that, the National Traffic Safety Board released a report on JFK Jr.'s death in 2000 that concluded it was the result of "pilot error" and "spatial disorientation" resulting from coming in for a landing over water at night:
"The pilot's failure to maintain control of the airplane during a descent over water at night, which was a result of spatial disorientation. Factors in the accident were haze and the dark night."
Given that no evidence has been provided linking the Clintons to JFK Jr's death, that the younger Kennedy had no apparent intention of challenging the Clintons politically, and that the NTSB didn't raise any suspicions about the wreck that claimed his life, we're reporting this rumor as "fiction."