Razor Blades on Slides: Urban Legend or Legitimate Risk?
Claim
Individuals have begun sabotaging playground equipment and waterslides with razor blades.
Like this fact check?

Reporting
A meme shared by the page "Explore Talent" (archived here) including several images alongside a warning about razor blades purportedly affixed to playground equipment such as slides has been circulating on social media for years:
https://www.facebook.com/ExploreTalent/photos/a.73970478944/10155209536193945/
The text on the meme read:
Everyone needs to be aware of this especially since it's Summertime. Some sick human beings have started gluing razor blades strategically around children's parks. They have been found on handles of monkey bars, down slides, on see-saws etc. This has happened all over the country and could happen in your town. Always thoroughly check where your child is playing and share this so we can all be a bit more careful.
Although this is invariably presented as a public service announcement, there is no actual advice given to parents and caregivers should the claims constitute a legitimate threat. Areas of play equipment in parks are rarely accessed by adults (such as the tops of climbing structures and slides), and no specifics about the purported sabotage (aside from images) are included.
The images in this particular meme — which had been shared more than 100,000 times as of June 2019 — does appear to match up with a years-old story involving a single playground in Illinois. In March 2014, WQAD reported that one child had been injured by the razor blades shown in the meme:
A two-year-old was hurt after razor blades were placed on playground equipment at Millennium Park in East Moline.

A police department spokesman said police found several razor blades glued to various pieces of equipment at the park, at 5101 Archer Drive, just before 1 p.m. Monday, March 24, 2014.

"Officers collected the razor blades and other evidence," according to a statement from East Moline Police Captain John Reynolds.

Reynolds said a two-year-old child was injured. The child's mother says he will be okay.
The same images were used in contemporaneous news articles, but that item largely rehashed WQAD's reporting with no additional details. The report did not appear to be an entirely isolated incident — just weeks later on April 1 2014, reports of razor blades affixed to playground equipment and slides in a Pennsylvania park appeared:
Authorities have not released many details about the case. A safety alert posted to the Brookhaven Police Facebook page reads in part: "All the parks have been checked as of 4/1/2014 and are clear. This is an active investigation, and parks will be checked by both patrol officers as well as plain clothes officers on every shift."

Police believe the crime was an isolated incident, according to CBS Philly. DeProphetis said that additional town watch patrols will also be checking parks.

The incident recalls a similar case last week in East Moline, Ill., where authorities were contacted after a 2-year-old boy sliced his finger on a razor blade that had been glued to playground equipment in the city's Millennium Park. An arrest has yet to be made in that case.
Scattered reports over the years indicate that there have been other incidents. In 2003, a California woman pleaded guilty to charges stemming from the placement of razor blades in a children's park; another report occurred in California in 2010. In July 2017, there were reports of razor blades discovered in two children's parks in the same area in Texas. A similar report in South Dakota appeared in July 2018.
The re-circulation of the meme in 2019 may have been due to yet another report on June 12 2019 in Calgary. A local news item initially noted that the story resembled long-circulating urban legends:
What should've been a fun morning at the park turned into something akin to an urban legend for a Calgary family on Monday.

The Webster family's morning was flipped upside down after their 4½-year-old son was cut by razor blades wedged into a slide in a northeast park.

Gillian Webster's son, James, was at a park near 60th Avenue and Centre Street N.E. with his day-home group when he was sliced by the blades.

"I felt like I was going to be sick when I found out what happened — especially being so close to home," said Webster, who got a call about the injury Monday morning at work. "This is a park we have frequented a lot over the past years and we never had an incident before.
The article included a link to a June 10 2019 Facebook post shared by Gillian Webster, which showed an image of bloody, torn clothing and said:
I don't use social media very often but I need to share this. This morning my son, James, was playing at a playground in Thorncliffe, off Centre Street and 60th Ave NE. Some sick, twisted asshole wedged two disposable razor blades at the top of the slide. He got cuts on his hand and bum.

We've informed the police and have spoken with Health link, thankfully James has all his shots including hepatitis and should be okay.

I am so angry and sick to my stomach that this happened. Please, please check playground equipment when you're out with your kids.
As mentioned in the June 2019 news item, tales of razor blades used to sabotage playground equipment, slides, and water slides is indeed an "urban legend," one that circulated well prior to these modern instances and reports. The claim warranted a mention in folklorist Jan Harold Brunvand's Curses! Broiled Again! In a chapter titled "Death in the Funhouse," Brunvand describes the razor blade in slides lore as marked by both massive popularity and a lack of inventiveness: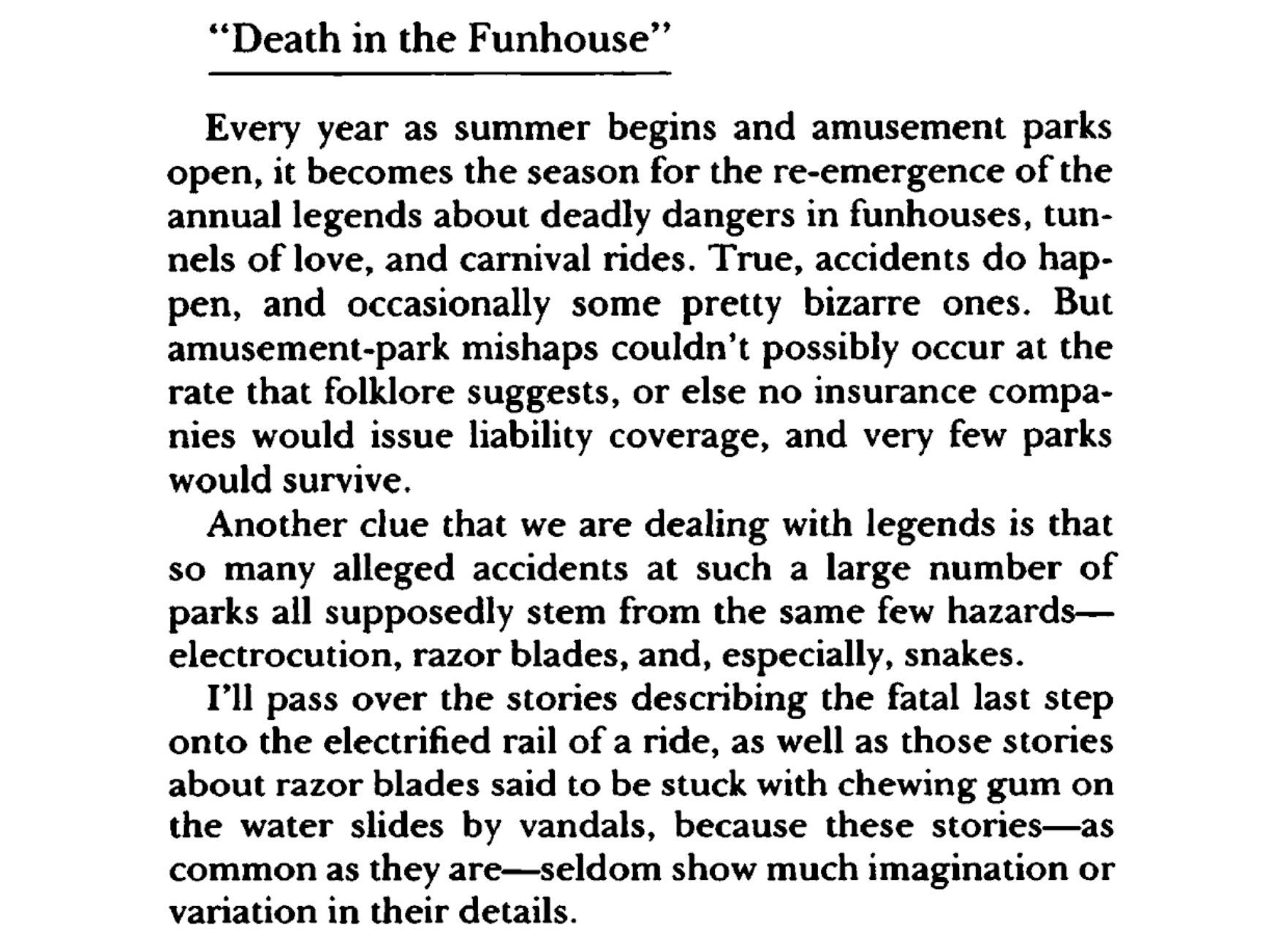 The story as an urban legend was shared by @ULTweets on Twitter in 2018, with commentary about the nebulous way in which such claims tend to manifest — and their usefulness in stoking fear. The same account showed instances of the story-as-a-legend in the UK in 2017:
How an act of ostension (taping razor blades to a playground slide, https://t.co/Ma61bjXn60) feeds into fears and stokes distrust of "the others," this time non-British citizens.

Note that police haven't determined who did this and why. pic.twitter.com/e7m9xukNnu

— It's an Urban Legend (@ULTweets) December 2, 2018
"you posh gits with your swanky leisure centres … "

(Every water slide in Wales and elsewhere is embedded with razor blades.) pic.twitter.com/HBXIOYTU5D

— It's an Urban Legend (@ULTweets) January 7, 2017
A full fourteen years passed between Brunvand's 1989 book containing mention of the legend and the 2003 incident in California. In December 2018, Vice examined the legend of razor blades in slides at water parks, beginning with a search for any substantiated instances of such an injury occurring in Australia, where the story is also popular:
You've probably heard this one before: a kid goes down a water slide and gets slashed up by a razor blade on the way down. Everyone seems to know about it, and the details don't vary too much. Some psycho affixes a blade with a bit of chewy, or jams it into the joints between pieces of the slide. Your mate's-mate's-cousin who worked a water park one summer says all the parks know about it, which is why they send down test dummies first thing in the morning before the visitors arrive. Hundreds, maybe thousands, of Australians have been permanently maimed by brushes with razors blades at hotspots around the Gold Coast, West Sydney, and Geelong. Everyone knows about this, so there's got to be some truth to it—right?

[…]

I looked long and hard for a victim, an incident, or anything that could say definitively that this had indeed happened in Australia before. The closest I came were a couple of mid-2010s newspaper reports saying the same thing: the now long-gone Grundy's Entertainment Centre in Surfers Paradise was "the centre of an infamous incident in the mid-1980s when razor blades were allegedly placed between a slide's joints, leading to the injury of a child". One report even said they'd confirmed the incident with a former Grundy's employee, without offering further details.

I couldn't find anything substantial, though, from anywhere in the country, about a razor on a water slide. I searched the vast digitised newspaper collection of the National Library of Australia (more than 220 million newspaper articles). No reports. I asked water parks across the country if they'd ever heard of this happening. Predictably, I didn't get much of a response, and no confirmations. I dug through forums on the topic from the early days of the Australian internet, looking for leads, and came up with diddly-squat. I even stuck a razor to the wall of my shower with a piece of gum and hit it with running water to see if that iteration of the myth was even possible (it held for 11 seconds, which doesn't seem like long enough).
Of course, the water slide iteration is not limited to Australia:
Razor blades on the Magic Mountain waterslides https://t.co/JJPwlOejRq

— anna s-r (@annaspargoryan) October 3, 2018
As noted by two outlets, the story of razor blades affixed to water slides or playground equipment was a classic urban legend and an old one at that, existing before the news stories appeared describing isolated, but frightening incidents.
Almost certainly at play is an aspect of folklore and its spread mentioned in our page on the "Momo challenge" legend, a phenomenon well documented and well known in folklore as ostension. The word "ostension" (officially defined as showing or demonstrating something) is also used by those who study folklore and urban legends "to indicate real-life happenings that parallel the events told in pre-existing and well-established legends and lore" as a term specific to that type of research.
Ostension occurs in another variant as quasi-ostension, when unrelated happenings are chalked up as related to circulating urban legends. Incidents involving purported gang initiations often fall into this category, for example. But incidents of razor blades on slides would fall under the general definition of ostension, described in essence as "fact mirroring fiction."
Examples of such instances were described by folklorists in a 1983 paper about various forms of ostension:
Folklorists Linda Dégh and Andrew Vázsonyi appropriated the term in their 1983 article "Does the word 'dog' bite? Ostensive Action as a Means of Legend-Telling" to refer to ways in which real-life actions are guided by legends.

For instance, legends of contaminated Halloween candy predated the finding of actual contaminants in treats by at least ten years (Dégh and Vázsonyi, 1983). Individuals who placed needles, razor blades and other dangerous objects in treats as pranks engaged in a form of ostension. The theory of ostension explains how easily certain elements can pass from legend to ritualised action.

Entire legend plots can be reduced to an allusive action. If a narrative is widely known individuals may become involved in real life activities based on all or part of that narrative. This is ostension in action; when legend alters or shapes the behavior of people. Real events patterned on an urban legend, fact mirroring fiction.
That example involved another popular and old urban legend, about contaminated Halloween candy. As with the razor blades on waterslides and playground slides (or monkey bars) tale, rumors of that sort of sabotage appeared to circulate for years or decades before instances began occurring.
In reality, stories of razor blades on slides were around for quite a while before scattered instances were reported in wide-ranging locations. The meme used images from a 2014 report in Illinois, urging families to carefully inspect playgrounds for razor blades. Nevertheless, the handful of times the legend has become purported reality were few and far between. Overall, this particular notion appears to remain largely in the realm of urban legends, with a small number of real-life ostensive cases.