'Untethered Astronaut' Bruce McCandless in the 'Most Terrifying Space Photograph'
Claim
"Perhaps the most-terrifying space photograph around. Astronaut Bruce McCandless II floats untethered away from the safety of the space shuttle, with nothing but his Manned Maneuvering Unit keeping him alive. The first person in history to do so."
Like this fact check?

Reporting
A February 18 2021 Facebook post by AstrophileDaily.com spread virally (and in copies too), purportedly showing astronaut Bruce McCandless II floating "untethered" in space:
https://www.facebook.com/AstrophileDaily/posts/112947954166234
The Post
A frequently repeated and screenshotted caption read:
Perhaps the most-terrifying space photograph around.

Astronaut Bruce McCandless II floats untethered away from the safety of the space shuttle, with nothing but his Manned Maneuvering Unit keeping him alive. The first person in history to do so.

Credit: NASA
A February 21 2021 edit (absent from several of the screenshots) cryptically read:
[Please check comments for details]
A search for shares indicated that few people captured that edit: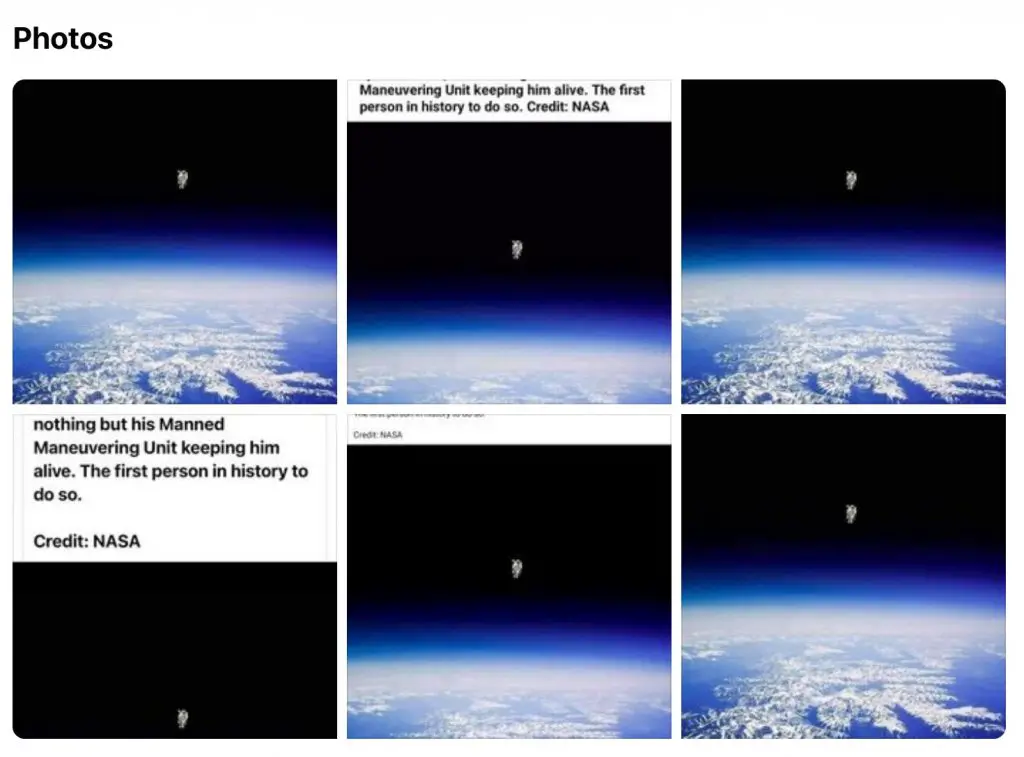 In the comments on that date (February 21 2021), the AstrophileDaily.com page added that the viral photograph in the original image had been digitally enhanced:
The photo in the post is altered to show mountains. Here is the original photo.
Viral Interest in the 'Untethered Spacewalk' of Bruce McCandless II
Google Trends data demonstrate the post apparently led users to search for more information on the image; search terms related to it began ticking up in popularity on February 18 2021, spiking on February 21 2021. Related terms with "Breakout" popularity metrics included:
"Untethered astronaut";
"Bruce McCandless untethered";
"Bruce McCandless";
"Astronaut Bruce McCandless";
"Bruce McCandless floating untethered in space
"Astronaut Bruce McCandless II floats untethered," and;
"NASA."
Background
Although the image represented a legitimate event, more than 35 years had passed since Bruce McCandless II "floated untethered in space."
A February 7 2019 post to the Kennedy Space Center's Payload Blog began:
35 YEARS AGO: FIRST UNTETHERED SPACEWALK

Can you imagine floating in the vacuum of space with nothing anchoring you to the spacecraft? On Feb. 7, 1984, astronaut Bruce McCandless made history performing a spacewalk during STS-41B with no lifelines tethering him to space shuttle Challenger. Using the Manned Maneuvering Unit (MMU), McCandless and astronaut Bob Stewart completed separate untethered spacewalks during the mission, both venturing more than 300 feet/ 91 meters from Challenger.
On December 22 2017, NASA published a memorial page for McCandless, observing McCandless was likely best known for his "walk" through space:
Former NASA astronaut Bruce McCandless II, mission specialist on the STS-41B and STS-31 missions, passed away on Dec. 21, 2017, at the age of 80.

McCandless is perhaps best remembered as the subject of a famous NASA photograph (below right), flying alongside the space shuttle in the Manned Maneuvering Unit (MMU) — the first astronaut to fly untethered from his spacecraft. His time as an astronaut encompassed much more than that mission, including serving as the Mission Control communicator for Neil Armstrong and Buzz Aldrin's moonwalk on the Apollo 11 mission.

[…]

McCandless, a retired U. S. Navy captain, was one of the 19 astronauts selected by NASA in April 1966. He was a member of the astronaut support crew for the Apollo 14 mission and was backup pilot for the first crewed Skylab mission. He flew as a mission specialist on two space shuttle missions. On STS-41B in 1984, he performed the famous spacewalk and on STS-31 in 1990 he helped deploy the Hubble Space Telescope.

Of his famous spacewalk, he wrote in 2015: "My wife [Bernice] was at mission control, and there was quite a bit of apprehension. I wanted to say something similar to Neil [Armstrong] when he landed on the moon, so I said, 'It may have been a small step for Neil, but it's a heck of a big leap for me.' That loosened the tension a bit."
NASA's "famous photograph" was far more close up than the viral version (and the agency embedded a short video of McCandless' untethered spacewalk). Here is NASA's "famous photograph":
For a moment, it looked as if the image circulating and NASA's "famous untethered spacewalk" image differed. Reverse image searches were initially unsuccessful until we located a November 2011 NASA photo gallery post ("McCandless Orbits in Jetpack"), which read:
On Feb. 12, 1984, astronaut Bruce McCandless, ventured further away from the confines and safety of his ship than any previous astronaut had ever been. This space first was made possible by a nitrogen jet propelled backpack, previously known at NASA as the Manned Manuevering Unit or MMU.

After a series of test maneuvers inside and above Challenger's payload bay, McCandless went "free-flying" to a distance of 320 feet away from the Orbiter. This stunning orbital panorama view shows McCandless out there amongst the black and blue of Earth and space.
Attached to this post was the "unenhanced" version of the image, with an untethered McCandless "free-flying" more than 300 feet away in space. As such, the image was authentic and originated with NASA.
Summary
Versions of Bruce McCandless II's "untethered astronaut" spacewalk circulated on Facebook, Twitter, and Reddit in February 2021 — but the version circulating was "enhanced" to add the appearance of mountain ranges. The "unedited" image seen in the comments was shared by NASA in 2011. We have rated the post Decontextualized, due to the fact the image was slightly altered — and that the event in question took place on February 7 1984.