On July 17 2019, a Facebook user shared a post (archived here), claiming an image of a map plotted the locations of "reported cases of flesh eating bacteria" that summer.
In the status update, the user wrote:
I will no longer be going to the beach or on the sand.*There also asking woman not to shave there legs for 2 days before they go to the beach because if u have any type of cut u will get it.A lady got it just on the sand.This stuff is Horrible!
A number of people responded with similar vows to avoid beaches based on the alarming map.
We searched to see if the map originated with any news stories about dangerous levels of "flesh eating bacteria" at Gulf Coast beaches, and found versions of the same map shared as early as 2010. Both TinEye and Google Image Search returned a mixture of results.
However, earlier iterations of the map were attached to content related to a British Petroleum oil spill in April 2010. Google suggested "flesh eating bacteria Florida 2017 map" as a name for the image, indicating that the map was mislabeled as early as 2017: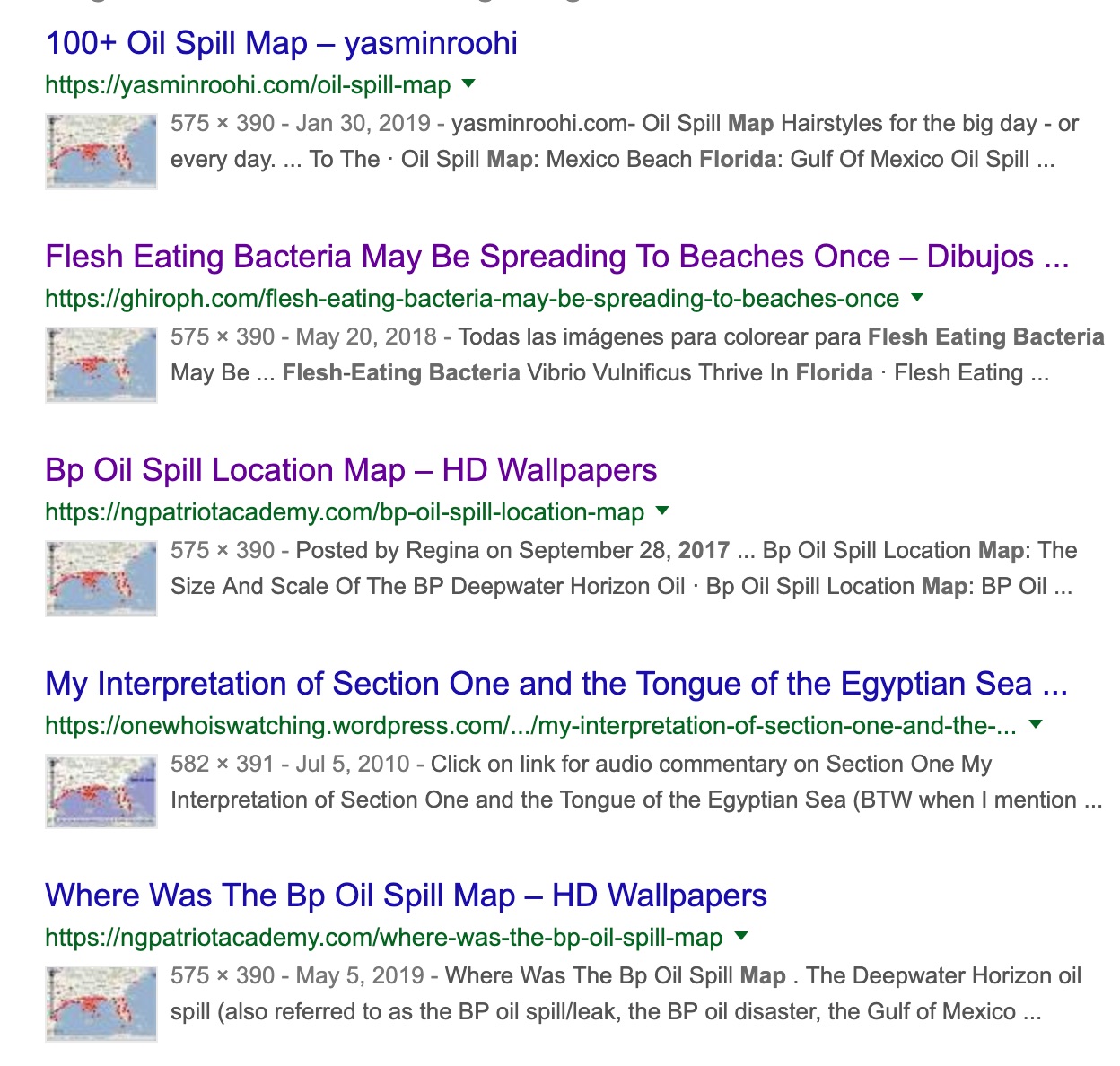 It is true that some counties in Florida have experienced an uptick in cases of an illness mislabeled as "flesh-eating disease," and public health officials attributed the infections to water pollution:
Vibrio vulnificus infections aren't the type of thing the region's paradise promoters necessarily want to talk about, yet there were more potentially deadly cases documented in Lee and Collier counties last year than anywhere else in Florida.

It's commonly called flesh-eating disease, a not-quite-accurate nickname that makes public health officials cringe, because the microbes that cause it don't really eat people; the toxins they produce can destroy soft tissue, and, in serious cases, cause death. Symptoms after contact include: chills, fever, swelling, blistering, skin lesions, severe pain, low blood pressure and discharge from wound. Without treatment, death can occur in just a few days.

Since 2008, Vibrio vulnificus has infected 346 people in Florida, killing 99 — more than 28 percent of those who contracted the disease. Last year, the bacteria infected 49 people in Florida, killing 11 of them, which is one more death and three more infections over 2016.
However, officials also noted that the risk of infection remains extremely rare for most people:
Even though the chance of getting a Vibrio infection is about the same as getting hit by lightning, some environmental advocates worry it might become even more common if water pollution isn't curbed.
The Facebook map indicated numerous cases of the illness ranging from Florida's coasts across to Texas, including Louisiana. On August 1 2019, People reported on the grand total of cases in the United States that year:
Of the reported cases [in 2019], seven occurred in the Gulf of Mexico, where flesh-eating bacteria, especially the vibrio species, have thrived for years because of the year-round warm waters. In April, a man fishing in Ozona, Florida, contracted the bacteria. Two months later, the same thing happened to a 12-year-old girl vacationing in Destin, Florida. Just a few days later, a 77-year-old woman died after walking along Coquina Beach on Anna Maria Island in the same state.

After the Fourth of July weekend, five people developed flesh-eating bacteria — a man in Santa Rosa Beach, Florida, a woman in California, and two men who died from necrotizing fasciitis, one in Okaloosa County, Florida and another on Magnolia Beach in Texas.

Cases from other areas include one in Waterloo, Alabama, along the Tennessee River, another at Ocean View Beach near Norfolk, Virginia, one at Colonial Beach in Virginia, on the Potomac River, one on Ocean City, Maryland's bay side and another from the Green River in Kentucky.
The "reported cases of flesh eating bacteria" map spreading in 2019 was a map created in 2010 in relation to the BP oil spill. Cases of the bacterial infections were reported across the United States, but they were far fewer in number than the map suggested. Officials indicated that chances of contracting an infection from the water for most people remain very low.