On June 22 2023, claims that a chapter of far-right group Moms for Liberty in Hamilton County, Indiana had apologized  "quoting Adolf Hitler" circulated on social media:
On Reddit, similar posts were shared to r/news and r/WhitePeopleTwitter:
Fact Check
Claim: In June 2023, the Hamilton County Indiana chapter of Moms for Liberty quoted Adolf Hitler in a newsletter (and attributed the quote to him by name).
Description: In June 2023, the Hamilton County Indiana chapter of Moms for Liberty quoted Adolf Hitler in a newsletter – and attributed the quote to him by name – according to various social media posts and reports. This news surfaced alongside the Southern Poverty Law Center's designation of Moms for Liberty as a far-right extremist group. The group later acknowledged the controversy and apologized.
On r/WhitePeopleTwitter, the post's title included the phrase "we're not a hate group" (in reference to Moms For Liberty). That was likely due to the Southern Poverty Law Center (SPLC) identifying Moms For Liberty as just that.
SPLC maintained a lengthy profile of Moms For Liberty on the "Extremist Files" part of their website. An introduction to the entry explained:
Moms for Liberty is a far-right organization that engages in anti-student inclusion activities and self-identifies as part of the modern parental rights movement. The group grew out of opposition to public health regulations for COVID-19, opposes LGBTQ+ and racially inclusive school curriculum, and has advocated books bans.
In a section titled "Dangerous Liasons," the SPLC explained Moms For Liberty's many ties to similar extremist coalitions:
… Moms for Liberty recommended using The Making of America to teach history. This 1985 book by conspiracy theorist and John Birch Society supporter W. Cleon Skousen portrays slave owners as the "worst victims of slavery" and claims that although the Founders wanted to free slaves, most slaves were unprepared for lives of freedom … In addition to falling in line with James Lindsay's groomer rhetoric and Chris Rufo's CRT attacks, Moms for Liberty has not only developed but leveraged its close political alliances and ties to extremist groups to broaden its reach and spread its messages of anti-inclusion and hate.

This has been done in tandem with an effort to publicly rebrand the organization and appeal to a less radical audience. Although the group got its start on some of the most right-wing media outlets, it has since removed these press releases and appearances from its website, including the Glenn Beck Program, Breitbart, and the Rush Limbaugh Show.

Within Moms for Liberty's web of political allies are a number of connections to antigovernment groups, White nationalists, election deniers, and participants in January 6th events … The national organization and individual chapters have ties with groups that SPLC has designated as hate or extremist.

One of the most notable connections is the association with several chapters with the Proud Boys, a White nationalist group. Pictures have circulated across social media of Moms for Liberty leaders and members posing with Proud Boys in their full regalia.
IndyStar.com included what it described as a "screenshot" in an article about the controversy; the image in fact appeared to be a photograph of a browser displaying the newsletter. Quotes attributed to historical figures like Adolf Hitler are often decoupled from their source, enabling innocuous quoting by individuals unaware of the actual attribution.
However, in this case Hitler's name appeared directly under the quote, clearly demonstrating that Moms For Liberty intentionally elected to use the quote, knowing the words originated with Hitler:
"He alone, who OWNS the youth, GAINS the future." Adolf Hitler
As for whether the Hamilton County Moms For Liberty group in actuality knowingly quoted Hitler, a post appeared in a Facebook group named "Moms for Liberty – Hamilton County, IN (PUBLIC)"; it was not clear whether the "PUBLIC" was added following the "quoting Hitler" debacle. In a June 21 2023 post (archived), Moms For Liberty Hamilton County group administrator Sherry Stewart shared an updated version acknowledging the changes: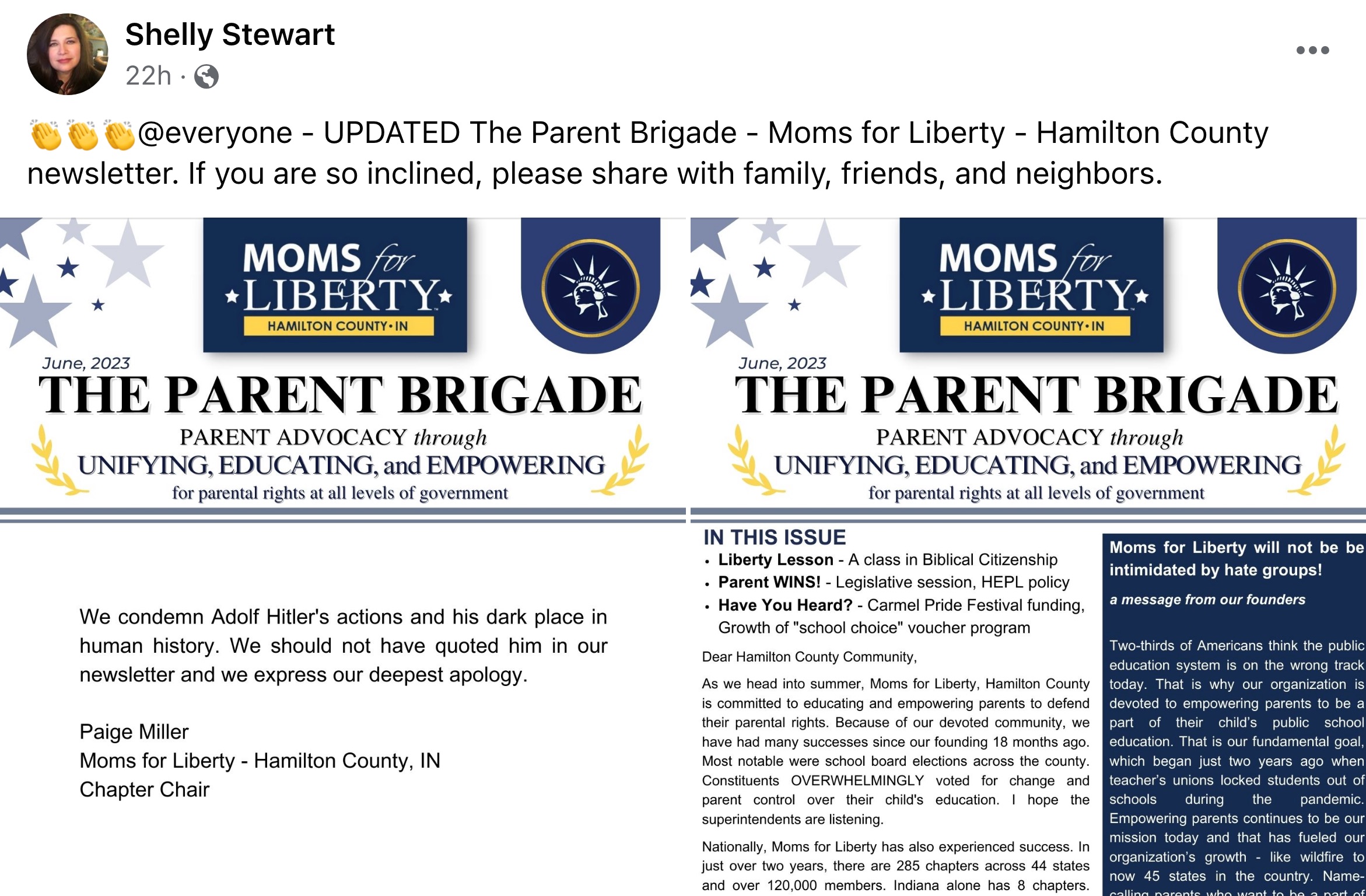 Several screenshots of the newly Hitler-free newsletter were added to the post. In the first visible screenshot, the organization replaced the quote from Adolf Hitler (again, by name) with a statement attributed to Hamilton County Moms For Liberty Chair Paige Miller.
Shortly after knowingly quoting Hitler and including his name in their newsletter in an inspired fashion, Miller offered a lukewarm statement claiming that the chapter condemned "Adulf Hitler's actions":
We condemn Adolf Hitler's actions and his dark place in human history. We should not have quoted him in our newsletter and we express our deepest apology.

Paige Miller
Moms for Liberty – Hamilton County, IN
Chapter Chair
Incidentally, this is the same quote that Rep. Mary Miller (R-Illinois) repeated in 2021 — at a January 5 2021 event at the U.S. Capitol (a day before the insurrection at the same location) that was hosted by none other than Moms for Liberty:
In a statement, Mary Miller of Illinois said she "sincerely apologised for any offence" given when she told a crowdat the US Capitol: "Hitler was right on one thing. He said, 'Whoever has the youth has the future.' Our children are being propagandised."

Miller paraphrased Hitler – who in 1935 told a rally: "He alone who owns the youth gains the future" – on Tuesday, in an address to a "Save the Republic" event hosted by Moms for America, a rightwing group which campaigns to "reclaim our culture for truth, family and freedom".
On June 22 2023, several social media posts claimed the Hamilton County, Indiana chapter of Moms For Liberty quoted Adolf Hitler in their most-then recent newsletter. Moms For Liberty is a designated hate group per the SPLC, with close ties to myriad extremist and white supremacist organizations. The decision to quote Hitler was clearly intentional, as his name appeared in the newsletter. Moms For Liberty in Hamilton County confirmed on Facebook that they intentionally quoted Hitler in their newsletter, replacing the quote with an apology.