A March 7 2023 post to Reddit's r/interestingasfuck asserted that a then "new law in Iran" had mandated that female pharmacists wear black hijabs only (prohibiting other colors), adding that in response, male pharmacists wore their own black hijabs to protest the move:
That post quickly moved to the top of Reddit's r/all, where posts can be sorted by most popular. No link accompanied the post, and its claims largely hinged on the image that accompanied it.
Fact Check
Claim: "A new law in Iran has been issued by regime which forces female pharmacists to only wear black veil (any other type of hijab or color is prohibited) in workplace, as a response male pharmacists are wearing it as well to mock this law."
Description: A law in Iran was reportedly passed that mandates female pharmacists to wear only black hijabs at work. In response to this law, male pharmacists are also said to be wearing the black hijabs to protest against this.
That was a photograph showing a man at a desk holding a pen and a piece of paper and wearing a black hijab. No news links or other information about the claim's origin accompanied the post.
A number of Reddit's most popular posts are submitted by "karma farming" users, typically submitters with little interest in or knowledge about the submitted content. However, in this case the original poster repeatedly commented on the highly visible thread, leaving an initial comment with additional information (and repeated edits):
I couldn't upload the other image, because internet connection in Iran and reddit optimization are an unbeatable combination

Here you can see it from the source: https://twitter.com/AlinejadMasih/status/1633035301978353664?t=cxqcSZnbGsA3P_kXBZLTLg&s=19

Edit: r/newiran a great sub covering the woman life freedom movement

Edit 2: Why are ppl referring to him by she/her, that's literally a straight man

Also this made me miss my class so hope it worthed it (yeah I'm a nerd, I feel bad for missing classes)

Edit 3: don't let the memes fool you (which are fine btw), this takes extreme courage to do!

Edit 4: sorry about my bad English, some people misunderstood this as "this is the man who ordered women to wear black veils" which idk how tf someone concludes this regardless of how bad the title is written, some other people thought that this is a woman! (lol), it's just a guy protesting that law by mocking it
In that comment, the original poster implied that they had shared the image and post from Iran, referencing a poor internet connection. In the original comment, the user linked to a March 7 2023 tweet from Iranian-American journalist and activist Masih Alinejad (of My Stealthy Freedom) with additional information about the post's claims:
The post's submitter responded to several questions about context. One commenter asked for additional sources, to which the original poster replied and linked to a March 5 2023 tweet:
It's literally a Telegram pfp, not that news worthy
They also posted a link to a March 7 2023 tweet by journalist Jonathan Harounoff. It featured one of the same images of a man in a hijab: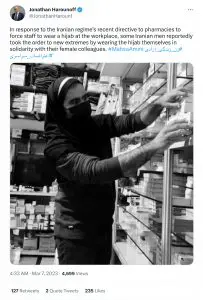 On February 26 2023, an Iran-focused English-language news site (originally out of the UK, but which has had to move its studio to Washington, DC because of escalating harassment and death threats) published "Iran Orders Female Staff Of Pharmacies To Wear Black Veils," a story on the crackdown:
Iran's Food and Drug Administration has ordered pharmacies across the country to force their female staff to wear black veils at workplace.

In a new directive, Iran's FDA, which operates under the supervision of the ministry of health, also ordered pharmacies to put the obligatory hijab "instructions" in the view of their clients as well … In the past weeks [in February 2023], at least two pharmacies in Tehran and Amol in the north have been sealed off due to the "improper" hijab of their female employees.
On February 16 2023, RFE/RL's "Iranian Pharmacy Closed Down After Owner Fails To Observe Hijab Rule" covered pharmacy closures over the black hijab rule:
A Tehran pharmacy has been shut down due to its noncompliance with the mandatory hijab law and a criminal case filed against its female owner as Iran enters its fourth month of unrest sparked by the death in police custody of a young woman arrested for "improperly" wearing the hijab.

The head of the Mizan news agency, which is affiliated with the judiciary, wrote on Twitter on February 15 [2022] that the pharmacy was closed after "its owner disrespected the person who warned her to observe the hijab."… [In February 2023], officials sent a letter to trade unions calling for stricter enforcement and adherence to the mandatory hijab in the capital's stores and businesses.
A reverse image search for the image attached to the post led to a March 7 2023 article on al-marsd.com, with an automatically translated headline: "Witness: Iranian men wear black headscarves inside pharmacies … and reveal the reason." It attributed the images to "social media pioneers," adding:
Social media pioneers shared pictures of Iranian men wearing black headscarves inside pharmacies.

Men working in pharmacies wore the black veil in solidarity with women after it was imposed by the Tehran regime on all women working in pharmacies.
A popular March 7 2023 Reddit post was titled "A new law in Iran has been issued by regime which forces female pharmacists to only wear black veil (any other type of hijab or color is prohibited) in workplace, as a response male pharmacists are wearing it as well to mock this law." The post featured an image, but didn't link to any external sources. In several comments, the submitter provided additional information about the image; additionally, multiple regional journalists tweeted about the male pharmacists protesting in solidarity in Iran. It is unclear how widespread the protests are, or whether it is a small effort made to appear larger by the whims of social media; we are also unable to satisfactorily track down exactly where or when the photographs supporting these claims were taken. We currently rate this story Unknown.