Did Alexandria Ocasio-Cortez 'Ignore' Joe Biden During Her DNC Appearance?
Claim
Rep. Alexandria Ocasio-Cortez ignored Democratic Party presidential nominee Joe Biden in her remarks for the 2020 Democratic National Convention.
Like this fact check?

Reporting
NBC News attracted criticism for its coverage of the Democratic National Convention (DNC) on August 18 2020, after the network posted a tweet that misrepresented Rep. Alexandria Ocasio-Cortez's appearance on the event.
The New York congresswoman appeared on the event — held remotely in August 2020 on account of the COVID-19 pandemic — to second the nomination of Vermont Sen. Bernie Sanders for the United States presidency.
As The Guardian reported, Sanders had already conceded the party's nomination to former Vice President Joe Biden; however, the senator had to be formally nominated before his delegates could be transferred to Biden. Biden and Sanders had reached an agreement in April 2020 which allowed Sanders to retain hundreds of delegates while conceding the party's presidential nomination.
However, NBC's tweet promoting its coverage of Ocasio-Cortez's remarks did not take this account. It read, "In one of the shortest speeches of the DNC, Rep Ocasio-Cortez did not endorse Joe Biden: 'I hereby second the nomination of Sen. Bernard Sanders of Vermont for president of the United States of America.'"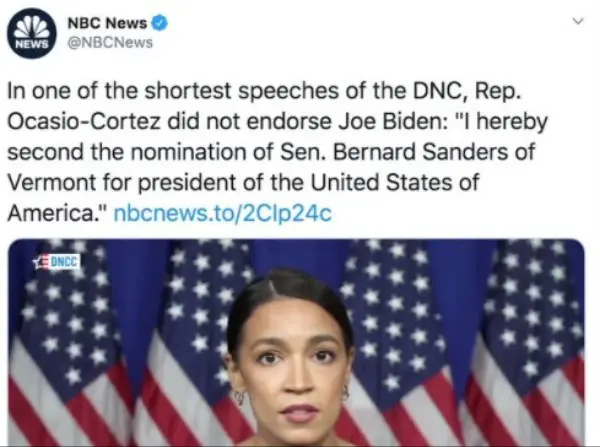 Similarly, the network's headline "AOC backs Sanders for president, ignores Biden in brief remarks" spread online, suggesting a rift between the former vice president and the congresswoman:
The network deleted the tweet hours later and replaced it with a note of clarification.
"This tweet should have included more detail on the nominating process," the network said. "Ocasio-Cortez was asked by the DNC to second Sanders' nomination. The nomination is a procedural requirement of the convention. Ocasio-Cortez has previously endorsed Biden, & her speech was similar in length to other nominating speeches."
However, Ocasio-Cortez criticized NBC for both the lack of context and its delay in addressing it.
"You waited several hours to correct your obvious and blatantly misleading tweet. It sparked an enormous amount of hatred and vitriol, & now the misinfo you created is circulating on other networks," she wrote:
All to generate hate-clicks from a pre-recorded, routine procedural motion. This is completely unacceptable, disappointing, and appalling. The DNC shared the procedural purpose of my remarks to media WELL in advance. NBC knew what was going to happen & that it was routine. How does a headline that malicious & misleading happen [with] that prior knowledge?
We contacted NBC News seeking comment but have yet to hear back. The day after Ocasio-Cortez's appearance, the outlet's public relations department announced on Twitter that it had won seven journalism awards from the New York Press Club.