An April 13 2021 Facebook screenshot of a tweet was part of disordered discourse surrounding a "pause" by the Biden administration of the Johnson & Johnson shot for COVID-19. As conspiracy theories about and disinformation about the efficacy of the various vaccines got a fresh boost, others attempted to put the numbers into perspective.
One popular exchange on Twitter on this topic suggested that birth control pills were a thousand times more likely to cause blood clots than this particular vaccine: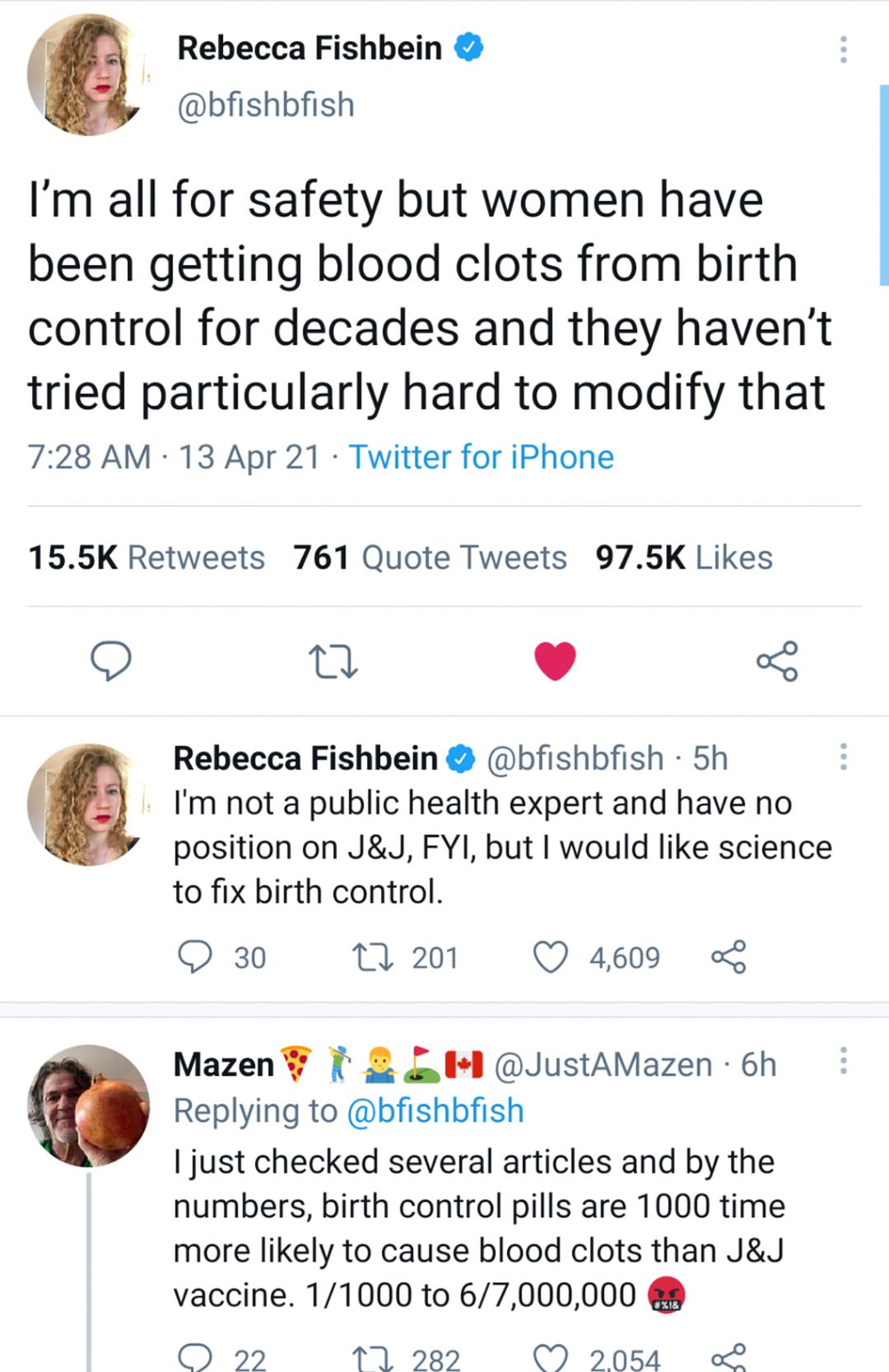 The Thread
Unlike lone tweets, the Facebook post combined a broader conversation about the very public decision to "pause" the Johnson & Johnson vaccine, blood clot risks, birth control in general, and safety claims about birth control pills.
First and second in the three-tweet set were these tweets from writer Rebecca Fishbein:
Fishbein stated:
"I'm all for safety but women have been getting blood clots from birth control for decades and they haven't tried particularly hard to modify that[.]

"I'm not a public health expert and have no position on J&J, FYI, but I would like science to fix birth control."
A third tweet, by @JustAMazen, claimed that birth control pills are at the very least, a thousand times more likely to cause blood clots than the Johnson & Johnson vaccine; at one in one thousand versus six in seven million:
That thread (and its migration to Facebook) was a good summary of chaotic reporting and the proliferation of medical disinformation in the aftermath of the "vaccine pause."
Background
On April 13 2021, the Centers for Disease Control and Prevention (CDC) and Food and Drug Administration (FDA) issued a joint statement ("Joint CDC and FDA Statement on Johnson & Johnson COVID-19 Vaccine,") which read in full:
As of April 12 [2021], more than 6.8 million doses of the Johnson & Johnson (Janssen) vaccine have been administered in the U.S. CDC and FDA are reviewing data involving six reported U.S. cases of a rare and severe type of blood clot in individuals after receiving the J&J vaccine. In these cases, a type of blood clot called cerebral venous sinus thrombosis (CVST) was seen in combination with low levels of blood platelets (thrombocytopenia). All six cases occurred among women between the ages of 18 and 48, and symptoms occurred 6 to 13 days after vaccination. Treatment of this specific type of blood clot is different from the treatment that might typically be administered. Usually, an anticoagulant drug called heparin is used to treat blood clots. In this setting, administration of heparin may be dangerous, and alternative treatments need to be given.

CDC will convene a meeting of the Advisory Committee on Immunization Practices (ACIP) on [April 14 2021] to further review these cases and assess their potential significance. FDA will review that analysis as it also investigates these cases. Until that process is complete, we are recommending a pause in the use of this vaccine out of an abundance of caution. This is important, in part, to ensure that the health care provider community is aware of the potential for these adverse events and can plan for proper recognition and management due to the unique treatment required with this type of blood clot.

Right now, these adverse events appear to be extremely rare. COVID-19 vaccine safety is a top priority for the federal government, and we take all reports of health problems following COVID-19 vaccination very seriously. People who have received the J&J vaccine who develop severe headache, abdominal pain, leg pain, or shortness of breath within three weeks after vaccination should contact their health care provider. Health care providers are asked to report adverse events to the Vaccine Adverse Event Reporting System at [link].

CDC and FDA will provide additional information and answer questions later today at a media briefing. A recording of that media call is available on the FDA's YouTube channel.
That statement contained the rough figures in the third tweet. The CDC and FDA also affirmed that more than 6.8 million doses of the Johnson & Johnson (also called "Janssen") vaccine had been administered to date in the United States, and of those nearly seven million doses, six adverse events involving CVST had been reported. A separate CDC "Vaccine Update" used the same seven million doses and six adverse events proportion as seen in the third tweet:
On April 13, 2021, CDC and FDA recommended a pause in the use of Johnson & Johnson's Janssen COVID-19 Vaccine. Of the nearly 7 million doses administered so far in the United States, a small number of cases of a rare and severe type of blood clot have been reported in people after receiving the J&J/Janssen COVID-19 Vaccine. All reports occurred among women between the ages of 18 and 48, and symptoms occurred six to 13 days after vaccination. As of April 13, 2021, no cases have been reported among the more than 180 million people who received the Pfizer-BioNTech or Moderna vaccines.
An even-handed reading of the press release might suggest that the CDC and FDA indicated that the risk had not yet been substantiated, the decision was made out of an "abundance of caution," and that vaccine recipients and health professionals were advised to apprise themselves of the symptoms of CVST to better determine if a link existed. Moreover, all parties were advised that the typical treatment for blood clots — heparin — might be dangerous for the specific type of blood clotting disorder mentioned in the statement.
Vaccine Hesitancy Was Decreasing Rapidly as of Late March 2021
Ongoing discourse about the pandemic, its causes, and generally accepted guidance remained fraught from early 2020 onward, and as vaccines made their way to vaccination sites in the United States in early 2021, "vaccine hesitancy" and the disinformation that exacerbated it was an articulated concern by public health experts.
On February 3 2021, a University of Michigan Health blog post addressed the concern that "vaccine hesitancy" would disrupt efforts to achieve herd immunity:
Vaccines only work if people take them.

Health experts have said that ending the COVID-19 pandemic relies heavily on the vast majority of people getting vaccinated to safely reach herd immunity and limit the ability of the coronavirus to spread.

Yet, according to a recent University of Michigan sponsored National Poll on Healthy Aging, just 58% of adults aged 50 to 80 asked in fall 2020 said they'd get vaccinated against COVID-19 when it was their turn. Other more recent polls see that willingness is increasing as frontline healthcare workers, essential workers and older people are vaccinated. Yet, many remain hesitant for various reasons.

One vocal source of opposition appears to be made up of people with certain strongly held political and cultural beliefs on topics that range from opposing public health mandates or vaccines in general, to supporting fringe groups and white nationalism. Members of this widely varied group briefly shut down a mass vaccination site in Los Angeles in late January [2021] … However, there is a difference between the small group of people who are strongly against vaccines in general and "the large swath of the population who is hesitant, questioning what is right for them, their families and their children," says Brian Zikmund-Fisher, Ph.D., professor of health behavior and health education at the University of Michigan School of Public Health.
But by March 30 2021 (the better part of two months after the excerpt above was published), the Kaiser Family Foundation (KFF) reported an encouraging reduction in overall vaccine hesitancy — in a report optimistically titled "Covid Vaccine Hesitancy Drops Among All Americans, New Survey Shows."
KFF broke down the demographic changes in polling, and noted that vaccination efforts were progressing more quickly than expected:
A new poll of attitudes toward covid vaccinations shows Americans are growing more enthusiastic about being vaccinated, with the most positive change in the past month [of March 2021] occurring among Black Americans.

About 55% of Black adults said they had been vaccinated or plan to be soon, up 14 percentage points from February [2021], according to a poll released [in late March 2021] by KFF. The rate now approaches that of Hispanics, at 61%, and whites at 64%. (Asian Americans were not polled in sufficient numbers to compare their responses with other racial and ethnic groups.)

But the poll found that 13% of respondents overall said they will "definitely not" be vaccinated, signaling that significant hurdles remain in the nation's vaccination campaign. (KHN is the editorially independent newsroom of KFF, an endowed nonprofit organization providing national information on health issues.)

Among all groups, Republicans and white evangelical Christians were the most likely to say they will not get vaccinated, with almost 30% of each group saying they will "definitely not" get a shot.

And while the poll indicated that some arguments are effective at persuading hesitant people — such as sharing that the vaccines are nearly 100% effective at preventing hospitalization and death — those messages do almost nothing to change the minds of people who have decided not to be vaccinated.

Last week [in March 2021], President Joe Biden announced that the United States has administered more than 100 million vaccine doses and doubled his goal, to 200 million doses, by early May [2021]. According to KFF's poll, 32% said they had already received at least one dose, and 30% said they planned to get it as soon as possible.

The poll also showed fewer people waiting to see how others respond to the vaccines before deciding to get vaccinated themselves, with 17% saying they fall into that "wait and see" group this month — a drop from 22% in February [2021] and 31% in January [2021].

Young adults, ages 18-29, and Black adults were most likely to be in this "wait and see" group, at 25% and 24%, respectively.

Twenty-seven percent of Republicans and 35% of white evangelical Christians said they had already received at least one dose, the poll showed. Forty-two percent of Democrats said they have been vaccinated.
Although specific groups polled retained their vaccine hesitancy, KFF measured consistent drops of "wait and see" answers — 31 percent in January 2021, 22 percent in February 2021, and 17 percent by March 2021. KFF's tone suggested a cautious optimism among public health experts, and a general expectation that fewer and fewer people would remain hesitant.
Mismanaged Messaging about the Safety and Efficacy of Vaccines Is Exacerbated; the J&J "Pause"
On April 14 2021, Politico published a piece about an anticipated spike in vaccine hesitancy following the CDC and FDA's statement — with state public health officials expressing concern the decision would hamper vaccination efforts, and experts such as Dr. Anthony Fauci suggesting that with the proper response and follow-up, the "pause" might work to ease Americans' concerns:
The Biden administration says its decision to stop administering Johnson & Johnson's coronavirus shot should make Americans more confident vaccines are safe. A growing chorus of state officials says it could have just the opposite effect.

Any interruption could harden skepticism among people who were ambivalent over getting vaccinated or scared about getting sick from side effects, some governors and state health officials say. That could make tamping down new outbreaks and ending the pandemic much harder, especially with public places reopening and travel on the rise.

"It will make some people who are already predisposed to being hesitant or nervous about the vaccine likely become more hesitant and more nervous," said Clay Marsh, West Virginia's coronavirus czar.

Arkansas Republican Gov. Asa Hutchinson said the pause over possible links to rare but severe blood clots should be lifted as soon as providers have the information they need on how to best treat the complications.

"We need to lift this pause as quickly as possible — and I'm talking about in a matter of hours and days," Hutchinson said on MSNBC on [April 14 2021]. "It is a concern to me in terms of we have resistance in the rural America already, and I don't want this to give greater cause, or pause, to getting the vaccine."

[…]

At Wednesday [April 14 2021]'s White House Covid-19 briefing, Biden chief medical adviser Anthony Fauci said the decision should boost confidence because it shows that the federal government is tracking adverse effects in real-time and taking safety seriously.
Questioning — quite appropriately — whether that nuance would be "lost in a sea of memes and disinformation," the report continued:
"What concerns me is how this moment and this data will be weaponized by those interested in sowing seeds of doubt about Covid-19 vaccines," said Brian Castrucci, president of and CEO of the de Beaumont Foundation, which has polled on vaccines and tested messaging. "The facts, the nuances, the sciences, the details are not going to be what we see on Facebook."

The share of Americans willing to get the vaccine has grown since the fall [of 2020]. Yet, roughly 16 percent of Americans 18 and older say they are still hesitant to get a coronavirus shot, according to a recent Census Bureau survey. Ending the pandemic and returning the country closer to normal relies on a majority of Americans getting vaccinated.
An April 14 2021 MedPageToday blog post/interview by editor-in-chief Martin Makary MD was titled "J&J Pause: 'Gasoline' for Vaccine Hesitancy," and in it, Makary discussed the J&J pause with hematologist and oncologist Vinay Prasad. Makary offered perspective about accepted levels of risk in extremely common therapies (such as Tylenol):
So this [possible adverse event involving blood clots] looks like it's a function of the adenovirus vector of the vaccine. We're not seeing it at all in the mRNA vaccines. But tell me this, Vinay, help me understand this. Six cases of blood clots out of about seven million administrations, and one death. And they shut it down. I mean, help me understand. If they started doing that with all the medicines we use, we wouldn't have Tylenol. I mean, we wouldn't have 50% of the meds we have. Whatever happened to the benefit evaluation that a physician does and explaining risks to patients and letting them make a decision.
In a separate exchange about risk-benefit ratio, Makary addressed the pandemic and how the Food and Drug Administration could best handle messaging about the "pause":
I just think about the FDA's role. What is their role? Is it really to ensure that drugs brought to market are relatively safe, given the risks and benefits? I see the FDA as having a job really to protect us from snake oil or misleading claims. Now they're actually stepping into the doctor's office and saying, people should not be getting this vaccine right now. And I just cannot understand when you have one death out of seven million, I am not understanding the FDA's role. It seems like they've crossed over from protecting us from snake oil into paternalism.

Now, I understand why they still have not approved the Oxford AstraZeneca vaccine. I don't think they are experts in rationing, which is what exactly the scientific field is that we're living in right now: rationing a scarce life-saving resource, totally downplaying the maximizing first dose approach that the U.K. used successfully … I wouldn't recommend it for childbearing-age women because that's where we're seeing the complications. But it seems to me, we had a couple of hundred people die yesterday from COVID; there's one death out of seven million for the vaccine. To me, it seems like it's still worth having out there, but I wouldn't make that decision for anybody. I would give them the statistics.
While addressing how to handle the issue, Prasad mentioned the role of purveyors of bad information, weaponization of incomplete or distorted data, and lack of nuance on issues such as school openings, all of which create a nasty breeding ground for destructive disinformation and corrosive propaganda:
And since we're policy people, we think about what we might stand to benefit and what we might stand to lose. And that kind of thinking, I believe, has been largely absent from SARS-CoV-2 discussions. You hear very absolute positions like we should close all the schools, or we should open all the schools. Nothing nuanced or in-between that acknowledges that maybe under some circumstances you do close schools, but maybe schools do provide a net value to people. And I think after months of messaging, even one bad event is problematic, and we cannot talk about trade-offs at all. I guess I'm not surprised to see that this is going to have implications, and very difficult to walk back in the public.
In short, public health experts and lawmakers openly voiced fears that regardless of the strength of messaging about vaccine safety, bad actors and uninformed people would use the "pause" to advance medical disinformation.
Early Indications the J&J 'Pause' Had an Adverse Effect on Vaccination Efforts
On April 15 2020, NPR's "Untangling Disinformation" series included an article worryingly headlined, "The Most Popular J&J Vaccine Story On Facebook? A Conspiracy Theorist Posted It." That reporting began with a depressing summary of the incredible vaccination momentum achieved in a short time, and what happened on social media after the CDC and FDA statement was issued two days prior on April 31 2021:
CNN. ABC News. The New York Times. Fox News.

Those are the publishers of four of the five most popular Facebook posts of articles about the Johnson & Johnson COVID-19 vaccine this week [the week of April 12 2021]. They're ranked 2 to 5 in total interactions, according to data from the tracking tool CrowdTangle.

The No. 1 posting, however, isn't from a news organization. Or a government official. Or a public health expert.

The most popular link on Facebook about the Johnson & Johnson news was shared by a conspiracy theorist and self-described "news analyst & hip-hop artist" named An0maly who thinks the pandemic is a cover for government control.

It's a stark example of what experts warn could be a coming deluge of false and misleading information related to the one-shot vaccine.

When most Americans went to bed Monday evening [April 12 2021], the news about COVID-19 vaccinations in the U.S. was overwhelmingly positive: The average number of shots administered per day was well over 3 million, leading to rosy predictions that pandemic restrictions could ease in the coming months and some semblance of normalcy could return.

But that story shifted on Tuesday [April 13 2021] after federal health officials recommended a temporary halt in the use of the Johnson & Johnson vaccine after a handful of reports about blood clots surfaced among the millions who have received the shot … experts who follow Internet trends are bracing for the worst when it comes to how this news is understood and received by the public.

"This is what I would call the perfect storm for misinformation," said Jennifer Granston at Zignal Labs, a media intelligence platform.
NPR highlighted what amounted to sloppy curation (at best) on Facebook and other social media platforms, platforms which aggressively suppressed a great deal of credible content throughout 2020. In December 2020, nearly a year into the pandemic, Facebook announced an overhaul in its handling of medical disinformation — but the situation NPR highlighted clearly showed that overhaul was ineffective.
On April 15 2021, USA Today published an article about public health expert concern over the Johnson & Johnson pause — with those quoted once again fretting over the role social media plays in dissemination of news and information. In interviews and op-eds, doctors expressed specific concern about rural communities where that specific vaccine was logistically necessary, because of fewer protocols around safe handling:
"You got to worry about [increased vaccine hesitancy]," said Dr. Ezekiel Emanuel, chair of the department of Medical Ethics and Health Policy at the University of Pennsylvania's Perelman School of Medicine. "I'm not sure that everyone out there distinguished between the mRNA vaccines (from Pfizer-BioNTech and Moderna) and the adenovirus vaccines (from J&J and AstraZeneca)."

[…]

"The pause on some level doesn't make sense," said Dr. Jonathan Baktari, medical director and CEO of e7 Health, a preventative health and wellness company. "The risk of the J&J vaccine is minimal compared to the risk of dying from COVID if you get it."
Birth Control-Related Blood Clots vs. Vaccine-Related Blood Clots
In the third tweet, a Twitter user said "birth control pills are 1000 time[s] more likely to cause blood clots than J&J vaccine. 1/1000 to 6/7,000,000[.]"
On April 13 2021, virologist Dr. Angela Rasmussen tweeted about blood clotting and birth control, providing a different risk ratio than one in 1,000:
In an April 12 2021 tweet about the AstraZeneca vaccine, science writer Hannah Thomasy cited the one in 1,000 statistic:
A quick Google search appeared to validate the claim, leading to a Google "Featured Snippet" about blood clots and birth control pills:

The text of the snippet read:
What are the odds of getting a blood clot on birth control?
For the average woman taking birth control pills, the absolute risk of a blood clot is very small: Only 1 in 1,000 women per year who are taking birth control pills will develop such a clot.

Is it true that birth control pills cause blood clots? | Blood Clots
However, clicking the stoptheclot.org link led to a "page not found" error. That page was archived on the Wayback Machine a total of 57 times, the last being at 5:02 PM on April 13 2021 — the day the FDA and CDC issued their joint statement.
It was possible the page was moved, but it was unclear why it was seemingly withdrawn on the day the discourse about birth control and blood clots began. The copy archived in the late afternoon on April 13 2021 began:
IS IT TRUE THAT BIRTH CONTROL PILLS CAUSE BLOOD CLOTS?

Birth control pills are the leading method of birth control (contraception) in the United States. Although they do not cause blood clots, most birth control pills do increase a woman's chance of developing a blood clot by about three to four times.

Most oral contraceptives contain an estrogen and a progestin (synthetic progesterone). Estrogen and progesterone have many effects on a woman's body. They are the hormones that sustain pregnancy and, when given in the form of birth control pills, imitate pregnancy, thereby preventing pregnancy. These hormones also increase the levels of clotting factors and are assumed to be responsible for women's increased risk of blood clots during pregnancy.

For the average woman taking birth control pills, the absolute risk of a blood clot is very small: Only 1 in 1,000 women per year who are taking birth control pills will develop such a clot. For a woman with thrombophilia or a history of thrombosis, however, this risk is significantly higher. The new patches (transdermal contraceptives) may increase this risk even more. The amount of estrogen absorbed from the patches has been reported to be 60 percent higher than the amount delivered by the pills. Little information about the risk of blood clots with birth control rings is available. Like patches and most birth control pills, these devices also contain an estrogen and a progestin; thus they probably carry a risk of thrombosis similar to that of birth control pills or patches.
A specific type of blood clot or generalized complication was mentioned by the FDA and CDC — "a type of blood clot called cerebral venous sinus thrombosis (CVST) was seen in combination with low levels of blood platelets (thrombocytopenia.)" A Johns Hopkins page for CVST described it as follows:
Cerebral venous sinus thrombosis (CVST) occurs when a blood clot forms in the brain's venous sinuses. This  prevents blood from draining out of the brain. As a result, blood cells may break and leak blood into the brain tissues, forming a hemorrhage.

This chain of events is part of a stroke that can occur in adults and children. It can occur even in newborns and babies in the womb. A stroke can damage the brain and central nervous system. A stroke is serious and requires immediate medical attention.

This condition may also be called cerebral sinovenous thrombosis.
That page added:
If you have had this type of stroke, you may need to avoid certain types of medicines, such as oral contraceptives. These can increase your risk for blood clots.
Stoptheclot.org's page did not mention CVST; a search for "birth control" on the site led to 38 pages of results. "CVST" returned six results, one of which was about birth control, and another about two COVID-19 vaccines.
Social media discussions comparing the blood clot risk from birth control to the blood clot risk for vaccines prompted at least two articles disputing the comparison — one from BuzzFeed ("Here's Why You Can't Compare The Extremely Rare J&J Vaccine Blood Clots To Ones Linked To Birth Control,") and one from U.S. News and World Report. A primary reason cited in both was that the "rare blood clots" observed in April 2021 were CVST-related, whereas birth control is associated with a risk of pulmonary embolism (PE) or deep-vein thrombosis (DVT).
That difference was largely beside the point being made about relative risk versus accepted risk, however. Those discussing the risk of blood clots were objecting to the purportedly acceptable one-in-a-thousand risk associated with birth control pills:
Is the Birth Control Blood Clot Risk Really One in a Thousand?
A March 2020 WebMD page ("Birth Control Methods and the Risk of Blood Clots") noted that the risk between various methods and specific pills varied:
You may have heard that birth control pills can give you blood clots. This may seem shocking, since oral contraceptives are the most common type of birth control in the United States.

The truth is, some types of birth control — but not all — are linked to clotting problems. And some of those raise your chances more than others.

Blood clots are rare, even among birth control users. The rate for getting clots is about 0.3% to 1% over 10 years for a woman on the pill. You're much more likely to have blood clots during or after pregnancy.
Unfortunately, the only links on the page led to general WebMD entries on "the pill" or "blood clots," and no additional information about the "rate for getting clots" was immediately available. Nailing down the specific claim that one out of every thousand birth control pill users developed blood clots was difficult, and typically framed in fashion indicating that the benefits of birth control outweighed the risk of blood clots.
A Healthline.com entry last reviewed in 2017 reported from that perspective:
A pulmonary embolism caused by birth control is a rare side effect, but your individual risk could be higher because of other factors.

The U.S. Food and Drug Administration (FDA) said in a safety announcement that the risk of blood clots is higher when using birth control pills. However, the risk of developing blood clots during pregnancy and during the postpartum period is higher than when using birth control pills.

The FDA's research found that:

Out of every 10,000 women taking birth control pills, 3 to 9 of them will develop a blood clot.
Out of every 10,000 women who are not pregnant and who do not use birth control pills, 1 to 5 of them will develop a blood clot.
Out of every 10,000 pregnant women, 5 to 20 of them will develop a blood clot.
Out of every 10,000 women in the first 12 weeks after giving birth, 40 to 65 of them will develop a blood clot.
Citing the FDA, Healthline.com indicated between three and nine of every 10,000 birth control users (or .3 to .9 of every thousand) would develop a blood clot, versus between one and five (or .1 to .5) of every woman who was neither pregnant nor on birth control. A 2012 committee opinion issued by the American College of Obstetricians and Gynecologists (ACOG) provided the exact same figures:
The risk of venous thromboembolism is increased among [oral contraceptive, or OC] users (3–9/10,000 woman-years) compared with nonusers who are not pregnant and not taking hormones (1–5/10,000 woman-years), and some data have suggested that the use of drospirenone-containing OC pills has a higher risk (10.22/10,000) than the use of other progestin-containing OCs. However this risk is still very low and is much lower than the risk of thromboembolism during pregnancy (approximately 5–20/10,000 woman-years) and the postpartum period (40–65/10,000 woman-years).
A 2014 GoodRx fact sheet contrasting the risk of blood clots between users and non-users of oral contraceptives explained:
Risk without birth control. A common estimate of risk for DVT and PE in women ages 15 to 44 years who are not pregnant and not using combined hormonal contraception is 5 to 10 cases per 100,000 woman-years. This means 5 to 10 of 100,000 women followed for a full year may get a clot even while NOT on birth control.

[…]

Know that the actual increase in risk of clot while taking birth control pills (the absolute risk) among users is 20 to 30 per 100,000 woman-years. This is 20 per 100,000 for second generation oral contraceptives and 30 per 100,000 for contraceptives containing desogestrel or drospirenone. So the risk is 30 per 100,000 users taking a pill for a year if you are using Yasmin, Yaz, Apri, Mircette, Reclipsen, or one of the others.

Compare this to the absolute risks of clot during pregnancy, which is 60 to 96 per 100,000 woman-years, or being postpartum, where it is 511 per 100,000 woman-years.

The point here is that combined hormonal contraception is clearly a safe alternative to unwanted pregnancy, and many of you take them to regulate painful periods and treat acne, among other things.

There is also some good science that shows we are underestimating the risk of clot in those NOT taking birth control which makes your absolute risk when you add oral contraceptives even lower.
Summary
Medical literature and patient advisories emphasized that despite an increased risk of blood clots in birth control users compared with non-users who were neither pregnant nor postpartum was low, with the highest estimate at .9 out of 1,000 users; close to the one in 1,000 statistic cited in discourse about the Johnson & Johnson pause. Although it was also true the FDA and CDC acted on six cases out of nearly 7,000,000 vaccines administered, experts indicated that number might increase (though not likely by a lot).
Although there was some basis to consider the "one in a thousand" statistic for birth control pills (versus the six in seven million reported cases of an adverse effect involving blood clots with the Johnson & Johnson vaccine) to be true, the information we reviewed involved extensive context about the timeline of vaccination in late 2020 and early 2021, the FDA and CDC's decision and public health messaging, and risks that varied for specific birth control pills. As such, we've rated the claim Decontextualized.