Claim
"STOP paying for books on Audible. Download the LIBBY Library App; it allows you to borrow Audiobooks for free for 21 days. All you need is a library card. Don't got one? It lets you make a virtual one."
Like this fact check?

Reporting
An August 17 2023 Facebook post advising readers to swap Audible purchases for the Libby app proved to be virally popular: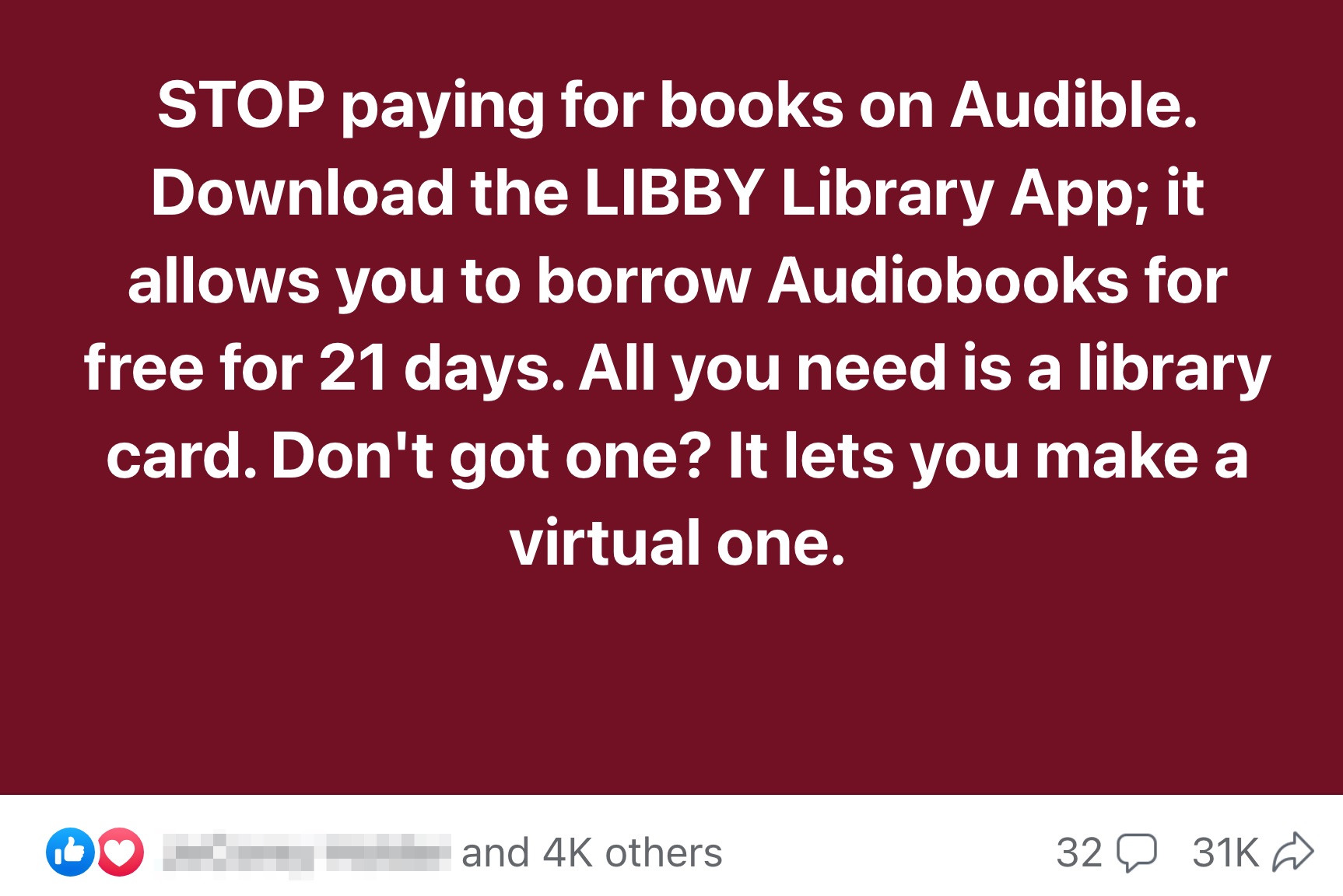 Shared as a text-based status update, white text against a dark red background read:
STOP paying for books on Audible. Download the LIBBY Library App; it allows you to borrow Audiobooks for free for 21 days. All you need is a library card. Don't got one? It lets you make a virtual one.
A similar post appeared on Reddit's r/audible in December 2020, titled "Has anyone used the Libby app? You register your library card and listen to your library's audiobooks for free. Honestly totally worth it":
Has anyone used the Libby app? You register your library card and listen to your library's audiobooks for free. Honestly totally worth it.
by in audible
In the post, an r/audible user wrote:
Like [Libby is] totally free. I always knew my library had some type of media-on-demand program to access stuff online but I never bothered with it. Idk how new this Libby app is, but someone recently told me about it and I can't believe I ever paid for audiobooks. I highly recommend people checking it out.

You still check out audiobooks for 2 weeks at a time and sometimes have to put popular titles on hold, but still worth it. Most stuff is there and available. Plus my reading list is so long that it's good I can spread it out by waiting for holds to be ready and also being accountable to the 2 week limit (though you can renew.)

Check it out! How much is audible again? I thought I used to pay like an annual fee and then like several dollars a title? I can't remember tbh.
Although the claims were straightforward, the use of services like Audible were not universal — requiring some context.
What's Audible? What's the Libby App?
Audible existed as a commercial service, and as such, a lot of information about it was marketing-based.
Wikipedia's "Audible (service)" entry outlined the service, which is a division of Amazon.com:
Audible is an American online audiobook and podcast service that allows users to purchase and stream audiobooks and other forms of spoken word content. This content can be purchased individually or under a subscription model where the user receives "credits" that can be redeemed for content monthly and receive access to a curated on-demand library of content. Audible is the United States' largest audiobook producer and retailer. The service is owned by Audible, a wholly-owned subsidiary of Amazon.com, Inc., headquartered in Newark, New Jersey.
As indicated above, Audible served as an audio-based counterpart to Amazon's physical books and ebooks. Audiobooks and other dictated content was available for purchase, or could be accessed via a paid subscription.
While Audible's search results were often affiliate-based links, a search for the Libby app returned dozens of links to library websites. It too had a Wikipedia entry, "Libby (service)," which briefly explained that the Libby app enabled remote access to libraries:
Libby is a mobile app which supports users in accessing library services. It is a product of OverDrive, Inc.

In March 2023, OverDrive, Inc. announced it would sunset the legacy OverDrive mobile app on May 1, 2023, having already requested that library systems delete references to the legacy app directing public, academic and corporate libraries and its users to its newer Libby app.
In short, Audible was a paid service, and the Libby app provided free access to library materials.
Using the Libby App and Obtaining a Library Card Through Libby
Libby is described as a "mobile app," suggesting its functionality was limited to devices like phones and tablets.
One county library's Libby FAQ ("Frequently Asked Questions") indicated desktop users could access Libby on their computer's browser:
What is the Libby app?

Libby is the app from OverDrive and provides a way to start reading eBooks and audiobooks from the OverDrive digital library. You can borrow eBooks, audiobooks, and magazines to read on your phone or tablet. You can also send your borrowed eBooks to your Kindle eReader. It's free and easy to get started for new users and offers you a streamlined reading experience. You can also use Libby right in your web browser.

Which phones and tablets are compatible with Libby?

iOS 10+
Android 5.0+

How do I use Libby on a computer or laptop?

If you have a Windows computer, Mac computer, or a Chromebook, you can use libbyapp.com to stream titles in your web browser. For the best functionality, use the latest version of Chrome, Safari, Firefox, or Edge (Chromium). This site offers the same great features as the app-store version of Libby, minus the ability to download books for offline use. To access this functionality, you can download the Libby app for iOS or Android on a compatible device.

After February 23, 2022, if you already have OverDrive for Windows or OverDrive for Mac you can continue using those applications without disruption. However, OverDrive will no longer support new downloads of those applications.
We visited LibbyApp.com on August 24 2023, and the link automatically redirected to libbyapp.com/interview/welcome#doYouHaveACard: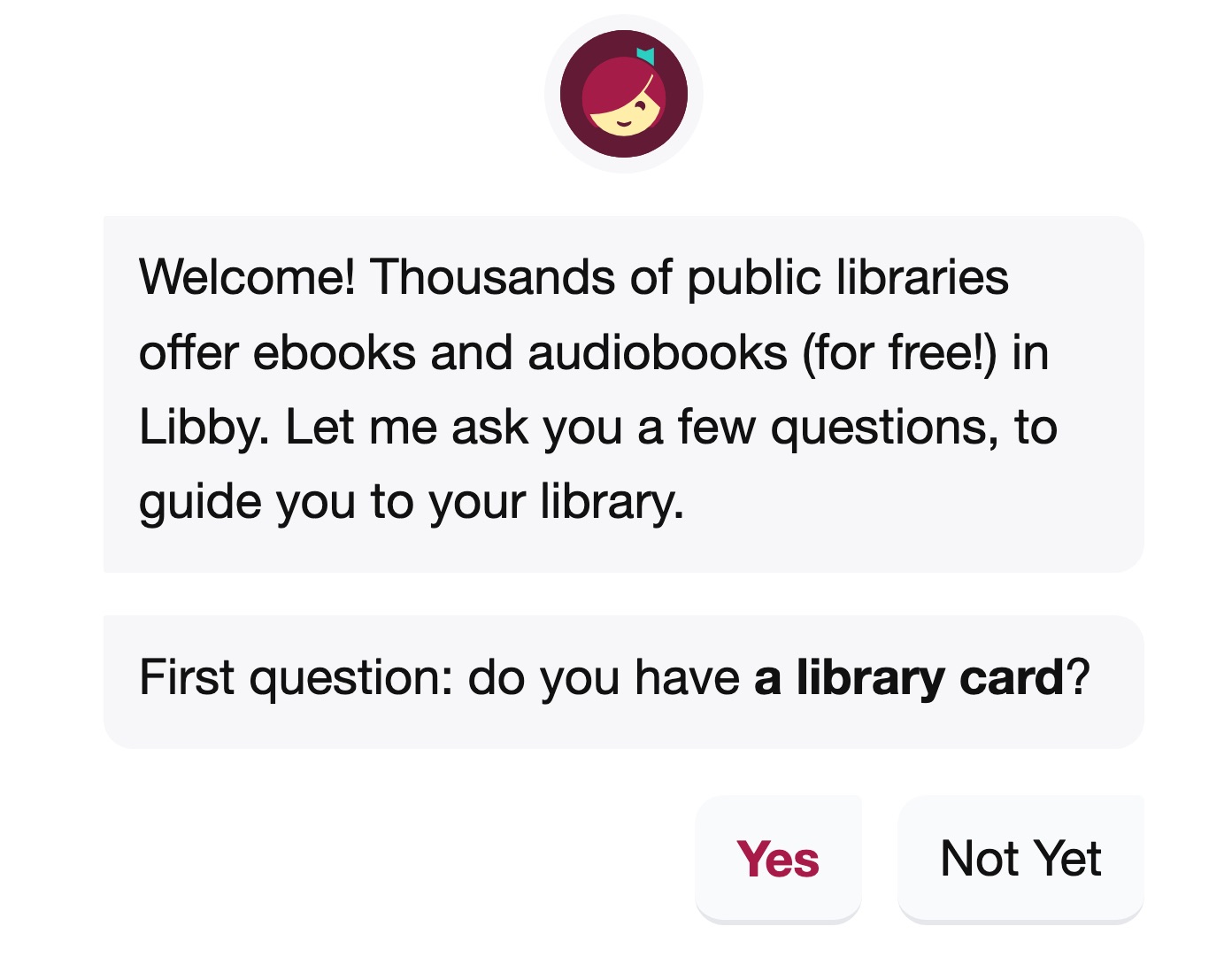 In the Facebook post, the user stated that people who did not have a library card could still use the Libby app, because it "lets you make a virtual one." Libby's landing screen first asked visitors if they had a library card, presenting the option of "Yes" or "Not Yet."
Clicking "Not Yet" led to another screen: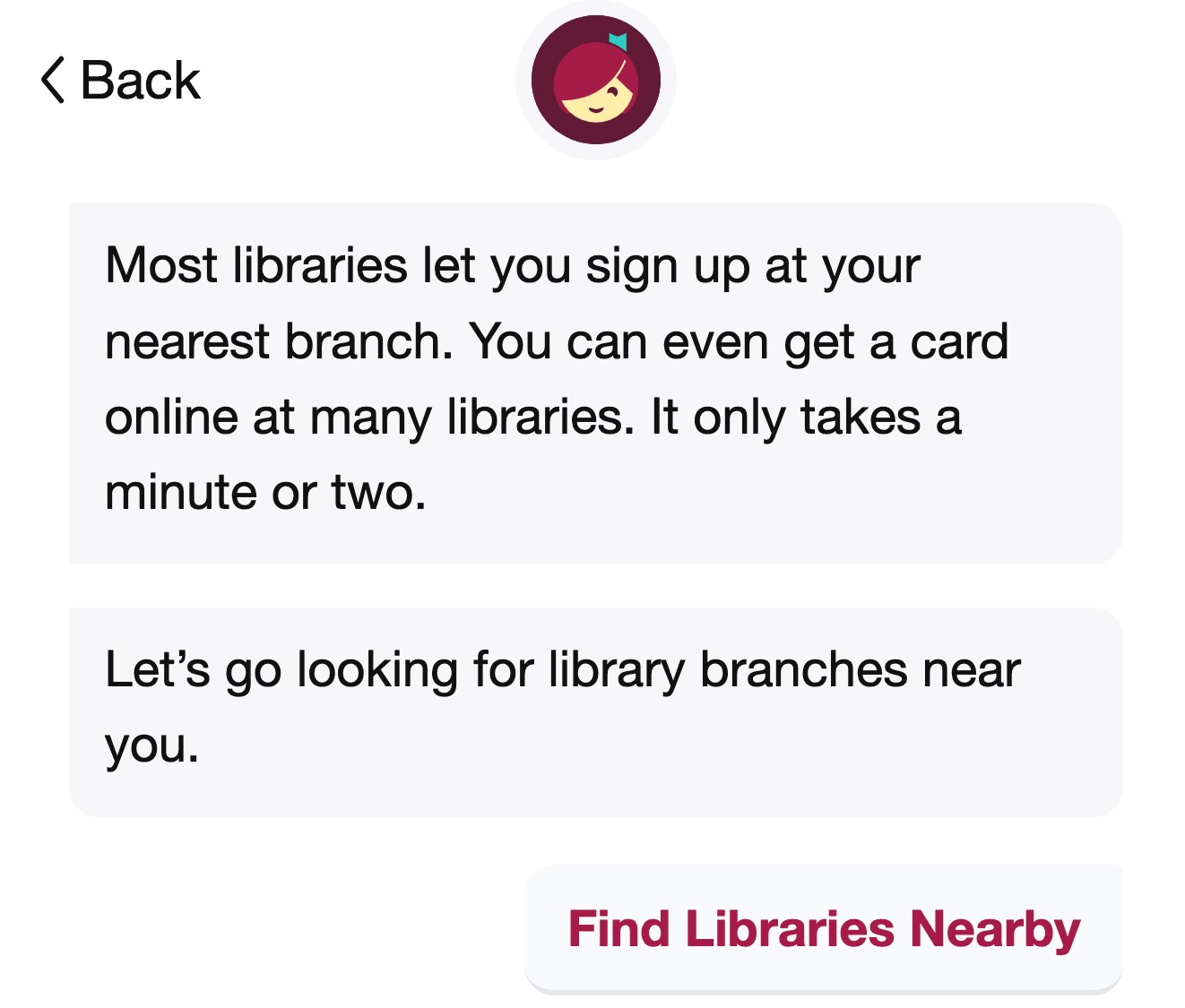 "Find Libraries Nearby" led to a library locator, and a local library — which we selected. Libby directed us to a page for a local-to-us library system, but a Libby app box appeared on it.
At that screen, the user was prompted to sign in with an existing card, or to select "I Would Like A Card":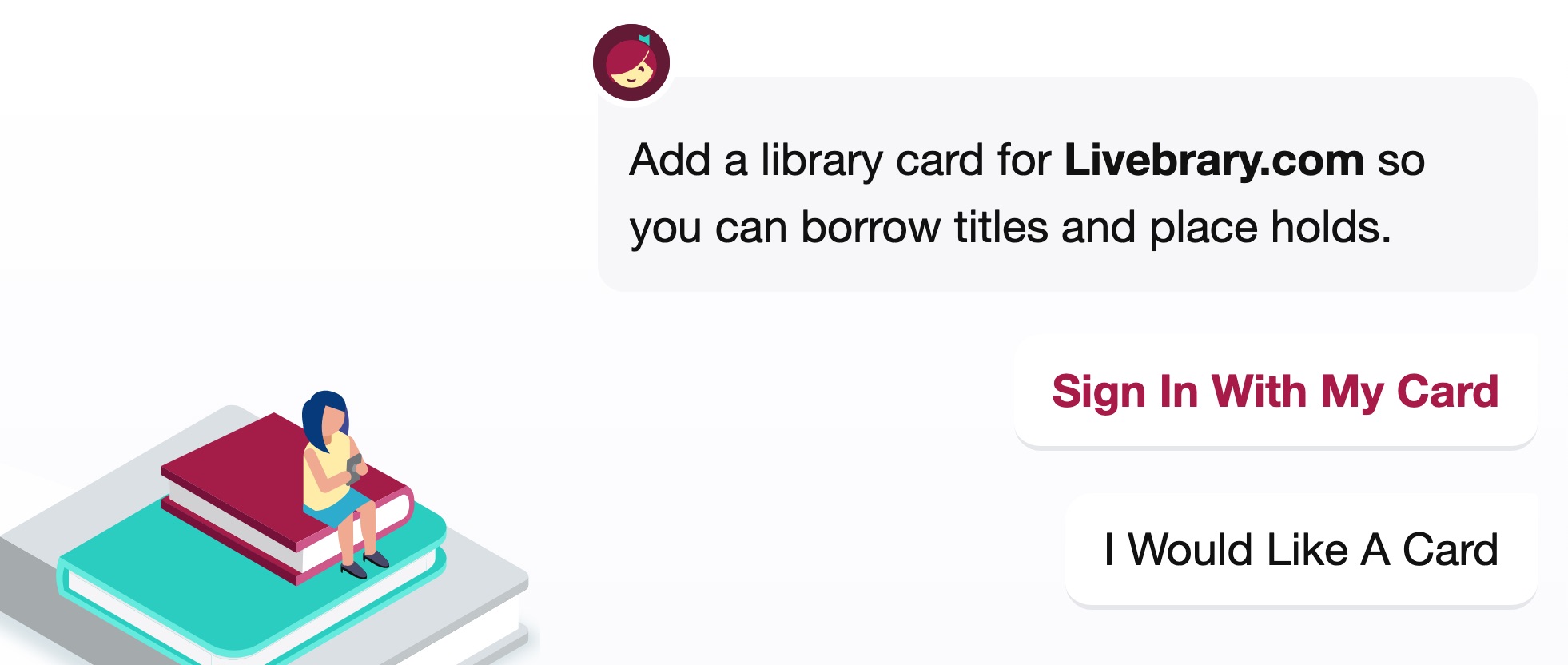 We clicked "I Would Like A Card," and Libby responded: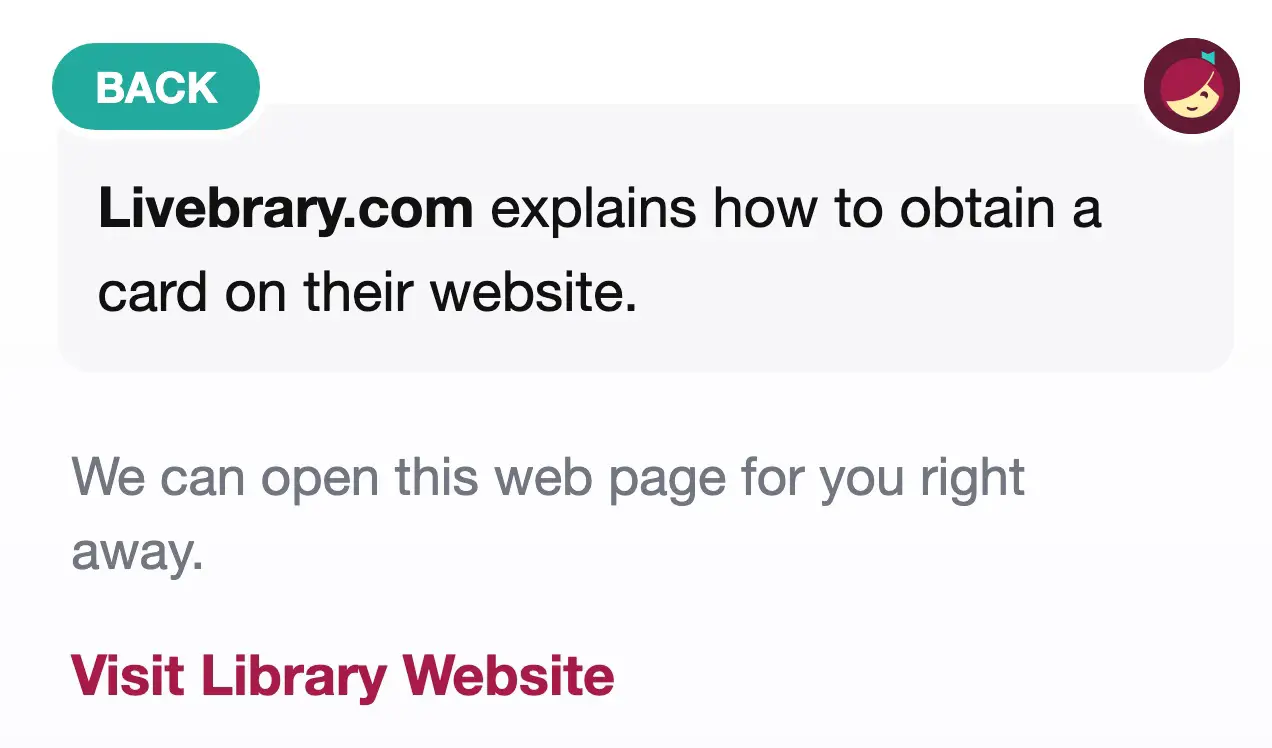 At that point, Libby linked to an external site. Unfortunately, it led to an error page: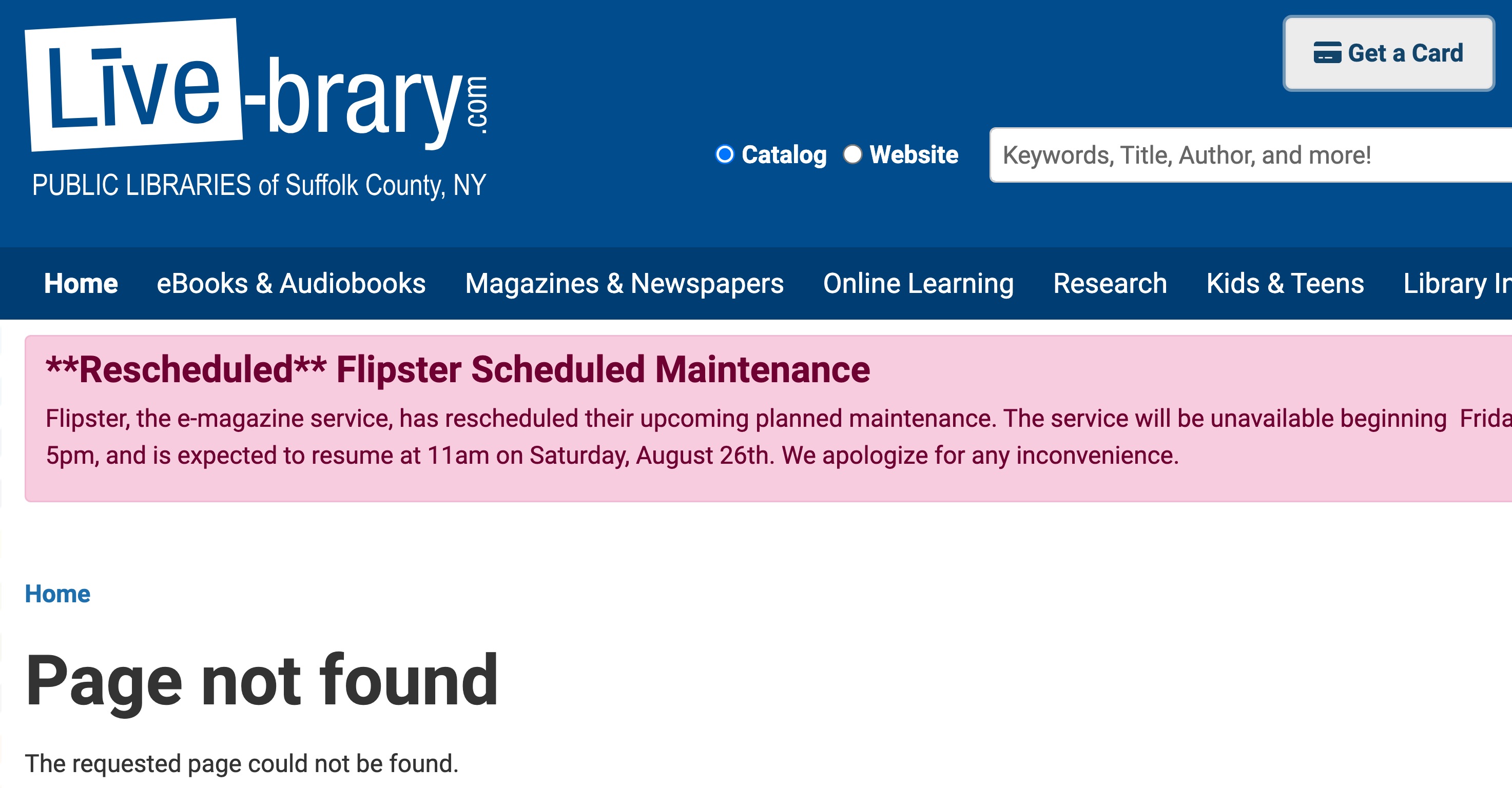 However, a prominent button on the upper right hand side of the page was labeled "Get a Card." Clicking it opened an application for a library card, and instructions:

Completing the form led to the following page. It explained one of three things would happen — the application would be approved, the library would match it with an existing (and perhaps forgotten) account, or the user could encounter a glitch: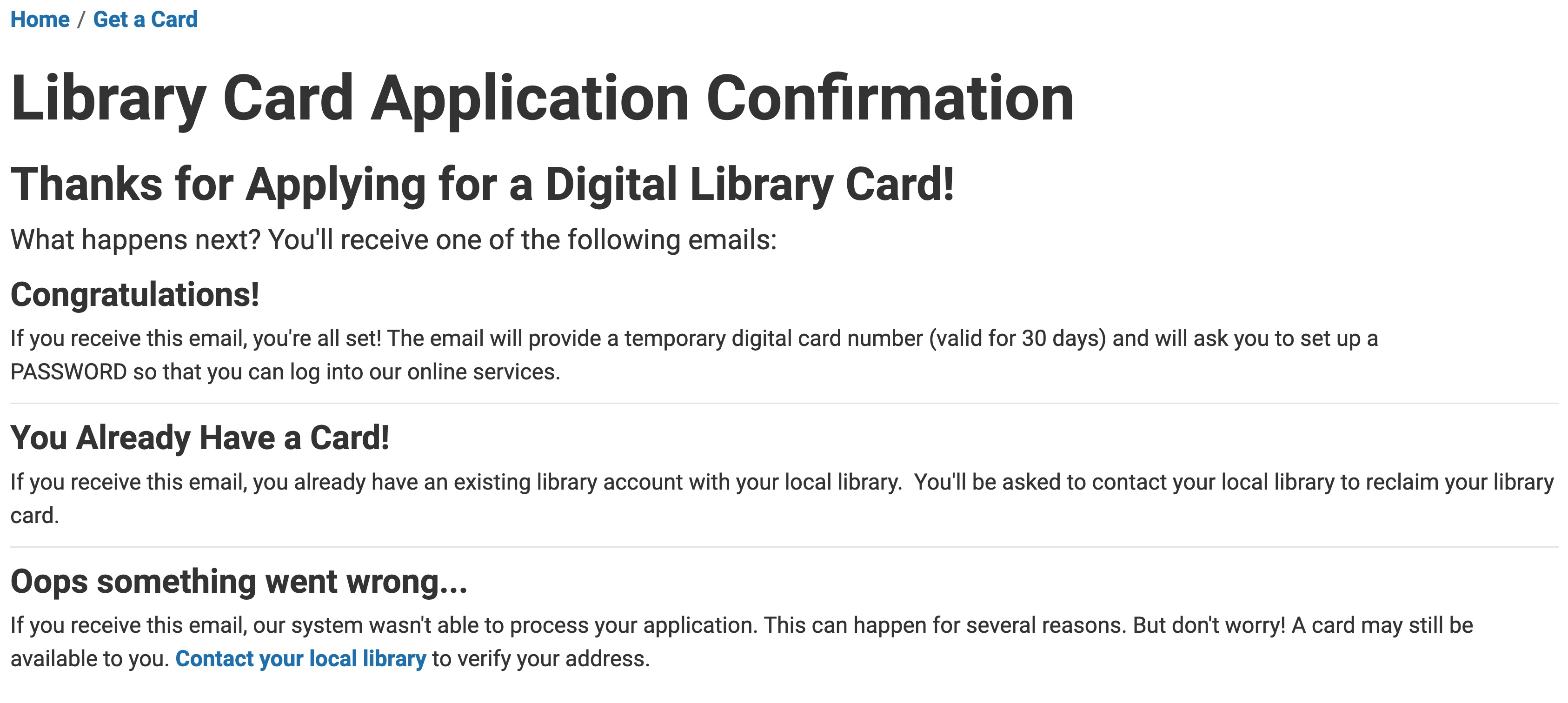 The Facebook post's claim about using Libby to get a library card appeared to be accurate and largely reliable. However, it also appeared to depend on individual library systems when it came to obtaining a card — and some were bound to encounter technical issues.
Libby vs. Audible
On August 24 2023, we accessed the New York Times' Best Sellers list (archived), to locate putatively in-demand titles.
In order, the top five of ten titles were as follows:
Tom Lake by Ann Patchett
Fourth Wing by Rebecca Yarros
Red, White and Royal Blue by Casey Mcquiston
Too Late by Colleen Hoover
Lion & Lamb by James Patterson and Duane Swierczynski
All five titles were available to borrow or reserve, and all five were available in print and audiobook formats.
Summary
A viral August 2023 Facebook post advised users to "STOP paying for books on Audible," and to access audiobooks via the Libby app instead. The post claimed it was possible to obtain a library card through Libby, which largely appeared to be true, but it depended on individual libraries. A search of the then-current top five New York Times bestsellers on Libby showed that all five were available to borrow for free as audiobooks (or in other formats).