Bill Nye 'There's Already Enough Plastic in the Ocean' Response Tweet
Claim
Bill Nye tweeted "there's already enough plastic in the ocean" in response to a tweet stating that Kylie Jenner is the "Ariel we all deserve" (with respect to The Little Mermaid).
Like this fact check?

Reporting
On August 16 2021, the Facebook page "Super News Supes" shared a screenshot in which science educator Bill Nye purportedly made a misogynistic comment about Kylie Jenner in a screenshot that was circulating as early as July 9 2019: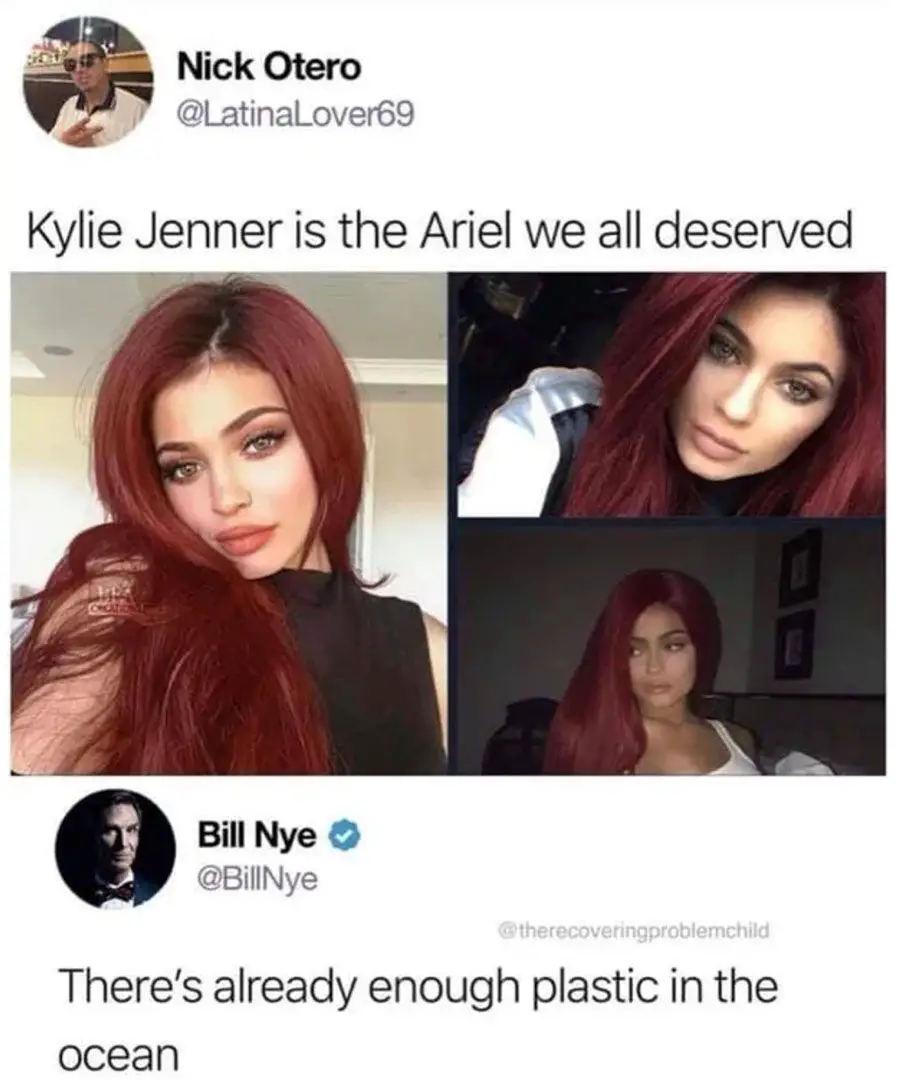 In the screenshot, a Twitter account (Nick Otero, @LatinaLover69) was quoted as saying "Kylie Jenner is the Ariel we all deserved." Underneath that supposed tweet was a response appearing to be from Bill Nye (@BillNye): "There's already enough plastic in the ocean."
Neither tweet in the image featured a visible date, the first red flag that the image was a work of fiction. The second was a watermark for @therecoveringproblemchild.
First, we searched @LatinaLover69, locating a single account with no tweets, created in 2011. Searching for the text of the first tweet returned a third red flag — a nearly identical tweet with the same images, shared by @superficialhaus on July 4 2019:
Kylie Jenner is the Ariel we deserved and I don't care about what you say! 💘💘💘 pic.twitter.com/6OrMX3vkeu

— superficial doll💕 (@superficialhaus) July 4, 2019
We checked archiving sites for evidence that a @LatinaLover69 account was ever active, and none included any saved tweets or indication the account had been. Reverse image searches were more helpful, indicating that the purported Bill Nye tweet was shared to (and deleted from) Imgur on July 6 2019:

The second-oldest iteration was shared to Reddit's r/memes on July 6 2019. Notably, the comment subsequently attributed to "Bill Nye" was then-credited to @REAPERTREEZ (as was also the case with a July 7 2019 r/memes repost):
Destruction 100 from memes
A Twitter search indicated an account using that handle received a number of responses to a tweet stating "It's [sic] already enough plastic in the ocean," but the original tweet was not available. Comments referencing the @REAPERTREEZ account and the comment returned the original @superficialhaus tweet as the first in a two-reply chain:
Wowowowow RT @REAPERTREEZ: It's already enough plastic in the ocean https://t.co/iEOPKSzDmZ

— nobody beats the biz (@TravDave) July 6, 2019
Finally, the meme included a visible watermark for @therecoveringproblemchild, a meme maker active on Instagram and other platforms. That account apparently has a fondness for attributing fabricated commentary to Bill Nye for humorous effect:
 

View this post on Instagram

 
A common response to fabricated responses is that the effort is all in good fun and designed to make people laugh (which by extension implies that debunkers and fact-checkers are little more than finger-wagging spoilsports rather than defenders against weaponized rhetoric and disinformation campaigns); the meme's popularity demonstrated the incentive to fabricate celebrity tweets. However, attributing misogynistic humor to Bill Nye was not only not funny, but unfair to Nye.
On August 16 2021, the Facebook page "Super News Supes" (ranker.com) shared a fake Bill Nye "there's already enough plastic in the ocean" tweet, a purported response to @LatinaLover69 in a tweet about Kylie Jenner as The Little Mermaid's Ariel; Facebook appeared to promote the false meme, and it neared 50,000 shares as of August 19 2021. The original tweet appeared to originate with @superficialhaus, not @LatinaLover69. @REAPERTREEZ was widely credited with a similar response about "plastic in the ocean," as seen on initial iterations of the meme. However, Bill Nye was later edited in (presumably to garner engagement) by a meme maker, and the phony tweet has circulated since July 2019.