On January 12 2022, actor Wil Wheaton shared a purported Campbell's "Soup on the rocks" vintage advertisement to Facebook, alongside the caption "What the actual fuck, Campbell's":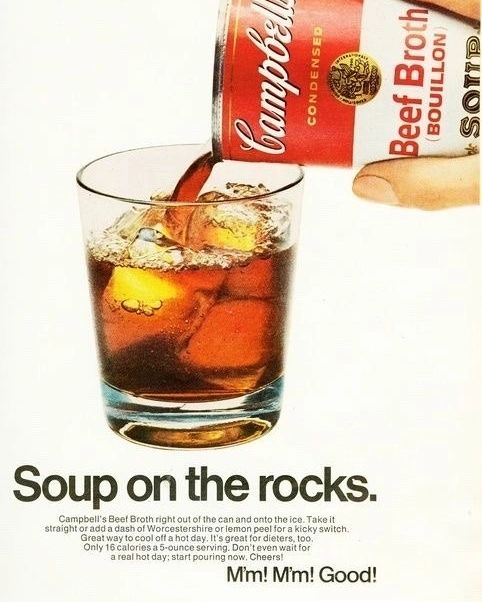 Against an off-white background, a can of "Beef Broth (Bouillon)" was poured into a glass of ice. Overall, the image composition was somewhat haphazardly composed; text underneath read:
Fact Check
Claim: A vintage Campbell's "soup on the rocks" advertisement advises people to drink cold beef broth over ice.
Description: An advertisement from the mid-20th century recommends that people drink Campbell's Soup Beef Broth poured over ice as a cool and low-calorie refreshment.
Soup on the rocks.

Campbell's Beef Broth right out of the can and onto the ice. Take it straight or add a dash of Worcestershire or lemon peel for a kicky switch.

Great way to cool off on a hot day. It's great for dieters, too.

Only 16 calories a 5-ounce serving. Don't even wait for a real hot day; start pouring now. Cheers!

M'm! Mm! Good!
Wheaton did not provide a source or context for the image, aside from his commentary. Despite the image's disorganized visual elements, "weird mid-century recipes" were a long-standing social media curiosity; one BuzzFeed listicle of "truly upsetting" vintage foods included items such as tuna gelatin salads, ham and bananas hollandaise, and something confusingly labeled "liver sausage pineapple."
In 2014, the image was shared on Twitter, purportedly dated to 1956. And in 2021, the image was shared alongside another version to Reddit's r/VintageAds — one post claiming it was from 1960, and another citing a date in 1972:
A TinEye search indicated the Campbell's "soup on the rocks" graphic appeared on the internet no later than November 2009, the first time it was crawled. That 2009 iteration involved an advertising blog on which the image was featured.
In the blog post, its author did not cite the following claim:
Soup on the rocks – a new use for an old product

A long time (in 1972 to be exact), Campbells ran this ad for their range of soups in the US. What the ad does is show consumers how to use the product in a new way. In doing so, it proves to be genuinely "informative" as it gives consumers an idea into product use they may never have had before. Because of this, the ad and the brand as a consequence are a lot more likely to be mentally engaged with rather than discarded. The same can't be said for the advertising of a lot of brands these days.
In April 2012, Mirror.co.uk featured the image in a set titled "Don Draper eat your heart out – the retro adverts that inspired Mad Men." Art book publisher Taschen was credited as the source of the image:
… a [2012] book brings together some of the best creative print advertising from the 1950s, '60s and '70s – the age of the 'Big Idea'.

Mid-Century Ads: Advertising from the Mad Men Era, published by Taschen, traces the change in advertising in America, when the consumer economy rocketed from$100 billion in 1940 to $500 billion in 1960 … The book features a collection of the best of American print advertising, from the height of American consumerism, when magazines were flooded with clever campaigns selling everything from girdles to guns.
A 2019 Esquire.com item, "The Bullshot Is the Bloody Mary's Salty Cousin from Detroit," mentioned the advertisement in passing as a meme:
For the next few decades, the [bullshot] cocktail stayed en vogue—[Malcolm] McDowell even famously ordered one while making his press rounds for A Clockwork Orange—before inexplicably disappearing in the 1980s. It has rarely been heard from since.

An old Campbell's "Soup on the Rocks" ad scanned from Ogilvy on Advertising has been popping up as a meme lately (Google it), and with it, a whole new generation has learned that not long ago, people were looking for ways to drink their beef juice cold. Adding vodka just seems like the natural next step …
A 2019 marketing blog post review of the book cited above mentioned Campbell's "Soup on the Rocks" advertisement as attention grabbing:
Headlines which contain news are sure-fire. The news can be the announcement of a new product, an improvement in an old product, or a new way to use an old product–like serving Campbell's Soup on the rocks. On the average, ads with news are recalled by 22 percent more people than ads without news.
A Google Books search turned up a few mentions of Campbell's "soup on the rocks" advertisements, one of which was in the 2012 book The 100 Greatest Advertisements 1852-1958. A version on page 212 of the book had a slightly different composition: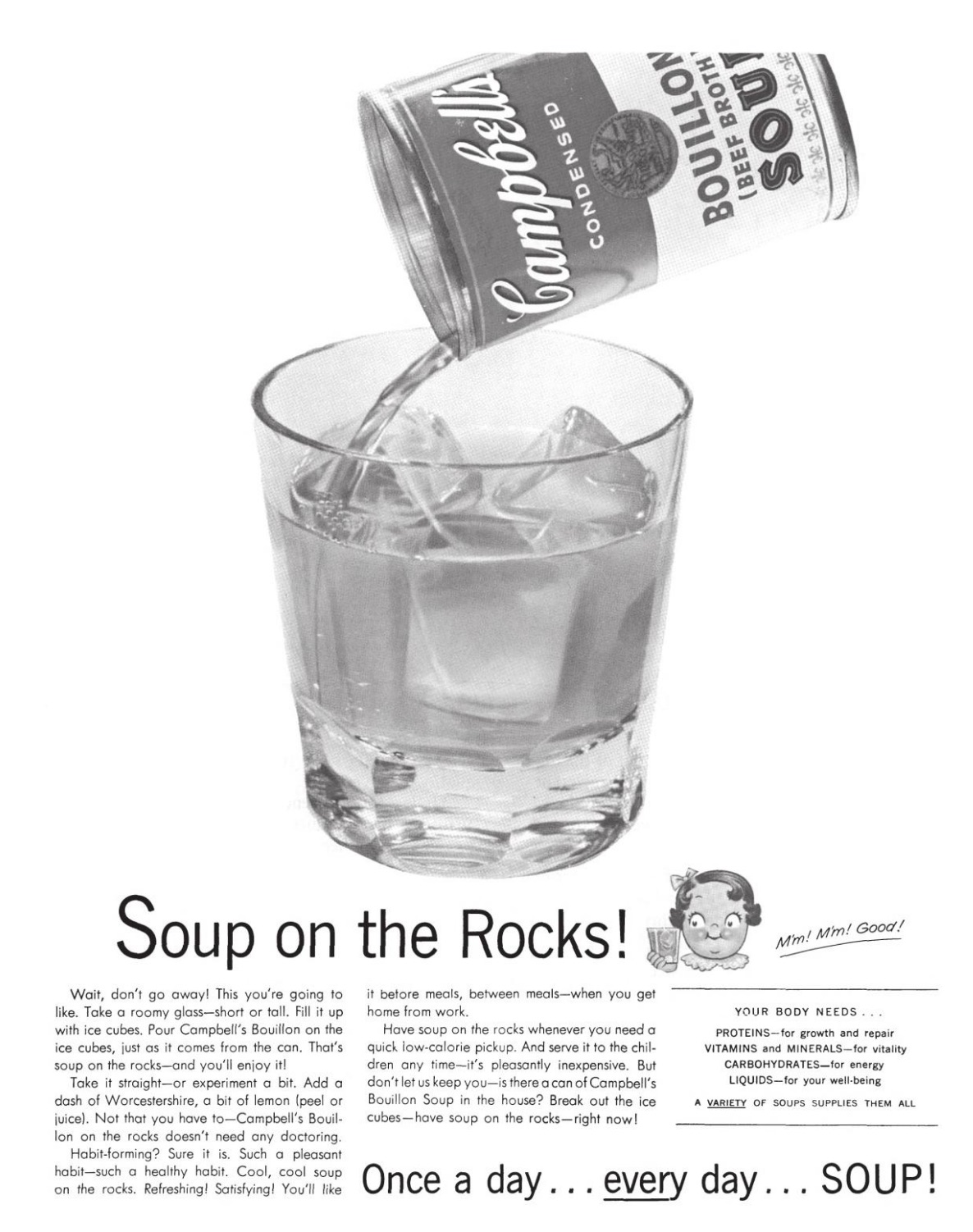 Google Books returned another version of Campbell's "soup on the rocks" campaign, on page 33 of an August 1955 issue of LIFE magazine. As for the version Wheaton shared, we finally located the original color placement on page 35 of a July 1972 issue of LIFE.
A purported vintage advertisement for Campbell's "soup on the rocks," featuring a chilled glass of beef bouillon, has long traversed social media as one of many examples of bizarre mid-century recipes. That specific advertisement was first crawled in 2009, and we located the version shared by Wheaton and originally published in 1972. Campbell's "soup on the rocks" was advertised with a slightly different composition in a 1955 advertisement in LIFE magazine. The advertisement was clearly authentic and part of a longer campaign, and we have rated the claim as True.