Did a Phalanx of Corporate Chief Executive Officers Step Down Ahead of COVID-19?
Claim
A group of chief executive officers resigned their positions suspiciously close to the outbreak of the COVID-19 pandemic.
Like this fact check?

Reporting
In March 2020, as conspiracy theorists rushed to find "meaning" to the COVID-19 pandemic, one graphic circulating online listed departures from several high-profile companies which suggested that the executives left their positions in advance of the disease spreading: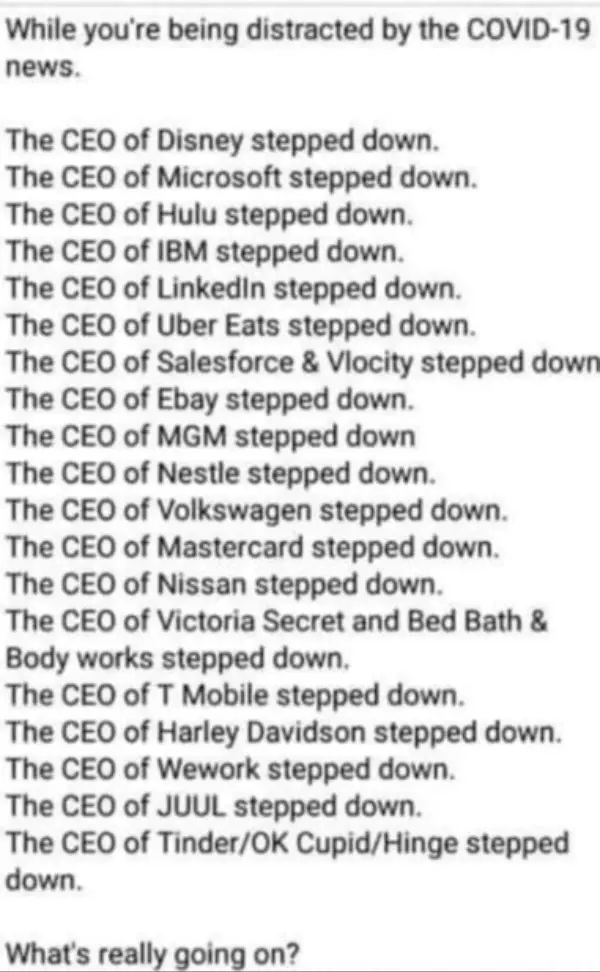 But looking at the actual circumstances of the companies mentioned in the graphic, the results range from a misinterpretation of what "resignations" mean in the corporate world to outright false attempts to connect them to the disease.
True
The CEO of Disney stepped down. Bob Iger announced on February 25 2020 that he would be stepping down. However, he was not retiring; as the Associated Press reported: "Iger will remain executive chairman through the end of his contract on Dec. 31, 2021. Besides leading the board, Iger said he will spend more time on Disney's creative endeavors, including the ESPN sports network, the newly acquired Fox studios and the Hulu and Disney Plus streaming services. He said he could not do that while running Disney on a day-to-day basis." However, the company reversed course in November 2022, rehiring Iger as CEO for what was described as a two-year term.
The CEO of Microsoft stepped down. This is likely a reference to Bill Gates announcing on March 13 2020 that he was resigning from Microsoft's board of directors. But in reality, Gates stepped down as chief executive officer in January 2000. In June 2006, he resigned from full-time work with the company after stepping down as chairman of the board.
The CEO of Hulu stepped down. Randy Freer did step down on January 31 2020. The move was explained as part of a reorganization of the company following its acquisition by Disney. According to news site Axios, "Disney said that Hulu executives will now report directly into Disney's direct-to-consumer department business leads."
The CEO of IBM stepped down. Ginni Rometty announced on January 30 2020 that she would step down as chief executive officer for the tech company. But she would not be leaving the company entirely until the end of her contract in December of that year; according to the Washington Post, she will remain IBM's executive chairman until then.
The CEO of LinkedIn stepped down. Jeff Weiner did announce in February 2020 that he would be stepping down from leading the job-seeker website. But he will not actually cede CEO duties to his successor, Ryan Roslansky, until June 2020.
The CEO of Uber Eats stepped down. This is something of a misnomer. While Uber Eats head Jason Droege did announce his departure on February 25 2020, the food delivery service is a division of Uber (which is still headed by CEO Dara Khosrowshahi) rather than a separate company.
The CEO of Salesforce and Vlocity stepped down. It is inaccurate to say that Keith Block was "CEO of Salesforce and Vlocity" at the time the former company announced his departure on February 25 2020, since Salesforce acquired Vlocity that same month. It should also be noted that Block shared CEO duties with the company's founder, Marc Benioff, who took on that role in full afterward.
The CEO of eBay stepped down. Not only did Devin Wenig leave his position in September 2019 — months before the first reports of COVID-19 cases — he also specifically cited a dispute with the board of directors, saying at the time: "In the past few weeks it became clear that I was not on the same page as my new board. Whenever that happens, it's best for everyone to turn that page over."
The CEO of MGM stepped down. The departure of Jim Murren from MGM Resorts might be the only resignation listed on the graphic with a tangible connection to the pandemic. Murren first announced on February 12 2020 that he would leave his post as chief executive officer as the company withdrew its 2020 financial forecast because of the effect the disease was already having on its overseas properties. At the time, the company said Murren would remain in power until a replacement was chosen. Shortly over a month later, as the disease was found spreading through the United States, MGM announced that Bill Hornbuckle had been appointed to serve as interim CEO.
The CEO of Nestlé stepped down. It is true that Nestlé Waters North America CEO Fernando Mercé announced his departure on February 20 2020, citing "personal reasons." But his position reports to the head of Nestlé USA, which is still Steve Presley.
The CEO of Volkswagen stepped down. Linking the departure of Matthias Müller in April 2018 to COVID-19 is flagrantly false. His successor, Herbert Diess, is still chief executive of the Volkswagen Group.
The CEO of Mastercard stepped down. The company announced in February 2020 that Ajay Banga would leave his CEO post, but Michael Miebach's tenure leading the credit card company will not begin until March 2021.
The CEO of Nissan stepped down. Similarly, Hiroto Saikawa's resignation in September 2019 was not connected to any disease. Saikawa resigned after a company investigation revealed that he was wrongfully overpaid by about $900,000.
The CEO of Victoria's Secret and Bed, Bath & Body Works stepped down. L Brands — the parent company to both retailers — did announce on February 20 2020 that Les Wexner would be stepping down as CEO. But Wexner was already taking heavy criticism following reports of his years-long association with convicted pedophile and sex trafficker Jeffrey Epstein.
The CEO of T-Mobile stepped down. The company announced in November 2019 that John Legere would step down, but his departure from the mobile phone service provider will not actually take place until the end of April 2020.
The CEO of Harley Davidson stepped down. It is true that Matt Levatich was replaced atop the motorcycle maker by Jochen Zeitz on February 28 2020. But as Forbes reported, Levatich's departure was only minimally part of the COVID-19 pandemic. According to the financial news organization, the bigger problem was that "Harley's bike sales in the United States dropped for a fifth straight year in 2019, with its global motorcycle shipments coming in at the lowest level since 2010."
The CEO of WeWork stepped down. Adam Neumann stepped down as CEO of the office rental company in September 2019 amid major questions around his leadership. The company was likely included in the graphic because it announced in February 2020 that he would be replaced by real estate magnate Sandeep Mathrani.
The CEO of Juul stepped down. CEO Kevin Burns also vacated his position in September 2019, after reports of nine deaths and more than 500 hospitalizations tied to vaping-related products.
The CEO of Tinder/OKCupid/Hinge stepped down. The final entry in the meme is inaccurate on two levels. Mandy Ginsberg did announce her departure from Match Group in January 2020. But her letter to staff cited personal reasons rather than COVID-19:


In October, Dallas experienced a tornado that barreled through the city destroying many homes in its wake. Thankfully no one was killed, but the tornado hit my home, making it unlivable. This has definitely impacted my family. And I have had some recent health hiccups. I have been pretty public about the fact that after my mom and aunt died of ovarian cancer 15 years ago, I tested positive for the BRCA1 gene and at the time, opted for a preventative double mastectomy due to high risk of breast cancer. And 10 years later, just last Friday, I had to have another surgery due to an FDA recall of the implants, because they have been linked to cancer. It's been a lot to handle. And while I expect to have a clean bill of health, short term I need to take care of myself and so will take some time off this year to do just that.

It should also be noted that Match Group does not own Hinge. The chief executive officer behind Hinge Group, the company behind that dating app, is still company founder Justin McLeod.
Update 11/21/2022, 2:00 p.m.: Updated to reflect the rehiring of Bob Iger as chief executive officer of Disney. — ag