Did Democrats 'Kill a Bill' Helping Gold Star Families to Help Immigrants Instead?
Claim
Democratic lawmakers approved a bill giving free tuition to undocumented immigrants after blocking a separate measure providing help for military members' bereaved families.
Like this fact check?

Reporting
A 2019 attack by United States President Donald Trump against Democratic lawmakers in New York state was regurgitated and repurposed online again in 2020 — this time, in order to attack the party on the national level.
The issue unfolded in April 2019, when a bill expanding an existing program providing tuition help for the bereaved family and dependents of local military personnel (also known as Gold Star families) failed to advance in the state assembly's Higher Education Committee.
The 15-11 committee vote to block the bill did not break down exactly among party lines, as four Democrats sided with seven Republicans in pushing for the bill to advance.
As Syracuse.com reported, the bill was introduced after the passage of a $175 million state budget that already included $2.7 million for the Military Enhanced Recognition Incentive and Tribute (MERIT) program. Republican Assemblymember Will Barclay said at the time that expanding the program's benefits to cover dependents and relatives for on-duty service members killed outside of combat situations would have cost "less than $6 million per year" and added around 500 or less college students to the program.
Trump weighed in on the issue on Twitter, while taking the opportunity to weaponize xenophobia for his purposes by linking it to the passage of a separate bill, the New York Dream Act, which allowed undocumented students eligibility to the state's financial aid programs as well as separate college scholarships. This bill was passed in January 2019; it was signed into law the following April.
"In New York State, Democrats blocked a Bill expanding College Tuition for Gold Star families after approving aid for illegal immigrants," Trump wrote. "No wonder so many people are leaving N.Y. Very Sad!"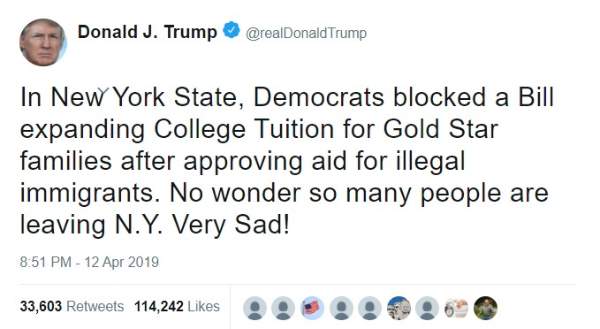 A separate post featuring this meme (and augmented with an "angry" cartoon emoji) was posted to the same platform in September 2020, this time garnering more than 230,000 shares: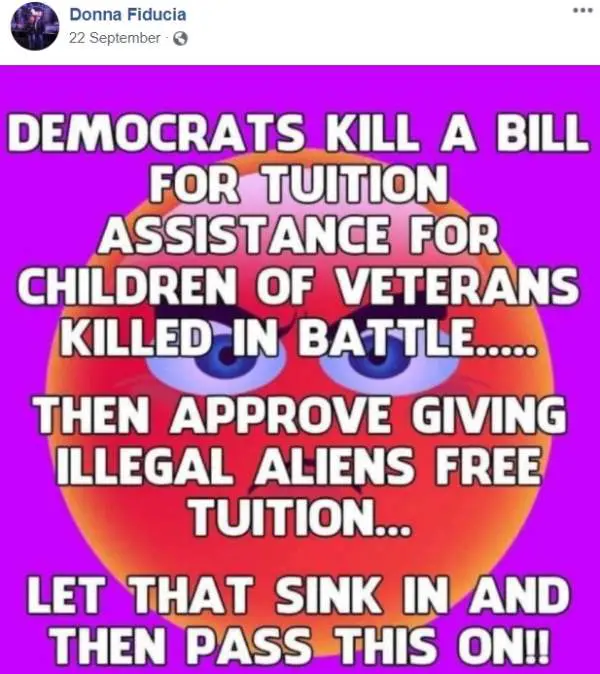 The issue was resolved not long afterwards, as Democratic state Sen. John Brooks introduced a bill expanding the MERIT program while Gov. Andrew Cuomo also vowed to waive tuition and room and board requirements for Gold Star family members.
But a variant of Trump's smear has continued spreading online, attacking unnamed "Democrats" and claiming that the Dream Act (though never named as such, and often referred to with a slur) was actually passed after the education committee's initial action. One iteration, first posted in October 2019, has amassed more than a million shares on Facebook despite a notice stating that it was "missing context."
Because this already outdated and flawed claim was repurposed as partisan disinformation — and just days before a major U.S. election, at that — we rate it a solid Not True.