A graphic spreading online in June 2020 acted as a nesting doll for a spate of disinformation linking conspiracy theories about both COVID-19 and tech mogul Bill Gates.
The graphic claims that "61 out of 63 females GlaxoSmithKline tested became infertile after receiving the Coronavirus vaccine."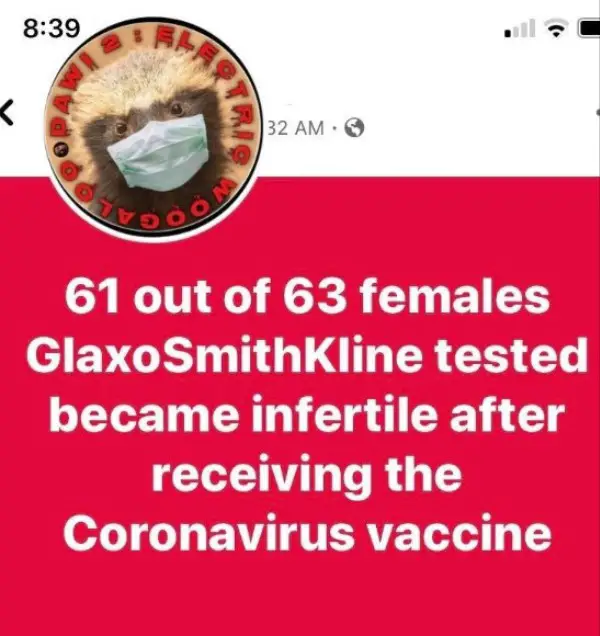 Another post pushing the graphic, though, adds a questionable source — a video from British national Ben Fellows (a.k.a. "Zed Phoenix") that was shared on libertarian David Knight's channel and subsequently posted on other sites.
"It's nonsense," said Dr. Barry Bloom, a professor at Harvard University's Department of Immunology and Infectious Diseases of the video's content. "But it [has been] pervasive from the anti-vaccine people for many, many years."
In the video, Fellows claims to have received information from a "whistleblower" at the pharmaceutical company GlaxoSmithKline (GSK for short) saying that a vaccine against COVID-19 has already been made and it is "a concoction of chemicals, basically." However, Fellows quickly admits that he has no proof for his allegations.
"This is what's going to be in there — we believe," he says. "This is not necessarily — we're one foot in this, one foot out. But I want to go through this, I want to present it as though it's the truth, because I believe it is."
It is true that GSK announced in April 2020 that it would team up with another pharmaceutical company, Sanofi SA, to develop a vaccine against the disease. As Reuters reported:
The adjuvanted vaccine will be developed by combining Sanofi's S-protein COVID-19 antigen and GSK's pandemic adjuvant technology.

Adjuvants are efficacy boosters that play a vital role in many vaccines. An adjuvant is added to some vaccines to enhance the immune response, and has been shown to create a stronger and longer lasting immunity against infections than the vaccine alone.
Bloom also pointed out that according to Sanofi's website, the company did not expect the adjuvanted vaccine to be ready for the trial stage until "the second half of 2020," an estimate GSK has also shared. He added:
If they haven't started trials, it would be very hard to understand how anybody could figure out that they not only injected sixty-some women, but that they had gone through nine months to show that they were sterile. So that's completely ridiculous and impossible.
At no point in the video does Fellows give any information on the alleged "whistleblower," or provide documentation to either corroborate his own claims or explain where his purported source got their information.
Instead, Fellows says that "we believe" that a separate vaccine for men will include gonadotrophin-releasing hormones (GnRH), which results in "reduced testicular size, [a] drop in testosterone levels, and atrophy of the prostate," a statement he reads from an unidentified sheet of paper while saying, inexplicably, "they tested this on baboons."
Fellows does not identify the sheet, possibly giving viewers the impression that the information comes from his "whistleblower." But the listing of the side effects he mentioned may have been taken from a study published in 1989 by researchers from India's National Institute of Immunology on anti-fertility vaccines.
In fact, Bloom is a former colleague of the lead researcher on that study, Gursaran Talwar; Talwar was the chair of the department of biochemistry at the All India Institute of Medical Sciences in 1968, when Bloom taught a course on immunology there.
"I know the studies to create a birth control vaccine," Bloom said. "And I know they failed to be effective and were dropped and haven't been continued for 30 years. So nobody in their right mind would want to try to do that, because it didn't work."
Once again, Fellows only says he "believes" that the COVID-19 vaccine will cause men who have sex with unvaccinated women to cause infertility in the women, adding, "This isn't gonna be seen in the population for 7 to 10 years." He then claims that he will "pay for random testing of the vaccines to see what appears in there."
Given Fellows' lack of evidence, as well as the remarks from Bloom — a longtime advisor and committee member for the World Health Organization — we rule the claim in the video as Not True.
In April 2020, Fellows posted a separate video claiming that the United Kingdom Control of Disease Act of 1984 was changed that month to allow for "forced vaccinations." That claim was debunked by FullFact.org, a UK-based fact-checking site:
At the time of writing, the last time this legislation was amended was on 25 March, which happened as a result of the Coronavirus 2020 Act. This change didn't add anything to the 1984 act but meant that a part of it would temporarily no longer apply. The part that was changed was section 46(3). Up to 25 March, local authorities were not allowed to arrange for a cremation against the wishes of the deceased. The House of Commons Library says that "Under the new powers, this would be suspended. However, the Government has stated that personal choice for body disposal will be respected as far as possible."

The government has said it's extremely unlikely that a deceased person's preferences on burial would not be adhered to, and the legislation says local authorities must take the person's wishes into account.
Bloom noted that attaching opposition to vaccines to claims of enforced sterility is not a recent phenomenon; in 2003, officials in the Nigerian states of Kaduna, Kano, and Zamfara rejected a polio vaccination campaign, arguing that they were suspicious that "evildoers from America and their Western allies" were using the vaccine to forcibly sterilize Muslim girls. According to a 2007 report, officials in Kano said at the time that it would be "a lesser of two evils, to sacrifice two, three, four, five even ten children to polio than allow hundreds of thousands or possibly millions of girl-children likely to be rendered infertile."
The eleven-month-long dispute ended after officials for the three states approved the use of a vaccine produced in a separate Muslim-majority country, Indonesia. But the spread of the false claims of sterilization, Bloom said, led to an upswing in polio cases in several other countries and took "a tremendous effort" on the part of health officials to resolve.
"These rumors and false claims are very powerful," he said. "They actually kill and cripple children."
And the continued spread of these types of false claims, Bloom added, could lead to a lack of willing subjects when an actual COVID-19 vaccine is ready for efficacy testing.
"How many anti-vaxxers would persuade people that it was dangerous to take it and people won't take it?" he asked. "If you don't take it, the vaccine doesn't do much for the population."
While a vaccine is still being developed both the BBC and the Associated Press reported in June 2020 that researchers at Oxford University found that an existing drug, dexamethasone, has shown that it has reduced the risk of fatality for patients with severe cases of COVID-19. According to the BBC:
In the trial, led by a team from Oxford University, about 2,000 hospital patients were given dexamethasone and compared with more than 4,000 who were not.

For patients on ventilators, it cut the risk of death from 40 percent to 28 percent.

For patients needing oxygen, it cut the risk of death from 25 percent to 20 percent.

Chief investigator Prof Peter Horby said: "This is the only drug so far that has been shown to reduce mortality – and it reduces it significantly. It's a major breakthrough."
While dexamethasone could help in severe cases of the coronavirus, Bloom said, the ideal would be the development of a treatment that prevents patients from needing that level of help.
"We need better drugs to prevent them from getting to the late stages," he said. "And we need a vaccine to keep them from getting infected. But it's a good thing."