On October 19 2019, a Facebook user shared a letter sent by a Rocky Point, New York school district concerning reported cases of chickenpox, along with a list of its symptoms and other information about the virus: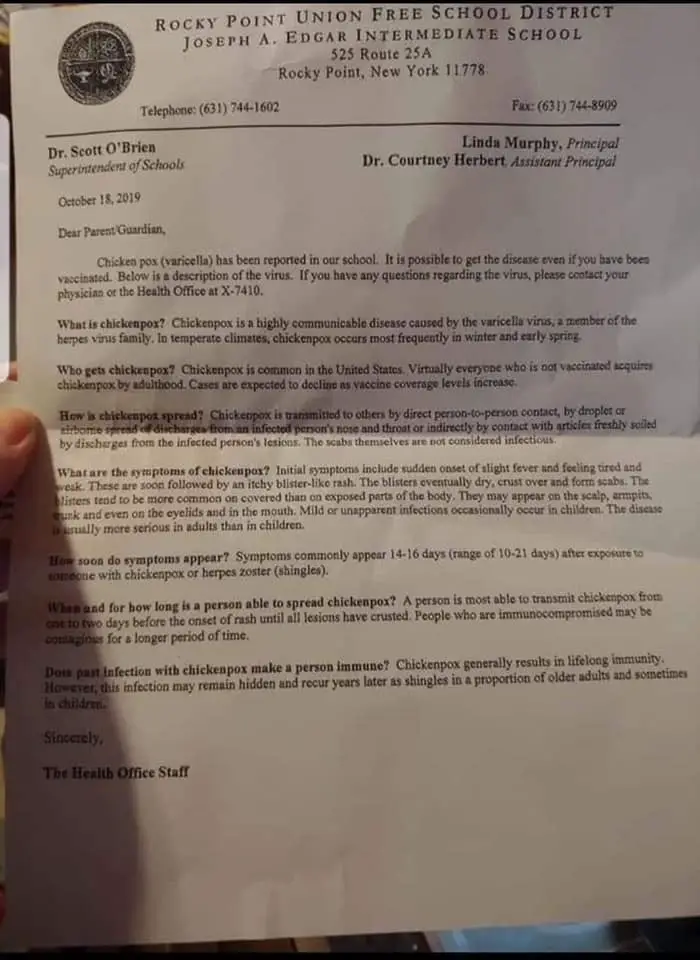 Alongside the letter (dated October 18 2019), the user claimed:
Hey New York … you kicked 26,000 children out of school for not being completely up to date on vaccines. Well … chicken pox is now in your school.
According to the post and subsequent shares, the state of New York had "kicked 26,000 children out of school" for not being completely up-to-date on their vaccines. Furthermore, chickenpox was purportedly present in one school in Rocky Point, New York, despite state laws about mandatory vaccines and schooling.
Another Facebook user shared an image of the letter, reiterating the claim and saying that "there is now an outbreak of Chickenpox in a Rocky Point NY School and the UNVACCINATED are NOT there ????????‍♀️????." Commenters espousing an anti-vaccine perspective also shared copies of the letter on Twitter, claiming that the population affected had been completely vaccinated:
A separate tweet also described a "chickenpox outbreak" in Rocky Point in October 2019. A similar sentiment that the "outbreak" occurred in a "100% vaccinated population" was shared to Reddit's r/ShitMomGroupsSay on October 21 2019:
There were also, of course, memes:
The letter began:
Chicken pox [sic] (varicella) has been reported in our school. It is possible to get the disease even if you have been vaccinated. Below is a description of the virus. If you have any questions regarding the virus, please contact your physician or the Health Office at [number].
Although the letter indicated chickenpox was "reported in [the] school," it did not suggest that any cases of chickenpox were confirmed, did not clarify exactly what was meant by "reported," nor that an "outbreak" was present in any way, shape, or form. It said simply that "chickenpox was reported," before immediately stating that it is potentially possible to catch chickenpox even for those who have already been vaccinated for varicella.
Another common claim was that 26,000 children in the state of New York had been "kicked out" of school for not being fully vaccinated. A September 3 2019 New York Times article ("Get Vaccinated or Leave School: 26,000 N.Y. Children Face a Choice") included that figure — not as a number of children kicked out, but as a count of the number of children who were previously exempted from vaccination requirements for religious reasons:
With the start of school [in September 2019], [parent Jacquelynn] Vance-Pauls, along with the parents of about 26,000 other New York children who previously had obtained religious exemptions to vaccinations, are facing a moment of reckoning.

Under [a] new law, all children must begin getting their vaccines within the first two weeks of classes and complete them by the end of the school year. Otherwise, their parents must home school them or move out of the state.

The measles outbreak that prompted the new law is actually easing. [In September 2019], Mayor Bill de Blasio declared an end to the measles outbreak in New York City, its epicenter. Since the start of the outbreak in October 2018, there have been 654 measles cases in the city and 414 in other parts of the state, where transmission has also slowed.
In August 2019, efforts by some parents affected by the law to block a June 2019 law eliminating religious exemptions to vaccination were unsuccessful:
Acting Supreme Court Justice Denise Hartman of Albany issued a decision [in August 2019] that upheld the law passed in June [2019] in response to the worst measles epidemic in decades.

In her decision, Hartman acknowledged the "magnitude of disruption and potential harm" families may suffer if they have to violate religious beliefs and vaccinate their children, home-school them or move out of state. School begins [in late August 2019] for many children across the state.

But the judge said in her ruling she cannot overstate the "potential harm to unvaccinated individuals if the injunction is granted."

She said the courts for at least a century have upheld state compulsory vaccine laws. She cited a 1944 U.S. Supreme Court decision that said, "The right to practice religion does not include liberty to expose the community or the child to communicable disease or the latter to ill health or death."
All 26,000 children mentioned in that coverage were affected by the June 2019 change to New York State law eliminating religious exemptions to vaccines. However, we found no subsequent reporting indicating whether all 26,000 children in the estimated group remained unvaccinated.
In May 2019, state lawmakers and parents of immunocompromised children lobbied to remove religious exemptions under then-current law, but medical exemptions were not affected. In that debate, the religious exemption was described as a "loophole" for anti-vaccination parents:
… [State] Sen. [Brad] Hoylman said the religious exemption provides a loophole for anti-vaccination parents — those who do not have earnest religious objections are using the exemption to get around the requirements that would otherwise apply to them. Under the current system, parents fill out a form and a school supervisor is tasked with evaluating the claim.

"The truth is most of these just slide through uncontested because who is in a position to question someone else's religious beliefs?" said Hoylman. "That is why we need to remove religion from the equation altogether."
As of October 23 2019, the New York State Department of Health's "Immunization Laws and Regulations" page listed varicella among mandatory immunizations under state law:
New York State (NYS) Public Health Law Section 2164 and New York Codes, Rules and Regulations (NYCRR) Title 10, Subpart 66-1 require every student entering or attending public, private or parochial school in New York State (NYS) to be immune to diphtheria, tetanus, pertussis, measles, mumps, rubella, poliomyelitis, hepatitis B, varicella and meningococcal in accordance with Advisory Committee on Immunization Practices (ACIP) recommendations. In the 2019-20 school year, meningococcal immunization is required for grades 7, 8, 9, 10, and 12.

Every child in day care, Head Start, nursery school or prekindergarten in NYS must be immune to diphtheria, tetanus, pertussis, measles, mumps, rubella, poliomyelitis, hepatitis B, varicella, Haemophilus influenzae type b (Hib), and pneumococcal disease.

Public Health Law Section 2164 provides for medical exemptions to immunization.
Under that law, immunity to varicella broadly included having previously contracted chickenpox:
Immunity means that … for varicella, a child has either had a positive serologic test, as defined in subdivision (h) of this section; laboratory confirmation of disease, as defined in subdivision (k) of this section; or had the disease as verified by a physician, nurse practitioner, or physician's assistant statement[.]
A New York City joint Department of Health and Department of Education fact sheet notes:
Documented serologic evidence of immunity to measles, mumps, rubella, hepatitis B, or varicella meets the immunization requirements for these diseases. Diagnosis by a physician, physician assistant or nurse practitioner that a child has had varicella disease is acceptable proof of immunity to varicella.
That same sheet addressed implementation of the law in students who were noncompliant for various reasons. In that guideline, varying levels of compliance were evident as of October 2019 — students who had not received newly mandatory vaccinations were admitted provisionally as long as they adhered to the CDC's "'catch up' schedule":
New students may enter school or child care provisionally with documentation of at least this initial series of immunizations. Once admitted provisionally, subsequent vaccines must be administered in accordance with the Advisory Committee on Immunization Practices (ACIP) "catch up" schedule for the child to be considered "in process" and remain in school[.] Alternative schedules are not acceptable. Students must complete the entire series to comply with the law. Students who have not been immunized within the provisional period must be issued exclusion letters and excluded from school or child care until they comply with the requirements.
One of the claims in circulation involved an "outbreak" of varicella or chickenpox in a population that was "100 percent" vaccinated. Again, the letter neither mentioned an "outbreak" nor even a confirmed case of chickenpox, and state regulations allowed for immunity acquired by previous infection (as confirmed by a blood test) as compliant. A complete set of New York's vaccination requirements for schoolchildren is available on health.ny.gov [PDF].
All that said, the Centers for Disease Control's varicella vaccination page explains that even in a populace with a "100 percent" varicella vaccination rate, cases would likely occur:
Two doses of the chickenpox vaccine is more than 90% effective at preventing chickenpox. When you get vaccinated, you protect yourself and others in your family and community. This protection is especially important for people who cannot get vaccinated, such as those with weakened immune systems, or pregnant women.

Some people who are vaccinated against chickenpox may still get the disease. However, the symptoms are usually milder with fewer or no blisters (they may have just red spots) and mild or no fever. The risk of getting chickenpox after two doses of chickenpox vaccine is lower than after only one dose of chickenpox vaccine. Talk with your healthcare provider if you have questions about chickenpox vaccine.
Also, two doses of varicella vaccine are recommended for individuals who have never had chickenpox and have never been vaccinated. In compliance with the law, some vaccinations involved were almost certainly incomplete:
CDC recommends two doses of chickenpox vaccine for children, adolescents, and adults who have never had chickenpox and were never vaccinated. Children are routinely recommended to receive the first dose at age 12 through 15 months and the second dose at age 4 through 6 years … People 13 years of age and older who have never had chickenpox or received chickenpox vaccine should get two doses, at least 28 days apart.
To recap, claims of a "chickenpox outbreak" in Rocky Point spread on Facebook, Twitter, and Reddit after a district-wide letter dated October 18 2019 began circulating. These claims were rife with misinformation, disinformation, and outright confusion over the content of the letter and a June 2019 change to New York's state law, which eliminated religious exemptions for vaccination in students — of which there were 26,000 estimated at the time the law was passed. (Medical exemptions were not eliminated.) We found no indication that the state removed 26,000 children from school.
The letter described "reported" chickenpox in Rocky Point, not an outbreak or even a case, leading to widespread chagrin at its purported appearance in a "100 percent vaccinated" population. Elements of the law meant that as it was implemented, some students might not be fully vaccinated against chickenpox as of October 2019. But even if they all were, the varicella vaccine is 90 percent effective at preventing infection, and nearly 100 percent effective against severe varicella. Even vaccinated people remain at risk of contracting a mild form of varicella, but typically not severe varicella.