Did North Carolina Ban Sharia Law Statewide?
Claim
North Carolina has banned "sharia law."
Like this fact check?

Reporting
On July 29 2019, frequent Facebook disinformation purveyor Joseph Rudy Rullo posted a meme (archived here) claiming that North Carolina had banned sharia law.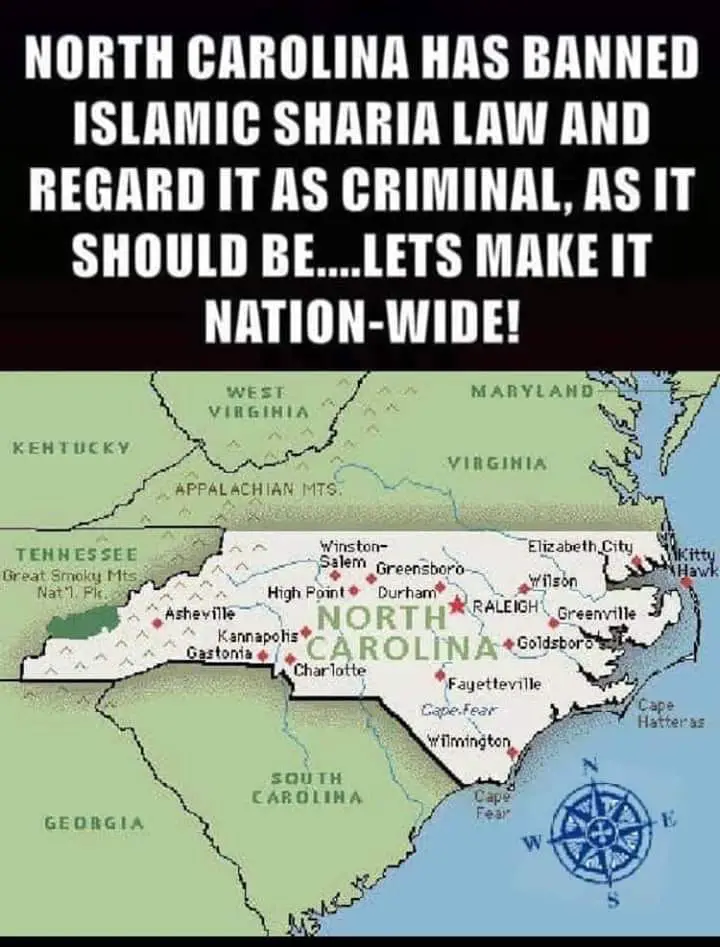 Above a map highlighting North Carolina, the meme read:
NORTH CAROLINA HAS BANNED ISLAMIC SHARIA LAW AND REGARD IT AS CRIMINAL, AS IT SHOULD BE….LETS MAKE IT NATION-WIDE!
However, no recent news articles or other citations accompanied the post and none appeared in its immediately visible comments. Readers who relied on Google to determine the veracity of the claim might also be led to believe it was substantiated. A 2013 Deseret News article bore a headline that seemed to verify its claims:
North Carolina becomes 7th state to ban Muslim Sharia law
That headline definitely made it seem like the meme was very accurate. However, a date (Aug 28, 2013) appeared just under it, indicating that whatever had taken place was six years before the appearance and circulation of this particular unsourced meme.
But it wasn't just a matter of being "old news." In the first few paragraphs of the article, the headline was effectively debunked:
North Carolina has become the seventh state to prohibit state judges from considering Islamic law in family cases, joining what critics say is a national anti-Muslim campaign.

Gov. Pat McCrory allowed the law, which was passed by state lawmakers in July [2013], to take effect without his signature.

In an interview with The Associated Press, McCrory said the measure doesn't do anything. "I didn't think it was worth the time to pass, nor do I think it's worth the time to have someone come back and vote on it again," he said.

… [A similar] law in Oklahoma was struck down in court as unconstitutional, according to the Progressive Pulse, because it discriminated among religions without justification.

North Carolina lawmakers tried to avoid that problem by not mentioning Sharia in the legislation but instead banning enforcement of all foreign laws.
A few contextual details became clear from the introductory paragraphs. First, the governor of North Carolina in 2013 simply allowed what he considered a pointless and toothless bill to pass because he considered it not worth the trouble to even bother challenging. Similar laws were deemed unconstitutional due to religious bias inherent in them, and the North Carolina bill was broad and vague, referencing "foreign laws."
Finally, the "ban on sharia law" that was actually a "ban on foreign law" was described as applying only to the small scope of family law — not civil cases or criminal ones. Memes typically do not provide much space for detail, but the oversimplification in the "North Carolina bans sharia law" rumor in particular was egregiously misleading.
Nevertheless, the meme can and does argue that whatever North Carolina did in 2013 (political theater so pointless the governor didn't even bother to engage with it) was an effective ban of "sharia law" in the state. And to verify that, we have to understand what sharia law is and whether or not such a bill could effectively be described as ban of the practice.
According to the Islamic Networks Group (ING), sharia is guidance used by individual Muslims in their day-to-day lives. In other words, it is not used in place of actual legal codes or directives:
The term Sharia comes from an Arabic word meaning "path to the water," which reflects the concept that Sharia is divine guidance drawn mainly from the Qur'an and Sunnah (teachings and guidance of Prophet Muhammad) for the purpose of helping humanity draw close to God and live in kindness and justice with His Creation. The term Sharia is used by Muslims to refer to the values, code of conduct, and religious commandments or sacred laws which provide them with guidance in various aspects of life.

While Sharia is often translated as "Islamic law," a more accurate term for "Islamic law" in Arabic is fiqh which refers to the human endeavor to interpret and apply Sharia.
Sharia is not the practice of applying Islamic tenets to the legal system — that is a concept known as fiqh. Sharia is relevant as a guide for people of the Muslim faith — not the legal system — to live their lives. In a separate section about what sharia addresses with respect to Muslims and religious guidance, ING explains:
Sharia addresses both personal and communal aspects of life. For the most part, Sharia is concerned with personal religious observances such as prayer and fasting.
Sharia can be divided into two broad areas:

Guidance in religious worship (ibadat), which is the central focus of Islam.
Guidance in worldly matters (mu'amalat) such as visiting the sick, taking care of our parents, marriage, inheritance, investments and business affairs, etc.
So what is called "sharia law" as it is applied by Muslims is not law at all, but a guide for issues like worship and how it occurs, and family or related matters. ING did not mention relevance to the state, but North Carolina's "foreign laws" bill did have to do solely with "family court." Theoretically a small crossover could occur at that juncture, but overall, sharia is applied by Muslims in their daily lives and the North Carolina bill did not in any way ban that.
Finally, ING addressed the fact that many other common religions such as Judaism or Catholicism have features very similar to sharia:
Most religions have sacred laws or religious standards for the different areas of life. For example, Jews have halakhah, which is very similar to Sharia in method and content. Catholics have the teachings of the magisterium (teaching authority), which deal with things like marriage, business practices, and social justice.
As PolitiFact noted in May 2019, the meme is grossly misleading and the bill itself was itself disinformation, useless because no foreign laws were being applied in any court proceedings (family or other) when it was passed in 2013:
While the claim has some basis, it takes a state law vastly out of context to make it appear as if Muslims living in North Carolina are banned and criminalized from personally practicing Sharia law, when it is, in fact, that all foreign laws are prohibited from being applied in state court proceedings.
North Carolina is not alone in outlawing a personal religious practice as if it were actual legal practice. A July 2019 USA Today piece described anti-sharia laws as "copy-and-paste legislation." The article, titled "These copycat bills on sharia law and terrorism have no effect. Why do states keep passing them?" explained that nearly identical bills on this topic are commonplace, despite a lack of actual instances where sharia principles influenced a court case:
Since 2010, some version of the model bill has been debated in 43 states and signed into law in 12, according to the Southern Poverty Law Center tracking of the legislation. USA TODAY and The Arizona Republic's investigation, which used a computer algorithm to detect similarities in language, found during that period nearly identical copies of American Laws for American Courts had been introduced 40 times in 17 states.

Maya Berry, executive director of the Arab American Institute in Washington, D.C., which advocates for Arab people of all faiths, said the copycat legislation isn't intended to fix any real problem. "It's an organizing tool for hate groups," she said. Supporters of the legislation can cite few instances where Sharia factored into court rulings, and those that violated American laws were overturned on appeal.
In 2016, the St. Cloud Times examined a similar effort in Minnesota, and legal experts once again explained that existing laws already prevented "foreign law" from influencing proceedings in any American court:
We asked two constitutional law scholars from the University of Minnesota about Brown's bill, and what role Sharia law plays in U.S. courts right now.

Both said it's not needed because of Article 6 of the Constitution, which states that the Constitution "shall be the supreme law of the land; and the judges in every state shall be bound thereby."

"The bill is unnecessary because it really just restates what the rule is now," said Fred Morrison, who teaches constitutional and international law at the U of M's Law School and has served as the Counselor on International Law for the U.S. Department of State.
To recap, a July 2019 meme claimed North Carolina banned sharia law, with no indication the referenced "ban" occurred in 2013. Enough time had elapsed by that point for most readers to have forgotten that the state's governor at the time deemed both signing and arguing with the bill pointless, as it simply reiterated law as it already stood. Sharia isn't even a system of governance, but a set of guiding principles for Muslims to adhere to their religion — similar to aspects of Judaism and Catholicism. Although the 2013 legislation did exist, it in no way functioned as a "ban on sharia law" in North Carolina from any legal or meaningful angle, and instead shines a light on how disinformation can permeate the American court system — and thus policy.