Did Ronald Reagan Say Socialism 'Only Works in Two Places,' Heaven and Hell?
Claim
Ronald Reagan said "socialism only works in two places," "heaven and hell."
Like this fact check?

Reporting
On February 10 2019, Senator Chris McDaniel shared a meme quoting Ronald Reagan on "socialism" only functioning properly in two places: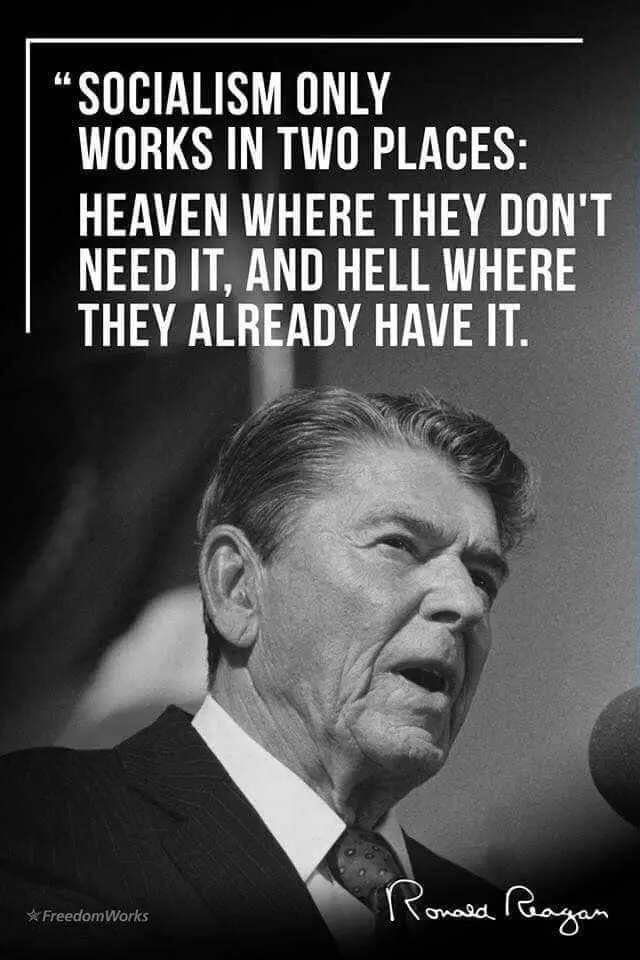 Above a black-and-white photograph of President Reagan, the meme read:
SOCIALISM ONLY WORKS IN TWO PLACES:

HEAVEN, WHERE THEY DON'T NEED IT, AND HELL WHERE THEY ALREADY HAVE IT.
Iterations of the same quote with the same attribution (Ronald Reagan) were rife across the web, but lacking any contextual information about where if ever he had made such an observation or statement. One of the primary "hits" for the quote was on Wikiquote's Communism page, where the words themselves and their attribution to Reagan were classified as "unsourced."
Attributions of the quote to Reagan were largely nonexistent until fairly recently, thundering across the internet sometime around 2016. When the quote was shared to Reddit's r/quotes in March 2016, a redditor pointed out that Reagan had made a similar remark in 1983, but not about socialism:
Communism only works in heaven, where they don't need it, and in hell, where they've already got it.
The same person pointed out that the origin of the quote appeared to be Canadian humorist and writer Stephen Leacock in 1935. Once again, Leacock was credited with a version of the meme-ified quote:
This Socialism, this Communism, could only work in Heaven where they don't need it, or in hell, where they already have it.
Although it was difficult to definitively rule out that Ronald Reagan quipped that socialism only worked in heaven or hell (it's nearly impossible to prove a negative) the only quote we were able to turn up was about Communism. That comment was originally made by a Canadian several decades earlier.
In its current format, the meme appears to leverage Reagan's popularity to advance a sentiment about the shifting political winds of 2019.