Did the Detective Who Led Jeffrey Epstein Investigation Die after a 'Brief Illness' At 50 in September 2019?
Claim
The detective who led investigations into Jeffrey Epstein died mysteriously at the age of 50 in September 2019.
Like this fact check?

Reporting
In early September 2019, a large number of Facebook users shared an article (archived here), compellingly titled "Detective Who Led Epstein Investigation Died After 'Brief Illness' At 50."
Based on the visible shares to Facebook alone, readers found the title and excerpt so convincing they may not have opened the page at all. When it was shared on Facebook, users saw (and subsequently shared) the following: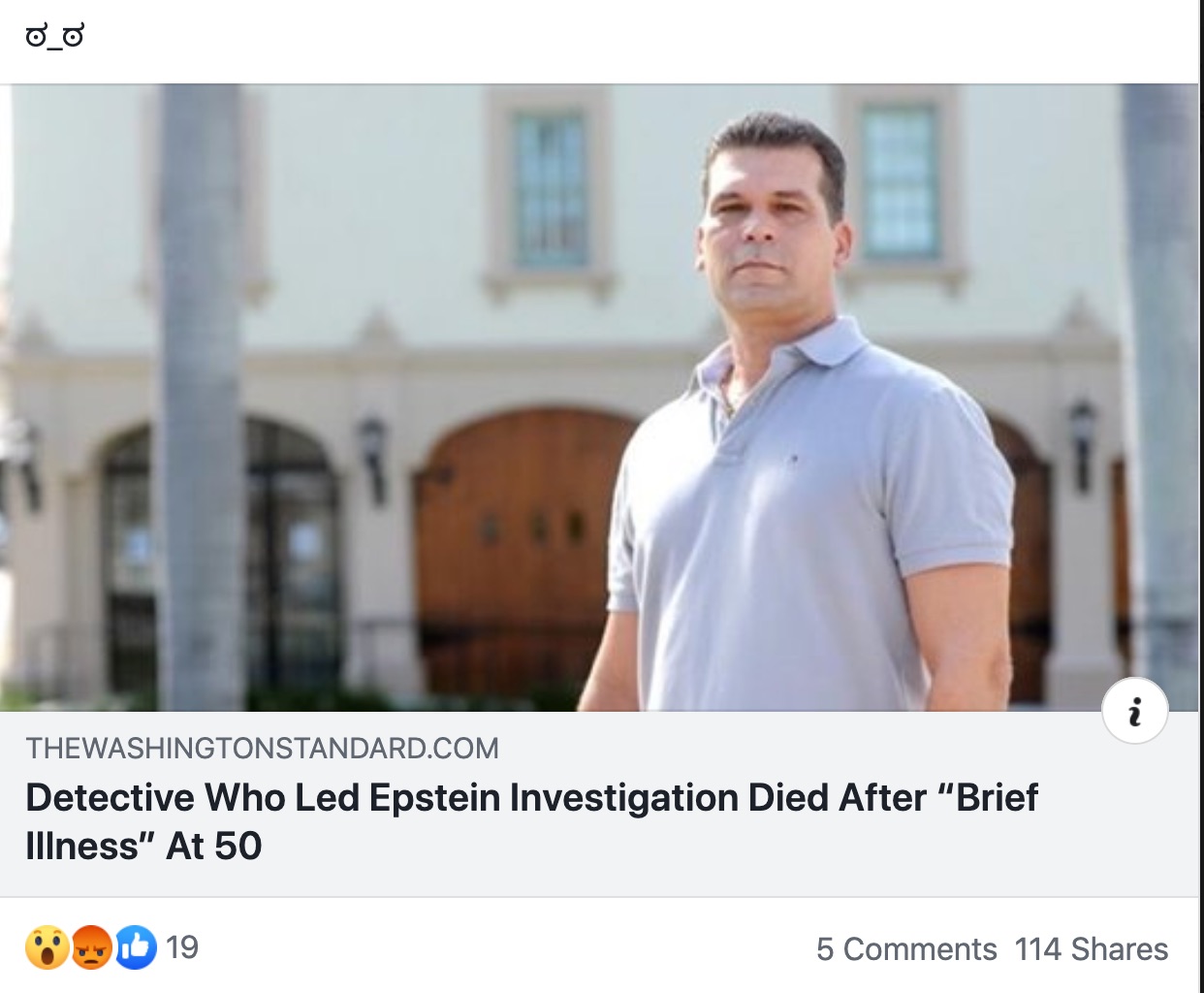 Readers who did click through would also see a date on the article through all the ads: September 3 2019.
Even the first paragraph perpetuated the inaccurate notion the claim was a) new and b) being deliberately suppressed by the "mainstream" media. One blink-and-you'd-miss-it passage hinted at the nature of the story, but it was easy to overlook — particularly for those sharing based on headline and date alone:
Again, another story that didn't quite make it into the mainstream news' narrative involving Jeffrey Epstein. In June of last year, decorated former Palm Beach detective Joseph Recarey died after a "brief illness" at the age of 50, and that's basically all we know, but do a search for him and you'll barely see anything in the mainstream media, or even alternative media about his death.

[…]

Regardless, all we know is he had a sudden, brief illness and died as a result at the young age of 50.
That first excerpt concluded with a claim that readers attempting to double-check the story would "barely see anything in the mainstream media, or even alternative media" about the death of detective Joseph Recarey. Which was to be expected, as a careful reading would impart the knowledge that Recarey died in May (not June) 2018. Other bottom-feeder sites aggregated the September 2019 "news," framing it as a "media blackout."
TheWashingtonStandard.com (as with the far-right disinformation site from which this conspiracy theory was lifted, "Sons of Liberty Media") then linked to and quoted a June 1 2018 Palm Beach Daily News obituary, "Decorated former Palm Beach detective who led Epstein investigation dies at 50." Although no specific cause of death was disclosed by family members at the time of Recarey's death, the paper reported:
Joseph Recarey, a former Palm Beach detective who had a knack for making others smile, who tackled the island's largest and most important investigations, and who cared deeply for his family and friends, died Friday, May 25, 2018, after a brief illness. He was 50.

[…]

Recarey was one of the most decorated police officers in the history of the department with more than 150 commendations, 11 officer-of-the-month awards and a 2013 Palm Beach Police Foundation Officer of the Year award, Reiter said. He worked in several units, including the Organized Crime Vice and Narcotics Unit and the Palm Beach County State Attorney's Public Integrity Unit. He was a lead detective in many major investigations, including the high-profile solicitation-of-minors case against billionaire Jeffrey Epstein.
The final sentence of the excerpt contained a non-functional link, but a copy of the page was available via the Internet Archive. It simply linked to all articles related to the Epstein case published by Palm Beach Daily News. It did not appear that any articles had been deleted or moved from the original link.
Following Epstein's August 2019 jailhouse suicide, news of the death of a detective associated with an investigation into his activities certainly looks suspicious — at least, if social media shares are anything to go by. But again, Joseph Recarey's sudden passing at the relatively young age of 50 was in May 2018.
A massive piece of context this disinformation site left out concerned the trajectory of Epstein's relationship with law enforcement and various brushes with prosecution. Palm Beach news organizations reported the death of a local law enforcement figure, citing his prior involvement with Epstein's prosecution.
News in 2019 about Epstein percolated, appearing here and there in various mentions and in numerous places. But a key element of the context left out of this article involved the events leading up to Epstein's jailhouse death in August 2019.
A summary of the timeline involving Epstein's arrests was included in Vox.com coverage published after news of his suicide broke:
Jeffrey Epstein was found dead on August 10 [2019] in a Manhattan jail where he was awaiting trial on sex trafficking charges. New York City's medical examiner has ruled his death a suicide.

The money manager was accused of sexually abusing dozens of underage girls, bringing them to his home for massages during which he masturbated or had intercourse with them. [Epstein] was indicted in 2007, but as Julie K. Brown reported at the Miami Herald, he ultimately got just 13 months in a county jail, thanks to a deal signed by US attorney Alexander Acosta, who would later become secretary of labor under President Trump.

In July [2019], however, Epstein was arrested in New Jersey and charged with sex trafficking, in connection with allegations that he recruited young girls for abuse at his homes in New York and Palm Beach. If convicted, he could have faced 45 years in prison.
In February 2019 (several months after Joseph Recarey's death), news broke that the Justice Department was opening an investigation into a plea deal brokered for Epstein in 2008, when he had most recently faced charges. (On a side note, we applaud the Guardian's responsible labeling of older articles; their February 2019 coverage of that news is clearly marked, "This article is more than 6 months old.") That indictment included allegations beginning around 2002, hardly news to law enforcement in 2018 or 2019.
A Miami Herald piece published in November 2018 revisited the original accusations against Epstein — but once again, it appeared nearly six months after Recarey's demise. Following that, media interest in Epstein's original sentence continued with a December 2018 article published by the same newspaper and syndicated. To reiterate, Epstein's arrest did not occur until July 2019 — more than a year after Recarey died — and interest in the case only started picking up again in late 2018.
As of September 2019, it was no secret that conspiracies around the death of Jeffrey Epstein equaled clicks and traffic to anyone willing to stretch the truth around them in the pursuit of a phony scoop. It is unfortunate that Joseph Recarey died unexpectedly at a relatively young age, and doubly so that his family was subject to conspiracy theorists' harassment rubbing salt in the wounds left by his death. Recarey died well before the Justice Department opened an investigation into "light charges" in a case that was already ten years old when Recarey passed away, and he had been dead for more than a year by the time Epstein was arrested. Revisitation and reframing of the circumstances of the detective's death are simply a cynical ploy by disinformation sites to cash in on the widespread interest in Epstein's case, and these articles are in no way rooted in legitimately newsworthy developments in the investigation.