As Democrats attempted to push for the impeachment of outgoing United States President Donald Trump on January 11 2021, the U.S. State Department's website drew attention online for apparently listing that day as the end of both his term and that of Vice President Mike Pence.
Screenshots of listings created for the two men in the site's "biographies" section quickly spread online. Each listing said Trump and Pence's respective terms "ended on 2021-01-11 19:49:00":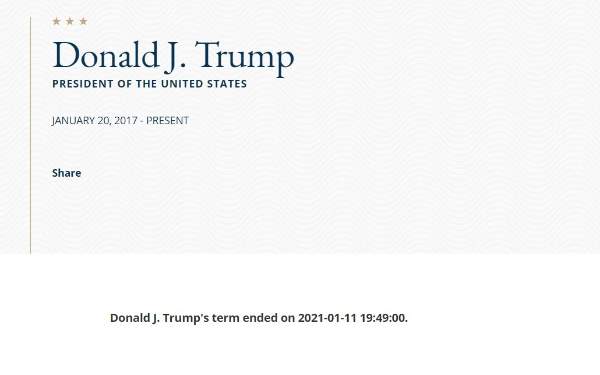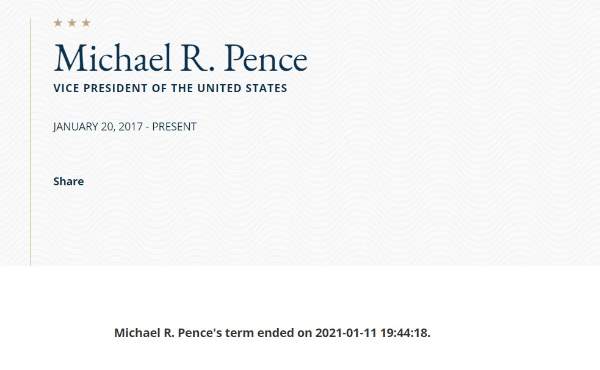 Journalist Olivier Knox noted on Twitter that at one point, the department website also listed January 3 2021 as the end of Trump's tenure in office:
Another account, @z3dster, also posted screenshots showing a different error listing the end of Trump's term as December 2020:
BuzzFeed reported, citing unnamed "current-serving diplomats," that a "disgruntled employee" was responsible for changing the two listings:
One of the diplomats said that Secretary of State Mike Pompeo has ordered an internal investigation into the matter, beginning with interns and employees leaving Foggy Bottom this week and next ahead of the transition to the Biden administration.
The altered biographies came to light hours after Democratic Party lawmakers introduced an article for impeachment against Trump, accusing him of "incitement of insurrection" in the wake of a seditious attack by his supporters against the U.S. Capitol on January 6 2021, which resulted in the death of at least five people, including a U.S. Capitol police officer. According to the Associated Press:
The insurrectionist mob that showed up at the president's behest and stormed the U.S. Capitol was overwhelmingly made up of longtime Trump supporters, including Republican Party officials, GOP political donors, far-right militants, white supremacists, and adherents of the QAnon myth that the government is secretly controlled by a cabal of Satan-worshiping pedophile cannibals. Records show that some were heavily armed and included convicted criminals, such as a Florida man recently released from prison for attempted murder.
CNN reported that House Democrats plan to vote on January 12 2021 on a resolution calling on Vice President Mike Pence to remove Trump from office by invoking the 25th Amendment.
A day after that, the Democratic-controlled House would vote on the article of impeachment, which is likely to pass and make Trump the first president in U.S. history to be impeached twice. The House had previously impeached him in December 2019. However, the Republican-controlled Senate acquitted him in February 2020 on charges of obstruction of Congress and abuse of power.
We contacted the State Department seeking comment but have not yet received a response.