The origin of one anti-fascist tactic circulated again on Facebook in August and September 2020, with some readers getting a new perspective on cosmetics and their impact.
The post, which has been shared more than thousands of time times since its publication, reads:
"During [World War II], Lipstick became a sign of patriotism"

Bright red lipstick roared back into fashion during WWII for a surprising reason. Hitler reportedly hated red lipstick, so American women painted their lips to tell off Hitler's supporters.

Women flooded the factories and the battlefields in the 1940s, wearing red lipstick as a sign of patriotism and bravery. The Marines created a mandatory lipstick for female Marines called Montezuma Red. The red color represented the American flag and came to symbolize strength."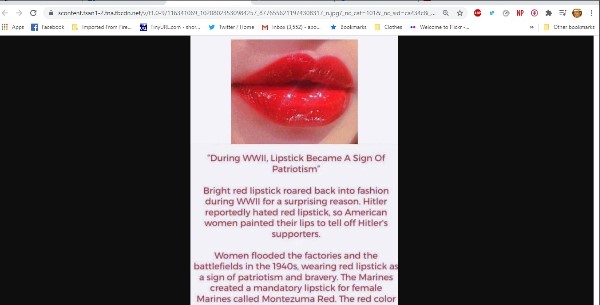 The post is taken verbatim and without attribution from an article on the history of lipstick published by Ranker.com in August 2019.
But the separate aspects of the story have been reported in several outlets by authors and historians; in a March 2013 piece for History Today magazine, Jane Thynne wrote:
Hitler was an unlikely fashionista – despite overseeing the uniform for the Bund Deutsche Mädel, his approach to feminine adornment was generally negative. He hated make-up – often remarking that lipstick was composed of animal waste — and disapproved of hair dye. Perfume disgusted him, though he bowed to Eva Braun's enthusiasm for it, and smoking was revolting. Trousers were out, too, as unfeminine, and fur was horrific because it involved killing animals. Yet he displayed a typical ambivalence about fashion, proclaiming that "Berlin women must become the best dressed in Europe", and claiming "what I like best of all is to dine with a pretty woman."
Historian Madeleine Marsh also relayed the "animal fat" anecdote about Hitler in a June 2014 report published by WNYC-FM, adding: "The Aryan ideal was a pure, un-scrubbed face. Visitors to Hitler's country retreat, lady visitors were actually given a little list of things they must not do: Avoid excessive cosmetics, avoid red lipstick, and on no account ever are they to color their nails."
The creation of Montezuma Red lipstick has also been corroborated by outside sources. As Bustle reported in October 2017, cosmetics maker Elizabeth Arden created the shade during the war for the American Marine Corps Women's Reserve. An ad for the lipstick was featured in Heather E. Schwartz's book Women of the U.S. Marine Corps: Breaking Barriers has since spread online through sites like Pinterest:
Journalist and author Rachel Felder, whose book Red Lipstick: An Ode to a Beauty Icon chronicled the history of the cosmetic, told CNN in March 2020, "Wearing red lipstick for a woman in that era was so linked to… a sense of feminine self-esteem."