Etsy Sellers Affected by SVB Collapse
Claim
Some Etsy seller payouts were delayed after the March 2023 collapse of Silicon Valley Bank.
Like this fact check?

Reporting
After the collapse of tech-industry favorite Silicon Valley Bank (SVB) on March 10 2023 (quickly followed by the collapses of Signature Bank and Silvergate), several popular social media posts indicated that sellers on the popular platform Etsy were experiencing payment delays resulting from the crashes.
As of March 13 2023, SVB's collapse remained an active and ongoing news story. Three days earlier, a Twitter account shared a purported email from Etsy to the platform's sellers, disclosing possible payment delays due to the collapse of SVB:
Well, this is just great.

If you, like me, run a business that sells on Etsy, you may not see a deposit if you have them set to pay out daily because of the Silicon Valley Bank crash.

Really regret buying so many groceries today 🤡 pic.twitter.com/WTEYDDrY6e

— Maridah (@maridahdotcom) March 11, 2023
Variations on the same email (and news links) were shared across subreddits, primarily financial ones and r/EtsySellers:
Etsy already having problems paying creators due to SVB fallout from Superstonk
Both images showed the same email text, which read:
Hi there,

We wanted to let you know that there is a delay with your deposit that was scheduled for today. This delay was caused by the recent developments regarding Silicon Valley Bank, who Etsy uses to facilitate disbursement to some sellers. We are working with our other payment partners to issue your deposit as soon as possible.

We apologize for any inconvenience or disruption this may have caused. We know that you count on us to help run your business and we understand how important it is for you to receive your funds when you need them. Please know that our teams are working hard to resolve this issue and send you your funds as quickly as possible.

No further action is needed from you at this time. Please feel free to reach out to our Help Center 24/7 with any questions you might have.
A March 10 2023 thread on r/EtsySellers sought people or stores whose payments had been delayed:
Does anyone have delayed payouts from today? from EtsySellers
A commenter said that Etsy sellers in Facebook groups had reported a delay in deposits from Etsy:
On Facebook an Etsy community there are tons of sellers that did not get their deposits as usual. Etsy has now put a notification on sellers dashboard of this matter that deposits are delayed until Monday [March 13 2023]. Hopefully, it's just delayed until Monday [March 13 2023] when the other bank takes over. This is super scary considering how awful slow Etsy has been recently, how many sellers and buyers are leaving and now this. I have a high volume shop on Etsy and am panicked over everything that's been happening in lieu of my livelihood. I hope for everyone's sake this doesn't impact us long-term.
Another popular tweet from March 11 2023 urged Etsy sellers to suspend their storefronts in response to the delay:
All my Etsy friends: PUT YOUR STORE IN VACATION MODE NOW!

Etsy was using SVB to disburse payments so now they're having issues getting money to sellers. https://t.co/mj0GK1iWlV

— Fossil Locator (@FossilLocator) March 12, 2023
On March 13 2023, posts to community.etsy.com primarily represented individual sellers anxious about the issue: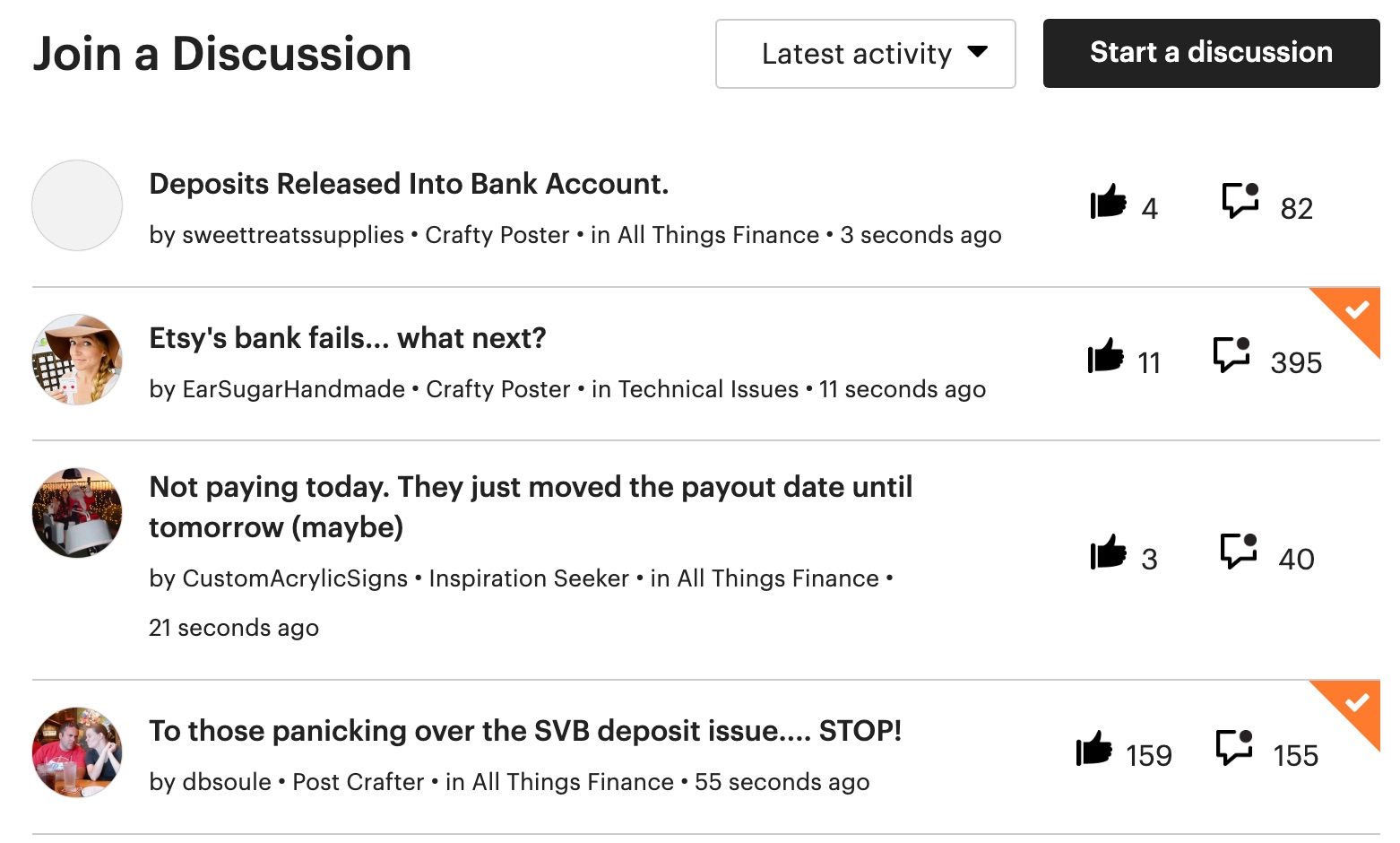 At the top of a list was a March 13 2023 post labeled "Deposits Released Into Bank Account," but its text wasn't about the seller's receipt of anticipated funds:
I'm hoping someone will start a thread stating deposits are going through. I think sellers not making deposits immediately are concerned about their Etsy bank account and if we'll receive those monies anytime soon. I have a monthly deposit set and am concerned about how soon I need to deposit those funds closer to the end of the month incase these deposits are taking longer. Thanks in advance.
Two sellers in the United States commented on the thread, describing standard payment patterns and adding their deposits for March 13 2023 had not yet arrived:
"No deposit in my bank account and I'm on daily deposit in the US. Funds are always in my bank account by 7 or 8 a.m. Mountain Time on weekdays."

"Etsy posted an update to their status of March 11th on March 12 [2023], saying that deposits would be going though today [March 13 2023]. Hope this is the case[.]"
A post shared on the afternoon of March 13 2023 indicated that sellers did not expect payments to arrive on that date:
"Not paying today. They just moved the payout date until tomorrow [March 14 2023] (maybe)"
Another account responded:
"The amount that should have transferred Friday [March 10 2023] is still showing "deposit on the 10th [of March 2023]."

"The one due today was moved to the 20th, and I couldn't edit it to first available as usual. Had to switch to daily deposits, and it's now scheduled for tomorrow.

"Not impressed."
None of Etsy's seller resources had been updated to allay seller concerns about missing deposits as of the morning of March 13 2023, and Etsy's Twitter account did not address the problem. News about the issue largely appeared on paywalled business sites, but Montana's KTVH reported:
Etsy said about 0.5% of its active sellers had payments delayed.

Silicon Valley Bank was one of two banks that were seized over the weekend by federal officials. The Biden administration said companies and individuals banking with Silicon Valley Bank will still have access to their money following the company's collapse.

Etsy was not the only company affected. Roku and Roblox stated in regulatory filings that they had cash reserves in the Silicon Valley Bank.
A widely quoted statement from Etsy was not particularly easy to locate, despite being published to a page on the Etsy domain. As of March 13 2023, it included updated dates:
March 11, 2023: Payments Update
by Etsy Staff

Mar 12, 2023

At Etsy, supporting our sellers is our highest priority, and we understand how important it is for these small businesses to be able to receive their funds when they need them. We recently experienced a delay in issuing payments to some sellers related to the unexpected collapse of Silicon Valley Bank. Our teams have been working around the clock to implement a solution, and we expect to pay sellers via our other payment partners within the next several business days.

Update as of March 12, 2023:

We expect we will be able to begin processing these payments as soon as tomorrow, March 13 [2023].

We do not expect the payment delay to have a material impact on our quarter ending March 31, 2023.

Update as of March 13, 2023, 9 a.m. EST:

This issue has impacted a small group of sellers. Approximately 0.5% of our active seller base had their payments delayed on Friday [March 10 2023]. We are working to pay these sellers today and we've already started processing payments via another payment partner this morning.
Barrons.com briefly covered the delays, but did not mention a resolution as of March 13 2023. On the same date, TechCrunch reported:
Etsy is starting to process seller payments via its other payment partners this morning following the collapse of Silicon Valley Bank, the company confirmed to TechCrunch. On Friday, the online marketplace warned sellers in an email that the collapse of Silicon Valley Bank was causing delays in processing payments and that it was working on a solution.
After the March 10 2023 collapse of Silicon Valley Bank (SVB), Etsy emailed sellers to inform them of payment delays. March 13 2023 was the first business day after March 10 2023, and Etsy sellers had hoped to receive a payment on that date. According to users of community.etsy.com, it was unclear when the missing payments would be disbursed to Etsy shop owners.