'Fabuloso in Toilet Tank' TikTok Hack
Claim
You can safely score an 'X' into a bottle of Fabuloso, place it in your toilet tank, make toilet cleaning easier, and make your bathroom smell good.
Like this fact check?

Reporting
A March 13 2021 Facebook post featured a TikTok #CleanTok tip involving Fabuloso in a toilet tank:
The 'Fabuloso in Toilet Tank' Video, Explaind
That Facebook post (which shared more than 28,000 times by the time we stumbled across it) featured a TikTok tip by user @sheiskd_, demonstrating a way to use Fabuloso's all-purpose cleaner in a toilet tank, presumably for long-lasting freshness after cleaning. It was originally posted on March 12 2021, and viewed almost five million times.
A thumbnail read "TikTok made me do it," and it depicted a person holding a bottle of Fabuloso in Ocean Paradise (blue); the water in both the tank and toilet bowl were a matching shade of blue. Using a knife, @sheiskd_ carefully cut an "X" into the bottom of the bottle, creating crossed slits to dispense a light but steady stream of cleaner into the tank and toilet.
After scoring the bottle, the user placed it into the tank, closed it, and flushed. Text reading "smells amazing" appeared on the screen before the clip ended. Presumably the user had already tried the "hack," due to the vibrant water seen in the video.
'Fabuloso in Toilet Tank' Search Interest
Google Trends data from January 1 2021 to May 17 2021 indicated that intermittent searches for "Fabuloso in toilet tank" were measured as early as January 22 2021, but began registering in earnest in mid-March 2021 (after the TikTok was shared):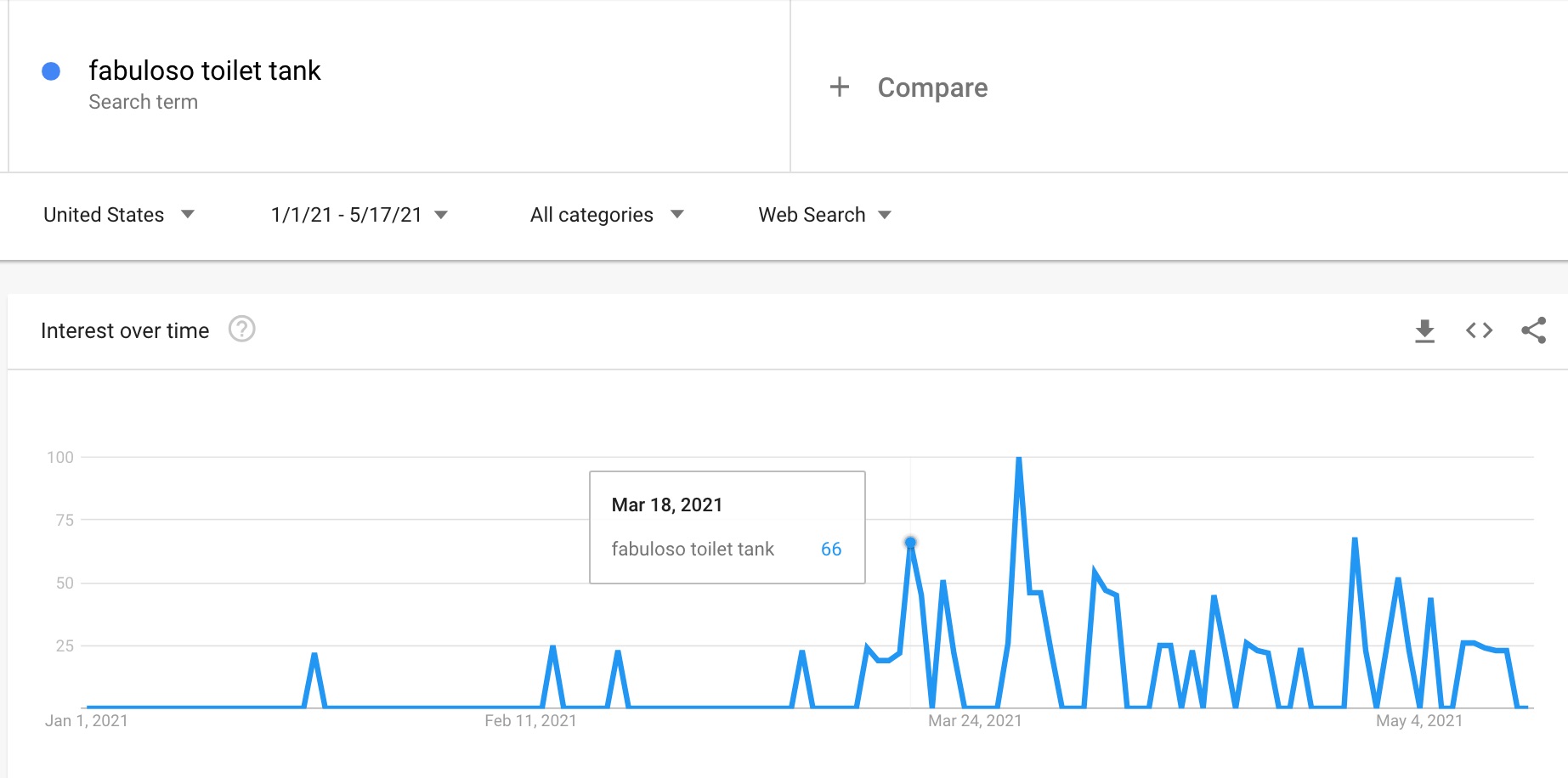 Searches for "Fabuloso" and "toilet tank" began peaking again on May 16 and 17 2021.
Fabuloso in a Toilet Tank, and Plumbers on Tanks and Cleaners
Tennessee-based PipeWrenchPlumbing.com didn't specifically mention Fabuloso in its blog post about cleaners in toilet tanks, but its advice was nevertheless relevant to the popularity of the trend in question.
In an August 2018 blog post ("Is It Safe to use Blue Tablets in my Toilet Tank?"), the company addressed a different product — "blue cleaners" or tablets specifically designed to be used in the tank of a toilet, and marketed that way.
In that post, the author said that they recommend "skipping the blue tablet," with reason number one being commonly cited in discourse about the TikTok Fabuloso toilet tank hack:
We've all seen toilets with a vibrant pool of blue water — courtesy of those tank cleaning tablets. While they may seem like the perfect way to sanitize your "throne" and keep it clean, the reality is that they are quite harmful to your toilet. Those blue toilet tablets can not only cause corrosion to parts inside of the tank, but they're also crafted with chemicals — which can be harmful and may be released into your home, as well as into the environment. Here's why we recommend skipping the blue tablet and what you can do instead.

Reason #1: Blue Toilet Tablets Can Wear Down the Flush Valve

Believe it or not, one of the most important pieces of your toilet is the flush valve. Living up to its name, this part will help move H2O into your toilet. However, if you tend to use blue cleaning tablets, the harsh chemicals that are packed within have the possibility to corrode your toilet's flush valve (as well as other internal parts) or get stuck inside of it. This will, indeed, make it impossible to flush your "throne" and may cause a potential plumbing disaster if not repaired in a timely manner.
Roto Rooter plumbing expert Paul Abrams spoke to another site about the all purpose cleaner bottle (like Fabuloso) in toilet tanks, explaining that there are additional functional concerns in doing so:
The first thing to know: Placing a 45-ounce bottle inside your toilet tank will displace the same amount of water that would have normally occupied that space inside the tank.

"The result is that less water will be available to rinse the toilet bowl with each flush hence a less powerful flush," Abrams says. That means, on a standard toilet, the flush water would drop from 1.6 to 1.248 gallons per flush, which, depending on the brand and bottle of your toilet, could be very noticeable or hardly noticeable at all. Abrams says he definitely wouldn't advise anyone to try the hack if they have one of the newer 1.28 gallons-per-flush toilets — it would simply make the toilet's flush too weak to move waste through your drain pipes and sewer.

The other consideration is how the chemical ingredients in an all-purpose cleaner would affect the plastic and rubber toilet tank parts. In the TikTok, the creator uses Mr. Clean Multi Surface Cleaner, which Abrams says contains chemicals that could damage certain types of plastic and rubber in your toilet tank over time. "It would probably take many months of exposure, possibly more than a year before damage begins affecting toilet performance, but it will likely shorten the life expectancy of some tank parts," he says.
Another site, plumbingbyjake.com, discussed toilet tank cleaners in general:
Unfortunately, just like most things that profess convenience, drop-in toilet bowl cleaners are more trouble than they're worth. This is because they actually cause toilet parts to wear out faster than they would with normal use.
In short, plumbing experts warned that even products formulated to work inside toilet tanks could affect components like the flush valve (corroding them), and advised customers to steer clear of them for several reasons.
Corporate Responses to TikTok 'Hacks'
Off the bat, a few elements of the #CleanTok hack seemed likely to merit a "no" from the brand.
As we discussed on a tamer viral cleaning tip (using powdered Tide detergent to mop floors), cleaning product manufacturers tend to be extremely conservative about "creative" uses of their products (even if the advice is sufficiently viral to meaningfully influence sales). Tide didn't outright say not to use their powdered laundry detergent on floors, but they publicly advised a happy customer that its usage for that purpose had not been deemed safe by the brand:
"Tide mopping" simply entailed replacing one's standard floor cleaner of choice with Tide detergent. By contrast, the Fabuloso toilet tank hack involved stabbing a container of cleaning chemicals with a knife, deliberately creating a leak, and placing the deliberately broken bottle of cleaning solution into a toilet tank for sustained, semi-controlled leaking.
In other words, a lot of potential risks were crammed into ten seconds of TikTok. And while Fabuloso didn't specifically address the hack in their FAQ, two consecutive question-and-answer pairs appeared to have to do with viral cleaning tips — which Fabuloso discouraged in both cases: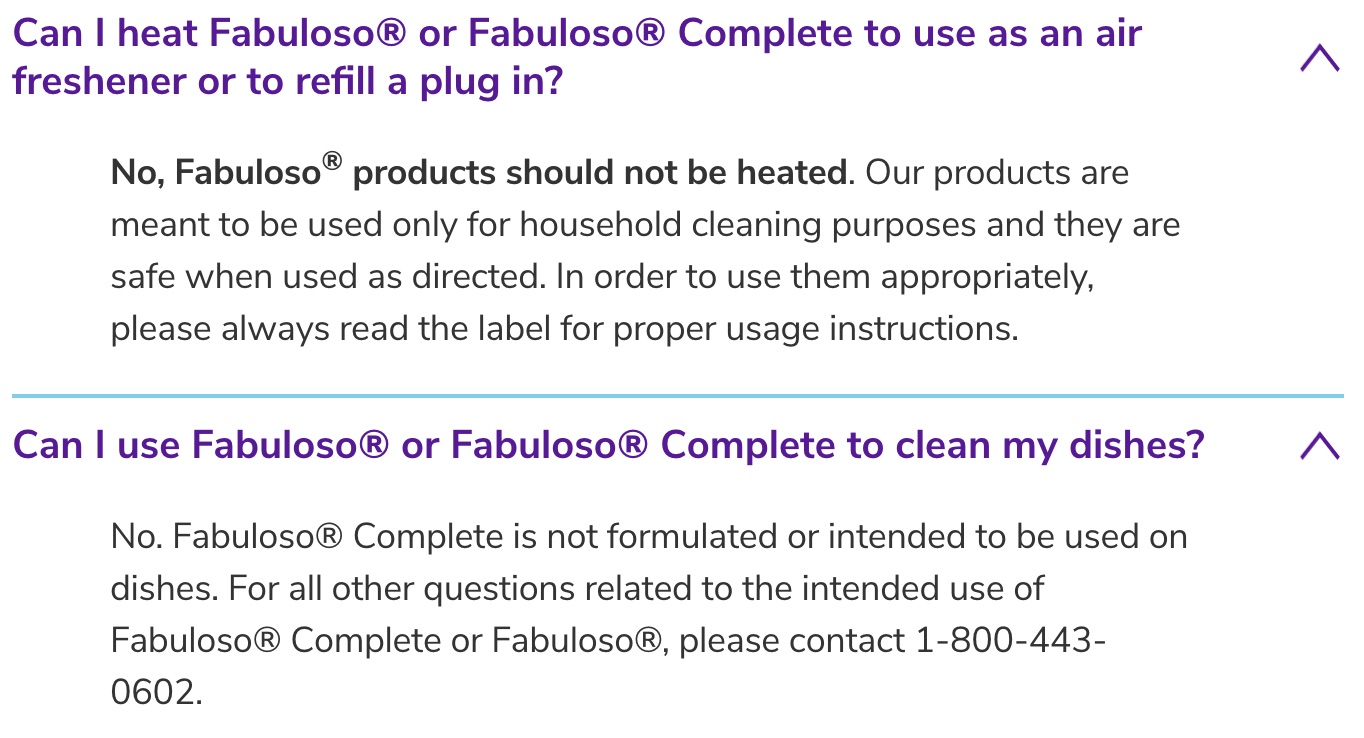 In the second question and answer, Fabuloso addressed its use on dishes, stating that Fabuloso was "not formulated or intended to be used" in that fashion. In the second question, the brand addressed whether it was safe to "heat Fabuloso … to use as an air freshener or to refill a plug in," followed by the answer:
No, Fabuloso® products should not be heated. Our products are meant to be used only for household cleaning purposes and they are safe when used as directed. In order to use them appropriately, please always read the label for proper usage instructions. Can I use Fabuloso® or Fabuloso® Complete to clean my dishes? No. Fabuloso® Complete is not formulated or intended to be used on dishes. For all other questions related to the intended use of Fabuloso® Complete or Fabuloso®, please contact 1-800-443-0602.
Calling Fabuloso About the TikTok Cleaning Hack
We called Fabuloso's helpline to specifically ask about using a bottle inside the tank of a toilet, and we were not the first callers to pose the question.
A representative with whom we spoke indicated Fabuloso was aware of the video (and others like it). They said Fabuloso "definitely" does not suggest using Fabuloso directives from TikTok "without first checking for safety."
The representative emphasized that consumers can safely "clean the inside of the toilet bowl and tank, as long as it's diluted," reiterating that dilution was a necessary component of standard, recommended use of Fabuloso. They noted Fabuloso was "safe to use in the bathroom and on the toilet tank in accordance with instructions" printed on each bottle of Fabuloso: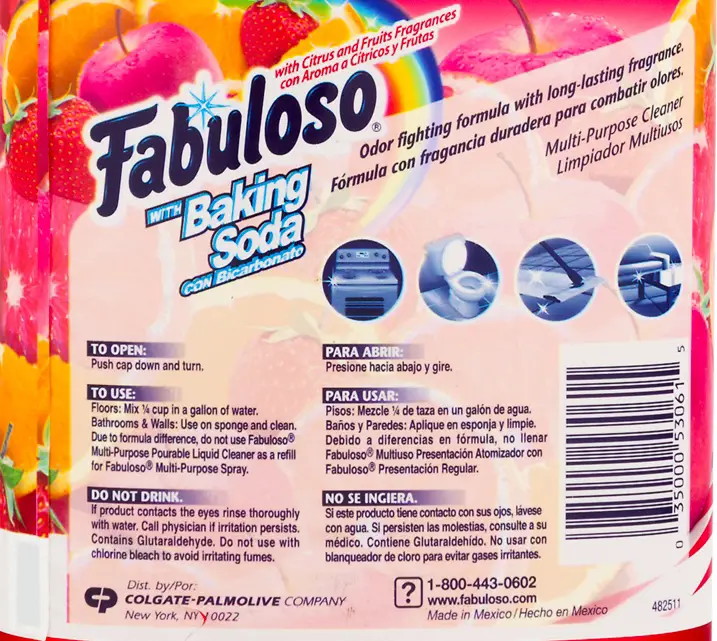 Finally, the Fabuloso representative stated: "we definitely do not recommend [doing] what you see on TikTok," referring presumably to the vast number of creative applications of Fabuloso across TikTok's #CleanTok clips.
Summary
A viral TikTok video advised users to use a knife and stab a bottle of Fabuloso for toilet tanks, a tip that traveled quite far on TikTok and Facebook. Fabuloso is an extremely popular product with "cleaning nerds" and on TikTok in particular, due in part to its variety of long-lasting scents and vibrant hues. Plumbers have warned not only of Fabuloso in toilet tanks, but even advised against use of toilet tank cleaners like "blue tablets" — advice which would, presumably, result in increased business to repair weakened seals and gaskets. A representative for Fabuloso indicated that the tip was not officially recommended, noting the product was safe for toilets and tanks, but not in the manner demonstrated. Finally, stabbing a bottle of cleaning chemicals with a knife is itself a proposition requiring a great deal of precision and luck in order to avoid a number of possible unpleasant outcomes.