As efforts to locate a "missing submersible" operated by OceanGate Expeditions continued on June 21 2023, the Twitter account @OceanGateExpeds published several viral tweets.
The account was eventually suspended, but not before putting out several legitimate-appearing tweets like this:
Fact Check
Claim: A fake Twitter account, @OceanGateExpeds, was able to spread falsehoods on Twitter in June 2023. It was eventually suspended.
Description: In June 2023, amidst the search efforts for an OceanGate submersible, a fake Twitter account (@OceanGateExpeds) was able to spread disinformation, which caused confusion due to recent removal of verification badges on Twitter. The account was eventually suspended.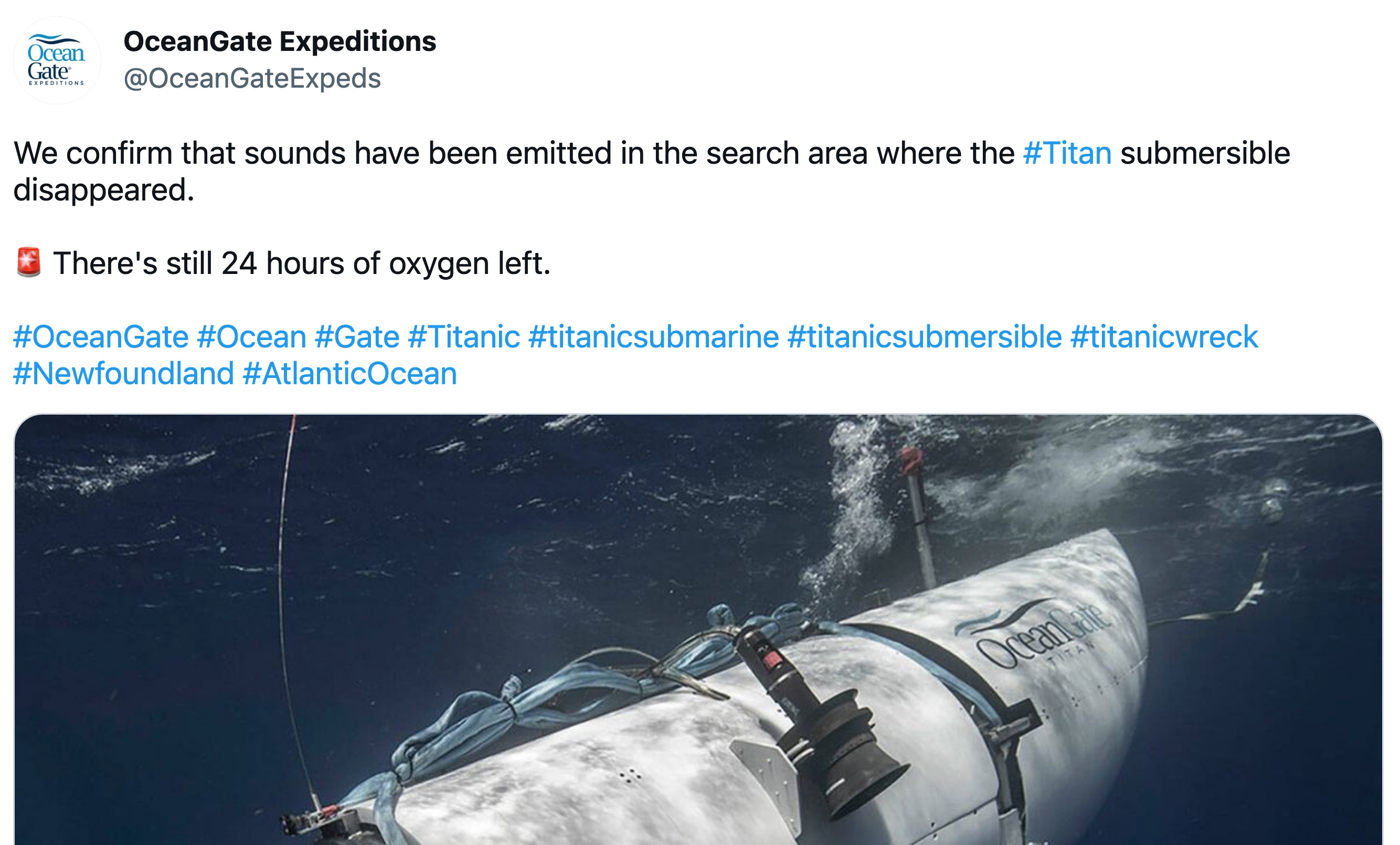 What appeared to be an official tweet from the Twitter account of @OceanGateExpeds (not verified) featured a photograph of an OceanGate Expeditions vessel. Text of the tweet read:
We confirm that sounds have been emitted in the search area where the #Titan submersible disappeared.

???? There's still 24 hours of oxygen left.

#OceanGate #Ocean #Gate #Titanic #titanicsubmarine #titanicsubmersible #titanicwreck #Newfoundland #AtlanticOcean
At the beginning of the second line of text, a siren emoji appeared. Several hashtags followed the tweet, and it circulated rapidly during an ongoing high-profile event.
At some point on June 21 2023, @OceanGateExpeds was suspended by Twitter: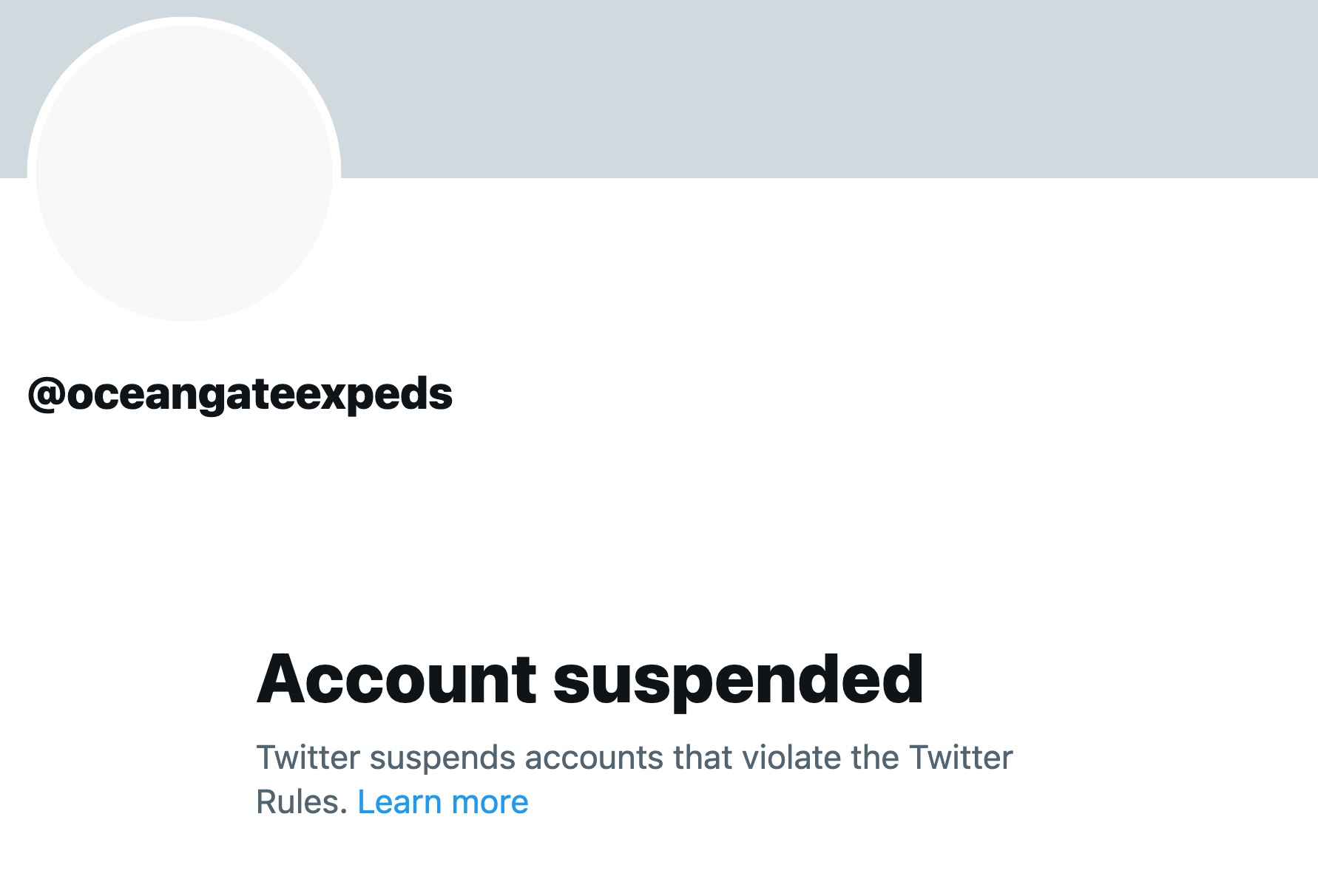 Well before Elon Musk acquired Twitter in 2022, "blue check" verification was introduced by the platform, in part to prevent pranksters and disinformation purveyors from rapidly disseminating weaponized lies during an active disaster or news event. In February 2023, The Atlantic published "Elon Musk Has Broken Disaster-Response Twitter," explaining Twitter's previous role in "disaster communications":
For years, Twitter was at its best when bad things happened. Before Elon Musk bought it last fall [of 2022], before it was overrun with scammy ads, before it amplified fake personas, and before its engineers were told to get more eyeballs on the owner's tweets, Twitter was useful in saving lives during natural disasters and man-made crises. Emergency-management officials have used the platform to relate timely information to the public—when to evacuate during Hurricane Ian, in 2022; when to hide from a gunman during the Michigan State University shootings earlier this month—while simultaneously allowing members of the public to transmit real-time data. The platform didn't just provide a valuable communications service; it changed the way emergency management functions.
An April 2023 Vox.com item described a "chaotic" Twitter after "legacy blue checks" were removed en masse:
[In April 2023], Musk started taking away the check marks from the Twitter profiles of users who used to get them for free, including celebrities, journalists, and politicians. Many prominent figures refused to pay. Then, Musk started somewhat inexplicably gifting them back to some celebrities. That meant that celebrity accounts were mixed up with Twitter Blue subscribers, many of them trolls and Elon fans, which led to even more confusion.

"Despite the implication when you click the blue badge that has mysteriously re-appeared beside my name, I am not paying for the "honour,"' actor Ian McKellen tweeted on [in April 2023].

In the past, influential figures like McKellan were given check marks for free after verifying their identities with Twitter, so that users would know that these public figures really were who they said they were and not imposters. Musk criticized the old way as an elitist "lords" and "peasants" system, and instead vowed to let anyone get a check mark if they paid for a monthly Twitter Blue subscription, which gets you verified as well as other features like the ability to edit tweets, write tweets with more than 280 characters, and get your tweets to come up first in search results and reply rankings.
On May 25 2023, TechCrunch published a detailed timeline of changes to Twitter under Musk's leadership. Emergency communications were briefly mentioned in the context of "API pricing tiers":
Even for one of the richest men in the world, $44 billion is a lot of money to cough up to buy a middling social platform. Despite his fervent declarations about expanding "the scope and scale of consciousness" through public discourse, the billionaire got cold feet. A month later in May [2022], he tried to kill the deal, claiming that Twitter had more bots than its public filings let on. After a truly chaotic legal discovery process, which even included some embarrassing texts, Musk was forced to seal the deal. By October [2022], the platform was his.

Since Musk bought Twitter and took the company private, the news around the microblogging platform has been a whirlwind, rife with verification chaos, API access shakeups, ban reversals and staggering layoffs …

… Twitter announced on May 2 [2023] that it is making its API free for verified government or public-owned services posting about public utility alerts such as weather alerts, transportation information and emergency warnings. This comes a month after the company announced its new API pricing tiers.
As for @OceanGateExpeds, the account's activity was archived in timeline format. Before the account was suspended, it tweeted:
Here is an explanation of the complexity of the search.

Even finding them in time, we are not sure that we can rescue them alive.

#OceanGate #Ocean #Gate #Titanic #titanicsubmarine #titanicsubmersible #titanicwreck #Newfoundland #AtlanticOcean #OceanGateExpeditions #OceansGate
Based on the archived version, @OceanGateExpeds had a join date of 2009. On June 20 2023, it tweeted several misleading claims about efforts to recover the submarine: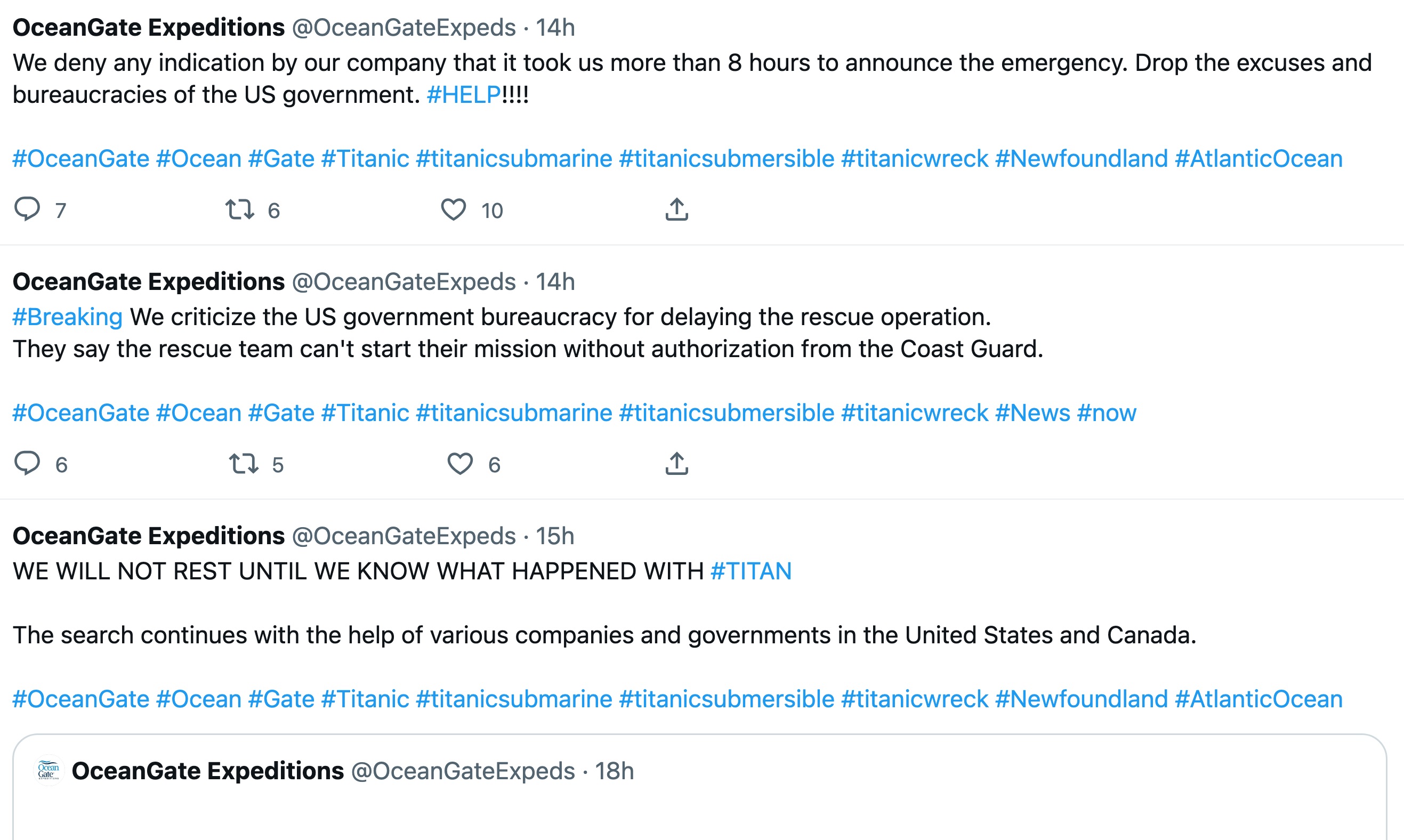 On June 20 2023, the account tweeted an image of a "media brief." Prior to that, the account was not tweeting in English, nor discussing submersibles: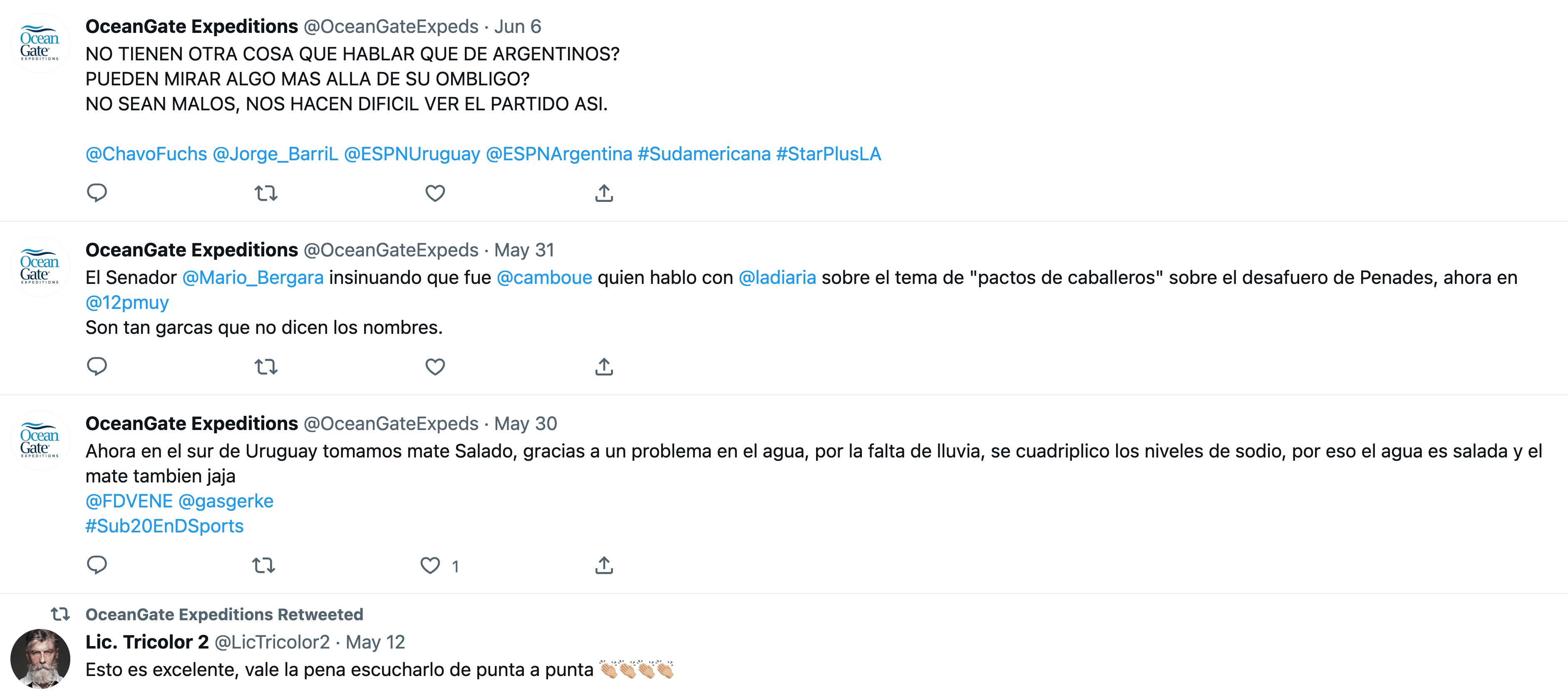 It appeared that OceanGate Expeditions did maintain an actual social media presence — but that was under the slightly different handle @OceanGateExped. As of June 21 2023, @OceanGateExped hadn't been verified by the platform to minimize confusion. On June 19 2023, @OceanGateExped tweeted:
In the absence of verification as a reliable label, other indicators were required to determine whether information was questionable. Tweets on the subject of an ongoing news event shared prior to the incident were signals, and @OceanGateExped tweeted about the Titanic expedition on May 9 2023 (and on several other days and dates):
On June 21 2023, search efforts for an OceanGate submersible (the Titan) continued following an ill-fated voyage to the wreck of the Titanic. Not long before the incident, Elon Musk's Twitter removed verification badges for prominent accounts, prompting warnings about Twitter's reliability in emergencies. A fake account (@OceanGateExpeds) successfully shared disinformation and was suspended, but Twitter didn't move to verify the OceanGate account @OceanGateExped.