Far Right News Organizations Issue Statements, Admit 'No Evidence' Exists to Support Wall-to-Wall Coverage of Election Fraud
Claim
In December 2020, Newsmax was among far right propaganda organizations that had to issue statements reporting that there was "no evidence" to support its weeks of reported claims about election fraud.
Like this fact check?

Reporting
Far right propaganda purveyors like Newsmax, One America News Network, and certain Fox personalities became hot topics after the November 3 2020 election, when they captured a significant number of former Fox News viewers thanks to their regular "election fraud" coverage — but in December 2020, they became news topics themselves after being legally compelled to air statements debunking their own programming.
Newsmax, One America News Network, and Fox were often referenced on Twitter and in media coverage during the post-election period for its focus on conspiracy theories about the 2020 election:
Do Americans realize they are being radicalized by Fox News, OANN, and Newsmax just like members of ISIS and Al Qaeda get radicalized?

— Agolf Twitler Slayer (@bblock29) December 20, 2020
Newsmax's Post-Election Ratings Blitz
On December 8 2020, CNN Business reported that Newsmax was outpacing Fox News in ratings "for the first time ever" — crediting the lesser-known network's success to its post-election coverage, which was chock full of rumors, conspiracy theories, and outright denial that Joe Biden won both the electoral and popular votes. Fox Business hosts also got in on the action, spinning similar conspiracy theories for which they also had to make public apologies:
Fox Business host Lou Dobbs aired a segment on Friday that amounted to a fact-checking refutation of claims that he and guests have made about an election tech company Smartmatic and its role in the 2020 presidential election, after the company threatened legal action.

Other similar segments will be shown on Justice with Judge Jeanine on Saturday and Sunday Morning Futures with Maria Bartiromo, a Fox News spokesperson said. Lisa Boothe will host Judge Jeanine, as Jeanine Pirro is off for the holidays

Earlier this week, Smartmatic announced that it had threatened legal action against Fox News, Newsmax and One America News Network "for publishing false and defamatory statements," after talking heads on the outlets have pushed claims of election fraud, including unfounded conspiracy theories of rigged voting machine companies.
CNN briefly touched on what was a strong and regularly reinforced feedback loop between disaffected voters and how the truth of Trump's resounding defeat by Joe Biden in the 2020 U.S. presidential election was being muddied or obscured for them by ratings-obsessed television networks:
Newsmax TV has notched a ratings win over Fox News Channel for the very first time … Before the election, Newsmax was not regarded as a formidable competitor to Fox; it was mostly dismissed as one of a handful of wannabe challengers.

But President Trump's loss on November 3 [2020] changed the cable TV calculus. Viewers who were frustrated when Fox admitted the truth of Trump's loss sought other options. Trump encouraged them to try Newsmax.

Newsmax — and [personality Greg] Kelly in particular — offered a safe space in which Biden was not called president-elect and Trump was not yet defeated.

Through the post-election weeks in November [2020], as Trump's legal team suffered dozens of losses in court in its attempt to overturn the results, Kelly insisted that he believed Trump would still prevail.
CNN added that Fox News lost viewers in the period where Newsmax made huge strides:
Take Kelly's hour: Before the election [on November 3 2020], his show barely had a heartbeat. The 7 p.m. hour had barely 10,000 viewers in the 25-54 demo and 100,000 viewers overall, according to Nielsen data.

Now the hour has nearly a million viewers on a good night, and Monday [December 7 2020] was good: 949,000 viewers.
On November 23 2020, CNN Business published a video, "Newsmax and OANN are telling lies about the election as more people tune in," with the following description:
Newsmax and [OANN] are peddling conspiracies theories about the 2020 election. Their baseless claims are drawing new audiences.
Newsmax and OANN (or OAN) were broadly described as essentially getting while the getting was good, deviating from Fox News' daytime reporting and hammering home the belief that Donald Trump would, and could successfully disregard the will of the voters in order to overturn the 2020 election. Newsmax's coverage regularly targeted makers of voting technology and machines as part of their conspiracy theories — primarily Dominion Voting Systems and Smartmatic.
Newsmax on Smartmatic and Dominion Voting Systems
A Google search restricted to items published before December 17 2020 returned a significant number of Newsmax articles targeting Dominion and Smartmatic, content which flowed thick and fast as debunkers did their best to clean up behind them. The four pieces below represent just a handful of Newsmax reports published on December 14 and 15 2020:
"Audit Finds Mich. County's Dominion Voting Was Rigged to Create Fraud" began:
A forensic audit of the presidential vote tally by Dominion Voting Systems software used in Antrim County, Michigan, showed a more than 68% error rate, with auditors claiming the system intentionally creates the errors so the machine can have them "adjudicated" – allowing individuals to change the result.

The error rate is astounding considering the Federal Election Commission allows a maximum error rate of just 0.0008 percent for computerized voting systems.
And ended:
"The findings in Antrim County, where the error rate was a mind-blowing 68%, the ballot rejection rate was 82%, and software security records and adjudication files were missing, in violation of state and federal laws, are nothing short of mind-blowing," Trump attorney and former federal prosecutor and New York City Mayor Rudy Giuliani said in a release.

"The evidence of fraud is indisputable."
"Major New Revelation: Massive Vote Manipulation In Antrim, County Michigan" concluded with the following paragraph:
To stop a second stolen election, it is vital that the Georgia Legislature call itself into special session since Governor Kemp, a longtime advocate of Dominion, won't do it. To stop Dominion from "adjudicating" any more ballots.
Unlike the "Rigged to Create Fraud" article quoted above, however, the "Major New Revelation" article featured the following "editor's note" on December 21 2020:
Editor's Note: The opinions here are solely the author's. Dominion has denied allegations of wrongdoing. According to the Detroit Free Press: "Dominion Voting Systems, the company whose equipment is used in Antrim, issued a statement saying it is the subject of a 'continuing malicious and widespread disinformation campaign' intended to undermine confidence in the Nov. 3 election."
'Newsmax Would Like to Clarify' Its Own Claims About Smartmatic, Dominion Voting Systems
On December 21 2020, a Newsmax clip shared to Twitter rapidly picked up traction, featuring Newsmax personality John Tabacco:
Newsmax just aired this note to "clarify" its coverage of Smartmatic and Dominion. pic.twitter.com/I5XZ7CQpAk

— John Whitehouse (@existentialfish) December 21, 2020
In the clip, Tabacco directed Newsmax viewers to visit Newsmax.com to find "facts about Dominion and Smartmatic you should know." As it turned out, the phrase was the headline of a story on Newsmax.com, but it was not easy to find: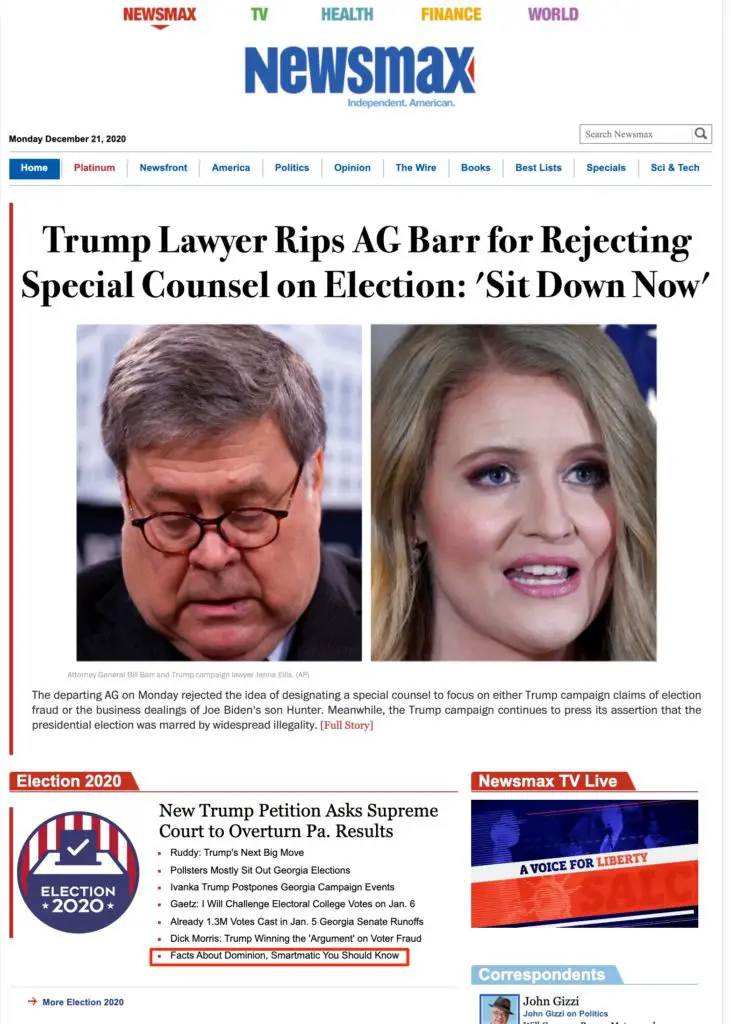 Under a featured article ("… meanwhile, the Trump campaign continues to press its assertion that the presidential election was marred by widespread illegality") was an "Election 2020" tab. Large text read "New Trump Petition Asks Supreme Court to Overturn Pa. Results," and seven bullet points followed:
Ruddy: Trump's Next Big Move
Pollsters Mostly Sit Out Georgia Elections
Ivanka Trump Postpones Georgia Campaign Events
Gaetz: I Will Challenge Electoral College Votes on Jan. 6
Already 1.3M Votes Cast in Jan. 5 Georgia Senate Runoffs
Dick Morris: Trump Winning the 'Argument' on Voter Fraud
Facts About Dominion, Smartmatic You Should Know
Seventh of the seven bullet points, after "Dick Morris: Trump Winning the 'Argument' on Voter Fraud," was "Facts About Dominion, Smartmatic You Should Know." Viewers who elected to visit Newsmax.com (as Tabacco advised) and who managed to find the link (buried at the bottom and in tiny text) would locate what appeared to be a statement, closely matching or identical to the on-air statement and attributed to "Newsmax Wires."
Newsmax's statement on its own election fraud coverage denied that it had "reported as true" the "certain claims" that they had been making about Dominion and Smartmatic; the transcript read:
Since election day, various guests, attorneys and elected officials have appeared on Newsmax TV and offered opinions and claims about Smartmatic and Dominion Systems, both companies that offer voting software in the U.S.

Newsmax would like to clarify its news coverage and note it has not reported as true certain claims made about these companies.

There are several facts our viewers and readers should be aware. Newsmax has found no evidence either Dominion or Smartmatic owns the other, or has any business association with each other.

We have no evidence Dominion uses Smartmatic's software or vice versa.

No evidence has been offered that Dominion or Smartmatic used software or reprogrammed software that manipulated votes in the 2020 election.

Smartmatic has stated its software was only used in the 2020 election in Los Angeles, and was not used in any battleground state contested by the Trump campaign and Newsmax has no evidence to the contrary.

Dominion has stated its company has no ownership relationship with the House Speaker Nancy Pelosi's family, Sen. Dianne Feinstein's family, the Clinton family, Hugo Chavez, or the government of Venezuela.

Neither Dominion nor Smartmatic has any relationship with George Soros.

Smartmatic is a U.S. company and not owned by the Venezuelan government, Hugo Chavez or any foreign official or entity.

Smartmatic states it has no operations in Venezuela. While the company did election projects in Venezuela from 2004 to 2017, it states it never was founded by Hugo Chavez, nor did it have a corrupt relationship with him or the Venezuelan government.
Another transcribed version was shared on Twitter on December 21 2020:
Newsmax's Chris Ruddy tells me that the statement that's making the rounds will be aired on ALL Newsmax TV shows. This began over the weekend and will continue today.

Here it is: pic.twitter.com/h5i8uKrVPM

— S.V. Dáte (@svdate) December 21, 2020
Dominion, Smartmatic on 'Election Fraud' Media Myths
Both Smartmatic and Dominion Voting Systems maintained post-election pages debunking myths about their respective brands in the wake of the 2020 election, adding updates as new disinformation surfaced.
On December 20 2020, just before the clip and transcribed Newsmax statement began circulating, the New York Times published a story about the lawsuits, reporting "scathing letters to the Fox News Channel, Newsmax and One America News demanding that they immediately, forcefully clear his company's name" sent by lawyers for Smartmatic and Dominion:
The letters written by lawyers for Smartmatic and Dominion are "extremely powerful," said Floyd Abrams, one of the country's most prominent First Amendment lawyers, in an email to The New York Times. "The repeated accusations against both companies are plainly defamatory and surely have done enormous reputational and financial harm to both."

Mr. Abrams noted that "truth is always a defense" and that, failing that, the networks may defend themselves by saying they didn't know the charges were false, while Ms. Powell may say she was simply describing legal filings.

"It is far too early to predict how the cases, if commenced, will end," he said. "But it is not too early to say that they would be highly dangerous to those sued."

Lawyers said they expected that the right-wing networks, if sued, would argue that Smartmatic and Dominion should be considered "public figures" — which would require the companies to prove that its critics were malicious or wildly reckless, not just wrong.

[Lawyer J. Erik] Connolly said he would argue that Smartmatic was not a public figure, a legal status whose exact meaning varies depending on whether [Smartmatic's Antonio] Mugica files suit in Florida, New York or another state.

"They have a very good case," another First Amendment lawyer who isn't connected to the litigation, the University of Florida professor Clay Calvert, said of Smartmatic. "If these statements are false and we are taking them as factual statements, that's why we have defamation law."
The paper indicated that Dominion also sought legal counsel to deal with the volume and intensity of targeted disinformation campaigns:
Mr. Mugica isn't the only potential plaintiff. Dominion Voting Systems has hired another high-powered libel lawyer, Tom Clare, who has threatened legal action against [Sidney] Powell and the Trump campaign. Mr. Clare said in an emailed statement that "we are moving forward on the basis that she will not retract those false statements and that it will be necessary for Dominion to take aggressive legal action, both against Ms. Powell and the many others who have enabled and amplified her campaign of defamation by spreading damaging falsehoods about Dominion."

[…]

And so Newsmax and OAN appear likely to face the same fate as so many of President Trump's sycophants, who have watched him lie with impunity and imitated him — only to find that he's the only one who can really get away with it. Mr. Trump benefits from presidential immunity, but also he has an experienced fabulist's sense of where the legal red lines are, something his allies often lack. Three of his close aides were convicted of lying, and Michael Cohen served more than a year in prison. (Trump pardoned Michael Flynn and commuted the sentence of Roger Stone.)
Summary
On December 21 2020, text and video copies of Newsmax's on-air statement about its own election fraud coverage began circulating. The clip and text versions of the statement were correctly attributed — Newsmax aired the segment, and published a version of it to their website (although it was not easy to locate). One day prior, the New York Times reported that both Dominion and Smartmatic retained lawyers and demanded retractions from at least three prominent, hyperpartisan broadcasters — Newsmax, OANN, and Fox News.