Former Lowe's Employee Jayjuan Young Says He Was Fired Over 37 Cents
A March 4 2021 Facebook post by Jayjuan Young addressed his termination from a job at Lowe's Home Improvement, with an assertion that he was fired over a 37 cent register discrepancy:
Young (who we were able to verify is a real, existing person) shared a collage of images documenting his tenure at an unnamed Lowe's; in each picture, Young is seen smiling while working (except when wearing a mask). In an appended status update, he stated that March 5 2021 would have marked a year of employment at Lowe's:
Tomorrow Would have been my Year at Lowe's. In 11 months I've managed to become Cashier of The Month 4 times back to back. I got my On parking spot, Ive gotten the store alot of credit Apps, Ive worked and worked and worked even in the passing of my Aunt. I took everyone shift even when i didnt have too i used to stay over while other's got to live their life. I have managed to sing at 23 funerals and still go to work and do my BEST well…. Today they fired me because of 37 cents that was taken off of my register. "Free Change" 37 cents that was put back into the store. Out of everything ive provided 37 cents ended this Dream. Am i okay? Eh But i know God Has Better plan's Please Keep Me In your prayers….
Young added that during his eleven months at Lowe's, he was awarded "Cashier of the Month" four times (more than a third of his eleven months working there), that he worked through bereavement, that he willingly covered other peoples' shifts, and that he juggled the position with other work. At the end of the post, Young stated that he was fired on March 4 2021 due to 37 cents "taken off [his] register," and asked Facebook users to keep him in their prayers.
Not long after Young shared the post, it began to spread on Facebook. In just over 24 hours, Young's commentary was shared thousands of times; he also organized a GoFundMe campaign.
As of March 5 2021, Lowe's did not appear to address growing calls for the corporation to acknowledge comments and questions about Young's termination. Unrelated Facebook posts on the official Lowe's page were deluged with comments demanding that Young be re-hired: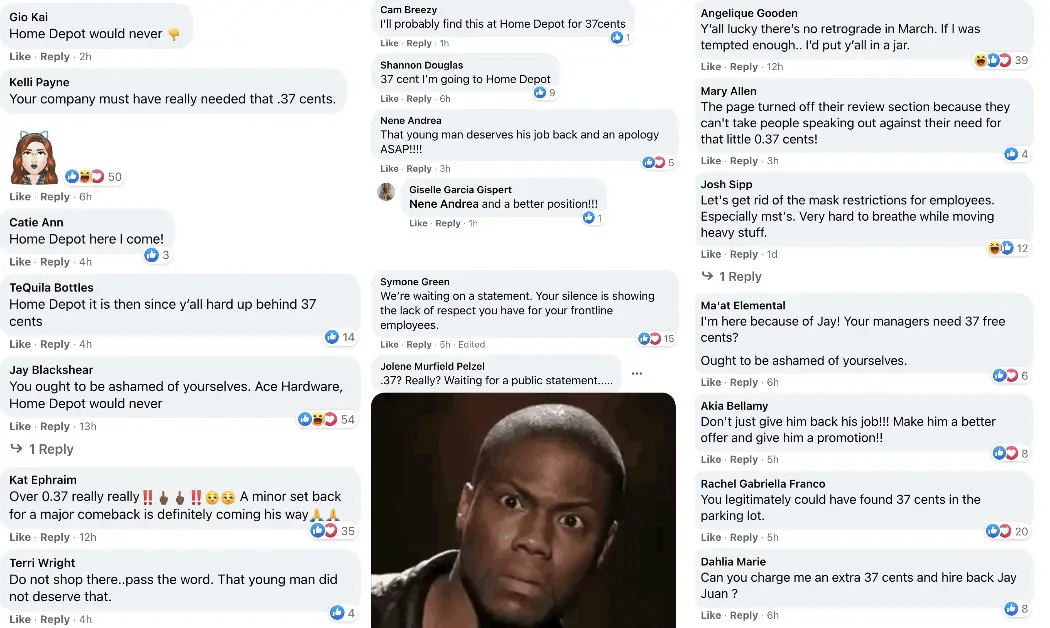 Google Trends data indicated a spike of interest in searches for "Jayjuan Young," "Lowe's," and "37 cents." Screenshots of Young's Facebook post were shared to Twitter, and a number of users tagged @Lowes requesting a statement:
Even @HomeDepot never did this to me as an employee. What's with this disgusting behavior @Lowes ? pic.twitter.com/3J7FJ6Qxt8

— a m i z 🤍 (@amizarah) March 5, 2021
Young also shared a shorter version of the post to Twitter, and shared a screenshot of a response tweet from a Twitter account which has since been made private (Colton Haubner/@CFH_MISFIT). Young identifid the account as a colleague from Lowe's, and added that it sounded as if managers were discussing his termination with co-workers:
This is WRONG why is Lowe's manager's discussing me with Coworkers??? I was ok but now im HEATED i left with respect just to get talked behind my back..

Posted by Jayjuan Young on Thursday, March 4, 2021
In the screenshot, Haubner said:
@CFH_MISFIT

Is that what he told you because both my managers said it was so he could buy himself some snacks with money that wasn't his.

12:35 AM 3/5/21
Lowe's official Twitter account continued interacting with users who tagged the company regarding matters other than Young's termination. But a search for the tag @Lowes indicated that a majority of instances where the company was tagged involved questions about Jayjuan Young — and the company did not acknowledge those tweets.
As of the afternoon of March 5 2021, Jayjuan Young's post about purportedly being fired by Lowe's over a 37 cent discrepancy continued spreading; meanwhile, people on Facebook and Twitter pressured the company to address the incident (and perhaps re-hire Young.)
We were unable to find any instance in which Lowe's addressed any of the innumerable comments or tweets about Young's employment at Lowe's.