Gorilla Glue Hair Lawsuit, Explained
Claim
A woman named Tessica Brown is suing Gorilla Glue after the product left her hair in an immovable state for more than a month.
Like this fact check?

Reporting
On February 8 2020, a social media rumor about a woman (Tessica Brown, or @im_d_ollady) purportedly intending to "sue" Gorilla Glue for damage to her hair began circulating:
"Your honor, I'm suing Gorilla Glue for pain & suffering"

Judge: pic.twitter.com/TPXU5FgiSS

— Brother Ahmaad (@MaadyNYC) February 8, 2021
The entirety of the story is a little more complicated.
What Happened with Gorilla Glue and a Woman's Hairstyle?
In what became a viral TikTok post in early February 2021, Tessica Brown shared a video addressing an ongoing issue with her hair:
Brown stated that her hair had been in that position for "about a month," and that she typically set her styles with Got2b brand "Glued" spray. Having run out of the product, Brown held up a similar bottle of spray adhesive by the brand Gorilla Glue, and explained that she had applied the product to her hair to set the style.
Brown added that she had since washed her hair more than a dozen times, but despite that she had not yet managed to break the adhesive down. She advised those viewing the video not to substitute the adhesive spray for styling spray.
What Happened Next?
The TikTok post went viral — Brown was called the "Gorilla Glue girl," and numerous news organizations covered the quickly viral video.
Predictabaly, many people on social media were highly critical of Brown's predicament, but some prominent responses called out a general tendency to harshly criticize women (women of color in particular) and to offer support:
From gorilla glue to Britney Spears & beyond, I wish folks would pause & examine what's behind the impulse to dehumanize & eviscerate women like it's a competitive sport to see who can land the hardest blow.

— Unite in justice for the poor & oppressed (@BreeNewsome) February 8, 2021
Folks have really delighted in using the word gorilla in reference to a Black woman. I know, I know. It's just the name of the glue & that's solely the reason why 🙃

— Unite in justice for the poor & oppressed (@BreeNewsome) February 9, 2021
I'm glad mfs actually supporting her thru this. When I watched the video the second time it was hard to laugh cause I could tell shorty genuinely didn't know she had put one of the worlds most powerful adhesives in her shit. I hope she recovers well 🙏🏾 #gorillagluegirl

— Chance The Rapper (@chancetherapper) February 6, 2021
On February 8 2021, Gorilla Glue addressed the viral discourse via Twitter:
We are very sorry to hear about the unfortunate incident that Miss Brown experienced using our Spray Adhesive on her hair. We are glad to see in her recent video that Miss Brown has received medical treatment from her local medical facility and wish her the best. pic.twitter.com/SoCvwxdrGc

— Gorilla Glue (@GorillaGlue) February 8, 2021
A large share of the judgmental scorn heaped upon Brown was predicated on either the claim that she ought to have known that the adhesive would harm her hair, or an assumption that Brown did not read the adhesive's label.
However, there is a lot of additional context around hair, marketing, specific products, popular beauty services, and branding to consider:
All I really have to say about the gorilla glue incident:

"Black girls are trained early in beauty salons to smell smoke on themselves but to never yell 'fire'."

— dara rhymes with lara croft ✨ (@TrulyTafakari) February 8, 2021
A February 4 2021 article about Brown's video mentioned a popular and similarly packaged hair product known as "Moco de Gorila" or "Gorilla Snot" gel:
According to Newsweek, in an effort to whip her hair into an always stylish and slicked-back low braided ponytail, Brown apparently ran out of one of her staple products: Got2B Glued Blasting Freeze Spray. For all my beauty supply and hair-obsessed folks, you know that that particular product is the creme de la creme when it comes to securing flyaways and unruly edges. It's arguably second to none.

In fact, the only comparable product that boasts a similar hold to Got2B is Gorilla Snot Gel—but for clarification, Gorilla Snot Gel is completely different and not to be confused with the actual, furniture-fixing, never-gonna-let-you-go, stuck-with-you-forever Gorilla Glue.
Twitter user Kathryn Brightbill was one of the few people pointing out that not only were the products similar, but that it appeared Gorilla Glue leveraged the confusion to broaden their advertising audience; the packaging of the two very different products is noticeably similar:
This is what you see when you search for the hair gel by brand name. The only way you don't get targeted ads for Gorilla Glue is to search for the hair gel under its Spanish name, "Moco de Gorila." This was foreseeable given the targeted ads for glue on hair gel searches. pic.twitter.com/rzOzN8vWAl

— Kathryn Brightbill ✒️ (@KEBrightbill) February 8, 2021
In a thread, Brightbill explained:
Gorilla Glue needs to have their asses sued, because their vendors have been doing targeted ads based on the "Gorilla Snot" keyword for a long time. When I googled to see where I could order more hair gel months ago, I had to wade through ads for glue. They created the confusion.

This is what you see when you search for the hair gel by brand name. The only way you don't get targeted ads for Gorilla Glue is to search for the hair gel under its Spanish name, "Moco de Gorila." This was foreseeable given the targeted ads for glue on hair gel searches.

And again, this isn't new because Google ad algorithms are getting screwed up by the current story, I distinctly remember getting annoyed months ago because I got glue ads when searching for the hair gel.

Gorilla Snot gel is a niche product since it's an imported Mexican brand with a cult following in the US, so it's absolutely foreseeable that people who hear about it by word of mouth, google it and see targeted ads for a glue spray would assume they remembered the name wrong.

It's especially foreseeable since there's a long and well known history of punks using Elmer's glue in their hair. Given that history, it was inevitable that using targeted Gorilla Glue ads on searches for Gorilla Snot gel would lead to someone putting it in their hair.
Compounding the potential confusion, as Brown said, was the fact that her preferred product was marketed as hair "glue." Additionally, household products and foods have (as Brightbill noted) long been used for hairstyling — Elmer's brand glue for styling, and Kool Aid for coloring, for instance.
Moco de Gorila (or Gorilla Snot) is also frequently described on beauty blogs as a "secret" weapon, hard to find, or some sort of a hidden tool known only to well-connected stylists. A 2017 article ("Attention: Celeb Stylists Are Using 'Gorilla Snot' in Their Clients' Hair") certainly could have led many readers to conflate "Gorilla Snot" with "Gorilla Glue," particularly if they only saw the headline (or the bottle, or the price point):
We've tried our fair share of questionable-sounding ingredients: cone snail venom, egg extract, and even our own blood—it's all in a day's work. But, when I first heard "Gorilla Snot," it was not a product I was eager to try. That was my first mistake.

After doing a bit of research, I realized celebrity hairstylists covet the stuff like I do my DVR—a lot. Jen Atkin uses it for flyaways on Kim Kardashian West, touting Moco de Gorila Gorilla Snot Hair Gel ($3) as her "secret weapon" for sleek styles and bouncy, healthy-looking blowouts. Adir Abergel, a celebrity stylist and creative director of Virtue Labs says, "It has been in my kit for a very long time. I like to use it for severe, slicked-back looks." He continues, "It's a non-flaky gel that creates memory and hold while imparting shine with no residue."
All of that is not even taking into account the enduring popularity of "quick weaves" set with glue, a hairstyling method described by one site as popular in the 1990s and revived in the 2020s by social media. That post described quick weaves as a method of hair installation using "glue across the entire head":
Ok, so what exactly is a Quick Weave? This may surprise you, but it's a styling method that's actually been going on for over 25 years! It came in BIG in the 90's, died down, and now it's back no doubt because of a huge boost with social media! It's a lightning fast way to do a full install using glue across the entire head. Its technically NOT A WEAVE, because there is no sewing involved, which means you can have it done in an hour (sometimes less), versus having to spend hours at the salon getting a sew in.

[…]

It's also cheaper AND faster! You won't be sitting for hours at the salon with this method, so the labor cost is much less! You or your stylist will be using glue, so you should be using cheaper hair (it's my opinion that it's best not to use expensive hair for quick weaves, as you get glue on the tracks).
Trade publications described quick weaves or glue weaves as "the hottest" service, and an undated item contrasting glue-in weaves with sew-in weaves emphasized the ability of wearers to install or style them at home and their shorter staying power (i.e., the glue eventually broke down and washed out):
Using glue to attach weave hair is relatively simple. It's also a faster process than sewing in a weave. Many women who like installing weaves at home use glue since it's an easy way to get the look they want. However, hair glue does come with pitfalls if you're not careful. If you choose a glue-in weave, make sure you use a high-quality adhesive made specifically for this purpose. These glues are generally inexpensive, so even a good quality product doesn't cost a lot. Installation is pretty straightforward, but some women run into problems during the removal process. Patience is important when taking out a glued-in weave. If you rush, you may damage your own hair. Proper tools for take down include a glue remover, so make sure you have plenty on hand so that you don't run out. Glued-in weaves are a good choice for short-term wear since they usually don't last longer than a week or two.
TheWeaveBar.com also listed glue-in weaves as a popular service. In short, product conflation possibly exacerbated by targeted advertisements and the popularity of glue-in weaves should be considered in any discussion of this viral story.
Is Brown Suing Gorilla Glue Because of Her Hair Problem?
Anyone not closely reading the news could be forgiven for believing Brown had elected to sue Gorilla Glue — a search for any element of the story brought up a bevy of headlines saying exactly that: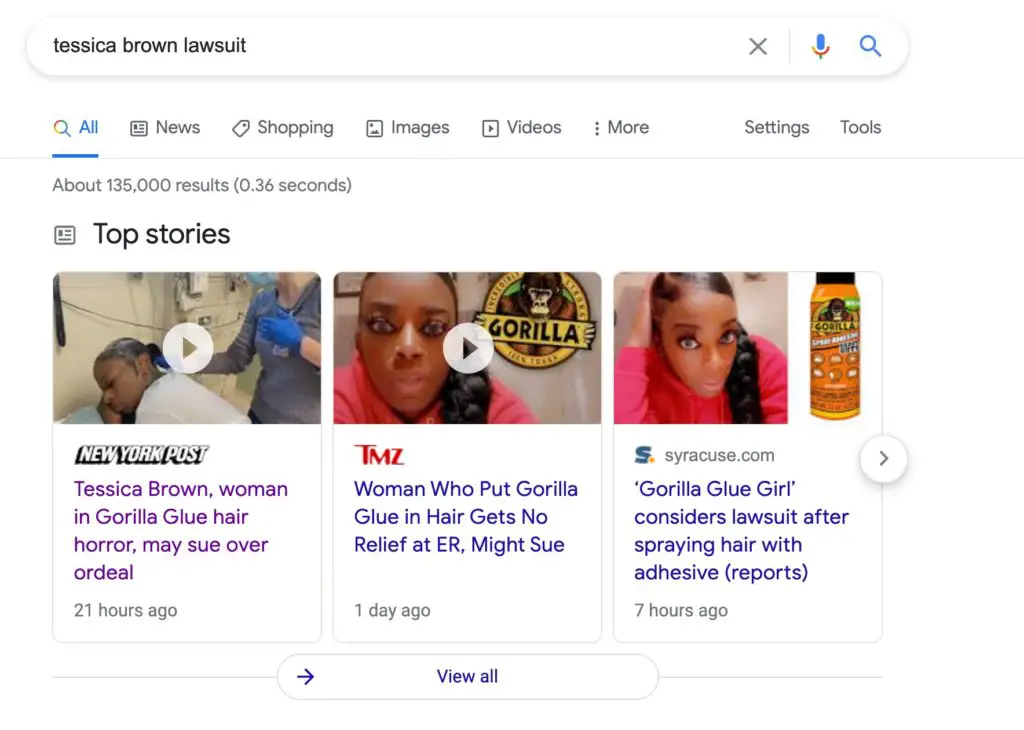 A search for "Tessica Brown lawsuit" returned three initial results:
New York Post: "Tessica Brown, woman in Gorilla Glue hair horror, may sue over ordeal";
TMZ: Woman Who Put Gorilla Glue in Hair Gets No Relief at ER, Might Sue," and;
Syracuse.com: "'Gorilla Glue Girl' considers lawsuit after spraying hair with adhesive (reports)."
And the main Wikipedia entry for Gorilla Glue stated that Brown "announced" her intent to sue Gorilla Glue:
In January 2021, 40-year old Tessica Brown of Louisiana attempted to use an aerosol can of the glue as a substitute for her normal hair spray. Following several weeks of being unable to remove the glue, Brown solicited advice on removal from social media users. Eventually, Brown sought assistance at St. Bernard Parish Hospital, where medical staff recommended an application of acetone, which failed to dissolve the glue and caused Brown further physical pain. The company later released a statement calling Brown's case a "unique situation", and cited public advisories that the glue not come in contact with skin or clothing. Brown later announced her intent to sue the company, claiming that this warning made no mention of hair and that the given warnings could not be reasonably assumed to cover use with hair.
That entry didn't say it was "rumored" that Brown "might" sue, although the headlines quoted earlier tended to use phrasing like "reports" or "may sue." On Wikipedia, the citation for Brown's purported announcement was a viral TMZ article — which included no announcement or comment from Brown.
In "GORILLA GLUE HAIRDO I STILL CAN'T GET THIS GLUE OUT AFTER ER!!! Might Be Time to Sue," TMZ claimed:
Remember … Tessica says her hair's been rock solid for about a month after substituting Gorilla Glue Spray Adhesive for her normal hair spray. GG told us the quickest possible remedy was rubbing alcohol.

Our sources say Tessica's hired an attorney and is weighing her legal options against Gorilla Glue. We're told the label on the product she used says do not use on eyes, skin or clothing … with no mention of hair, which Tessica feels is misleading.

GG says all of its products are considered permanent and the packaging states it too … but we're told Tessica felt it was okay because the product said multi-use.
If Brown did in fact say she intended to "sue" Gorilla Glue over the incident, TMZ didn't report it. According to TMZ, "sources" said that Brown was "weighing her legal options," that they were "told" Brown felt that the instructions were misleading, and so on. From there, myriad outlets reported that Brown sued the company, and the existence of a lawsuit became a social media article of faith.
Summary
A February 2021 TikTok video shared by Tessica Brown (@im_d_ollady) about her usage of Gorilla Glue in lieu of "Glued" spray went viral, predictably prompting rumors Brown was necessarily suing the company for her troubles. Scathing criticism and general discourse largely ignored the existence of a similarly marketed product with a cult following, as well as the popularity of hairstyles using glue instead of sew-in weaves. TMZ claimed Brown "felt" misled and was "weighing" her legal options, which appeared to be the not-very-solid source for claims that Brown definitively intended to file a lawsuit.