While the majority of attention on deportations by the United States Immigration and Customs Enforcement (ICE) agency has centered around their actions against immigrants from Latin American countries, it is inaccurate to say that the agency does not carry out deportations against undocumented immigrants from other parts of the world.
A Facebook user's claim to the contrary, however, has been shared more than 46,000 times since they posted it on August 15 2019. The post argued: "Since ICE has not deported or detained one white illegal immigrant, which there are 600,000 of…can we admit this is about race?"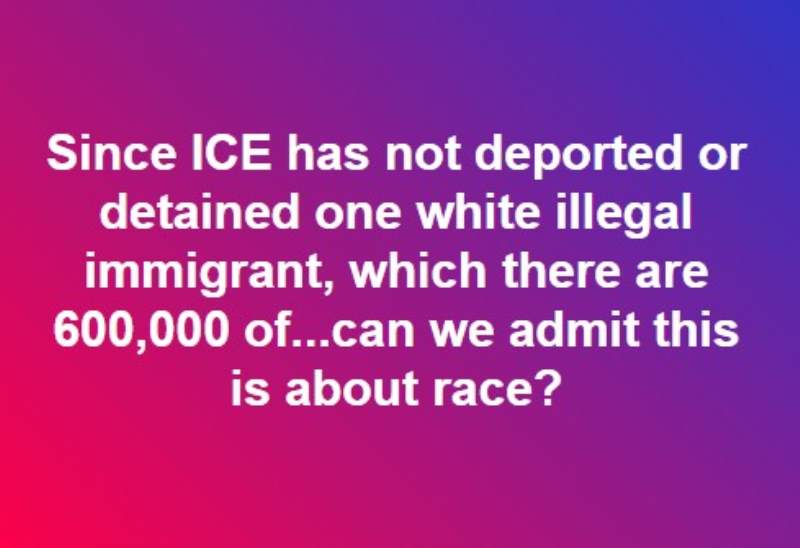 Though they comprise a smaller number by comparison, deportations of Irish undocumented immigrants from the United States have doubled since the beginning of President Donald Trump's administration; the New York City-based Irish Central reported that in the 2018 fiscal year, 47 Irish immigrants were removed from the United States — nearly twice as many as the 26 deported in 2016 and an increase from 34 deportations in 2017, Trump's first year in office. However, the 2018 total was less than the 53 deportations carried out under then-President Barack Obama's administration eight years earlier.
Thanks to changing patterns in human migration, Ireland is far more diverse a country than it once was. However, according to the country's Central Statistics Office, "White Irish" is by far the largest self-identified demographic group in the country, at 82.2 percent:
The majority (94.1%) of people who indicated that they were 'White Irish'  were born in Ireland. Of the 5.9 per cent (226,078) born elsewhere, 121,174 were born in England and Wales and 53,915 were born in Northern Ireland. A further 20,301 were born in the Americas, of which 17,017 were born in the United States of America. In comparison, 92.5 per cent of Irish Travellers were born in Ireland.

One in three of those with African ethnicity (38.6%) were born in Ireland (22,331 persons), as were 31.3 per cent (2,126) of those with other Black backgrounds.

The remaining Africans were born primarily in Nigeria which accounted for 27.2 per cent. Those of "Any other Black background" were born in a range of countries including Brazil (17.4%), England and Wales (7.1%) and Mauritius (3.2%). Over half (55.7%) of people with Chinese ethnicity were born in China, while 8.3 per cent were born in Malaysia and 6.4 per cent were born in Hong Kong.

The largest group from "Any other Asian background" were born in India (22.4%), followed by the Philippines (16.1%) and Pakistan (13.7%).
Individual deportation cases involving Irish migrants living in the United States without documents have also drawn attention, such as John Cunningham's removal from the country in July 2017. In August 2019, Ireland's Minister for Justice, Charlie Flanagan, called for what he called "an appropriate piece of legislation" to protect undocumented immigrants from his country in response to the arrest and near-deportation a month earlier of 37-year-old Keith Byrne, who has lived in the US since 2007.
Byrne was slated to be deported in connection with charges of marijuana possession dating back to his time living in Ireland. But on July 25, 2019 a federal judge ordered that his case be reviewed. It is unclear, however, whether Byrne will be allowed to reside in the U.S. after the review is completed.
According to Immigration and Customs Enforcement's own records, there have been other people deported from the United States to countries that are traditionally considered majority "white," such as Canada or Spain, since January 2017. However, deporting Irish people seems to receive more widespread and detailed coverage. At any rate, per news stories and ICE's own records, the agency is not refusing to deport white people.