Claim
A man was arrested in Jackson, Mississippi, after hacking into a county human service department's records and approving all applications for "food stamps."
Reporting
A persistent meme that resurfaced on October 23 2019 about a modern-day Robin Hood is in reality a prank posted by someone out of "social media fun."
The graphic shows a photograph of a man besides a Fox News logo, accompanied by a short description:
A 27 year old Jackson Mississippi man was arrested over the weekend for hacking into the Hinds County Human Services Department (HCHS) and approving all applications for food stamps. After approving the applications, he then had cards mailed out to new applicants all totaling $2500 each. Current card holders were also awarded $2500 credits. His bond was set at $100,000 and has since bonded out. More on this story tonight at 10 pm. FOX News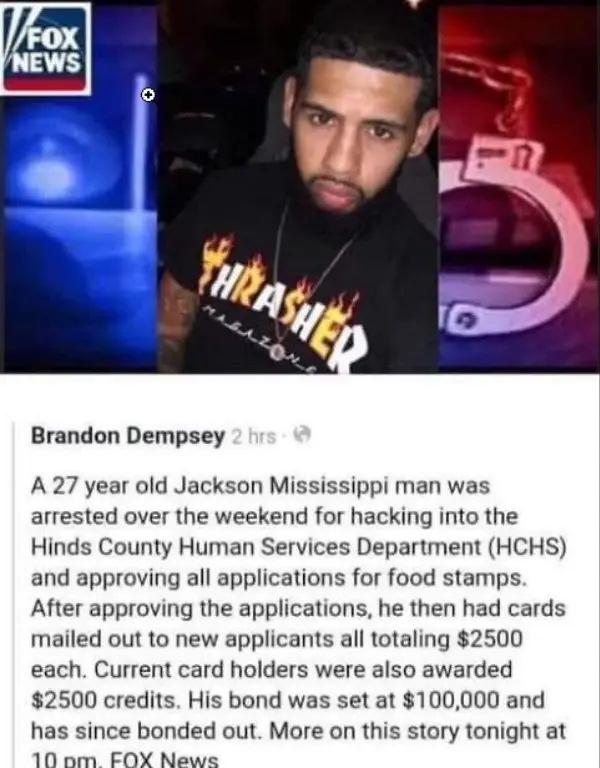 The graphic also appeared on Instagram.
But there is no record anywhere of such a story running on any actual news site. We contacted the newsroom at WDBD-TV, the Fox affiliate in Jackson, for confirmation. They debunked it for us and pointed us to the person who was behind the fake story: a Florida man who has made similar graphics using his own photograph.
As the "hack" story spread, he said on Twitter, "Y'all I just make funny joke posts.. it's just for social media fun.. please don't take me seriously lol.. just like to make folks laugh that's all."
Y'all I just make funny joke posts.. it's just for social media fun.. please don't take me seriously lol.. just like to make folks laugh that's all 😂💯 pic.twitter.com/6pZr1VFU4q

— Brandon (@Thahomiebrandon) October 23, 2019