In July 2019 a Facebook user shared the following comic about plastic nets and ocean pollution: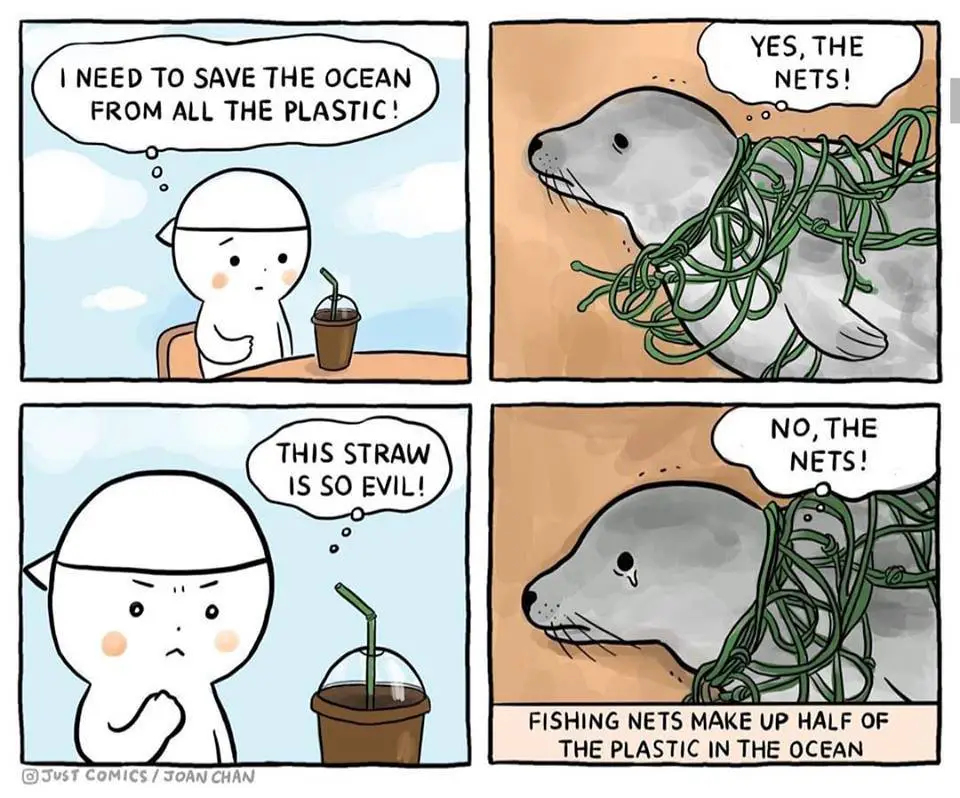 In four panels depicting a person with a plastic straw and a seal trapped in a plastic net, it read:
Person: I NEED TO SAVE THE OCEAN FROM ALL THE PLASTIC!

Seal: YES, THE NETS!

Person: THIS STRAW IS SO EVIL!

Seal: NO, THE NETS!

FISHING NETS MAKE UP HALF OF THE PLASTIC IN THE OCEAN
In June 2018, a Reddit user took a similar question to the subreddit r/IsItBullshit:
The comic referenced a number of "plastic straw bans" worldwide, actions widely explained as an effort to limit the presence of plastics in the ocean:
On January 1, 2019, a ban on plastic straws in restaurants and other service businesses began in Washington, D.C. Read on for the reasons behind such bans, and how we got here.
At the beginning of July 2018, Seattle became the largest U.S. city to ban plastic straws.

They're not alone.

Starbucks plans to phase out plastic straws by 2020. McDonald's recently announced it will ban plastic straws at its U.K. and Ireland restaurants. Bon Appétit Management, a food service company with 1,000 U.S. locations, announced last May it will phase out plastic straws. Alaska Airlines will be one of the first airlines to phase out plastic straws and stirrers, in part thanks to an environmentally conscious girl scout.

These groups are responding to public outcry demanding action against a product that, on one hand, seems very simple—but which is harming the world's oceans, experts warn.
That National Geographic article from July 2018 went on to note that in terms of volume, plastic straws made up far less than one percent of the ocean's plastic debris:
Eight million tons of plastic flow into the ocean every year, and straws comprise just 0.025 percent of that.
Plastic straw bans appeared to largely stem from an August 2015 viral video taken by a marine biologist that showed a turtle with a plastic straw jammed up its nose. In 2018, the woman who captured the footage said that she didn't "want the corporations to feel like they're getting off easily just by eliminating plastic straws," referencing the larger issue of plastic pollution in the ocean.
A statistic that fishing nets made up roughly half of all plastic in the ocean was widely repeated across blogs and on social media, but that claim seemed to be taken out of context from a single piece of research that didn't exactly say that.
Research published in the journal Nature in March 2018 (titled "Evidence that the Great Pacific Garbage Patch is rapidly accumulating plastic") reported on analyses done on one specific accumulation of debris located between California and Hawaii:
Ocean plastic can persist in sea surface waters, eventually accumulating in remote areas of the world's oceans. Here we characterise and quantify a major ocean plastic accumulation zone formed in subtropical waters between California and Hawaii: The Great Pacific Garbage Patch (GPGP). Our model, calibrated with data from multi-vessel and aircraft surveys, predicted at least 79 (45–129) thousand tonnes of ocean plastic are floating inside an area of 1.6 million km2; a figure four to sixteen times higher than previously reported. We explain this difference through the use of more robust methods to quantify larger debris. Over three-quarters of the GPGP mass was carried by debris larger than 5 cm and at least 46% was comprised of fishing nets.
Of particular note is that that research was highly localized, examining only the plastic accumulation known as the "Great Pacific Garbage Patch," or GPGP. Presumably, the GPGP is influenced by ocean currents, traffic in those specific waters, and other factors that would impact the composition of its parts. And somehow it seemed one line from the research's abstract had become a rallying point in all oppositions to straw bans.
Another factor in the findings to hand was the individual behavior of various plastic particles in the ocean. Due to their rigidity and by their nature, fishing nets coalesced and failed to sink — but sinking did not mean an object was not polluting the ocean, just that it did not retain buoyancy to be detected in the GPGP. A portion of the study explained:
The specific characteristics of the GPGP debris suggest that only certain types of plastic have the capacity to persist at the sea surface for extended periods of time and accumulate in oceanic plastic pollution hotspots. Firstly, the vast majority of the collected GPGP objects were made of PE and PP rigid plastics and bundled fishing nets and ropes. Plastic films however, representing around 37% of PE and PP waste generation were rarely found. We hypothesize that most buoyant plastic with insufficient volume-to-surface ratios such as films may never reach the surface waters of the GPGP as they may rapidly sink to the seafloor due to biofouling and/or fragment into microscopic pieces that are removed from surface layers.
In the words of the same researchers responsible for the "46 percent of trash is fishing nets" statistic, fragmentation and density affected whether specific items were detected. Largely intact and buoyant fishing nets behaved in a manner enabling them to "persist at the sea surface for extended periods of time and accumulate in oceanic plastic pollution hotspots." Other pollutants did not.
Subsequently, researchers noted:
Ghostnets, which were the main contributors to the total mass of GPGP plastic, generally have a draft of several metres, and therefore are unlikely to be influenced by wind transport. Our model also suggests that debris items with higher windage are transported over larger areas, with a higher likelihood of beaching, as well as exiting oceanic 'garbage patches'. For instance, North Pacific particles with 1% wind forcing were spread over a large area around the GPGP that included the Hawaiian archipelago and the North American coastline.
Nevertheless, researchers concluded that abandoned fishing nets "are a major contributor to oceanic plastic pollution levels and impacts." Upon the study's March 2018 release, lead author Laurent Lebreton told National Geographic that the findings of the research did not closely match estimates of marine debris composition:
"I knew there would be a lot of fishing gear, but 46 percent was unexpectedly high … Initially, we thought fishing gear would be more in the 20 percent range. That is the accepted number [for marine debris] globally—20 percent from fishing sources and 80 percent from land."
Other experts noted that the findings were, again, specific to that debris accumulation and may not reflect the entirety of the Earth's oceans:
Marine debris expert Marcus Eriksen, co-founder of the 5 Gyres Institute, cautions that the new study is based on only limited surveys, making it difficult to accurately estimate the complete size of the patch. The data are significant in showing such a high accumulation of fishing gear, he notes.
Lebreton's estimate appeared in an August 2017 Greenpeace item about the composition of plastics in the ocean:
While about a fifth of marine litter is made up of fishing gear and other materials lost at sea by accident, industrial losses, or illegal dumping, we know that roughly 80% of litter in the seas comes from land.
Research into composition of plastics in the ocean seems to vary quite a bit. A 2015 study published in Marine Pollution Bulletin identified fishing nets as just two percent of its sample for that research:
'Fishing items' represented only 2% of the abundance of total marine debris. It comprised a variety of 109 objects including rope and net fragments and plastic buoys, many of which were from trawl and long-line fisheries as well as fragments of net from FADs (Fish Aggregating Devices) used by tuna vessels. Also ubiquitous were polystyrene fragments, plastic bottles and pieces of flip-flops used as surface floats that we attributed to artisanal fisheries.
Nets and other ghost fishing gear do present a unique threat to marine life, because unlike other plastics, they're designed to withstand years of being submerged in the saltwater of the ocean without degrading:
The problem of derelict gear and ghost fishing has become more pressing with the advancement of technology, which has led to the geographical expansion of fishing efforts and the use of synthetic, more durable and buoyant fishing materials. These materials may take decades to degrade, and their impact on the oceans is therefore long term and large scale. This is particularly problematic for gillnets, which trap fish by their gills. Gillnets and other passive gear that capture organisms swimming into them are generally made of nylon and therefore maintain high fishing efficiency for many years.
The use of biodegradable nets has been proposed to ameliorate the risks posed by ghost fishing gear. Another factor in the risk posed to marine life by these items is that by design, they are intended to entrap fish and sea life. Even when discarded, they function in that manner:
Abandoned fishing gear devours sea-life with insatiable hunger. To a number of conservationists, these derelict nets are darkly referred to as "ghost gear." In more technical terms, it can be called Abandoned, Lost, or Discarded Fishing Gear (ALDFG).

ALDFG functions in a number of ways. Floating nets wander around, collecting a plethora of organisms, and eventually sink under the weight. As this biomass breaks apart in the ocean's benthic regions, the nets shake their load and lumber upwards again, ready to wreak more havoc. Some nets and lines wrap themselves on reefs, shipwrecks, or rocks, ensnaring marine animals, maiming, drowning or simply starving hundreds of thousands of them. Pots intended for crab, lobster, and shrimp see an eclectic range of visitors. Entire crab or lobster lineages, scavenging bottom dwellers that venture inside for a hapless predecessor's remains, perish in these traps.

Abandoned gear makes no distinctions, capturing marine mammals, fish, turtles, whales, birds, sharks, rays, and invertebrates.
In terms of sourcing, two 2017 studies found that more than 80 percent of plastic debris entered the ocean from the same ten to twenty rivers, most of which are in Asia. Neither study mentioned ghost fishing nets.
We were unable to track down any ocean-wide estimate of the proportion of fishing nets to other plastic debris in the ocean. The claim that half of the ocean's plastic (46 percent) is comprised of fishing nets was taken out of context, however. Many sites and blogs reported on a specific study on the Great Pacific Garbage Patch, finding that that debris was made up of an unexpectedly large number of fishing nets. The same study noted that other plastics may behave differently, sinking to lower depths or degrading to unidentifiable pieces.
Plastic straws do seem to make up a smaller amount of ocean plastic than fishing nets, but the research in question here only found the high proportion of nets in one particular area of accumulation between California and Hawaii, not the entire ocean. The study's lead researcher went on to surmise that 20 percent of ocean plastic is made up of ghost fishing equipment — including (but not limited to) nets.