Claim
A graphic spread by far-right blogs and social media users shows Democratic Rep. Sheila Jackson Lee's congressional district.
Reporting
An also-ran right-wing candidate in New Jersey generated attention for himself online in September 2019 by spreading an online smear targeting a Democratic Party lawmaker.
Joseph Rullo's Facebook post, which was shared more than 6,800 times, showed a photograph of an unidentified street with a separate picture of Rep. Sheila Jackson Lee from Texas, alongside the caption:
This is not a photo of a "third world country." This is a photo of Democrat congresswoman Sheila Jackson Lee's congressional district in Houston, Texas. She's been in charge of this district since 1995. Think about that for a second.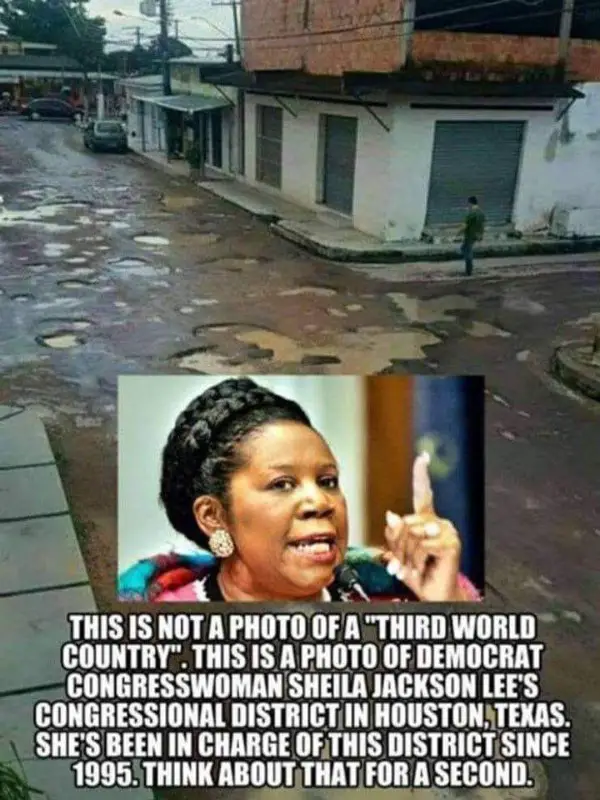 The graphic, which has circulated thanks to various far-right blogs and social media since at least 2017, has never been definitively associated with any location, let alone Jackson Lee's district. It is correct, though, in saying that Lee was first elected in 1995. She is currently serving in her 13th term representing Texas' 18th Congressional District.
According to Ballotpedia, Rullo first ran for office in 2012 when he mounted a senatorial campaign in New Jersey. He finished fourth out of five GOP candidates in that party's primary, garnering 8 percent of the vote. Five years later, he ran for governor and again finished fourth with 6.5 percent of the vote.
The latter result actually constituted a surge on Rullo's part; at one point in his run his former campaign manager publicly called for Rullo to drop out because he was polling at 0 percent.