Did the Cop Who Blamed a 'Very Bad Day' for Fatal Georgia Shootings Promote Racist Shirts?
Claim
Capt. Jay Baker of the Cherokee County Sheriff's Department in Georgia promoted T-shirts bearing the slogan "COVID-19 imported virus from Chy-na."
Like this fact check?

Reporting
The Georgia law enforcement spokesperson who drew criticism for apparently downplaying the motive behind a rash of fatal shooting attacks on March 17 2021 came under even more scrutiny online, after reports that he promoted shirts pushing a racist "joke" about the COVID-19 pandemic.
The posts by Capt. Jay Baker of the Cherokee County Sheriff's Department, were brought to light by social media users and reports in both Buzzfeed and The Daily Beast. The shirts, bearing the message "COVID-19 imported virus from Chy-na [sic]." On March 30 2020, Baker encouraged his Facebook followers to "place your order while they last." On April 2 2020 he promoted the shirts again: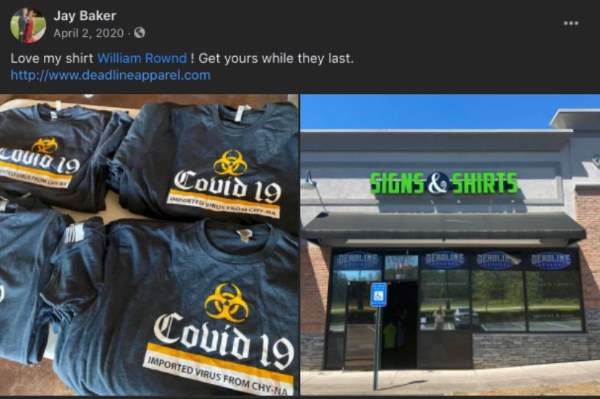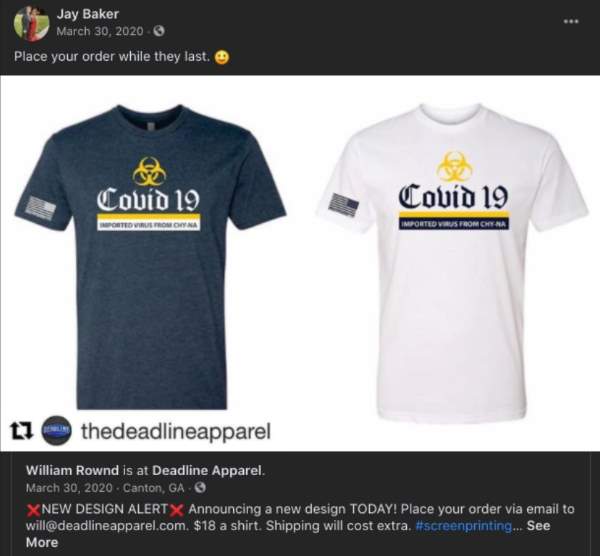 We contacted the department seeking comment, but were referred to Baker's desk instead. He did not respond to a request for comment about the shirts, and his Facebook profile was no longer publicly available. However Sheriff Frank Reynolds told the Daily Beast, "I am not aware of that. I will have to contact him but thank you for bringing that to my attention."
The retailer behind the "Corona spoof" shirts, Deadline Apparel, was still selling them via the online platform Shopify as of press time. We also contacted Shopify seeking comment but have yet to hear back.
While the platform did not respond, the shop peddling the racist shirts was no longer available on its website as of March 18 2021: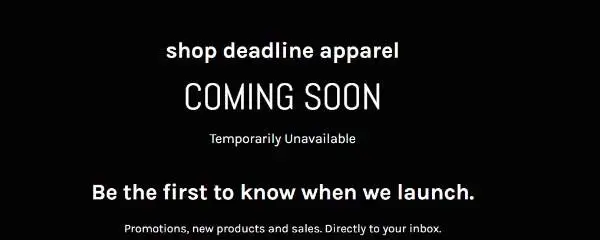 Shopify also posted a statement on Twitter saying:
Anti-Asian racism has no place in the world, and acts of violence and xenophobia cannot be tolerated. We stand in solidarity with the Asian community. We must #StopAsianHate. At Shopify, we spend our days and nights thinking about how to make commerce better for everyone and right now, we need to support our Asian American and Pacific Islander entrepreneurs. Over the coming days, we'll share more on our plans and how you can join us in our efforts.
At a press conference on March 18 2021, Baker claimed that the 21-year-old white man arrested in connection with the shooting deaths of eight women — six of them Asian — had "understood the severity" of his apparent actions.
"He was pretty much fed up, had been kind of at the end of his rope, and yesterday was a really bad day for him, and this is what he did," Baker claimed.
Reynolds released his own statement on Baker's comment on March 18 2021 saying:
During the joint press conference, our goal, as always, was to provide as much information as possible without compromising the ongoing investigation while showing respect for the victims and their families. Comments made by [Baker] have become the subject of much debate and anger, in as much as his words were taken or construed as insensitive or inappropriate, they were not intended to disrespect any of the victims, the gravity of this tragedy, or express empathy or sympathy for the suspect.
Reynolds' statement did not mention the racist shirts; instead he claimed that Baker's "personal ties to the Asian community and his unwavering support and commitment to the citizens of Cherokee County are well known to many."
The fatal attacks represented an especially grisly flashpoint amid an increase of attacks against Asian and Asian-American communities all over the United States; according to a report prepared by the activist coalition Stop AAPI Hate, nearly 3,800 incidents were reported between March 19 2020 and February 28 2021.
The shirts' racist messaging also played off the rhetoric that fueled that type of harassment, which — as the Associated Press and other outlets have reported — surged in large part because of weaponized disinformation about the pandemic:
Some initial evidence suggested the virus began in bats, which infected another animal that may have spread it to people at one of Wuhan, China's "wet markets." Such markets sell fresh meat, fish and vegetables, and some also sell live animals, such as chickens, that are butchered on site to ensure freshness for consumers.

The information quickly got distorted in the U.S., spurring racist memes on social media that portrayed Chinese people as bat eaters responsible for spreading the virus, and reviving century-old tropes about Asian food being dirty. Fueling the fire, President Donald Trump repeatedly referred to COVID-19 as "the China virus."
Trump has continued using the slur since losing the presidency, including in a television interview that aired shortly before the killings were reported.
Updated March 18 2021: Updated with note on removal of racist shirts from Shopify.
Updated March 18 2021, 2:10 p.m. PST: Updated with statement from Cherokee County Sheriff Frank Reynolds.