Did Someone Organize an Online Fundraiser for the Kenosha Murder Suspect?
Claim
A fundraiser was posted online on behalf of the seventeen-year-old accused of killing two people in Kenosha, Wisconsin in August 2020.
Like this fact check?

Reporting
Not long after his identity was revealed, the seventeen-year-old Illinois teen accused of committing a double murder in Kenosha, Wisconsin was the intended beneficiary of an online fundraiser in his name.
The fundraiser raised $705 on GoFundMe before apparently being taken down by the site.
It is unclear who registered the short-lived campaign; the fundraising page bore the suspect's name and photograph as well as the message, "Hey this is Kyle, i got myself in a pretty bad situation but I'm completely innocent and was just protecting myself against these Marxist tyrants. #Trump2020":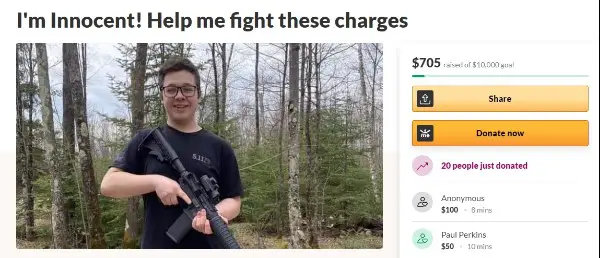 The page also incorrectly identified the suspect as a resident of Kenosha; he is actually from Antioch, Illinois, where he was arrested the day after the fatal shootings.
Journalist Robert Evans later reported that a separate fundraiser for the suspect was created on the website Fundly; the page for this campaign lists the right-wing "militia" group American Wolf as its creator. More than $19,000 had been donated as of the early evening of August 26, 2020. The group also calls itself a "non-profit and charity" in promoting the campaign: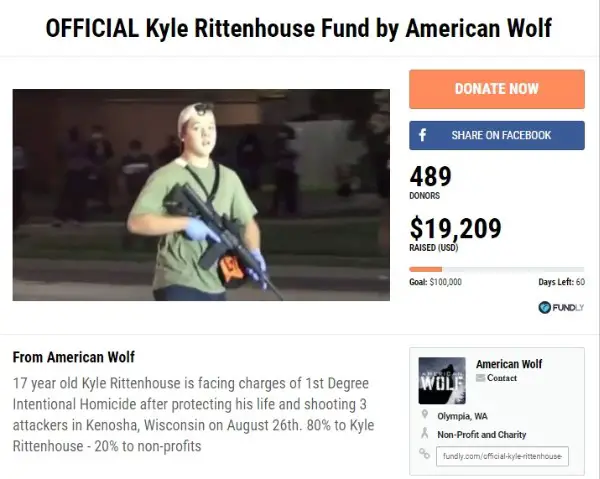 Neither GoFundMe nor Fundly responded to requests for comment, but each of the fundraisers posted on their platforms have been removed.
However, on August 28 2020, the Milwaukee Journal Sentinel reported that a separate fundraiser was established on GiveSendGo, which lists itself as "the leader in Christian fundraising." This effort quickly amassed more than $126,000 in donations, which organizers claim will go toward paying his legal expenses. The suspect's extradition from Illinois to Wisconsin for trial has been delayed while he hires representation. A Texas-based legal team will reportedly handle his case.
"Campaign causes and projects can include: neighborhoods in need, memorial/funeral expenses, medical expenses, tuition assistance, adoption fundraising, funding for mission trips, and other Christian causes," the site's terms of service state.
The suspect is charged with first-degree reckless homicide in connection with the death of 36-year-old Joseph Rosenbaum and first-degree intentional homicide for the death of 26-year-old Anthony Huber. The suspect is also charged with attempted first-degree intentional homicide for wounding 26-year-old Gaige Grosskreutz.
Kenosha police chief Daniel Miskinis seemingly suggested during a press conference on August 26 2020 that demonstrators shared in the blame for the incident for being out past a locally-imposed curfew. "Everybody involved was out after the curfew. I'm not gonna make a great deal of it," Miskinis said:
The point is, the curfew's in place to protect. Had persons not been out in violation of that, perhaps the situation that unfolded would not have had happened. Last night a seventeen-year-old individual from Antioch, Illinois was involved in the use of firearms to resolve whatever conflict was in place. The result of it was, two people are dead.
The fatal shooting took place amid an ongoing series of protests following the extrajudicial shooting by police of 29-year-old Jacob Blake by a Kenosha police officer on August 23 2020. Blake — who was apparently unarmed — was shot seven times in the back while law enforcement was allegedly responding to a "domestic incident." According to attorneys for Blake and multiple eyewitnesses, he was trying to de-escalate the situation when officers arrived at the scene.
"His family believe in miracles, but the medical diagnosis right now is that he is paralyzed and, because those bullets severed his spinal cord and shattered some of his vertebrae, it is going to take a miracle for Jacob Blake, Jr. to ever walk again," attorney Ben Crump, who is representing Blake's family, told reporters.
We contacted GiveSendGo seeking comment on the fundraiser for the suspect posted on their site.
Updated August 26, 2020 5:27 p.m. PST: Updated to reflect a second online fundraiser for the suspect.
Updated August 28, 2020 4:09 p.m. PST: Updated to mention a third online fundraiser posted on the Christian site GiveSendGo, and to identify the victims in the shootings.