'Have You Ever Seen a LOCKED Mailbox at the USPS? Now You Have'
Claim
A group of mailboxes in Burbank, California were photographed with security locks placed on them in August 2020.
Like this fact check?

Reporting
As criticism of the treatment of the United States Postal Service (USPS) continued to mount in August 2020, various photographs shared online prompted fears that U.S. President Donald Trump and his administration were locking mailboxes as part of efforts to kneecap the agency before the November 2020 elections — in which mail-in ballots are expected to play a major part amid an ongoing COVID-19 pandemic.
One of the photos, posted on August 16 2020 by former pro basketball player Rex Chapman, was shared more than 24,000 times on Twitter; Chapman's post displayed what he called several mailboxes in Burbank, California with security locks placed on them.
"In your entire life have you ever seen a LOCKED mailbox at the USPS?" Chapman wrote before criticizing Senate Majority Leader Mitch McConnell directly:
Now you have. A disgrace and immediate threat to American democracy. Shame on them. Shame on the GOP. Where are you @senatemajldr?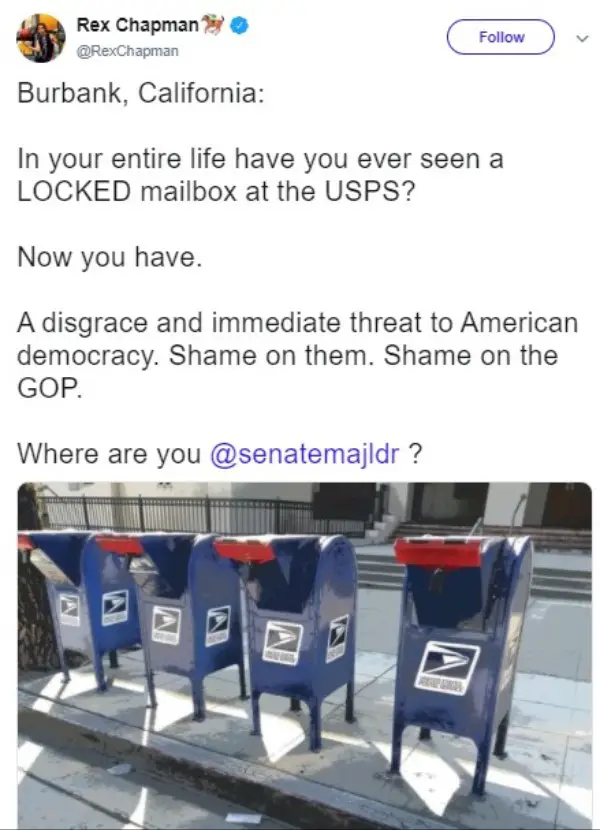 Other Twitter users posted similar photos from other parts of Southern California like Hollywood, San Diego, and Toluca Lake. Former Sen. Claire McCaskill (D) posted a photograph of a locked mailbox she claimed was taken in Washington D.C.; however, it was actually taken in the Capitol Hill neighborhood of Seattle.
Another Twitter user cast doubt on Chapman's suggestion that the locked mailboxes were unusable, posting video demonstrating that mail could still be deposited through another slot.
"This is my post office," they wrote. "These mailboxes are open on the other side, you just have to get out of your car to mail them. It's been this way for months. This isn't part of the purge."
Other critics of Chapman's post cited a 2016 article in the Los Angeles Daily News about Postal Service officials locking down mailboxes around the San Fernando Valley to prevent mail theft. However, Burbank was not mentioned in the story, and the photo Chapman posted was not included in it.
We contacted the USPS seeking comment on the various photographs but have yet to hear back.  Meanwhile, an agency employee told KABC-TV in Los Angeles that it was "common practice" for mailboxes to be locked on days they are not in use to guard against vandalism. Another local news station, KNBC-TV, reported on August 17 2020 that the mailboxes were unlocked after the weekend.
"The use of Collection Box Anti-theft locking devices, such as at the Burbank post office, have been in place since approximately 2016 and this device was developed as a mail theft deterrent," the agency told KNBC in a statement. The USPS did not reply when asked by the station when the locks were installed on the Burbank mailboxes or why they were unlocked.
The photographs spread shortly after Trump publicly admitted that he had been holding up an agreement on a new stimulus package because the Democratic Party proposal included $3.5 billion in funding for the USPS. Trump's remark spurred not only a stream of suggestions and calls to action for protecting mail-in votes but increased scrutiny of his appointed Postmaster General, Louis DeJoy.
DeJoy, a fundraiser for the president, is currently under investigation by the USPS inspector general. He is also slated to testify before the Senate Homeland Security and Governmental Affairs Committee on August 21 2020, and before the House Oversight Committee three days later.