'Miss Universe Parade of National Costumes' Facebook Post
Claim
A Facebook post accurately shows the "Miss Universe Parade of National Costumes," in which the United States' contestant appeared as a Transformer.
Like this fact check?

Reporting
In March 2021, a February 2016 Facebook image gallery circulated, purportedly showing the "Parade of National Costumes" in a Miss Universe pageant.
The page also commented, "Please watch this FULLY XD." Roughly 35 images were attached, the last of which was the contestant from the United States: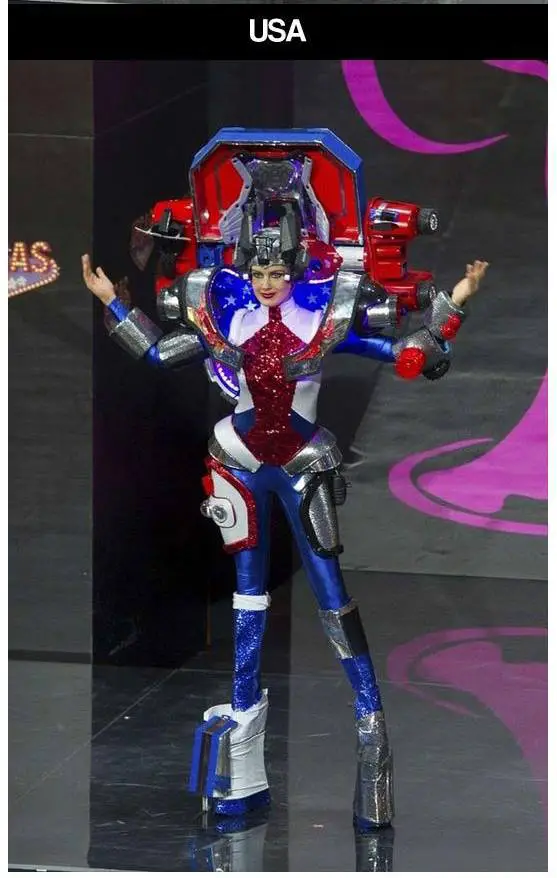 Google Trends data suggest that in the week leading up to March 29 2021, readers searched for "Miss Universe Parade of National Costumes," the text visible on the first screenshot in the set. That text was small, but it also provided a timeframe for the images due to the inclusion of a date.
It read:
"Parade of National Costumes …"

13 November 2013

Miss Universe Pageant Parade of National Costumes
In the set, the first image was labeled "Canada," and it featured a contestant dressed as a "Mountie," of the Royal Canadian Mounted Police. Next up was France, in an Eiffel Tower-inspired ensemble, then Panama, and then India. From India on, all images were in the gallery and not the original post.
We were unable to locate a specific source for the November 13 2013 "Parade of National Costumes …" post, but we did eventaully find a November 7 2013 BuzzFeed.com listicle with the headline, "Miss USA Wore A Transformers Costume In The Miss Universe Pageant And It Wasn't Even The Most Ridiculous Outfit." It began:
One of the events of the Miss Universe pageant is the "Parade of National Costumes," where each of the 86 contestants walks the runway in an outfit that represents her country.

Of course, it is a beauty pageant, so it's normally full of sexy cultural representations. For example: Miss Canada.

[…]

And then there's Miss USA[.]

"Nothing screams national costume like the first Miss USA transformer," Brady explained on Instagram.
BuzzFeed only referenced the costumed contestant as "Brady." A 2013 KansasCity.com article provided her entire name — Erin Brady:
Miss Trinidad and Tobago showed up as a tropical bird of paradise.

Miss Switzerland dressed as a sexy snow queen.

Miss South Africa was a spectacular butterfly.

See that glum look on Miss USA's face?

To us, it says "get me out of this thing!"

[…]

"Nothing screams national costume like the first Miss USA transformer. Embracing powerful women in a transforming country that's made up of so much. That's what Miss USA means to me," Erin (gamely?) wrote on Instagram.
Both outlets embedded a 2013 Instagram post from the official, verified Miss USA (@missusa) account:
Brady wrote:
A close up of my national costume. 🙂 Thank you to Martin for all of his time and hardwork. He is a mastermind. #missuniverse #usa #transformer
Presumably, a February 2016 Facebook post featuring images from the 2013 Miss Universe pageant was revived and began recirculating due to Facebook's "On This Day" feature. Although the image is real and accurately described, it was eight years old at the time of its 2021 recirculation and thus far removed from its original context. For that reason, we rated it Decontextualized.