Is a Texas Doctor Curing COVID-19 Patients For $50?
Claim
A doctor working out of McKinney, Texas has treated more than 75 patients for COVID-19 using a regimen of hydroxychloroquine, azithromycin, losartan, aspirin, zinc, and CBD, a.k.a. cannabidiol oil.
Like this fact check?

Reporting
A Texas doctor's claim that he has cured more than 75 patients for COVID-19 for no more than $50 spread widely around Facebook and YouTube before apparently being removed from both platforms.
Dr. Brian Procter first drew attention through a photograph of a printout of his various claims: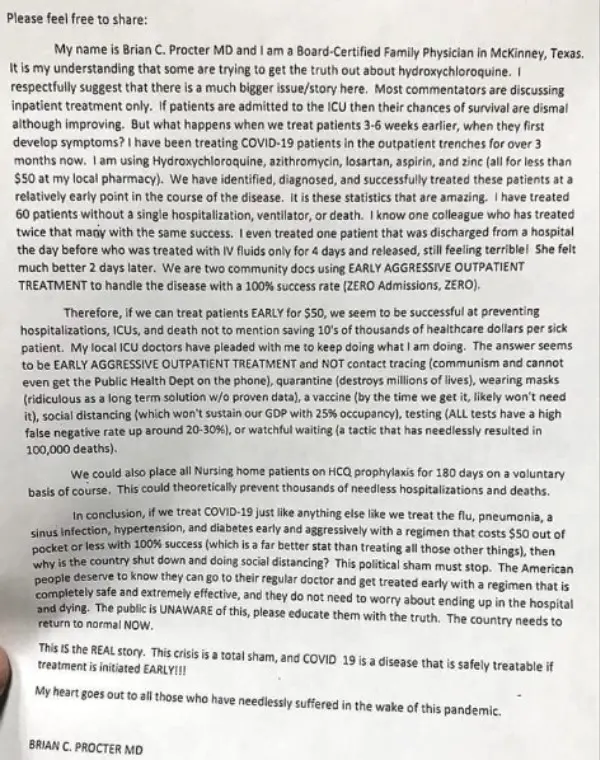 Procter's argument gained further exposure when users recirculated it (with slight variations, but with the same oddly political commentary about contact tracing and communism) in a "copypasta" format:
My name is Brian C. Procter MD and I am a Board-Certified Family Physician in McKinney, Texas. I am a colleague of Dr. Ivette Lozano that you interviewed a few weeks ago. I understand that you are trying to get the truth out about hydroxychloroquine. I respectfully suggest that there is a much bigger issue/story here. Most commentators are discussing inpatient treatment only. If patients are admitted to the ICU then their chances of survival are dismal. But what happens when we treat patients 3-6 weeks earlier, when they first develop symptoms? I have been treating COVID-19 patients in the outpatient trenches for over 2 months now just like Dr. Lozano. I like her, I am using Hydroxychloroquine, azithromycin, losartan, aspirin, and zinc (all for less than $50 at my local pharmacy). We have identified, diagnosed, and successfully treated these patients at a relatively early point in the course of the disease.

It is these statistics that are amazing. I have treated over 50 patients without a single death, ventilator, or hospitalization. Dr. Lozano has treated twice that many with the same success. I even treated one patient that was discharged from a hospital the day before who was treated with IV fluids only for 4 days and released, still feeling terrible! We are two community docs using EARLY AGGRESSIVE OUTPATIENT TREATMENT to handle the disease with a 100% success rate (ZERO Admissions, ZERO).

Therefore, If we can treat patients EARLY for $50, we seem to be successful at preventing hospitalizations, ICUs, and death as well as saving tens of thousands of healthcare dollars per sick patient. My local ICU doctors have pleaded with me to keep doing what I am doing. The answer seems to be EARLY AGGRESSIVE OUTPATIENT TREATMENT and NOT contact tracing (which is communism and I cannot even get the Public Health Dept on the phone), quarantine (which destroys millions of lives), wearing masks (which is ridiculous as a long term solution w/o proven data), a vaccine (by the time we get it, likely won't need it), social distancing (which won't sustain or GDP with 25% occupancy), testing (ALL tests have a high false negative rate up around 20-30%), or watchful waiting (a tactic that has needlessly resulted in 100,000 deaths).

We could also place all Nursing home patients on HCQ prophylaxis for 180 days on a voluntary basis of course. This could theoretically prevent thousands of needless hospitalizations and deaths.

In conclusion, if we treat COVID-19 just like anything else we treat (ie, the flu, pneumonia, a sinus infection, hypertension, and diabetes) early and aggressively with a regimen that costs $50 out of pocket or less with 100% success (which is a far better stat than treating all those other conditions), then why is the country shut down and doing social distancing? This political sham must stop.

The American people deserve to know they can go to their regular doctor and get treated early with a regimen that is completely safe and extremely effective, and they do not need to worry about ending up in the hospital and dying. The public is UNAWARE of this, please educate them with the truth. The country needs to return to normal NOW.

This is the REAL story. Please feel free to contact me with questions. My heart goes out to all those who have needlessly suffered and continue to suffer during this sham crisis and a disease that is extremely treatable if treated EARLY!!!
He later recorded a nine-minute video largely repeating his claims, but versions of the video have been taken down from Facebook and YouTube.
Procter has claimed that he has been treating patients for COVID-19 "in outpatient trenches for over three months now." Whereas he said that he had treated more than 50 patients in the original version, though, in the video that number goes up. He said in the video:
I'm using hydroxychloroquine, azithromycin, losartan, aspirin, zinc, and CBD [Cannabidiol oil] as an anti-inflammatory. My prescription regimen costs less than $50 cash at my local pharmacy. When I do this regimen it works really well, so it saves insurance companies millions of dollars. Anyway, we have identified, diagnosed and successfully treated these patients at a relatively early point in the course of the disease. It is these statistics that are absolutely amazing that I think the public needs to know about. I've treated over 75 patients personally now without a single ER visit, hospitalization, ventilator or death. And of course, no cardiovascular side effects contrary to what people hear about on the news. That's totally misleading the public.
He then claims that the cost of his treatment comes out to $50, saving "tens of thousands of healthcare dollars per sick patient" and that local intensive care unit doctors have "pleaded" with him to continue using it. In the video, Procter claims that nursing home patients could be placed on hydroxychloroquine prophylaxis — meaning that they would be administered the anti-malarial drug before being exposed to the virus — for a 180-day treatment plan on a voluntary basis.
"This could theoretically prevent thousands of needless hospitalizations and deaths, especially in our elderly population," he says. "Why hasn't this been done? I don't know. Ask your congressman."
He has also claimed that another family practitioner, Dr. Ivette Lozano, has treated more patients than him with a similar regimen. Lozano did not respond to a request for comment, but her Dallas clinic's website contains a disclaimer saying that she "has a presence on Facebook and YouTube, but they regularly remove her posts," asking visitors to "refer to this website for uncensored content."

While Procter claims might constitute his experience thus far, they are currently unproven compared to actual trial data, said Dr. Sarah LaMere, an assistant professor in the Division of Infectious Diseases and Global Public Health at the University of California-San Diego School of Medicine.
"The danger with practicing medicine based on such claims is that it is not uncommon to find either no benefit or outright harm when all is said and done," said LaMere, who specializes in immunology and virology:
Anecdotal data often does not end up being true when extrapolated to larger populations. I understand why this is frustrating to people in the midst of such an emergent situation, but unproven treatments should only be used as a last resort until we at least know they don't do harm. The way we figure that out is with clinical trials.
The Food and Drug Administration has already discouraged the use of hydroxychloroquine and azithromycin outside of randomized clinical trial settings. As Science magazine reported in June 2020, a British study found that of 1,542 patients treated with hydroxychloroquine after being hospitalized, 25.7 percent were reported dead after 28 days. By comparison, 23.5 percent of a separate set of 3,132 patients who received regular care were reported dead after the same length of time.
According to Science:
"These data convincingly rule out any meaningful mortality benefit," wrote the investigators, who ended the study early and promised to publish the full results as soon as possible.

The results are persuading some doctors to stop using the drug for COVID-19. "The Recovery trial, in addition to the signals from other studies we have received so far, are enough to convince me to not offer hydroxychloroquine to hospitalized patients," Nahid Bhadelia, a physician at Boston Medical Center, wrote in an email. Martin Landray of the University of Oxford, one of Recovery's principal investigators, agrees: "If you, your spouse, your mother gets admitted to hospital and is offered hydroxychloroquine, don't take it," he says.
Similar studies conducted by researchers at the University of Minnesota-Twin Cities and the Fight AIDS Foundation in Spain, Science reported, found no significant difference in the amount of people who developed COVID-19 between patients who were treated with hydroxychloroquine and those who received regular care.
At the same time, though, the effectiveness of giving hydroxychloroquine to patients before they were exposed to the virus remained up for debate. "You have a much better chance of preventing something with a weak drug than you have of curing a fully established infection," said Nicholas White, a professor of tropical medicine at Mahidol University in Thailand.
While the effectiveness of Procter's stated training regimen is unproven, however, his statements also contain several claims that have already been debunked. For instance, in the video he criticizes the use of facial coverings and social distancing to mitigate the spread of the virus:
Wearing masks is kind of ridiculous as a long-term solution. There's no proven data about this. Another thing you need to know is, this prevents us from developing passive immunity; if you're out in the public and you contract some disease and you develop antibodies to this you could passively potentially give your antibodies to someone else and their own immune system might develop an immunity to the same disease. So wearing masks all the time's just not what our body is built for. No one talks about that, of course.
Contrary to his argument, several studies have already demonstrated that both the use of masks and maintaining social distancing when possible have shown positive results.
LaMere also responded to Procter's claims regarding face coverings and "passive immunity":
We do not passively transfer antibodies to each other. The only case where this happens is when neonates get colostrum from their mothers, but otherwise we aren't sharing antibodies with other people. Exposure to pathogens on an individual basis is how we develop them.

I have seen a few people try to suggest that both masks and isolation are somehow dampening our immune systems by decreasing our exposure to microbes. It is true that we are constantly barraged with bacteria and viruses, and a healthy immune system develops based on these exposures. However, taking measures to avoid one particular pathogen doesn't somehow mean this process doesn't still occur. Even someone who is isolated away from everyone else at home is still constantly in contact with microbes because none of us lives in a sterile environment.

If he is trying to (poorly) argue that we are preventing herd immunity, the thing to understand here is that herd immunity only develops once a certain percentage of the population has developed immunity to a pathogen. This does not happen passively. It either happens when a large percentage has contracted the virus, or a large percentage has been vaccinated. In the first scenario, if 70% of our population is infected with SARS-CoV-2, in the United States that will correspond to the death of nearly 1 million people before we achieve herd immunity, and that is using the very conservative estimate of a 0.4% infection fatality rate. If we assume the infection fatality is closer to 1%, then it means the death of well over 2 million people. In a perfect world we would instead achieve herd immunity using a vaccine, which would result in substantially less loss of life. Until we have vaccines and/or better therapeutics, social distancing and masks to prevent viral spread are our best tools to prevent a substantial death toll.

Our bodies weren't built to wear shoes either, but that doesn't mean they provide no benefit.
Procter's claim that he is "board-certified" is accurate; the Texas Board of Medicine website does show his registration status as "active" and that the board had verified his claim that he graduated from medical school at Texas Tech University.
His record also shows that the board took disciplinary action against him on June 16 2017.
"The board found Dr. Procter prescribed controlled substances to himself and family members without appropriately documenting the medical records and prescribed beyond the 72-hour period of immediate need," the board website says. He agreed to "have his practice monitored by another physician for six consecutive monitoring cycles" and to complete eight hours of training (or "continuing medical education," as the board calls it) covering ethics and treatment for attention-deficit and hyperactivity disorder, or ADHD. The order was terminated on July 26 2019, after Procter completed his requirements.
Procter's claims spread online amid increases in both hospitalizations and deaths attributed to COVID-19 in Texas. On July 10 2020, Gov. Greg Abbott called the fact that that several counties had either refused to heed or to enforce his order that residents wear face coverings in public "disappointing."  More than 2,900 people across the state have died because of the virus.
"If we do not all join together and unite in this one cause for a short period of time of adopting the masks, it will lead to the necessity of having to close Texas back down," Gov. Abbott said.
Procter did not respond to a request for comment.