NBC News Article About Usain Bolt Testing Positive for Coronavirus Displays Photograph of Kevin Hart
Claim
NBC News ran an article about Usain Bolt testing positive for COVID-19, along with an image of comedian Kevin Hart.
Like this fact check?

Reporting
On August 25 2020, images of a NBC News article began circulating showing the headline, "Usain Bolt, the fastest man alive, tests positive for coronavirus" and displaying a photograph not of Bolt, but showing comedian Kevin Hart:
Pretty sure that's not Usain Bolt in this pic. pic.twitter.com/0AnWrrqVnL

— joel anthony julien (@joelajulien) August 25, 2020
Screenshots quickly began circulating, but they were often suspiciously uniform — the image used above appeared to be identical to the one in the below tweet:
https://twitter.com/iam_johnw/status/1298287997427888128
We quickly located the article referenced in the screengrabs, published at 10 AM on August 25 2020. At the top was a featured image of Usain Bolt, not Kevin Hart:
However, we also located a Facebook share of the article. When we tested the claim by sharing it, the image appended at 1:45 PM on August 25 2020 was indeed Kevin Hart: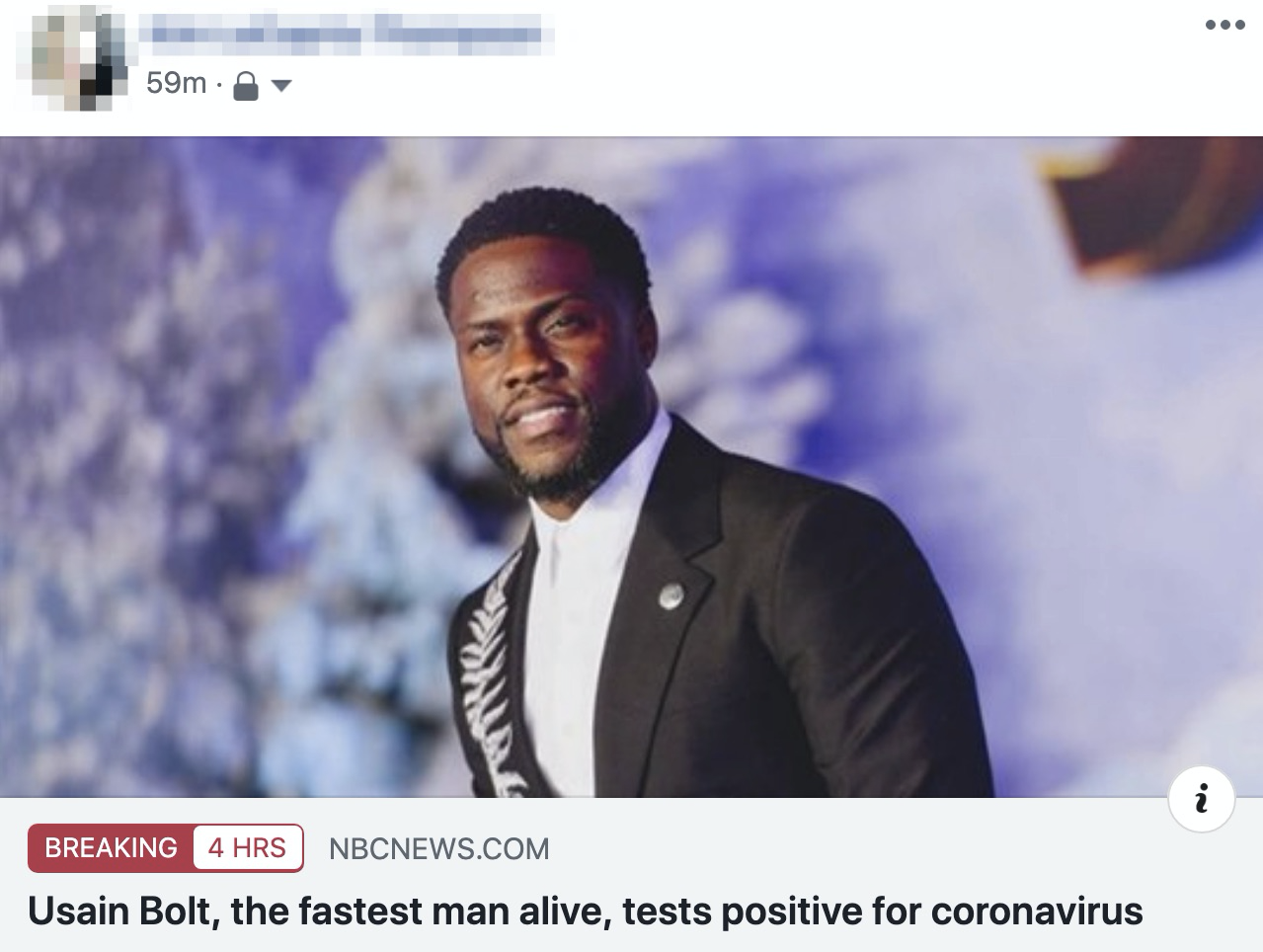 When we opened the article, it included the time the article was published (10 AM), and the time of the most recent update — 12:52 PM on the same day:
We also located the post on NBC News' Facebook page, shared at 11:23 AM on August 25 2020:
Just before 1:30 on August 25 2020, NBC News replaced the post's original text with a correction acknowledging that an image of Hart had been accidentally featured, adding that because no specific image was selected for the article, Hart's photograph was somehow attached by the site's content management system:
Correction: Due to a technical error, the social image on this post mistakenly featured a photo of comedian Kevin Hart. In the content management system, a social image was not selected, and the system reverted to an image of Hart from an unrelated video. The display image has been corrected.
On NBCNews.com, we searched for "Kevin Hart" and "coronavirus." On August 25 2020, NBC News used the same image on video content titled "Kevin Hart reveals he tested positive for coronavirus earlier this year":
A version of the article archived between 11:32 AM and 12:52 PM did not include an image, but we found no archives of the page between publication and the 11:32 AM update. That update looked like this:
It is true that NBC News' article "Usain Bolt, the fastest man alive, tests positive for coronavirus" originally appeared on Facebook with a photograph of comedian Kevin Hart, not Usain Bolt. NBC News acknowledged the erroneous image and blamed the mistake on their content management system; they also attached a photo of the correct person — Bolt — to the article.