Did North Dakota Republicans 'Block Native Americans From Voting'?
Claim
A voter ID law enacted by North Dakota Republican lawmakers in 2013 takes away Native Americans' right to vote.
Like this fact check?

Reporting
Stories continue to circulate online about a federal judge's October 2018 ruling around a North Dakota voter identification law, but readers on social media may not be aware that as of February 2020, the legal fight against the law has not concluded.
Many of the posts dealing with U.S. District Judge Daniel L. Hovland's decision to reject a lawsuit filed by members of the Turtle Mountain Band of Chippewa Indians reproduce a headline from Slate's coverage of the case: "Federal Judge Allows North Dakota Republicans to Block Native Americans From Voting":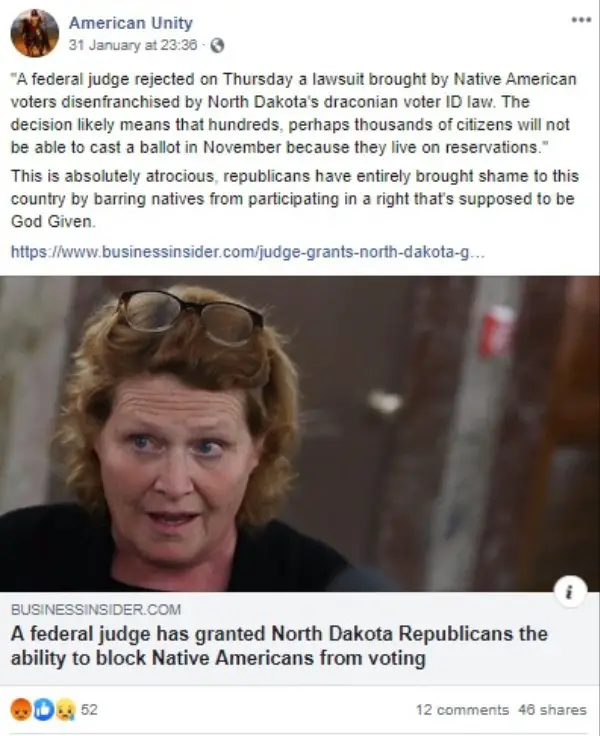 The Republican-led state legislature enacted the law in 2013, requiring that voters produce either a driver's license or a state-issued identification card listing a residential address. Residents would also be allowed to present a bank statement or a utility bill listing that type of address.
In April 2018, Hovland initially blocked the requirement from taking effect, saying that it would prevent thousands of indigenous residents from voting, as they lived on reservation property that lacked a street name or "residential address" as defined by the law. Nearly 50 percent of that group, he said, also lacked utility or bank documentation. (Previously, residents on reservation land were allowed to vote if they had a valid P.O. box.) His decision was reversed by the 8th U.S. Circuit Court of Appeals that September. On October 9 of that year, the Supreme Court upheld the circuit court's decision.
Subsequent fact checks have determined that Slate's headline is false, arguing that the claim is invalid because the law does not specifically mention Native Americans in requiring a non-reservation address for the ID cards. But Hovland found that it had a "discriminatory and burdensome impact on Native Americans," and it was passed shortly after Democrat Heidi Heitkamp was elected to the United States Senate — thanks in part to heavy support from North Dakota's Native American population. Her photograph ran alongside many of the stories and posts concerning Hovland's decision on November 1 2018 to deny the Turtle Mountain Band's request for a restraining order stopping the requirement from being enforced during that month's elections.
However, Hovland did not reject the request based on the merits of the law; instead, he said that stopping the law from being enforced less than a week from the election "will create as much confusion as it will alleviate."
Another Native group, the the Spirit Lake Sioux Nation, filed a separate lawsuit challenging the voter ID requirement; that was joined by the Standing Rock Sioux Nation. On February 10 2020, Hovland rejected state Secretary of State Al Jaeger's request for that suit to be dismissed.
"The Court can see no reason why a federally recognized Indian Tribe would not have standing to sue to protect the voting rights of its members when private organizations like the NAACP and political parties are permitted to do so," Hovland wrote in his order.
Ten days later, attorneys for the two Sioux nations announced a proposed settlement with the state allowing greater leeway for the voters affected by the law. The agreement would require Jaeger's office to work in tandem with tribal officials to distribute "free, non-driver photo identification" to every reservation resident within 30 days of statewide elections. Native American voters without a residential street address would also be allowed to mark that location on a map; state officials would then be required to verify that information and share it with their tribal counterparts.
If approved by both the Standing Rock Sioux Tribe and the Spirit Lake Nation, the settlement would go into effect in time for the November 2020 elections.