On June 3 2022, a post that was described as written by an "Uvalde mom" was "popular now" in Facebook search — relating to a circulating status update attributed to the mother of a child killed in the Uvalde, Texas school shooting:

A popular version of the "written by a Uvalde mom" Facebook post was published on that date, and shared more than a thousand times in just a few hours. The post was unsettlingly specific and graphic in parts, and it began:
Fact Check
Claim: Circulating Facebook post was "written by a Uvalde mom."
Description: A post circulating on Facebook, described as 'written by a Uvalde mom' about the death of her child in the Uvalde, Texas school shooting, was allegedly written by the victim's mother.
Originally credited as 'Written by the Mom of Uvalde victim [redacted]'.

This is a devastating read ????

"The chicken soup in her thermos stayed hot all day while her body grew cold.
She never had a chance to eat the baloney and cheese sandwich. I got up 10 minutes early to cut the crust off a sandwich that will never be eaten.
Should I call and cancel her dental appointment next Wednesday? Will the office automatically know?

Should I still take her brother to the appointment since I already took the day off work? Last time Carlos had one cavity and Amerie asked him what having a cavity feels like.
She will never experience having a cavity.
She will never experience having a cavity filled.
The cavities in her body now are from bullets, and they can never be filled.

What if she had asked to use the bathroom in the hall a few minutes prior to the gunman entering the room, locking the door, and slaughtering all inside?
Was she one of the first kids in the room to die or one of the last?
These are the things they don't tell us.

Which of her friends did she see die before her?
Hannah?
Emily?
Both?

Did their blood and brains splatter across her Girl Scout uniform?

She just earned a Fire Safety patch.
What if it got ruined?

There are no patches for school shootings …
Google Trends data indicated searches for "written by a Uvalde mom" began registering on June 2 2022, and increased sharply in the early hours of June 3 2022. Iterations of the writing also circulated on Tumblr, posted on June 2 2022:
Tracing the origin of the writing was difficult, due to what appeared to be a string of high-profile shares with hasty deletions. Top comments on the above-quoted Facebook iteration (which had not been deleted) included screenshots of a since-deleted post by one of the parents of a child killed in the shooting: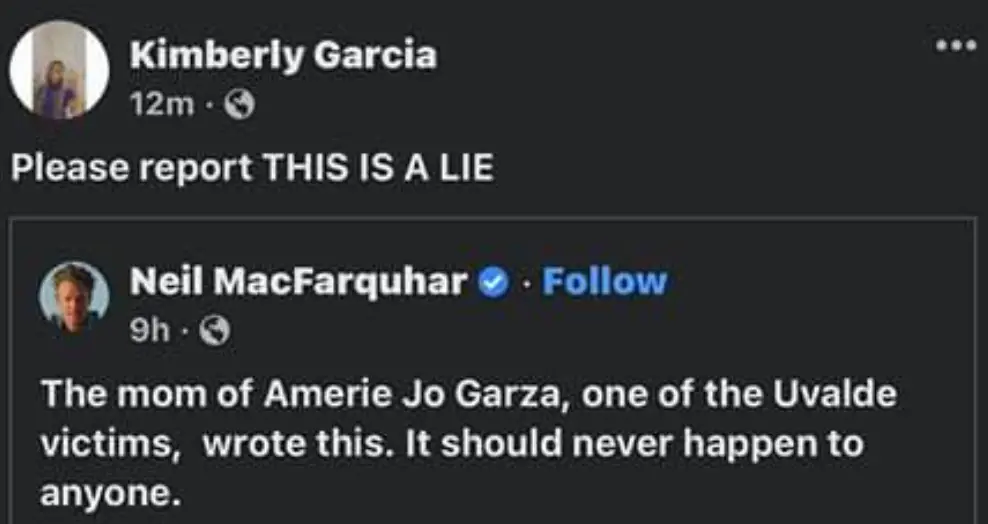 In that screenshot, Kimberly Garcia (mother of Amerie Garza, 10) shared an iteration posted by the verified user Neil MacFarquhar. She wrote:
Please report THIS IS A LIE
Another screenshot attributed to the father of the child described in the post shared and deleted a similar post, writing:
The world is a crazy place. To think people use this situation as a time to get some type of reward or recognition out of it is just sickening. [Her] mother did not write this. We wish this pain on no one ❤️
In a post from the morning of June 3 2022, MacFarquhar indicated he deleted the post, writing:
Late last night, I came across what was purported to be a mother's ode to her lost daughter at the latest shooting in Texas. It was shared through several of posts from people I know, but eventually reaching back to people whom I did not. I had cut and pasted it because I thought it was a striking piece of writing and people would have to wade through too many comments at the top.

Now there is a suggestion that the original was forged, that it was not written by the mother. Since I cannot trace back the provenance, I have removed it.
Another account left the post intact, adding a caveat to the top. In the edited portion, they observed that as a fabrication, the post served to further traumatize victims of the shooting:
ALERT – APOLOGIES FOR A HOAX
The material below, purportedly from a Uvalde victim's mother, is false.
My big bad, and my abject apology.

I reposted it because it came from two responsible journalists.
Because they are responsible, they did further checking that disputed its authenticity and could not verify it. So they have removed it.

I will do likewise, after people have chance to see this update.

When I first saw the post, I thought it was so exquisite that I I wondered if it was real. Then I let down my guard.
I don't know who the true author is. It's so dispriting that he/she perverted their talent to abuse these tragic victims.

—————

EVEN IF YOU'RE ALL WRUNG OUT BY BUFFALO,
UVALDE & TULSA, PLEASE DON'T MISS THIS.
Heart-wrenching sorrow from the mother of Amerie Jo Garza, shared by Neil MacFarquhar and Craig Pyes …
On June 2 and 3 2022, a post falsely described as "written by a Uvalde mom," clearly utilizing details of a specific victim in the shooting, circulated virally on Facebook and other social media sites. In a deleted post, the parent to whom users fabricated an attribution described the circulating writing as "a lie," and asked other to report it. Broadly, the post fell into the category of glurge, leveraging a high-profile event to rack up engagement and shares. Not only was the attribution inaccurate, but the writing appeared to cause additional grief for the parent to whom it was falsely credited.