Oklahoma Semitruck Accident Spills Adult Toys
Claim
In September 2022, a semi-truck in Oklahoma spilled "dildos" across the lanes of I-40.
Like this fact check?

Reporting
On September 14 2022, a popular post to Reddit's r/funny suggested that a tractor-trailer had "spilled a load of dildos and lube" in Oklahoma City:
Semi Spilled a Load of Dildos and Lube in Oklahoma City from funny
Both the headline and video were reminiscent of stories from satirical sites such as the World News Daily Report. A few hours later, a similar screenshot about the Oklahoma City semi-truck accident appeared on Imgur (with the title "Dill Don't"):
In the clip shared to r/funny, debris strewn across the lanes of I-40 was briefly visible, and a few seconds of the footage appeared to show boxes of bright pink vibrators on the right side of the frame: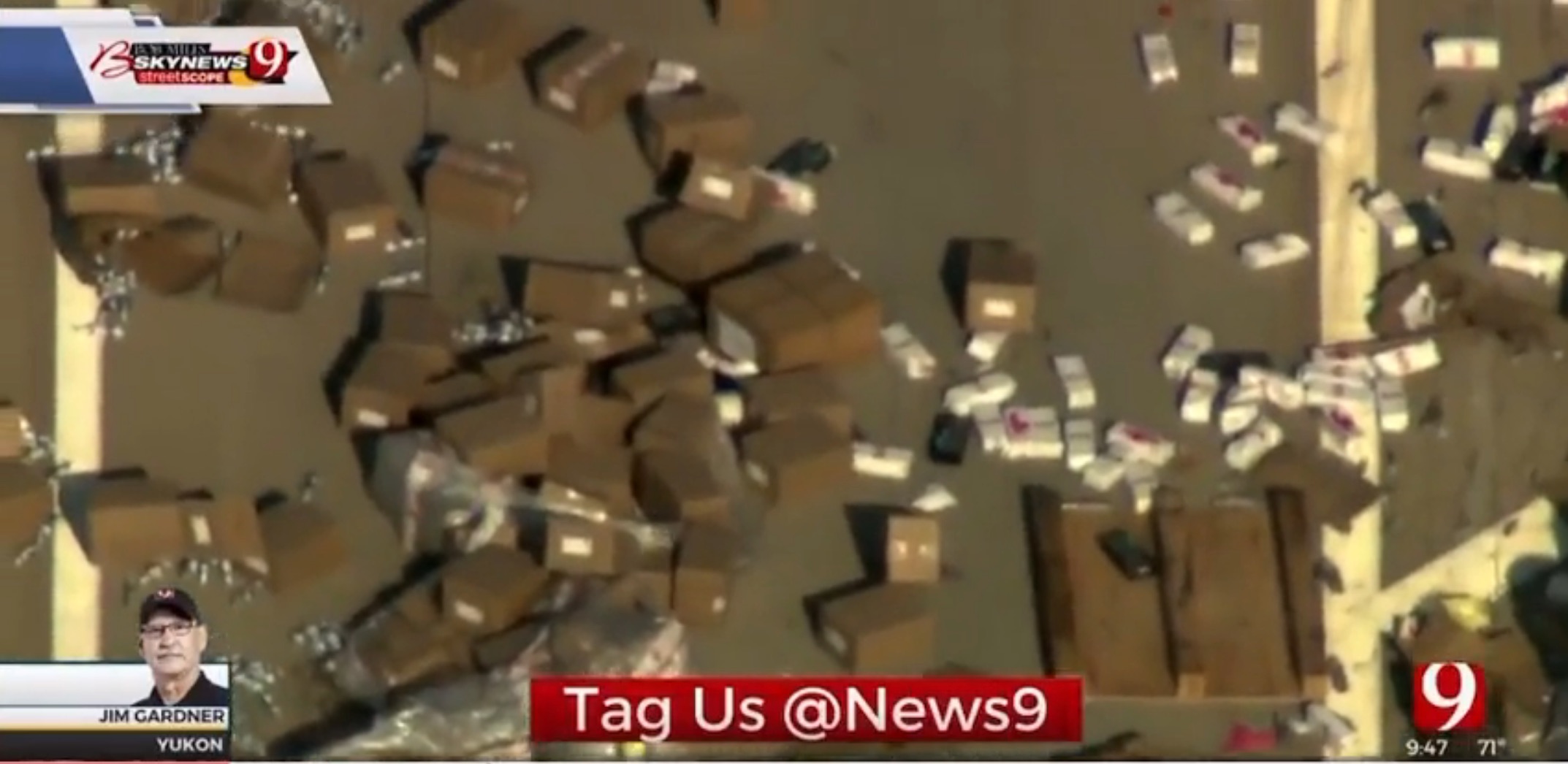 Oklahoma-based KWTV-DT (the station in the screenshot) covered the accident, with the demure headline, "Authorities Respond To Rollover Crash On I-40":
Authorities are responding to the scene of a rollover crash involving a semi Wednesday morning [September 14 2022].

The crash happened eastbound on I-40 at Mustang Road.
KFOR reported that the rollover accident closed several of I-40's lanes for hours. However, the stories, for some reason, did not address the contents of the truck.
A September 16 2022 item on trucking site CDLlife.com, "Adult toys spilled onto I-40 in Oklahoma following big rig crash: report," described the rollover with slightly more detail than the local news organizations. A day earlier, Vice.com's "Tractor Trailer Overturns, Spilling Truckload of Vibrators on Mustang Road" looked at footage of the accident and explained:
There are dozens of boxes of pink vibrators; some of them have seemingly come out of their packaging and were strewn on the street. But what kind of vibrators? With the help of Motherboard executive editor Emanuel Maiberg, we believe these are Adam & Eve G-Spot Touch Finger Vibes, which retail for $39.95.

In [a] Kinky Vibes review, you can see the box of the vibrator from multiple angles … This is very blurry, but, clearly, we can see the pink vibrator on the left, the egg-shaped controller on the right, and some sort of text in the upper right. On the back of the box, we can see the three different angles of the vibrator on a person's hand, or at least what appears to be that.
Popular posts on Reddit and Imgur suggested a truck carrying "dildos" (which were actually vibrators) overturned on I-40 in Oklahoma City on September 14 2022. Local news outlets covered the incident, inadvertently including footage of pink vibrators briefly. Stills indicated the truck's cargo did include sex toys, but additional claims about the presence of lubricant were unverified.