Claim
"Goodbye" originated with "god be with ye," abbreviated as "godbwye."
Like this fact check?

Reporting
On February 21 2022, an Imgur user shared a Tumblr screenshot, purportedly explaining the origin of the word "goodbye" in English:
Entitled "Chat speak," the post was not the first linguistically-themed meme to spread on social media platforms. A January 2015 post to Reddit's r/etymology made a similar claim:
As for the Tumblr post, we located an iteration with the same series of comments from June 2015:
It said:
[little-jonny-hairflips]: I'M SO ANGRY

SOME 16TH CENTURY ASSHOLE WROTE "GOD B W YE" IN A LETTER AS AN ABBREVIATION FOR "GOD BE WITH YE"

AND IT APPEARED AS "GODBWYE"

WHICH WAS THEN READ AS "GOODBYE"

AND THAT'S WHY WE SAY "GOODBYE"

BECAUSE OF 16TH CENTURY CHAT SPEAK

[fur24]: I hope there's proof to back this up because that's hysterical

[raptorific]: as the proud holder of an english degree i can confirm this as fact.
Google Trends data for the seven-day period ending February 21 2022 demonstrated a steady interest in the etymology of "goodbye." In addition to "goodbye origin," readers searched for "origin of goodbye" and "origin of the word goodbye."
A Google search for "goodbye etymology" featured a Google Highlight with a definition and information about the origin of the word: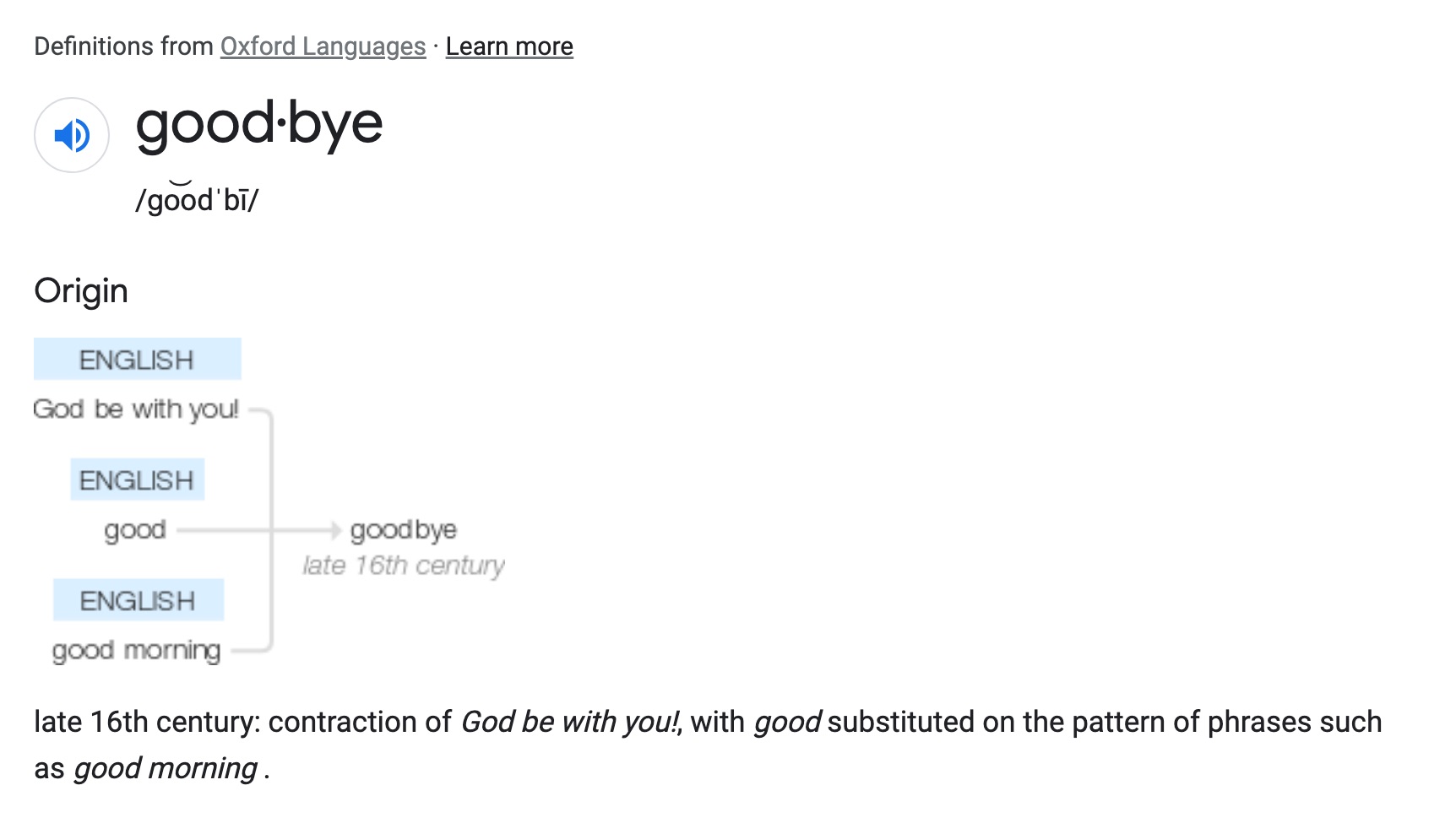 Text at the bottom read:
late 16th century: contraction of God be with you!, with good substituted on the pattern of phrases such as good morning.
Merriam-Webster.com's entry for "goodbye" included a note:
History and Etymology for goodbye

alteration of God be with you
Wiktionary.com's information was similar, describing "a progressively shorter contraction of God be with you." A 2016 piece from Columbia Journalism Review described the OED entry for "goodbye," and etymonline.com included information about the origins of the word:
salutation in parting, also goodbye, good bye, good-by, 1590s, from godbwye (1570s), a contraction of God be with ye (late 14c.), influenced by good-day, good evening, etc. As a noun from 1570s. Intermediate forms in 16c. include God be wy you, God b'uy, God buoye, God buy, etc.
A circulating Tumblr screenshot claimed that "goodbye" originated with "God b w ye," "an abbreviation for 'God be with ye,'" which "appeared as 'godbwye,'" "which was then read as 'goodbye,'" and "that's why we say 'goodbye.'" Dictionaries and etymological sources typically explained that "goodbye" indeed emerged as a contraction of "God be with you," influenced by abbreviations of the phrase rendered as "godbwye."