Were Illinois Police Filmed Arresting Another Law Enforcement Officer?
Claim
Police in Harvey, Illinois were caught on video arresting a fellow officer for abuse.
Like this fact check?

Reporting
Footage of police officers seemingly arresting one of their own drew attention — and some cheers — online in December 2020, but authorities have not elaborated on the incident.
As the Daily Dot reported, the incident was captured in Harvey, a small Illinois city about 20 miles outside of Chicago.
As depicted in a trio of Facebook videos by Erica Ramsur, a group of security guards are seen holding a Black man down on the street as police arrive. As a Black officer leads the handcuffed man to his car, a white security guard punches the latter, prompting the officer to gesture toward a colleague.
The third video shows the security guard in handcuffs alongside the caption, "Locked his azz [sic] up."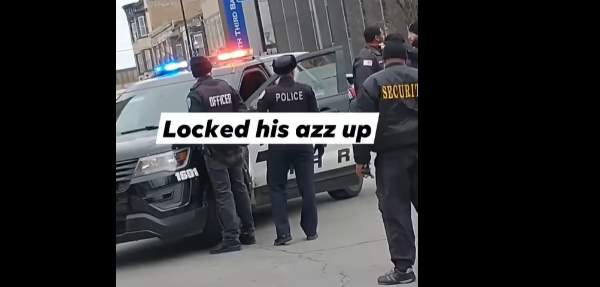 The footage spread further on Twitter, though in one popular post the incident was described as "police officer [arresting] another police officer on the spot for assaulting a suspect in hand cuffs."
A Harvey, Illinois police officer arrest another police officer on the spot for assaulting a suspect in hand cuffspic.twitter.com/2zOI9wLWKS

— Derenic Byrd (@DerenicByrd) December 23, 2020
Police in Harvey, Illinois arrest someone on their side for lunging at a man in cuffs pic.twitter.com/kYJd5k2inA

— Fifty Shades of Whey (@davenewworld_2) December 22, 2020
According to the Daily Dot, the videos also circulated on TikTok:
The fact that the police officer defended a Black man from being hit by the security guard is a surprising and welcome change from the barrage of videos showing cops turning on unarmed people, especially Black people.

"THIS … is the Police REFORM we are talking about," @jr_mc5 wrote on TikTok.
The city last drew attention in March 2019, when federal authorities raided Harvey City Hall as part of an investigation that led to extortion charges against two relatives of then-mayor Eric Kellogg and obstruction of justice charges against two local officers. As WBBM-TV reported:
Lifelong residents reacted to news of the raids and arrests after years of investigation with satisfaction, not surprise.

"Burnt houses, abandoned houses, violence," said Racine Reynolds, a lifelong resident of Harvey. "The residents here, they always banding together to try to get Harvey back to where it needs to be, but they can't get past city hall. Maybe they can now. It should have happened years ago. It should have happened when I was a little girl. Thank you. Finally."

"Everybody in Harvey is corrupt," said longtime resident Terrell Jackson.
We attempted to contact Harvey police seeking more information regarding the security guard's arrest. The department referred us to a city official who we could not reach. Additionally, an email address listed for police on the city's website bounced messages back to us.