Rashid Buttar of the 'Disinformation Dozen' Reportedly Dies
Claim
Dr. Rashid Buttar died suddenly in May 2023.
Like this fact check?

Reporting
On May 20 2023 social media rumors began circulating, claiming that health disinformation purveyor Rashid Buttar had died:
Rashid Buttar, one of the Disinformation Dozen, Dies Suddenly – Nuts Blame the Covid Jab Even Though he was Unvaccinated
by u/jlebo in Qult_Headquarters
Rashid Buttar, one of the Disinformation Dozen, Dies Suddenly – Nuts Blame the Covid Jab Even Though he was Unvaccinated
by u/SyringaVulgarity in HermanCainAward
Both Reddit posts above were shared on the same date, to r/Qult_Headquarters and r/HermanCainAward. The former subreddit was for discussion on QAnon related conspiracy theories; the r/HermanCainAward subreddit, by documenting posts and memes shared by people against vaccines and masking who are later hospitalized or killed by COVID-19, "serves as a statement to the danger and effect that misinformation can and does have."
A 2022 story about r/HermanCainAward explained the concept and how it was named:
Its purpose? To "award" those who've died from coronavirus complications after publicly expressing COVID-19 vaccine hesitancy, misinformation, or pandemic-denying memes online.

Herman Cain, former businessman, politician and Republican candidate for president, is the inspiration behind the subreddit, who died in 2020 after contracting COVID-19. Before he died, Cain had made statements downplaying the pandemic and refused preventative measures such as mask-wearing.
Rashid Buttar and 'The Disinformation Dozen'
As indicated in the Reddit post titles, Dr. Rashid Buttar was one of twelve individuals dubbed "The Disinformation Dozen":
Anti-Vaccine Disinformation Still Going Strong on Social Media: Report
In March 2021, the Center for Countering Digital Hate (CCDH) published a report of the same title, prefaced:
Just twelve anti-vaxxers are responsible for almost two-thirds of anti‑vaccine content circulating on social media platforms. This new analysis of content posted or shared to social media over 812,000 times between February and March [2021] uncovers how a tiny group of determined anti-vaxxers is responsible for a tidal wave of disinformation—and shows how platforms can fix it by enforcing their standards.
In May 2021, NPR published a story on the topic:
"The 'Disinformation Dozen' produce 65% of the shares of anti-vaccine misinformation on social media platforms," said Imran Ahmed, chief executive officer of the Center for Countering Digital Hate, which identified the accounts.

[In May 2021] the vaccine rollout [was] reaching a critical stage in which most adults who want[ed] the vaccine have gotten it, but many others [were] holding out, these 12 influential social media users stand to have an outsize impact on the outcome.

After this story published on [in May 2021], Facebook said it had taken down more of the accounts run by these 12 individuals.

These figures are well-known to both researchers and the social networks. They include anti-vaccine activists, alternative health entrepreneurs and physicians. Some of them run multiple accounts across the different platforms. They often promote "natural health." Some even sell supplements and books.
CCDH included a lengthy report on The Disinformation Dozen [PDF], and identified them as Joseph Mercola, Robert F. Kennedy, Jr., Ty and Charlene Bollinger, Sherri Tenpenny, Rizza Islam, Rashid Buttar, Erin Elizabeth, Sayer Ji, Kelly Brogan, Christiane Northrup, Ben Tapper, and Kevin Jenkins.
Buttar was the subject of a brief section: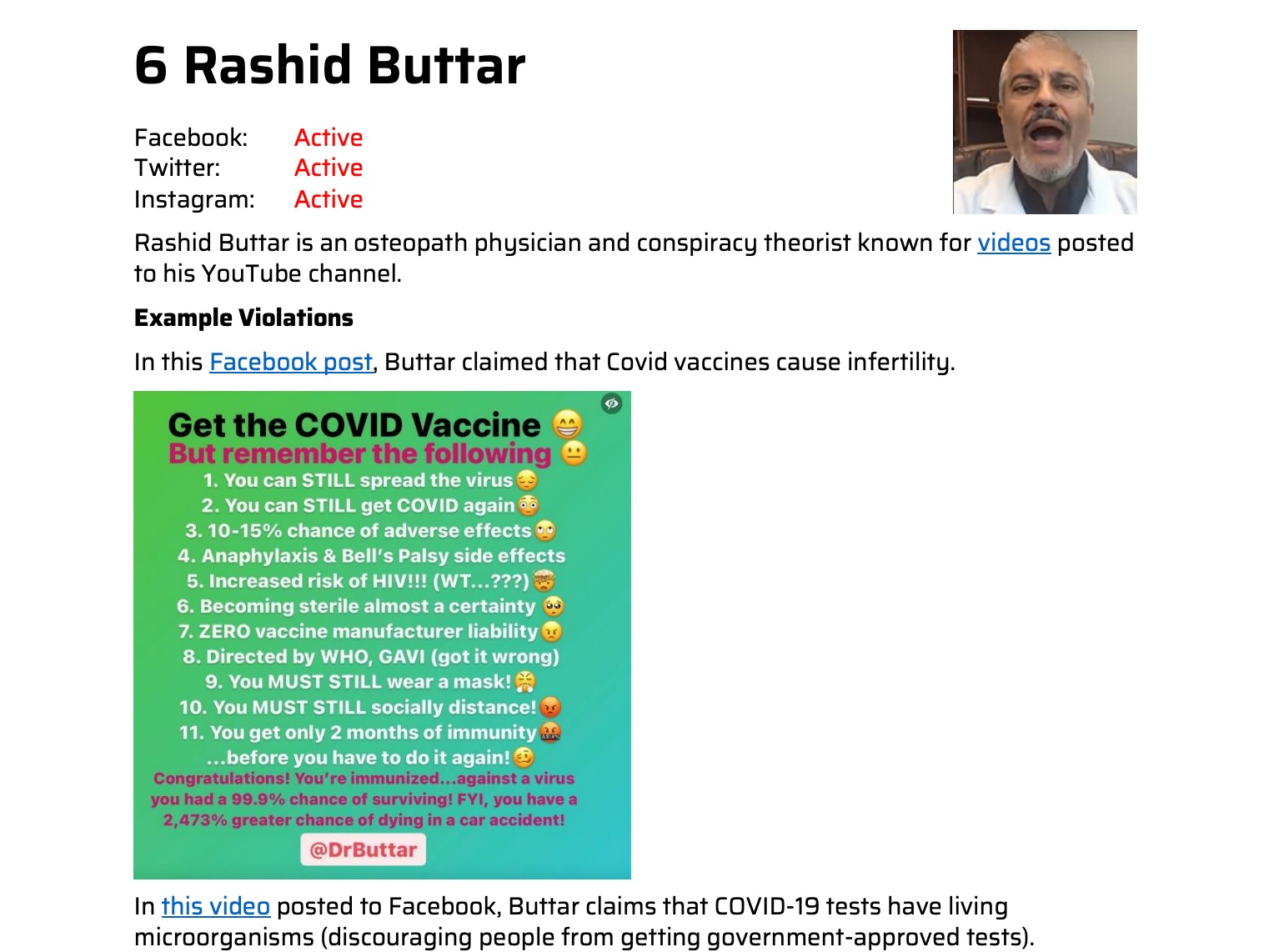 In spite of landing on the CCDH's radar in their investigation into The Disinformation Dozen, mentions of Buttar in the news remained difficult to track down. A search of the New York Times archives returned a June 2020 editorial ("There's No Home Remedy for Coronavirus Lies") about disinformation among Somali-Americans.
Buttar was mentioned once as an individual spreading medical disinformation in the early days of the pandemic:
… I became more alarmed late last month [May 2020] when I began receiving dubious advice about treating people seriously ill with Covid-19. These assertions came from a North Carolina osteopath who questioned whether the coronavirus even had anything to do with the disease that was sending people to intensive care units. The claims he made — like if you had the "flu shot, you will test positive for Covid-19" — would fail the slightest expert review. Nonetheless, he asserts his points with such passion, with an aura of claimed expertise, that his influence among Somalis was causing harm.

[…]

On April 20 [2020], my friend texted me a 47-minute YouTube video from Dr. Buttar and inquired whether I "have seen this." I examined what "this" was and sent back a pithy verdict: He was full of it. She responded with a polite, "LOL" and continued to ask, "You think so"? as if she wanted me to contribute to her growing sense of guilt. I would not. "Of course," I wrote back, "both your mom and dad got sick. Was that made up"?
Rashid Buttar's Death
It was remarkably difficult to find any official references around the purported death of Rashid Buttar. A Wikipedia entry for Buttar appeared to support the claim, however, beginning:
Rashid Ali Buttar (January 20, 1966 — May 20, 2023) was an American conspiracy theorist and licensed osteopathic physician who was a known anti-vaxxer. He was known for his controversial use of chelation therapy for numerous conditions, including autism and cancer. He had twice been reprimanded by the North Carolina Board of Medical Examiners for unprofessional conduct and cited by the U.S. Food and Drug Administration (FDA) for illegal marketing of unapproved and adulterated drugs.

He died in May 2023.
Two citations accompanied the final assertion, articles by the Daily Dot and Vice. Both articles attributed the claim to Buttar's friends, families, or colleagues; Vice's reporting cited two noted conspiracy theorists as a source:
Dr. Rashid Buttar, an osteopathic physician who spent years promoting vaccine and COVID conspiracy theories and a well-known figure in the suspicion-tinged world of "medical freedom," died at home of undisclosed causes on May 18, 2023, according to a statement attributed to his family and shared widely online.

Since the news was shared by Dr. Sherri Tenpenny, another major anti-vaccine figure, by major conspiracist David Icke, and on the far-right site Gateway Pundit, among other places, Buttar's unexpected death has been used by his fellow travelers in the anti-vaccination world to promote a variety of conspiracy theories, old and new. His death is being used, broadly, to re-stoke the very old and truly baseless claim that "holistic" doctors who oppose the mainstream medical establishment are being killed by mysterious forces. More specifically, Buttar himself recently claimed that he was "poisoned" after being interviewed on CNN in 2021. He also told fellow anti-vaccine figures that he suffered a stroke in February of this year, which he appeared to blame on vaccine "shedding"—something COVID vaccines do not and cannot do.
In the excerpt, "according to a statement" linked to a May 20 2023 tweet:
My condolences to Dr. Buttar's family. Thank you for your service. May your ancestors embrace you as you journey into His light.🔥

"The Buttar Family is deeply saddened to announce the passing of Rashid A. Buttar, D.O.

Dr. Buttar passed away on May 18th, 2023, at his home,… pic.twitter.com/DcJH2lB7YI

— Dr Henry Ealy (@DrHenryEaly) May 20, 2023
A woman using the name "Erin Elizabeth" (also of The Disinformation Dozen) tweeted about Buttar's death, complaining that Wikipedia editors reverted edits about his death due to a lack of reliable sources:
So [Larry Sanger] follows me. He is the founder of Wikipedia and has explained what they did to his amazing open source creation. Because main stream will not write about his death the pharmaceutical trolls at wiki will not allow his death to be listed even though family, friends, loved ones have all announced it publicly. Numerous obituaries have been written but they say it Hass to be from a major publication. Problem is the pharmaceutical funded major publications that are in bed with the devil refuse to let people know about his death.

No matter how many articles are written, unless it's CNN or another pharmaceutical funded publication that has interviewed him in the past, it's probably just going to say he's alive and the wiki trolls will keep taking it down even if a family members try to update the page to let people know he has died. What a sl@p in the face for his wife & young children.
Each Wikipedia page had a "Talk" tab, where Wikipedia editors discussed and debated edits appended to an entry. The "Talk" page on Buttar's entry contained a sub-section labeled "How to resolve the death question."
It consisted of contributors trying and failing to find a credible source for the update as of May 22 2023:
As I suggested earlier, I'm not entirely happy with using Vice as a source, given the wording. They write that they've read something 'widely online', which seems deliberately equivocal. If they were certain about the death, I'd have thought they'd just report it as fact. What do other people think? AndyTheGrump (talk) 19:15, 22 May 2023 (UTC)

I think we should update the article if one more reliable-ish source like Vice reports on his death, however equivocal. The subject is a controversial figure, and other reliable sources might base their reporting on where Vice based it as well. Considering the other stories from "rags" like Express and Daily Star on top of Vice and another hopefully-upcoming report from a reliable source, it will be reasonable to update the article. 19:31, 22 May 2023

The fact that he's dead is pretty undeniable at the moment, his fan club is having a veritable meltdown over the "CNN poison" angle. So as long as we're reporting the death and also including the notable content regarding the antivaxxer people using this death to advance their conspiracy theories, IMO the Vice link is sufficient for now. 20:04, 22 May 2023

If that's the situation, the mainstream media should get around to reporting the 'meltdown' – and confirm the death, if true. 20:10, 22 May 2023

IMO this is one of those edge cases where the online chatter (I am NOT suggesting such chatter is itself usable as a source) is enough to at least support the fact that he's dead, as reported by Vice, Daily Dot, and some of the other marginal sources. The idea that this is a hoax is simply not in play. 20:28, 22 May 2023
Summary
On or around May 20 2023, social media rumors about the death of Dr. Rashid Buttar — a prominent anti-vaccine conspiracy theorist — began circulating. Buttar came to widespread notice when CCDH investigated and discovered just twelve social media accounts were responsible for an outsized share of anti-vaccine and anti-masking content on social media.
Buttar was named as one of The Disinformation Dozen in the report, but he was rarely mentioned by name in news about it. When Buttar's death was "reported," it was through less reliable sources — often fellow members of The Disinformation Dozen. As of May 22 2023, no credible source had officially confirmed Buttar's passing. We will update this story with any further information.