'You Don't Have to Be Registered to Vote in Minnesota'
Claim
Rep. Ilhan Omar (D-Minnesota) is trying to help steal the election by advising residents of the state that they do not have to be registered to vote if they choose to go to the polls on November 3 2020.
Like this fact check?

Reporting
Right-wing talk show host Sean Hannity attempted to gin up a controversy around Democratic Party Rep. Ilhan Omar on November 3 2020 — election day in the United States — by misrepresenting her on social media and on his own website.
Hannity posted:
NOT A JOKE: Ilhan Omar Tells Residents 'You Don't Have to be Registered to Vote' in Minnesota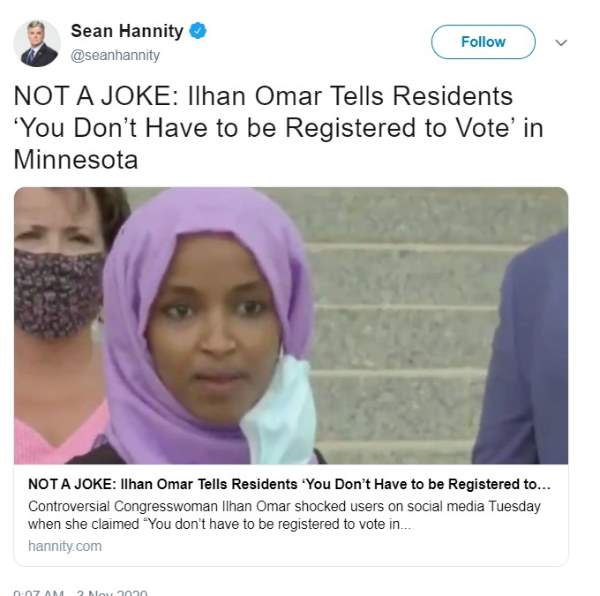 Hannity's tweet linked to a post on his blog, which baselessly claimed that Omar "shocked users on social media Tuesday when she claimed that "You don't have to be registered to vote in Minnesota" because the state has "same day registration at the polls," and linked to her own tweet saying so:
You don't 👏🏾 have to 👏🏾 be registered 👏🏾 to go vote👏🏾 in Minnesota 👏🏾 we have 👏🏾 same day 👏🏾 registration 👏🏾 so you 👏🏾 can register 👏🏾 at the polls 👏🏾 https://t.co/iJGlm7Rgih 👏🏾

— Ilhan Omar (@IlhanMN) November 3, 2020
Hannity's blog claimed the post was a "developing story."
But in reality, Omar's statement is correct. The Minnesota Secretary of State's office clearly says, and in no uncertain terms, that voters may register on election day if they bring at least one document proving their residence, with several options listed on its website. The same information can be found in a quick online search for registering to vote in Minnesota, with information provided by the voter resource site Democracy Works: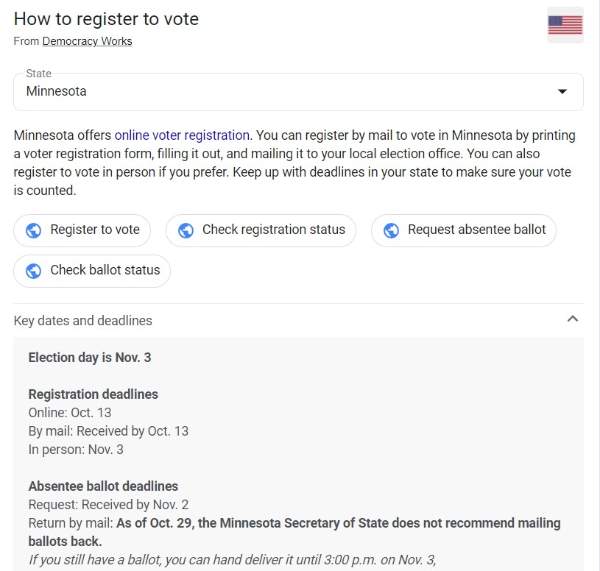 As a Washington Post analysis in 2018 found, Hannity — a loyalist to United States President Donald Trump — has vacillated between presenting himself as a "journalist" and a talk show host, including while disparaging then-Fox News colleague Shepard Smith:
"I never claimed to be a journalist," [Hannity] told the New York Times in 2016 when asked about his close association and friendship with Trump. But in another interview with the Times last year, he said, "I'm a journalist. But I'm an advocacy journalist, or an opinion journalist."

When a Boston Globe columnist named Michael Cohen (a different Michael Cohen) criticized him in 2016, he was back on the other side. "I'm not a journalist," he tweeted. "I'm a talk host."

In his shot at Smith last month, Hannity flipped again. "Hannity breaks news daily," he tweeted. "Warrant on a Trump assoc, the unmasking scandal, leaking intel, Fisa abuse, HRC lawbreaking, dossier and more REAL NEWS!"
However, the watchdog site Media Bias/Fact Check, which evaluates news outlets based on their contents, has Hannity's blog rated as "Far-Right Biased and Questionable," an assessment with which we concur:
Sean Hannity promotes pro-Trump propaganda and has advanced many conspiracies such as Obama Birtherism, the Seth Rich murder conspiracy, as well as claiming Hillary Clinton has health problems. Other conspiracies espoused are Ukraine and the Biden's, Climate change denialism, and claiming that the Coronavirus may be a "fraud" perpetrated by the "deep state". In general, Hannity.com reports news with a far-right bias that often is not factually based due to a poor track record with fact-checkers.
Hannity was scheduled to be deposed on October 30 2020 for his role in promoting the debunked conspiracy theory.