Simone Biles, Kerri Strug, and 'the Twisties'
On July 27 2021, Simone Biles (and fellow gymnast Kerri Strug) were the subject of a spate of widely-shared Facebook posts, largely forming a groundswell of support for Biles in the face of nonstop Olympics news stories around her decision to drop out of the event.
Background
In late July 2021, Simone Biles was once again the focus of a "scoring controversy," a matter we addressed in a February 2021 fact check:
'Simone Biles Was Banned from Doing Moves Because They Couldn't Score Them Fairly,' and 'They Were Too Dangerous for Other Gymnasts'
On July 24 2021, Vox.com published an explainer addressing why Biles' routines were again "under-scored" by athletic governing bodies:
Regardless of how mind-boggling or death-defying her elements appear, some gymnastics insiders say that both elements deserve to be scored higher. [Dave] Lease says that he would score her around two-tenths higher on both elements and that even her floor routine is underscored. Biles herself said she believes that the International Gymnastics Federation (IGF) and judges are underscoring the elements.

"They're both too low and they even know it," Biles told the New York Times in May [2021]. "But they don't want the field to be too far apart. And that's just something that's on them. That's not on me."

The IGF has no explanation for why Biles is scored the way she is, but as the New York Times pointed out, one of the reasons inferred was a safety issue. By underscoring Biles, it could have a chilling effect in which other gymnasts don't attempt those skills and decrease the risk of harming themselves.

A problem with this argument is that there are a lot of skills in gymnastics that aren't safe. Underscoring some moves doesn't necessarily make sense in a sport where risk is inherent and handsomely rewarded.

What Biles told the New York Times seems to be a more believable explanation: that by underscoring Biles, the IGF can keep the competition closer and Biles less dominant.
On July 27 2021, Biles retweeted an ESPN tweet reporting she'd withdrawn from the final:
Simone Biles cheered on her teammates after withdrawing from the Women's Gymnastics Team Final ❤️

USA Gymnastics said Biles left because of a "medical issue."

Ultimate teammate 👏 pic.twitter.com/E7AUjgN0xI

— ESPN (@espn) July 27, 2021
Early on July 28 2021, the official Twitter accounts for USA Gymnastics and the Olympics tweeted about Biles' withdrawal:
After further medical evaluation, Simone Biles has withdrawn from the final individual all-around competition. We wholeheartedly support Simone's decision and applaud her bravery in prioritizing her well-being. Her courage shows, yet again, why she is a role model for so many. pic.twitter.com/6ILdtSQF7o

— USA Gymnastics (@USAGym) July 28, 2021
USA Gymnastics confirms that Simone Biles will not participate in Thursday's women's all-around final to focus on her mental health.

"Her courage shows, yet again, why she is a role model for so many," the governing body said.@USAgym | @TeamUSA

— Olympics (@Olympics) July 28, 2021
Meanwhile, the New York Post published a headline critical of Biles' decision:
'The Twisties'
CNN published a July 28 2021 analysis explaining Biles' reference to "the twisties," the proprioceptive phenomenon's effect on gymnasts, and why the issue might lead to a decision to sit out a competition:
The twisties are a mysterious phenomenon — suddenly a gymnast is no longer able to do a twisting skill she's done thousands of times before. Your body just won't cooperate, your brain loses track of where you are in the air. You find out where the ground is when you slam into it.

[…]

Swiss gymnast Giulia Steingruber got the twisties in 2014. "When I wanted to twist, especially on vault … I had no feeling where I am. I was really scared," Steingruber said in a 2016 documentary. "It was quite tough for me, because I didn't understand why it came, and I couldn't stop it. It was just strange for me, and it was horrible. The feeling was really horrible" … Flipping and twisting at the same time can be extremely disorienting — you can't just watch where you are with your eyes. You have to feel it. This is proprioception, a sense of where your body is in space and what it's doing.

In gymnastics, this is called "air sense." And Biles is famous for how good hers is. "She's always had incredible air sense, which is what you need in this sport," her former coach Aimee Boorman told Houstonia magazine in 2015. "She doesn't crash very frequently. Other kids, you'll just see them splat, or get lost in the air. That doesn't happen with her."
Another news report indicated that Biles' teammates observed it affecting her "a little bit in practice." On Twitter, gymnasts attempted to articulate why "twisties" are disruptive:
It's hard to explain the twisties to someone who doesn't do gymnastics, but it's a mental block and it's real. I had it happen twice, when I was 12 and 20. You cannot fix it quickly – can take months, if at all. It's like a non-serious stroke, you're brain and body disconnect

— Melissa Anne Marlowe OLY (@MissyAMarlowe) July 27, 2021
I did gymnastics for 15 years and the twisties was one of the main things that led to me stopping. It is the scariest most uncontrollable sensation. Being mid-air with no awareness is the most vulnerable and terrifying feeling. I am praying for Simone so unbelievably hard.

— Becca DiPaolo (@BeccaDipaolo) July 27, 2021
In short, discussions about Biles' decision to withdraw centered on a known physiological block described by gymnasts at many levels, often considered to be "terrifying" — and always non-negotiable.
Viral Post Contrasting Kerri Strug and Simone Biles
On July 27 2021, Facebook user Byron Heath shared one of several extremely popular posts expressing support for Biles and juxtaposed with earlier events — in this case, gymnast Kerri Strug and the 1996 Olympics.
Heath's post included a photograph of a pained Strug, and he described how his perception of her 1996 routine changed radically upon rewatching in July 2021:
This realization I had about Simone Biles is gonna make some people mad, but oh well.

Yesterday [July 26 2021] I was excited to show my daughters Kerri Strug's famous one-leg vault. It was a defining Olympic moment that I watched live as a kid, and my girls watched raptly as Strug fell, and then limped back to leap again.

But for some reason I wasn't as inspired watching it this time. In fact, I felt a little sick. Maybe being a father and teacher has made me soft, but all I could see was how Kerri Strug looked at her coach, Bela Karolyi, with pleading, terrified eyes, while he shouted back "You can do it!" over and over again.

My daughters didn't cheer when Strug landed her second vault. Instead they frowned in concern as she collapsed in agony and frantic tears.

"Why did she jump again if she was hurt?" one of my girls asked. I made some inane reply about the heart of a champion or Olympic spirit, but in the back of my mind a thought was festering:

*She shouldn't have jumped again*

The more the thought echoed, the stronger my realization became. Coach Karolyi should have gotten his visibly injured athlete medical help immediately! Now that I have two young daughters in gymnastics, I expect their safety to be the coach's number one priority. Instead, Bela Karolyi told Strug to vault again. And he got what he wanted; a gold medal that was more important to him than his athlete's health.

I'm sure people will say "Kerri Strug was a competitor–she WANTED to push through the injury." That's probably true. But since the last Olympics we've also learned these athletes were put into positions where they could be systematically abused both emotionally and physically, all while being inundated with "win at all costs" messaging. A teenager under those conditions should have been protected, and told "No medal is worth the risk of permanent injury." In fact, we now know that Strug's vault wasn't even necessary to clinch the gold; the U.S. already had an insurmountable lead.
Heath asserted that "athletes shouldn't have to destroy themselves to meet our standards," and added:
The injury forced Strug's retirement at 18 years old. Dominique Moceanu, a generational talent, also retired from injuries shortly after. They were top gymnasts literally pushed to the breaking point, and then put out to pasture. Coach Karolyi and Larry Nassar (the serial sexual abuser) continued their long careers, while the athletes were treated as a disposable resource.

Today Simone Biles–the greatest gymnast of all time–chose to step back from the competition, citing concerns for mental and physical health. I've already seen comments and posts about how Biles "failed her country", "quit on us", or "can't be the greatest if she can't handle the pressure." Those statements are no different than Coach Karolyi telling an injured teen with wide, frightened eyes: "We got to go one more time. Shake it out."

The subtext here is: "Our gold medal is more important than your well-being."

[…]

Here's the message I hope we can send to Simone Biles: You are an outstanding athlete, a true role model, and a powerful woman. Nothing will change that. Please don't sacrifice your emotional or physical well-being for our entertainment or national pride. We are proud of you for being brave enough to compete, and proud of you for having the wisdom to know when to step back. Your choice makes you an even better example to our daughters than you were before. WE'RE STILL ROOTING FOR YOU!
As Heath explained, Strug retired from gymnastics not long after her high-profile performance through injury. His post apparently struck a chord with many — it was shared hundreds of thousands of times in under 24 hours.
Additional Viral Facebook Posts About Biles' Decision to Withdraw
Overwhelmingly, widely-shared posts addressing Biles' withdrawal praised her decision. One such post was shared more than 50,000 times, stating:
I'll tell you what, Simone Biles, the only thing withdrawing from the team competition told me is that absolutely nothing is more important than your mental health, and rather than push through until you had an utter breakdown emotionally or physically, you had the strength of character to step down. The watching, expectant eyes of the whole world are a heavy burden none of us understand.

Your IG caption on July 7th [2021] said: "Whatever is good for your soul, do that." And you did. Well done.

Because this life is a long game, little sister. No matter what everyone is telling you, this is NOT your one moment. It sure isn't. Most of your moments are ahead of you in fact, and you get to choose how you want to live them.

We are just as proud of you today as yesterday, and we will be proud of you for all your tomorrows. Catch your breath, girl. You are already a champion.
A similar post — this shared more than 30,000 times in less than a day — read:
Simone Biles was already an Olympic champion—the GOAT of women's gymnastics.

Now she's accomplished a bigger victory—championing mental illness. Today, Simone withdrew from competition, citing mental health struggles.

Do you see what she just modeled? For all of us?

She honored her whole, entire self.

She reminded the world that we are not just physical bodies that should be pushed beyond the brink. We are emotional, mental, and spiritual human beings—and wellness extends to all parts.

Simone just gave every one of us permission to make choices that honor our mental health. Because even the champions among us need to step back now and again.

I have never cheered harder for an Olympic moment. Extraordinary courage.

Thank you, Simone. 🤍
A similarly popular post (also published on July 27 2021) contrasted images of Biles and Russian gymnast Elena Mukhina, both posing on a balance beam; it described Mukhina's attempts to advocate for herself after an injury.
According to the post, Mukhina was forced to begin training in 1979 for the 1980 Olympics with an unhealed broken leg and broke her neck. Mukhina was permanently paralyzed, and died at only 46: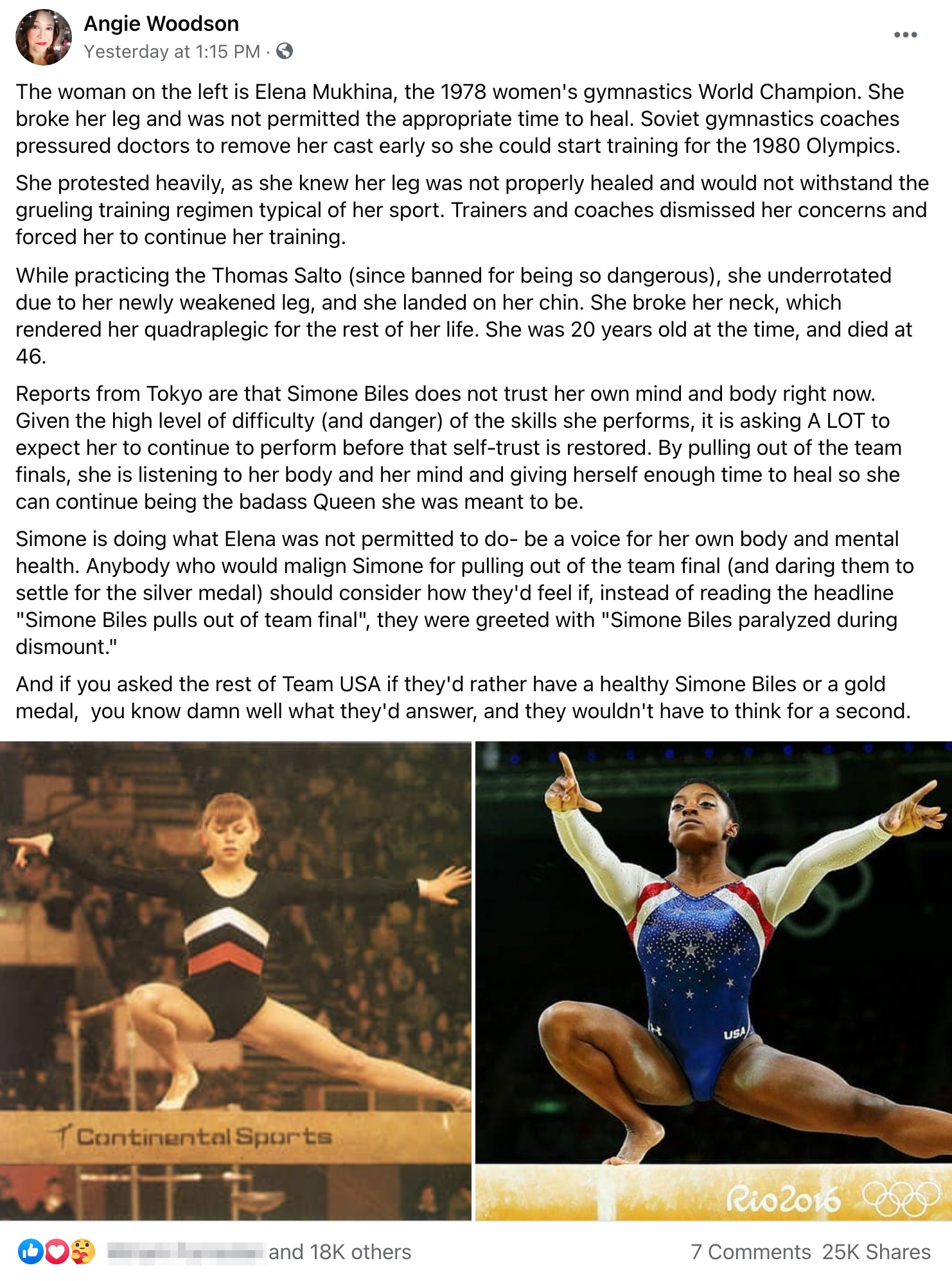 Claims made in the post were reflected in a GymWikia entry about Mukhina's life, career, and death, indicating she died in 2006 of "apparent complications from quadriplegia." Mukhina was quoted as saying that as she lay injured after breaking her neck, she felt relieved she wouldn't have to go to the Olympics:
Despite this, Mukhina took some of the responsibility for not saying no to protect herself from further harm, and noted that her first thought as she lay on the floor with her neck severely broken was, "Thank God, I won't be going to the Olympics."
Biles was the subject of at least four very virally popular Facebook posts — either expressing direct support, or contrasting her with gymnasts like Strug and Mukhina having been forced to compete under extremely dangerous conditions.
Other Gymnasts Weigh In
Outside Facebook, People magazine published a July 28 2021 article, "Dominique Moceanu Posts Clip of 1996 Injury to Support Simone Biles: 'I NEVER' Had Say in My Health," which included statements by Moceanu in support of Biles' withdrawal from competition:
At the 1996 Atlanta Olympics, Moceanu had to push through a tibial stress fracture during the gymnastics team competition, which led her to fall directly on her head as she did her balance beam routine.

[…]

Moceanu went on to applaud Biles for prioritizing her mental health and taking herself out of the competition.
That article was based on Moceanu's Twitter statement about having "a say" in prioritizing her health as a 14-year-old in the 1996 Olympics:
I was 14 y/o w/ a tibial stress fracture, left alone w/ no cervical spine exam after this fall. I competed in the Olympic floor final minutes later. @Simone_Biles 🤍 decision demonstrates that we have a say in our own health—"a say" I NEVER felt I had as an Olympian. pic.twitter.com/LVdghdAh1g

— Dominique Moceanu (@Dmoceanu) July 28, 2021
Moceanu also appeared to address "the twisties," tweeting:
In our sport, we essentially dive into a pool w/ no water. When you lose your ability to find the ground—which appears to be part of @Simone_Biles decision—-the consequences can be catastrophic. She made the right decision for the team & herself. @bisping

— Dominique Moceanu (@Dmoceanu) July 28, 2021
Summary
Simone Biles' recurring "scoring challenge" and subsequent decision to withdraw from competition on July 27 2021 led to widespread social media support, and comparisons to gymnasts including Kerri Strug and Elena Mukhina (who died of complications from a gymnastics-related injury) were popular, as were posts lauding Biles for prioritizing her own safety. Gymnasts at all levels explained the impact of "the twisties" (a sudden loss of "air sense"), and fellow Olympians spoke out about being forced to work through dangerous, destabilizing injuries in the 1990s.