On June 26 2019, a Facebook user posted the following story about the death of their pug Zoe, urging other users to be aware of the purported danger posed by spent firework and sparkler ash:
In part of the post, Copp said that Zoe had recently died, and added that the pet's death was attributed to her ingestion of "sparkler ash" during a summer party:
Zoe chewed up used sparklers ash and died today. She was puking this morning and acting all odd. Couldn't walk or nothing so we took her to the vet. The doctors ran test and contacted the poison control center. They told us there's a chemical that was causing it And they tried to pump her stomach but the poison was to much and she died at 2:50 today. Word to the warning. Don't let you animals ingest burnt or unburnt fire works. It's really poisons to animals and there are absolutely no warnings on the box about it. The vets even looked it up to see if there was warning on the box. she was only a year and a half old. We will never forget you and we miss you R.i.P Zoe.
As of July 2 2019, the post had nearly 200,000 shares. The day before, Copp commented in what appeared to be a response to unkind comments about Zoe's demise, clarifying that the sparkler ash had been a minute amount he believed Zoe "licked off the grass" and that burnt sparkler sticks were not involved in the dog's suspected poisoning:
Ok so to clear the air for anyone who thinks me careless or reckless. These are sparklers. Kids use them with our adult supervision this time of year. Never had I known of this happening and I've had countless kinds of animals thru out the years. All the burnt sticks were disposed of after used. So its not like we threw them in the yard. She got at the ash she licked off the grass. How was I to know to pick up that ash in grass. ????????‍♂️
According to Copp, after unspecified tests were conducted, the veterinarian contacted a poison control center. From there, a conclusion was reached involving "sparkler ash," and Zoe succumbed to suspected poisoning. Given the stated manner of the young dog's demise, the post was cause for concern to many pet owners. Copp said that spent sparklers were discarded, and that he suspected Zoe was poisoned by residue on the grass left by sparklers.
Dr. Charlotte Means, director of toxicology for the ASPCA's Animal Poison Control Center, told another news organization that "if a dog ingests gunpowder from guns and/or fireworks, they can become ill":
"In most cases, we see vomiting and diarrhea," Means said.

The potassium nitrate in gunpowder is what causes these abdominal issues.

The PetPoisonHelpline says that some fireworks include various types of heavy metals in order to produce the various colors we see, and while we may find them great to look at, they are not healthy for dogs.

The level of toxicity is generally mild to moderate, depending on how much is taken in.

When ingested, pets may develop gastrointestinal issues like vomiting, a painful abdomen and bloody diarrhea. The severity of the distress will depend on the type and amount of fireworks ingested.
Means also provided advice to dog owners on protecting them from the residue to fireworks and sparklers:
Means suggests that in the days following the 4th of July, that you wipe your pet's paws down with a baby wipe or a wet rag following walking them in an area where fireworks have been set off, in order to remove any traces of potential gunpowder.
The Poison Pet Helpline maintains a page about pets and fireworks, attributing much of the ("generally mild to moderate, depending on the amount ingested") risk to unlit fireworks:
Fireworks are dangerous to pets in several ways. First, the loud noise of fireworks (during July 4th holidays) can result in severe stress, fear, and anxiety. Secondly, when unused fireworks are ingested, they are poisonous to pets. Fireworks contain hazardous chemicals such as potassium nitrate, which is an oxidizing agent. They can also contain charcoal or sulfur and coloring agents, which are potentially dangerous heavy metals. When ingested, pets can develop gastrointestinal issues like vomiting, a painful abdomen, and bloody diarrhea. The severity of pet health issues resulting from ingestion will depend on the type of fireworks and the amount that was ingested. Pets ingesting large amounts can suffer tremors or seizures, along with acute kidney failure, bone marrow changes, shallow breathing and jaundice, which is yellowing of the skin.
Listing fireworks as potentially toxic to cats and dogs, the site provides a list of symptoms to watch out for if you suspect your pet has ingested fireworks:
Vomiting
Abdominal pain
Bloody diarrhea
Tremors
Seizures
Shallow breathing
Jaundice
Acute kidney failure
Bone marrow changes
According to Today's Veterinary Practice (TVP), spent ash from fireworks is a known problem:
In small animal practice, chlorate and barium result in the most problems associated with firework ingestion. As mentioned earlier, composition of spent versus unused fireworks can affect toxicity.

Unused (unexploded) consumer fireworks can cause gastroenteritis in dogs. Unused display fireworks can cause methemoglobinemia, along with vomiting, diarrhea, lethargy, abdominal pain, and salivation. Chlorates are not only local irritants, causing GI effects, but potent oxidizing agents that can oxidize red blood cells, causing hemolysis and methemoglobin formation.

Spent display fireworks from municipal displays cause more severe clinical signs. Often there is a significant amount of spent ash present, and the ash contains large amounts of more toxic firework components, such as barium[.]

Illegal fireworks may be more likely to cause methemoglobinemia because they frequently contain high levels of chlorates[.]
An attached table details the effects of barium on small dogs. Death is said to be possible in severe cases, adding that symptoms manifest typically within an hour of exposure and that if no symptoms appear after eight hours, toxicity should not be expected: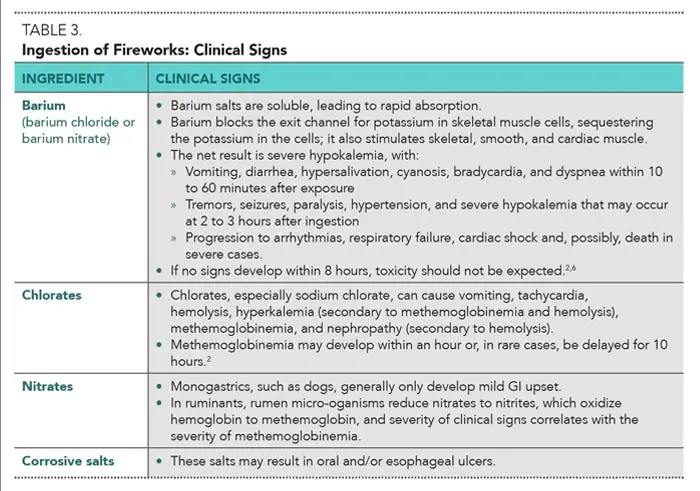 Gastric lavage — stomach pumping — is not described as a primary treatment for suspected toxicity in pets due to ingestion of fireworks or ash.
Although it is certainly possible that sparkler ash ingestion fatally poisoned Zoe the pug, poisoning because of ingested spent or intact fireworks appears to be a rare event. An ASPCA toxicity expert advised wiping pets' paws with baby wipes as a precaution. Pet owners with concerns about firework ingestion can call the Pet Poison Helpline (855-764-7661) or the ASPCA Animal Poison Control Center (888-426-4435). Both are open 24 hours a day, seven days a week.