Actor James Doohan's relationship with a fan was remembered fondly online in March 2021 to commemorate what would have been his 100th birthday.
Fans of the Canadian actor's work on the original series of Star Trek honored the occasion online on March 3 2021. The Hollywood Reporter noted that Doohan's co-star William Shatner did the same, and it also delved into Doohan's account of his years-long interaction with the fan, which began when he received a letter from the fan. As the magazine reported:
Doohan said he took the note seriously and responded.

"I called her and I said, 'Hey, this is Jimmy Doohan. Scotty of Star Trek. I'm doing a convention in Indianapolis, and I want to see you there.'" he explained. "I saw her. Boy, I'm telling you — I couldn't believe what I saw. It was definitely suicide. Somebody had to help her, somehow. And, obviously, she wasn't going to the right people."

Doohan told the woman about each surrounding area convention (and some in nearby states) that he would be at and said he wanted to see her at each.

"That went on for two or three years, maybe 18 times," he said. "And all I did was talk positive things to her. And then all of a sudden — nothing. I didn't hear anything, and I had no idea what was happening because I never really saved her address, right? Eight years later I get a letter saying, 'I do want to thank you so much for what you did for me, I just got my master's degree in electronic engineering.'"
However the Reporter did not point out that the footage of Doohan relating his story, while legitimate, originally appeared in the 1997 documentary Trekkies (which can be found about 30 minutes into the clip below):
"That, to me, is the best thing I've ever done in my life," Doohan said of the experience. "And it brings tears to my eyes every time I even talk about the story."
As one might expect, Doohan's anecdote was also commemorated digitally as its own meme: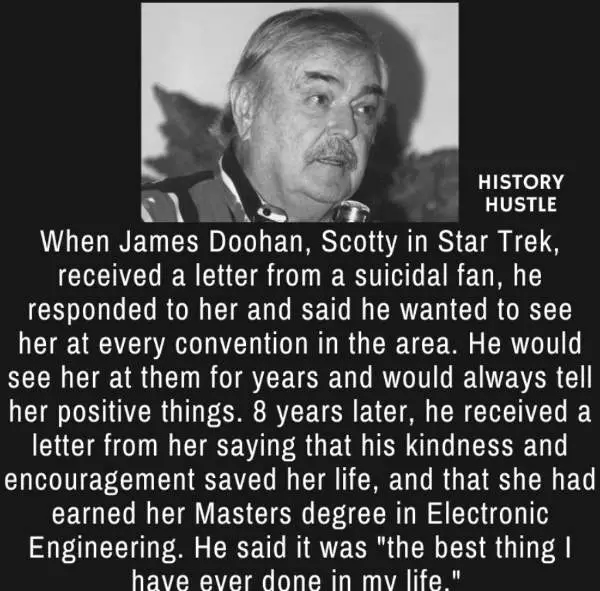 A Facebook post featuring the graphic on March 18 2021 has been shared thousands of times.
In reporting on the outpouring of rememberance online toward Doohan, the entertainment news site MovieWeb also recounted more of Doohan's real-life bravery:
Prior to his acting career, Doohan had served in the Royal Canadian Artillery and even fought on the battlefield at Juno Beach on D-Day. During the battle, he was shot by enemy gunfire six times in a single night, with a bullet to the chest miraculously blocked by a cigarette case in his pocket. Doohan would also completely lose his right finger to a bullet, though many Trekkies would have no idea Scotty was missing a finger as Doohan went to great lengths to conceal his hand during his time on screen.
Doohan died on July 20 2005. He was 85.